This guide will teach you everything you need to know about a black Poodle. Some dog breeds have a go-to coat color you know you can expect. German Shepherds are black with tan markings. Golden Retrievers are soft tan or yellow. A Chocolate Labradoodle is a deep brown. These breeds don't vary much in their overall coat color. When it comes to a Poodle, you can be faced with a lot of different options in coat colors. The Poodle, known for its elegant appearance, hypoallergenic qualities, and friendly and intelligent personality, doesn't have a set color standard. Instead, they can be found in a range of color options, from dark to light or solid to patterned.
For dog owners looking for some uniqueness in their dog, a Poodle can undoubtedly be one of a kind. As breeding practices tend to highlight some colors of Poodles more than others, some colors may be more popular or easily found than others. The color of a Poodle puppy's coat is dependent on what color coat the parents have and what other genes they pass down to the puppies. Among some of the solid colors of Poodles is black. If you're looking for a Poodle that matches your lifestyle and personality, you'll want to consider their coat color as well. To help you make the proper selection, here we share all about this popular Poodle with deep black coat color. We'll also share some other coat color options that you can choose from as well.
Before scrolling down this article about the black Poodle, you might be interested in learning similar topics: Poodle Teddy Bear Cut and Corded Poodle Guide.
What is a Black Poodle?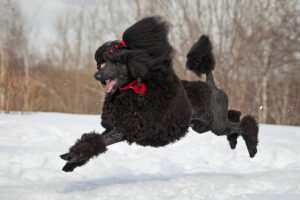 Typically, Poodles with a solid coat color tend to be most popular. And one of the most popular and commonly bred Poodles is one with a black coat. This often means that one or both of the parents are also black. Black Poodles can be pretty standard as the gene that brings on the black coat color is a dominant trait in Poodles. Therefore, it's easier to produce a black Poodle, even if the parents do not have black hair. This trait may have been passed down in a gene pool that skipped the parents. A genuine and entirely black coat will not have any white or silver tinting to its coat.
They'll keep that deep, rich color throughout their life, ranging from just being a puppy to an older adult dog. Even with trimming and shaving, black Poodles will keep their dark, solid color. However, sometimes, the coat may begin to gray a bit as the dog gets older. This is the case for most breeds and darker-colored coats. Remember that Poodles have two coats, an inner coat and an outer coat. The outer coat is the one that you can easily see and what gives you the indication of their color. The inner coat is the layer underneath that may vary in color. While all black Poodles have a black outer coat, not all have a black inner coat. Sometimes, they may have an inner coat that is more gray or blue. This inner coat may lighten up the overall appearance of the black Poodle.
Black Poodles will also have black features, including eyes, noses, lips, and toes. This is a standard feature that is set in place by the American Kennel Club. If you're wondering if your Poodle is a true black Poodle, it's helpful to look at the gene history of the puppy and its parents. While they may at first appear black, they could be another color. Some puppies are born black, but their coats transition as they age. For example, they could also be a blue or silver coat. This fading of the black and change to their actual color can happen within a year or two.
Poodle-Related Articles: Best Dog Clippers For Poodles and Best Dog Food For Poodles.
Grooming a Black Poodle
The black coat of a Poodle does not imply any fundamental differences in caring for the dark, rich coat. They will need to be bathed regularly with dog shampoo and even a leave-in conditioner. They should also be brushed regularly to ensure that any debris or dirt is removed from their coat. You'll also want to get their coat trimmed up occasionally, depending on your hairstyle of choice for them.
With a dark coat, it's important to remember that their coat will highlight any lighter colored debris or dirt in their coat, more so than a lighter Poodle. Over time, your dog's deep black coat may begin to fade. In this case, you may also want to consider using a color-enhancing shampoo. This can help bring out the natural color of the coat. Be sure not to dye the color of your dog's hair. While black may be a popular color for many, it's not the only option for choosing your perfect puppy.
Poodle Grooming Advice: Best Brush For a Poodle and Best Shampoo For Poodles.
Other Poodle Colors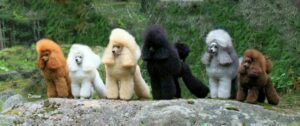 Poodles, whether a toy, miniature, medium, or standard, can come in a range of different colors, not just black. Keep in mind that the coat color of the Poodle does not have an impact on the personality or intelligence of the Poodle. There are no behavioral or temperament differences between the different coat colors of Poodles. Other factors, such as training, socialization, and prior experiences in raised, are better indicators of their overall personality. Breeding processes and the Poodle parents also play a significant role in how the Poodle interacts and lives.
While some may prefer a lighter colored Poodle, the darker Poodles can be just as loveable and friendly. Other Poodle colors that can be worth considering include the other very popular coat color choice of white. White Poodles have a black nose and eyes. These coats are often preferred as they give off a more soft, cuddly, and fluffy look than perhaps some other colors. Brown is another coat color for a Poodle that can be very popular as well. These Poodles can have a range of darkness in their coats, ranging from deep mahogany or a softer tan. As they age, they may lighten up even more so.
While Brown Poodles with amber eyes are most craved, they may also have eyes the color of yellow or green. Red and Apricot Poodles are rarer in breeding groups but can be just as intriguing as the other colors. Apricot is a softer version of the red coat color, although both are interesting options. They differ in color from brown as they have a more copper or auburn hue to them. However, Red Poodles, in particular, may change their coat color over time, turning to more of a lighter tan.
Apricot is considered the last color to be introduced into breeding Poodles and is, therefore, more challenging to breed. Gray Poodles don't necessarily mean they are old dogs. Some are born gray and stay that color throughout their life. However, the gray color is most commonly found in adult dogs as they age, transitioning in color from a blue or brown to full-on gray color. According to the American Kennel Club, despite the tendency for this color to be associated with older dogs, it's still an accepted color.
Don't have a Poodle yet? Get started in advance with these guides: Best Dog Food For Toy Poodles and Best Mini Poodle Breeders in the United States.
Conclusion For The "Black Poodle"
With so many options of Poodles to choose from, you're sure to find the perfect puppy for you and your family. While there are certainly options, the black Poodle has become a prevalent option, with its deep and rich coat color. See what Poodle puppies are available in your area and choose the Poodle with a coat color you find most interesting. And as each size of Toy, Miniature, Medium, and Standard Poodle can come in all of these colors, you're sure to find the right one for you, whether you live in a tiny apartment or a large mansion. With their beauty, liveliness, and high intelligence, you can't go wrong with a Poodle.
For more articles with mentions of the Poodle breed, you can read:
To learn more about Poodles, watch "What To Expect When Getting a Poodle" from Relax My Dog down below: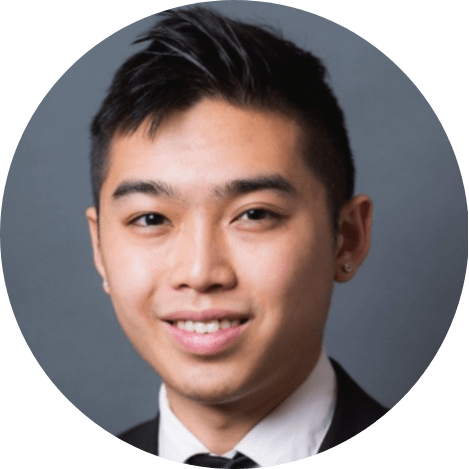 Andy is a full-time animal rescuer and owner of a toy doodle. When he's not saving dogs, Andy is one of our core writers and editors. He has been writing about dogs for over a decade. Andy joined our team because he believes that words are powerful tools that can change a dog's life for the better.
Why Trust We Love Doodles?
At We Love Doodles, we're a team of writers, veterinarians, and puppy trainers that love dogs. Our team of qualified experts researches and provides reliable information on a wide range of dog topics. Our reviews are based on customer feedback, hands-on testing, and in-depth analysis. We are fully transparent and honest to our community of dog owners and future owners.