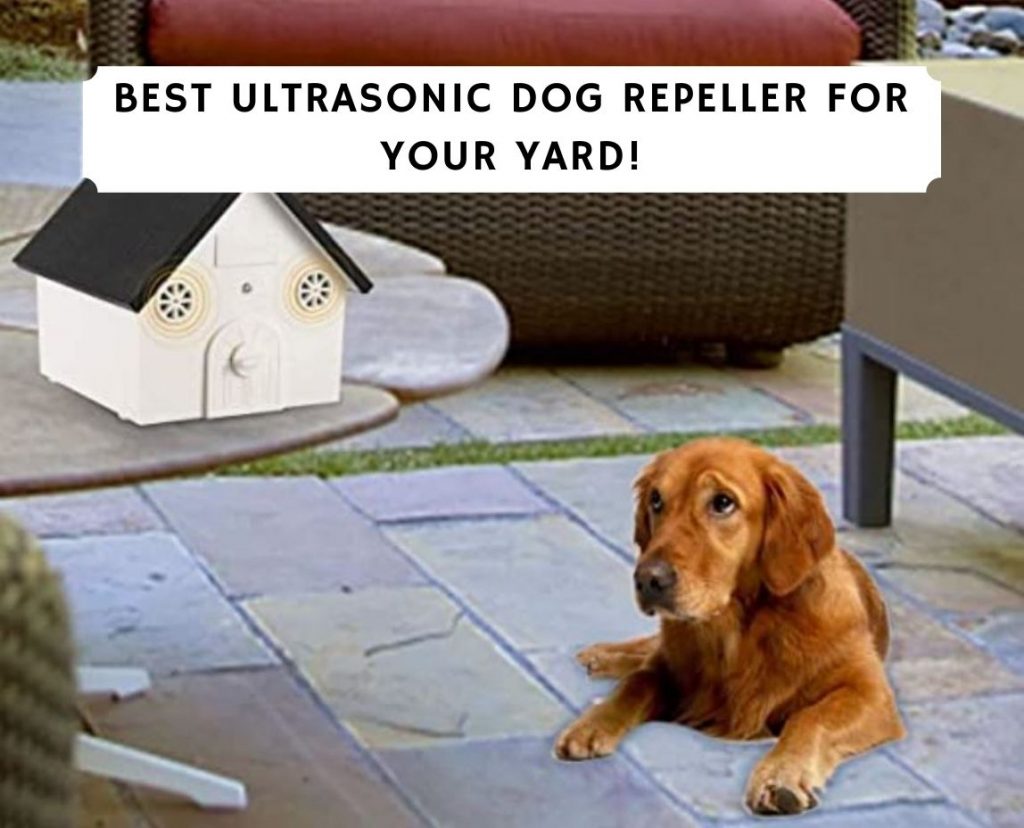 If you have a four-legged friend of your own, you'll know that they become strangely territorial over their owners and their houses. 
Whether it's a dog or a human that walks by the gate, your dog will jump into action in case there is something that they need to protect you from.
However, we know that they don't want to fight. They're not going to attack someone walking by the window, but they might bark and try to scare the person off. 
While it's nice that they want to be protective of you, incessant barking at everything that they see out the window can become very boring, very quickly.
But how can you stop them from showcasing this behavior? Well, an ultrasonic dog repeller might just do the trick. 
The repeller creates a noise that your dog doesn't like and will cower away from. Once your pooch knows that their barking sets off the bad noise, they will slowly learn not to bark at passersby.
Sounds great, right? But how do you know which ultrasonic dog repeller would work best for your situation? Luckily, we're here to help. 
We've found the best ultrasonic dog repeller for your yard on the market and compiled a list of important factors to remember when choosing a dog repeller of your own.
In a hurry? Here are the top picks!
Product
Best Overall
Zomma Anti Barking Device
Runner Up
RIVENNA Anti Barking Device
Budget Pick
PetSafe Outdoor Ultrasonic Dog Bark Deterrent
Image
The Best Ultrasonic Dog Repellers for Your Yard Reviewed
Barking can be one of the more annoying features of your beloved pet, and you're not the only owner that wishes it would stop. 
Now that you've heard that there is a way to teach your dog not to bark, we bet that you can't wait to test it out for yourself, right?
Luckily, we have fast-tracked you right to the front of the queue where you'll get to find out which ultrasonic dog repeller for your yard is the best on the market. 
It's the Zomma Anti-Barking Device! Here are some reasons why we like this model so much:
The design is lovely and works in every backyard.
It is weatherproof and durable, excellent for continuous use outside.
Choose between the three sensitivity options depending on the size of your garden.
The ultrasonic waves are not harmful to your dog.
First up we have the ultrasonic dog repeller for your yard from Zomma. 
Shaped like a lovely garden ornament, you would hardly know that this model is meant to calm your dog down. The range varies from 15 feet to 50 and it comes with three sensitivity levels for you to choose from.
Safe for every dog, this repeller will not harm your dog in any way. Instead, the sound is simply there to deter your dog from barking while in the yard. 
The lightweight model will fit seamlessly into your front yard, back yard, or garden without a second glance. It's speakers that emit the ultrasonic sounds are discreetly being disguised as windows.
This ultrasonic dog repeller is weatherproof and can be kept outside all year round. It is also durable and will last you for many years to come. 
It is powered by a 9-volt battery that you can replace inexpensively when it runs out. This was our budget pick for the best electronic repeller for your yard!
RIVENNA's intelligent ultrasonic dog repeller is excellent for recognizing a dog's bark and swiftly deterring it. 
Once the dog stops barking the device ends the ultrasonic waves. This means that your dog can begin to learn through positive reinforcement.
The design is a very cute house that can sit anywhere in your yard without drawing suspicion. 
This dog ultrasonic repeller is also waterproof, making for a great repeller that can stay outside all year round. What's more, you can use this device inside as well as outside!
There are four modes for you to choose from with this ultrasonic dog repeller. These affect the sound level of the ultrasonic waves, so make sure to test them all out starting from low to high. 
Doing this will prevent you from upsetting your dog too much.
Another model that looks like a birdhouse, the ultrasonic dog repeller from PetSafe ensures that your dogs learn the importance of not barking without harming them. 
The design will fit perfectly into your yard without anyone knowing what it is, so you don't have to worry about explaining that it's an electronic dog repeller.
The coverage of this repeller is amazing – it reaches up to a quarter acre of your yard. This should be impressive enough to cover the majority of your yard, if not all of it. 
The battery-powered device gives you two months of use before the battery will need changing.
You are also offered excellent customer service with this model, and PetSafe ensures that you can call them if the repeller doesn't work for you. 
They will try to work with you to discover what the issue is so that you don't have to waste your money.
Moving away from the birdhouse design, the next pet repellant device is a simple yet effective black box. 
It is also waterproof so it can be used both indoors and outdoors, which is ideal for your yard. The box is very small and therefore you will not see it in the garden easily.
The microphone is incredibly sensitive, making this model great for picking up even the smallest sounds of barks. The ultrasonic waves can reach up to 50 feet, ensuring that your entire yard is protected.
There are different sound levels for you to test with your dog, ensuring that the model is not too loud to be harmful to your pooch. 
The manufacturer will give you a full refund if you're not happy with the results of your device after two weeks.
Last but not least we have an ultrasonic dog repeller in the shape of a green owl. 
One thing that we like about this model is that you have the option to either charge it using a USB lead or use the solar power feature. 
Using the latter ensures that you won't need to change the batteries periodically.
With four modes to choose from, you can change the sensitivity and sound level of your repeller to ensure that it does not omit the ultrasonic waves for no reason. 
The electronic dog repeller for your yard is waterproof and suitable for any weather condition imaginable.
This device's ultrasonic waves will reach up to 26 feet away, ensuring that any dog within that distance is deterred from barking. 
The device can be stuck right into the ground thanks to the plastic spoke attached to the repeller.
Best Ultrasonic Dog Repeller for Yard Buying Guide​
Now that we've discussed the five best ultrasonic dog repellers for your yard on the market, you might be wondering how to know which one is going to work best for you. 
Don't worry, as we have thought of everything you need to know to make the most informed decision before purchasing a model.
By doing some research before purchasing an ultrasonic dog repeller, you are much more likely to find one that is going to work most effectively for you and your dog. 
Fortunately, we have done all the research for you and listed it below!
Type of Ultrasonic Dog Repeller
There are a few different types of ultrasonic dog repellers for you to choose from. This is perhaps the most important decision for you to make as different types are going to work better for different dogs.
While all of the types of ultrasonic dog repellers work towards a common goal, they do not work the same. You might find that one is the best as the others cannot be applied to your situation.
Outdoor Dog Repellers
These are the most commonly used ultrasonic dog repellers as they are designed to look like a number of things, such as birdhouses and owls. 
This means that your dog won't be nervous about an obscure object and stay away from it. 
These electronic repellers for dogs can be used outdoors as they are designed to remain outdoors in any weather.
Ultrasonic Dog Collars
Ultrasonic dog collars remain on your dog at all times and have a small speaker attached which will omit the noise once it realizes that your dog is barking. 
However, make sure that if you go this route that you don't opt for a collar that shocks your dog as well. There is research to show that these are counterproductive. 
You can check out our two articles on the best bark collars for small dogs and the best bark collars for large dogs if you want to read more into these solutions.
Handheld Ultrasonic Dog Repellers
The main advantage of these ultrasonic dog repellers is that you can take and use them anywhere. 
Handheld ultrasonic dog repellers are easy to carry around and you have the ability to control them when you decide to use them. 
However, you might find that you cannot get to the yard quick enough once your dog starts barking for the repeller to be effective.
Design
Ultrasonic dog repellers aren't designed to look nice, but that doesn't mean that you can't find one that goes nicely in your backyard or that works well against your dog's coat. 
As outdoor dog repellers are often shown as birdhouses, you'll want one that looks nice in your yard.
Luckily, there are plenty of nice-looking electronic dog repellers on the market that will look seamless within any yard. 
For this reason, don't just go for the first one that you see. Give a few more moments to peruse the market and find one that you actually enjoy.
The Sensitivity of the Sensor
How the dog repeller work is that it uses a sensor to tell when your dog is barking. Once it's sensed the noise of a bark then the ultrasonic waves will be omitted. 
It's important that your sensor is sensitive enough to detect when your dog is barking. If it is not sensitive enough, the product becomes obsolete in what you want it to do.
However, on the other hand, the sensor should also not be so sensitive that it sets off the sound at the faintest of noises. This might affect your dog adversely as they will be punished for a sound that they might not have made. 
Most ultrasonic dog repellers have multiple sensory levels so that you can choose to depend on how big your yard is.
Sound Levels
Following on from the previous point, you will also benefit from having different sound levels on your ultrasonic dog repeller. 
This is because the sound will need to travel different distances depending on how large or small your garden is.
For instance, if your yard is small and the repeller travels much further than your yard, other dogs might be subject to hearing the deterrent. It's hardly fair that they'd be punished for something your dog did, right?
Alternatively, if your yard is large and the repeller is quiet the ultrasonic sound might not reach the other side of the yard and therefore the repellent won't be able to do its job properly. 
Moreover, your dog might learn where they need to stay in order to protect themselves from the sonic noise.
We recommend that you find an ultrasonic dog repeller with a sound adjustment system so that you can use some trial and error to see which sound level works best for your yard.
Battery Life
Is there much more irritating than having to change the battery of something every few days? We don't think so, and if you want to avoid this as much as we should look for an ultrasonic dog repeller that has impressive battery life.
Some models use batteries which you will have to replace every now and then, and if you go down this route we would recommend rechargeable batteries. These will help you save money in the long run and prevent wastage.
However, the best option in our eyes is the solar-powered alternatives. You don't need to replace the batteries and you can simply leave them in the yard and they will take care of themselves.
Having said that, if you live in an area that doesn't receive much sun the battery option might be best for you. Some models have indicators that will let you know when the batteries are getting to the end of their lifecycle.
Durability
As your ultrasonic dog repeller is going to be living in your yard indefinitely, so it needs to be suitable for your yard. We recommend choosing a model that is completely weatherproof and that can withstand anything.
There is no point in opting for a dog repeller that is going to falter at the first glance of rain or snow. Similarly, it should be able to withstand the glorious sunshine. 
Always read what the manufacturer suggests when keeping the repeller outside so that you don't place it in unfavorable conditions.
Conclusion
Ultrasonic dog repellers are useful to prevent your dog from barking. They work by sensing when your dog barks. 
The electronic dog repeller will then release an ultrasonic radio wave that will stop your dog from barking. 
However, it's important that you choose the right one for your dog. Consider factors like your yard size, adjustable settings, and the design you need. We hope that you found a repeller that works for you!
Other articles you will like:
Frequently Asked Questions
Do ultrasonic dog repellers really work?
There is a lot of conflicting evidence when it comes to whether the repellers actually work or not, but we can say that they have worked for our dogs. 
Some people love them and think that they work amazingly well, while others don't get along with them.
We think that it is all to do with the dog and whether they respond well to ultrasonic waves or not. Some abide by the sound and others simply ignore it. 
We would suggest that you read the instructions carefully so that you know you're using it correctly before writing it off altogether.
Is ultrasonic sound harmful to dogs?
Ultrasonic waves are supposed to irritate your dog – that's why they call it a repeller. 
Once your dog realizes that their barking is setting off this annoying sound they should stop barking to avoid it. However, the sound should not be harmful to your puppy.
Having said that, it might pose a threat if the sound is too loud. This is why it is advised to position the repeller somewhere that your dog cannot get close to it easily. 
You might also want to start off on a quiet sound level and slowly increase it over a few days to see what the best sound level for your garden is.
How can I stop my neighbors' dog from barking?
We wouldn't recommend that you purchase an ultrasonic dog repeller to use on your neighbor's dog without telling them first. 
They might get annoyed at you if they ever found out. Instead, why not give them a repeller for Christmas? It's a nice subtle way of asking them to please shut their dog up.
Garrett loves animals and is a huge advocate for all Doodle dog breeds. He owns his own Goldendoodle named Kona. In addition, he volunteers at the Humane Society of Silicon Valley, where he fosters dogs and helps animals. Garrett enjoys writing about Doodles and believes that dogs can teach humans more about how to live than humans can teach a dog.
Why Trust We Love Doodles?
At We Love Doodles, we're a team of writers, veterinarians, and puppy trainers that love dogs. Our team of qualified experts researches and provides reliable information on a wide range of dog topics. Our reviews are based on customer feedback, hands-on testing, and in-depth analysis. We are fully transparent and honest to our community of dog owners and future owners.