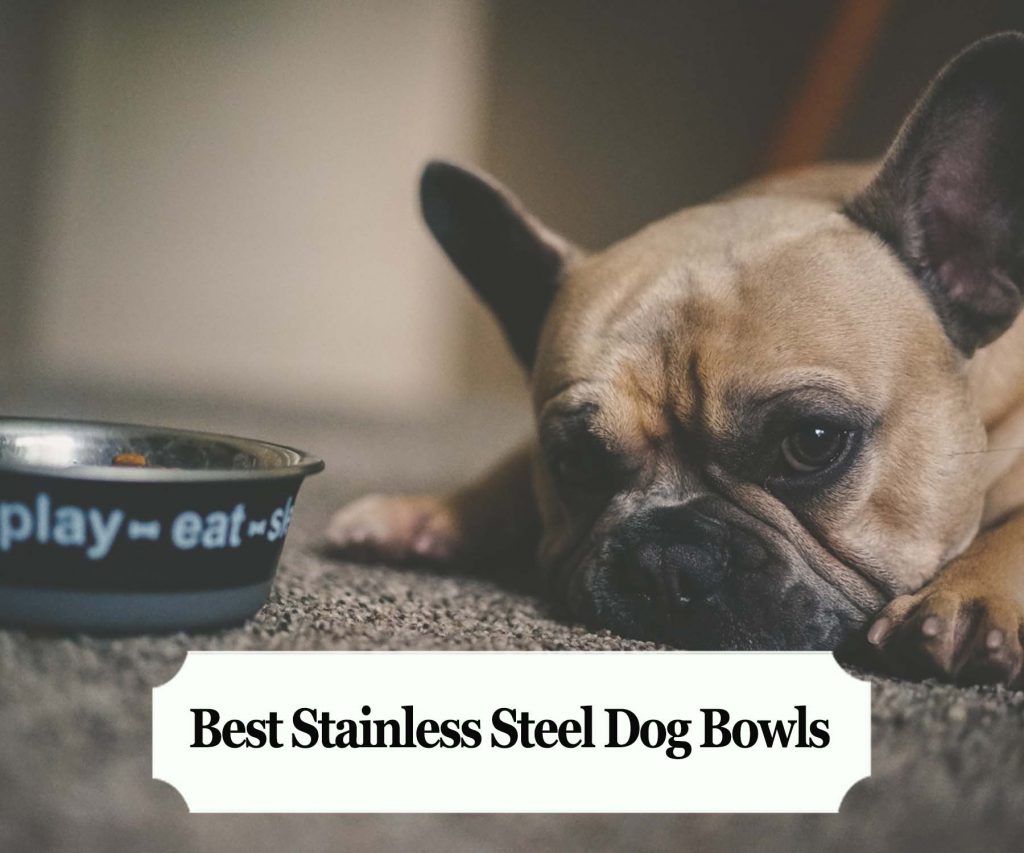 There are plenty of dog bowls out there on the market, but stainless steel models are undoubtedly the most durable and safe ones to use for your dog. 
Choosing a dog bowl isn't just about how pretty it looks or how much dog food it houses, but it's also about how your dog reacts to it and uses it. 
I'm sure we've all seen the unbelievable scenes of when a hungry dog hears movement coming from their food bowl. If your dog is anything like ours, they'll forget all manners when they're hungry.
For this reason, a stainless steel bowl is the best option out there for forceful dogs. Ceramic bowls can break much easier than stainless steel and pose a threat if your dog continues to eat from a splintered bowl. 
In addition, we've found that rubber and plastic dog bowls don't clean as well as stainless steel dog bowls which cultivates more bacteria.
We've found the best stainless steel dog bowls on the market and listed them for your convenience below. We've also tested many of these different dog bowls with food and water.
Let's get the bowl rolling, shall we? Here are the top picks!
Product
Best Overall
Pawfect Pet Elevated Stainless Steel Bowls
Runner Up
Vivaglory Stainless Steel Dog Bowls
Budget Pick
UPSKY Double Premium Stainless Steel Bowls
Peggy 11 Stainless Steel Deep Dog Bowls
Neater Pet Brands Slow Feed Bowl Stainless Steel
Image
Runner Up
Product
Vivaglory Stainless Steel Dog Bowls
Image
Budget Pick
Product
UPSKY Double Premium Stainless Steel Bowls
Image
After some extensive research on the dog food bowl market, we're confident that our list is packed full of amazing stainless steel bowls that both you and your pup will love. That being said, there can only be one winner! 
We found that the Pawfect Pets Elevated Steel Dog Bowls were the best stainless steel dog bowls available right now, and we have a plethora of reasons why we came to that conclusion. 
For time's sake; however, we'll only mention a few below:
The elevated design prevents your dog from straining their necks and offers up a much more relaxing and enjoyable eating experience. 

You're getting four stainless steel bowls and a holder all in one purchase.

The bowls are made from premium stainless steel and the holder is made from high-quality wood. 

We found the price point to be particularly impressive compared to other cheaper bowls.
First up on our list are a set of four stainless steel bowls for dogs from Pawfect Pets. If you have a medium or large-sized dog, you know that it is extremely important to get an elevated dog bowl design. 
Having elevated stainless steel dog bowls reduces neck strain which is especially helpful for dogs who have arthritis or back problems. Elevated dog bowls also reduce bloating in dogs because they can digest their food easier.
In addition, having stainless steel dog bowls in a stand reduces spills. A dog bowl with a stand keeps your food and water from ending up on your floor especially because there are anti-slip feet on the bottom of the bamboo wood. 
In addition, the sturdy wood and bamboo design is water-resistant and built to last a lifetime. 
Now for the technical specifications of this elevated dog bowl. It contains three bowls with 6 cup capacity and one bowl with 4 cup capacity. Having extra dog food bowls is handy because you always make sure that you have clean ones in-between feedings. 
The steel dog bowl is elevated to 7 inches tall, it's 9 inches deep and 17.5 inches wide. Also, each stainless steel dog bowl is 7.5 inches wide which is a pretty standard bowl size. 
Next on our list are two 11-ounce bowls in one from UPSKY. The bowls themselves are removable from the food station and they are made from high-quality stainless steel. 
In fact, the manufacturer states that they have recently switched to an even better premium stainless steel, so you know that your puppy is getting only the best. 
The resin bowl holder holds the bottom of the bowl 0.8 inches off of the ground, allowing your dog to eat more comfortably. The dog bowl stand also comes with anti-slip feet to prevent any mess to clean up after mealtimes. 
You can also wash the bowls in the dishwasher, giving you the easiest cleanup possible. The bowl holder can come in four different colors to match the theme of your house. 
Use the bowls for both food or one food and one water. The impressive price makes it hard to believe you're getting two bowls rather than only one!
Vivaglory offers you the option to pick the bowl size for your dog, ranging from 6.5 to 50 ounces. Because you get two bowls with this purchase, that's a lot of space for food and water! 
The stainless steel bowls are resistant to rust and corrosion and are very safe to use for your dog. 
Along with two bowls, you also get a bowl holder that is made from silicone. The mat is anti-slip proof to prevent kibble from being thrown all over the floor, and the lip of the mat is upturned to prevent food and water from touching the floor. 
All components of these steel dog food bowls are dishwasher friendly, meaning that you don't have to dread cleaning up after your dog at all. 
As the mat is made from a flexible it is easy to roll up and store away, so you can travel without any hassle with these bowls! 
Since it's not elevated, this is the perfect stainless steel dog food bowl for puppies or smaller-sized dogs.
Ever heard of the term 'less is more'? Well, that's the exact route that Maslow took when creating its stainless steel dog food bowl. This bowl could not be simpler – no patterns, colors, or fancy features. Maslow's standard stainless steel dog bowl is simple yet effective. 
Choose between 16, 24, 88, and 136-ounce bowl options and ensure that your dog is getting enough food no matter if they are large or small-sized. Each size offers a slightly different design for the bowl. You can wash these bowls in the dishwasher without giving it a second thought. 
The stainless steel is incredibly durable and resistant to even the toughest of chews. Stop your dog from chewing the bowl as soon as you notice it, as it might break their teeth! Maslow's standard bowl is also odor-resistant and rustproof.
The Peggy 11 bowls come in either a pack of two or you can buy them individually. You can also opt for different sizes depending on your dog so that you're not overfeeding them. Feel free to wash the bowls in the dishwasher without hesitation, allowing a much faster clean-up. 
The blue and grey anti-slip soles of the bowls are very handy for cleanliness, as well as a color-coordinating the different bowls for food and water or different dogs. The silicone bases also protect your flooring from scratches, which is a great benefit. 
These stainless steel dog bowls reach a height of 2.4 inches, which can be helpful when you have larger dogs. If you need a bowl to hold a lot of food but don't want to waste a lot of space thanks to wide bowls, these deep alternatives might be the ideal solution for you.
Finally, we have a slow feeding stainless steel dog bowl from Neater Pet Brands. A slow feeding bowl causes your dog to work harder for their meals so that they don't eat too quickly. 
Eating too quickly could cause your pooch to become sick or gain weight too rapidly, so slow feeders can be very helpful for dogs that love to eat as fast as possible. 
If your dog also has an issue with eating too low to the ground, these bowls actually fit perfectly into the manufacturers' elevated feeders. There are two size options – one cup and four cups – depending on how large your dog is. 
The stainless steel material is reliable and durable, sure to keep your dog eating at a more civilized pace for a long time after purchase. 
As with all of the bowls on our list, you can also clean this bowl in the dishwasher, so there's no more scrubbing rancid food off of metal.
Best Stainless Steel Dog Bowls Buying Guide
To prevent you from choosing a subpar bowl for your dog to eat out of for the foreseeable future, we've come up with a few of the most important factors to consider when you begin your search. 
Keeping these factors in mind will ensure that you don't unknowingly waste money on a low-quality bowl that is going to hinder mealtimes. 
Quality 
A high-quality bowl will be much better than a low-quality alternative. It will be stronger and sturdier, and it will be easier to use for both you and your dog. 
High-quality stainless steel is resistant to corrosion and rust, meaning that it will last you for much longer and therefore cost you less in the long run. 
Low-quality stainless steel is likely to leave a metallic flavor on the food you fill it with. Although you won't be tasting it directly, your dog will and it might prevent them from eating if they're picky. 
So, wherever possible, it's advisable that you opt for the highest quality stainless steel dog bowl possible. It's lucky that we've just listed five of the best above for you.  
Size
Opting for a small dog bowl for your Great Dane would be rather redundant, wouldn't it? Make sure that the size of the bowl you opt for is in correlation with the size of your dog. 
Similarly, if you were to present your Terrier with a large dog bowl, they might waste a lot of the food or confuse it for a bed. 
To avoid over or underfeeding your dog, make sure that you purchase the correct size of the dog bowl for them. This is the same for the depth of the bowl. 
Some dogs will find it easier to eat from a deep dish, while others prefer a flat, shallow bowl. Keep their preferences in mind – it is their bowl, after all! 
Anti-Slip
If you've ever had to deal with a dog bowl before that didn't offer anti-slip capabilities, then you'll understand why this is so important when looking for a new model. 
The scraping of metal against the tile or hardwood floor is one of the most irritating noises on earth – trust us. 
What's more, is that non-slip bowls are incredibly messy. The majority of dogs don't care about being messy when they eat, so what you're left with is kibble strewn all over the floor and water soaking every inch of your kitchen (or wherever you keep your dog bowls). 
An anti-slip bowl is very beneficial for a lot of reasons. It will keep the bowl sturdy during feeding times so that your dog doesn't have to push it around the room just to catch some kibble. 
Additional Features
Some dogs need special features with their dog bowls such as elevation or slow feeding. 
If your dog needs these but you still want to find a stainless steel version, don't worry – there are still some options on the market. 
In fact, we've included one of each on our list above just in case you'd benefit from them. Elevated dog bowls make eating easier and more enjoyable for your dog so they don't need to bend their neck too much. 
Slow feeding bowls allow your dog to enjoy their food rather than eat it within seconds, causing digestive issues. 
Ease of Cleaning 
Dog food can get into small spaces and be very difficult to clean properly, so you'll want the stainless steel bowl to be as easy as possible to clean. 
As the material is metal, it can rust if not taken care of properly. Although stainless steel is resistant to rust, it is still possible if it is subjected to leftover water from washing or old dog food. 
The main issue of cleaning will be around the anti-slip rubber. There is often a gap between the metal and the rubber, which is the ideal place for water to accumulate and damage the bowl. 
To avoid this, make sure that the gap is nonexistent or easy to clean between. 
Durability
The durability of the stainless steel bowl you choose is obviously very important. Inexpensive dog bowls tend to be made of thinner stainless steel to save on manufacturing costs. 
This is fine if you wanted to spend less on your dog's bowls, but the thinner material might cause the bowls to dent easier. 
As one of the main reasons why dog owners purchase stainless steel bowls is because of their sturdiness, the fact that cheaper models could be less durable is very unfortunate and disappointing. 
To avoid this, make sure that the bowl you opt for is as durable as possible. 
Single or Double
Some manufacturers offer stainless steel bowls in packs of one or two. Depending on how many bowls you want, you might be able to save some money on a multipack. 
Stainless steel bowls can be used for both food and water. You could purchase two and use one for your dog's drinking water as well. 
Alternatively, if you have another dog that needs a food bowl too, you can opt for a multipack of stainless steel dog bowls. 
We have included a few multipacks of bowls in our recommended list above to make finding one as easy as possible for you.
Conclusion
There lots of different types of dog bowls on the market. However, we highly recommend an elevated stainless steel dog bowl with a stand if you have a medium or larger sized dog. 
This helps to reduce neck strain and allows them to easily digest their food. If you have a puppy or a small-sized dog, consider getting them a stainless steel bowl on an anti-sleep mat! 
Other articles you might like:
Frequently Asked Questions
Are stainless steel bowls safe for dogs? 
Yes, stainless steel dog bowls are completely safe for your dog to eat and drink from. In fact, stainless steel is one of the safest materials to make dog food bowls. 
There are no dangerous chemicals in stainless steel that could leak out into the food, poisoning your dog like other materials you can find. 
Stainless steel dog bowls are also the most durable and therefore won't break while your dog is using it. Therefore they won't accidentally eat broken shards of ceramic or glass, which is another safety plus in our eyes. 
Finally, stainless steel bowls are the easiest to clean so your dog won't get sick from dirty bowls. 
How often should you wash your dog bowls? 
Speaking of dirty bowls, it's important that you wash your dog bowls regularly – but more on that later. Many veterinarians consider it best to wash your dog's food bowl after every use.
If you feed your dog wet food, it should be washed, dried, and sanitized after every meal. If they eat only dry kibble, you should wash the bowls after the last meal of the day.  
Water bowls should be emptied, cleaned, and refilled every day as well. Just because your dog doesn't finish their water doesn't mean that it doesn't need to be cleaned. 
To clean the bowls, empty them of any food or water that has been leftover and leave them to soak in warm soapy water. Thoroughly rinse and sanitize with a pet-friendly product.  
Can dogs get sick from dirty bowls? 
Yes, dog bowls are breeding grounds for harmful bacteria and germs that could put your dog at risk. These germs could also put you and your family at risk, so it's important that you clean the bowls at least once a day. 
Use your better judgment and determine whether the bowls need cleaning more often than that. If your dog has had a particularly messy mealtime, you might want to be safe and clean the bowl twice a day. 
Also, make sure that there are no soapy bubbles left over after washing as this could harm their stomachs as well. Sanitizing the bowls should always be done with a product that is specifically made for dog food bowls. 
Garrett loves animals and is a huge advocate for all Doodle dog breeds. He owns his own Goldendoodle named Kona. In addition, he volunteers at the Humane Society of Silicon Valley, where he fosters dogs and helps animals. Garrett enjoys writing about Doodles and believes that dogs can teach humans more about how to live than humans can teach a dog.
Why Trust We Love Doodles?
At We Love Doodles, we're a team of writers, veterinarians, and puppy trainers that love dogs. Our team of qualified experts researches and provides reliable information on a wide range of dog topics. Our reviews are based on customer feedback, hands-on testing, and in-depth analysis. We are fully transparent and honest to our community of dog owners and future owners.