If your dog is anywhere between 20 to 60 pounds and their back's height while standing is between 8 to 27 inches, you have yourself a medium-sized dog, the most common size among all dog breeds. Just as small breeds tend to be on the tremblingly excitable side and the large breeds having calmer demeanors, medium-sized dogs vary wildly, and more often than not, they need basic training to help them either perform their job or become housebroken.
One of the most efficient training tools used by professional trainers is a shock collar. Used chiefly for negative reinforcement, it's used for incredibly stubborn and aggressive dogs while having gentler features that cater to already obedient pups. To further explain their benefits, we'll show you a list of collars and tell you about their features to help you understand how shock collars work. 
In a rush? Here are the top picks!
Product
Best Overall
Pet Resolve Training Collar
Runner-Up
SportDog 425X Shock Collar
Best Value
Dogtra IQ Plus+ Remote Training Collar
Image
Are Shock Collars Safe?
Bottom line, Yes. Well-made collars used the correct way are safe for use regardless of the size or breed. They do have their own risks as with every tool, but they are completely avoidable. Regardless of how it's explained, shock collars deliver electricity but the key factor is the amount of energy and the speed of the electricity.
To loosely compare its power to actually painful shocks, imagine getting a millisecond-long zap from your toaster's faulty wiring. That's like a pro baseball pitcher throwing a high-grade baseball at you. It's strong and fast and it's not uncommon for you to literally recoil. The shock collar's shock is like a half-determined kid throwing a ping-pong ball at you. It may hurt depending on how sensitive you are, but is ultimately low power and somewhat slow (in electric standards).
It's important that you do your homework before you buy a shock collar, so you know your responsibilities.
We start off with the collar that has the best bang-for-buck on the list. It shows the various features nearly all the collars in this list have. It has a little bit of everything needed for both training your dog and going out hunting with them. Being a hunting-grade collar means it must have great range, great response, and is resistant to weather in all types short of a tornado. It also has an automatic anti-bark function in case your dog needs behavior correction in that department. Here are its features:
Shock, Tone and Vibration Modes

10 Levels of Shock

Automatic Anti-Bark Program

Remote Supports Up to Three Receivers

Collar fits any dog with an 8-25 inch neck size

Memorizes Settings for Each Collar

No-Standby Mode

3/4 Mile Range

Nightlight

Easy-to-Understand Remote Controller

Weatherproof Remote, Waterproof Collar

Additional Extra-Long Prongs and Plastic Prongs

2 Hour Quick-Charge Lithium-Ion Batteries
Nearly all shock collars around the Pet Resolve's caliber have these three training modes. This means you don't have to use shock. Some gentler breeds react well enough to vibration and some are so responsive that the tone and a good bag of treats are all you need. When you do buy this collar, instead of going for shock, you can try the tone or vibrate first and see if it's enough. Alternatively, some owners and trainers use the tone to tell their dogs that they did a great job. (Although, who could resist telling their fur-pals what a great dog they are?)
The collar has 10 levels of shock and an overall "Medium" shock strength. This shock strength is mostly subjective, but the levels mean there are 10 "in-betweens" with the weakest and strongest shock. The collar also has an impressive range of 3/4 miles in open space. You'll likely not need this much range if you're just training your dog in your front yard, but imagine the possibility of teaching your dog to go to you when you press the tone button even when you can't see them. This is essential in hunting situations where dogs could go far chasing after prey.
In case you do lose your dog in the dark, the nightlight function comes in handy. It's not particularly bright, but it's enough to see them from a distance and even give them a bit of light to see better. 
This collar does not have a stand-by mode, this means the collar doesn't have a "sleep-mode". The drawback here is that you need to turn the receiver off after use so it doesn't drain the battery. The good part, the collar will always deliver when you press the remote. On average, modern shock collars go into standby mode after not getting any commands for 5-10 minutes. To wake it, you need to press the shock/vibrate button first, then you can press it again just for it to work, which can mess with your timing.
The collar's receiver is waterproof for up to 25 feet before the water pressure is enough to spill water into the device. This means the receiver can survive when your dog takes a dive in the lake or beach. The remote can withstand the worst rains and coldest winters, but it won't survive if you took a dive with your dog on said lake or beach.
The shock collar's actual collar fits the "Medium-small" to "Large" breeds, so it will fit any medium breeds. You can trim the excess off, but consider some lee-way if your dog still has some growing to do.
As far as batteries go, the collars in this list are long-lasting, seeing use for a week or two before needing a recharge. When they do, it takes just 2 hours to charge it back to full. 
In case your dog has extra-long or extra-thick fur, the extra-long prongs will be useful to ensure the prongs make contact with the 
The SportDog series is another dependable mid-range brand among this list. It doesn't have certain features compared to the first one, but it has the simplicity of both learning and actual usage. It's also a hunting-grade collar meant to survive virtually any conditions you'd find yourself in while hunting, making it more than capable in field training such as training working dogs. Here are the features:
Shock, Vibration and Tone Training Modes

21 Levels of Shock

Remote Supports Up to 3 Collars.

500 Yard Range

Collar fits any dog with a 5-22 inch neck size

Both Remote and Receiver are Waterproof

No-Look Remote Control

2 Hour Quick-Charge Lithium-Ion Batteries
 When you read about a shock collar's "X Number of Shock/Stimulation Levels", it doesn't actually tell you how powerful the shock is. One collar's 'Level ' shock 1 could be another collar's 'Level 3'. The benefit of this collar having 21 shock levels is that you can easily find that 'goldilocks' level where it's the minimum shock, but enough for your dog to notice. 
Though it only has a range of 500 yards, that's still a vast distance in open space. If you're doing field training or hunting, you'd normally want your canine partner to be within your sights or is at least in earshot. Since it can support 3 collars, you can even use it on group hunting and it's incredibly satisfying to be able to coordinate 3 hunting partners to secure your prey.
The remote is resistant to virtually anything the weather can throw at it sans grapefruit-sized hailstones. The remote also floats so in case you accidentally drop it when traversing a river or swamp, you'll have a good chance of recovering it intact. Speaking of remotes, this one is meant to take advantage of your natural grip, making it easy to both press the shock triggers and adjust the shock levels. This is handy but once you've dialed in the correct level, you barely need to use this, unless you have an erratic and stubborn dog, which can be the case sometimes.
The collar itself can fit slightly smaller dogs up to large dogs
Battery-wise, you'll also get the same treatment for any collar around this price range. They last anywhere between 1-2 weeks depending on usage and charges to full for 2 hours. In case you forget to charge the remote and the collar, you could get away with charging it before breakfast and afterward, you should have enough power for at least the day.
There are some cases where smaller is better and with smaller remotes come simpler controls. The receiver is also notably on the small side, which is great for medium-sized dogs and smaller, although tiny dogs less than 10 lbs. may need something else entirely. This remote collar also boasts an incredibly fine level of stimulation so let us find out how much it really has, along with its features.
Shock and Buzzer/Page Function

100 Levels of Stimulation

400 Yard Range in Open Areas

Supports up to 2 Dogs

Remote Only Has 4 Buttons and Dial

Waterproof Collar, Weatherproof Remote

No-Look Remote Control

2 Hour Quick-Charge Lithium-Ion Batteries
This collar combines the tone and vibrate function so take care when using it as it may startle your dog more than the shock could. Acclimating your dog to all the functions is very important because misuse of the collar can cause fear and if your dog's afraid of the collar, it will greatly impede training, downright stopping it.
The collar has 100 stimulation levels and is on the "Light Shock" rating based on its users. Placing it on levels 1-10 should be the mildest shock that it might as well be vibration. The dial allows you to adjust the amount with just your thumb. It makes it easy, but the problem will be consistency, especially when you're handling 2 dogs. Unlike the first collar on the list, this one doesn't have memory, so unless both dogs have the same set shock level, you need to constantly readjust. 
Apart from the dial, the other buttons are easy enough to understand. The first is the switch that toggles which collar is in use. The other 3 are labeled with N, C, and P which respectively, are "Nick", "Continuous" and "Page". The Nick is a split-second shock trigger and Continuous will trigger the shock as long as it is press but only for a maximum of 10 seconds. The Page is the Tone/Vibrate function which also scales with the level you placed. 
Despite the collar and remote being small, it still has the same battery life as the rest of the list. It's a testament to our current commercial technology as not only does it last long, it also has a relatively quick charge time. 
This collar, like the first and second collar, is used for field training and hunting, to some extent. If it's good enough to train dogs for military, rescue, and police, then it's definitely ideal for the average owner. The 3rd collar in the list boasts a relatively small remote, but you will find this one just as compact and even looks like a neat little stopwatch, giving you that athletic feel during training. It doesn't fall short on features either, so let's take a look at them.
Shock, Tone and Vibration Modes

100 Levels of Stimulation

Stimulation Boost Button

1/2 Mile Range in Open Areas

Small, Easy to Grip Remote with LCD Display

Nightlight

Waterproof Collar and Remote that Floats on Water

30 Inch Long, Adjustable Collar

Lithium-Ion Rechargeable Batteries
The shock collar has the same three training modes with up to 100 levels of shock. Instead of a dial, you can see the current level on the small LCD screen on the bottom of the remote. This kit has a boost button, essentially a button that gives a stronger shock, approximately 20 levels higher. This might not be useful in a regular training session with your mild-mannered pup, but instead is extremely handy when dealing with aggressive dogs, and quickly calling their attention when they are in danger. Sure, the shock can make them notice you, but in case they are running across the street with cars inbound, sending a quick and powerful shock to stop them, can save their lives. 
The 1/2 range isn't as far-reaching as some of our collars, but it's certainly enough on virtually all training sessions and even hunts. The button placements are meant for easy muscle memorization, so simply holding the remote ought to let you know which buttons to press and what each button will do. 
The receiver also has a decently bright nightlight. It's certainly enough for your dog to see the way, but more importantly, it's bright enough for you to notice, even if your fur-pal is 100 yards away.
The collar's receiver can also withstand being deep underwater, although a dog wouldn't dive more than 10 feet on average, the receiver can survive as deep as 25 feet. If the remote meets the same fate, it will float instead, making for easy recovery. 
As usual, it has a week-long battery life and a 2-hour quick charge, but you need to take care not to accidentally break the cover that plugs the charging port, otherwise, it loses its waterproofing. 
The last collar on the list is by no means the least. We've shown collars that have different mixes of features, all of which are trustworthy in performance and safety. This collar is no exception. It's a simple collar that does what it's intended to do and does it well. 
Shock, Vibrate, and Tone Functions

1/2 Mile Total Range

18 Levels of shock

Supports Up to 3 Collars

Includes Short and Long Contact Points

Small, Easy to Grip Remote with LCD Display

Waterproof Collar and Remote

2 Hour Quick-Charge Lithium-Ion Batteries
It comes with the standard three features most shock collars have. Its vibrate mode is noted to be more powerful than most of the collars here, but in exchange, the overall shock strength is quite low. This isn't a problem for most mild-mannered medium dogs, in fact, the vibrate function might work better depending on their temperament. 
It has 18 levels of shock, which combined with the relatively light shock power, might not be the best choice for beefier or more aggressive medium-sized breeds. To supplement the power, the kit contains longer prongs for longer and thicker-haired dogs. Sometimes, the shock is weak because the prongs don't make consistent contact with the skin, so longer prongs solve this problem. 
The remote is on the thin and long side with three buttons on the front. The middle button has a helpful little nub that orients you with the button placements and below it, an equally handy LCD screen that shows which collar you're controlling, the shock level, and the battery level.
In terms of waterproofing, both the remote and collar can withstand a 30-minute dip in more than 10 feet of water before potential damage, so it's more than a match for the heaviest storms out there. 
Finally, you also get the standard collar battery life and quick charge. This collar also comes with a dual charger so you can charge both the remote and the receiver at the same time. 
What Are Shock Collars Used For?
You use it for negative reinforcement against unwanted behaviors like excessive barking. Negative Reinforcement means you remove something to help your dog produce a certain behavior more often. An example is you're training your dog to sit. Once your dog understands what "sit" is, you then state the command, trigger the collar's continuous shock, then stop it as soon as your dog did the correct behavior.
The timing is important. You don't use the shock after your dog did something wrong. Instead, you teach your dog how to turn the stimulation off. With that said, how would you use the collar to, say, keep your dog from fighting other dogs? You teach them to go to you when called. You can use the shock collar to reinforce this enough that they would drop whatever they're doing and approach you. This is only one among many methods. 
The strong reinforcement shock collars can provide is extremely useful for training working dogs in dangerous environments such as police dogs and rescue dogs. It's also highly effective for training aggressive dogs. Should you feel that using shock isn't in your best interest, but still want the efficiency of remote training, all of our collars have a secondary vibrate and tone function. Let's go on with the list so you can understand their features better and decide which one is best for you.
Conclusion for Best Shock Collar for Medium Sized Dogs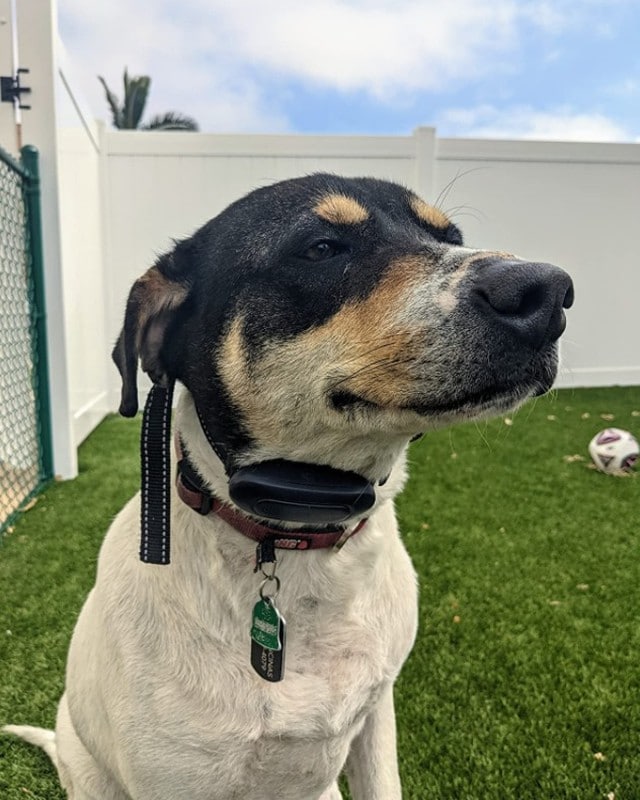 There you have it, five collars perfectly suited for moderately sized fur-buddies alongside handy information about shock collars. They may not be the best tools in the business, but they are the most efficient. Just like in nature it's not the most powerful who actually wins, but the one who gets the most yields for the least amount of effort. At least if we're going to train our beloved dogs, they deserve that much, if not better.
Other articles you would like:
Frequently Asked Questions
Now that you've seen our list of recommended collars, we'll try our best to answer more questions you may ask regarding collars, some widely asked, some more specific.  
How old should my dog be before I can start shock collar training?
6-14 Months and above. They enter what's called the "2nd Fear Phase" of their mental development at 6-14 months, making them more attuned to avoiding harmful and irritating stimuli. It will be easier for them to learn how to avoid the stimulation an electric shock collar or even the irritating scent of a spray collar. 
Can vibration or spray collars work better than shock collars?
It depends on the dog. All dogs have different temperaments and personalities despite some traits being tied to their breed. Some are sensitive enough that simply annoying them would work. Others are born tough and raised tough, making them resistant to even strong shock levels. Spray collars seem to work for a wider variety of dogs, but there are still some dogs who don't mind the scent at all.
Do shock collars make dogs aggressive?
Yes if misused. Abusing shock or vibrate  collars or even a spray collar can cause dogs to fear them. Depending on their temperament, it could cause aggressive behaviors in an attempt to thwart the device, or because of sheer distrust. When used right, training collars, in general, can be used to quell aggressiveness in dogs, though it is not easy to undo the fear in them once it's set in. 
Garrett loves animals and is a huge advocate for all Doodle dog breeds. He owns his own Goldendoodle named Kona. In addition, he volunteers at the Humane Society of Silicon Valley, where he fosters dogs and helps animals. Garrett enjoys writing about Doodles and believes that dogs can teach humans more about how to live than humans can teach a dog.
Why Trust We Love Doodles?
At We Love Doodles, we're a team of writers, veterinarians, and puppy trainers that love dogs. Our team of qualified experts researches and provides reliable information on a wide range of dog topics. Our reviews are based on customer feedback, hands-on testing, and in-depth analysis. We are fully transparent and honest to our community of dog owners and future owners.