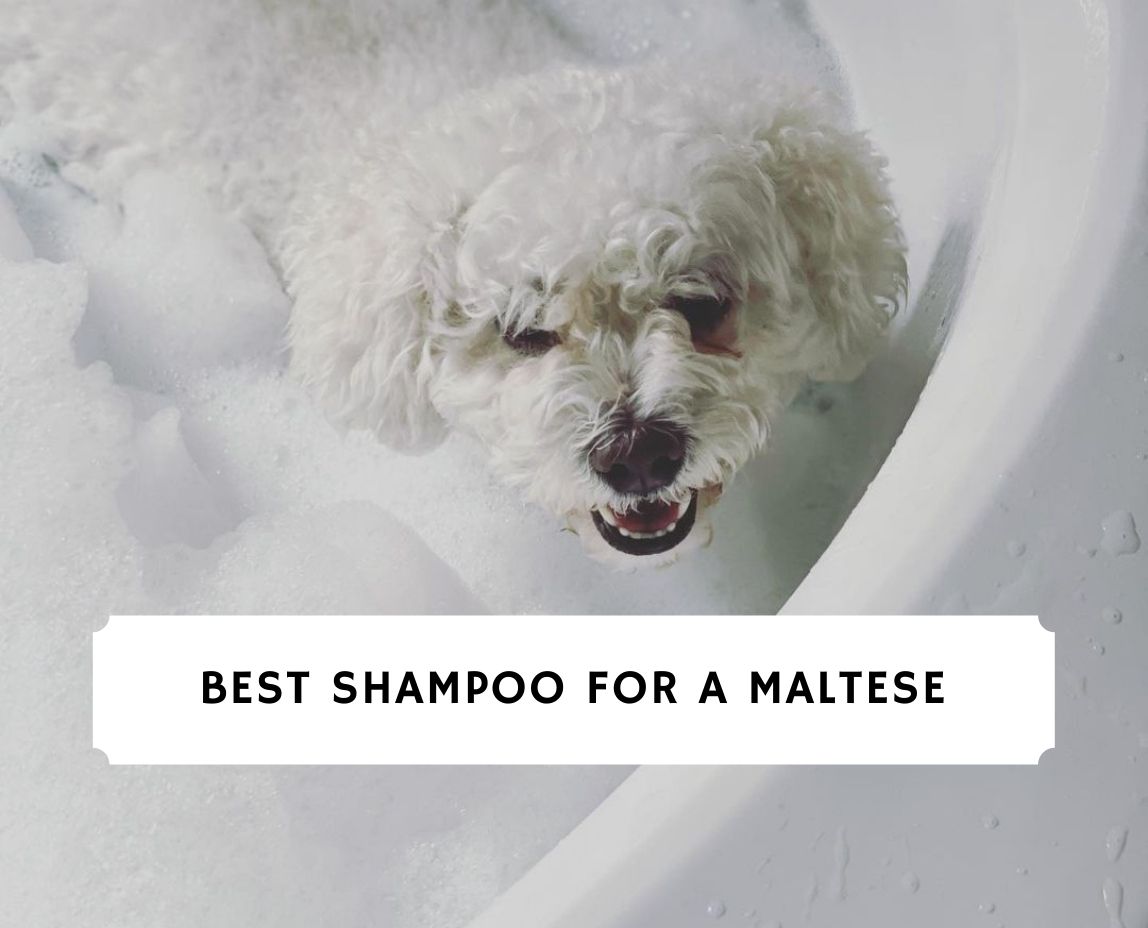 When you choose a dog shampoo, it should not be without first considering your dog's coat and skin type. From delicate, itchy skin to double-coated hair, there are a variety of shampoos on the market that can keep your pup clean and comfortable. 
Every Maltese has unique needs that need to be addressed. For example, is your goal to wash off the mud? Do they smell funky? Do they suffer from dry skin and itchiness? Whatever the case, there are a few things you should keep in mind when choosing a shampoo. In this review of the best Maltese shampoo, we will discuss these concerns and recommend our favorite options for your furbaby.
Gentle And Natural Shampoo Formulas
It is recommended to use a gentle, natural formula that won't strip the coat and skin of essential oils. For example, if your Maltese has sensitive skin or an allergy to common ingredients found in dog shampoos, you may need to opt for a hypoallergenic or oatmeal-based shampoo. For dogs with double coats, you'll want to find a product that can penetrate the thick outer layer without drying out the inner coat.
F.D.A. and Pet Shampoos
The F.D.A. does not regulate pet shampoos unless they're medicated. Pet shampoos are often made with chemicals that can be toxic to pets, so monitoring your pet closely when using a new shampoo is essential. Pet shampoos fall under the category " grooming aid'. These are products used for cleansing pets. 
The F.D.A. explains that " The animal counterpart of a cosmetic is commonly referred to as a "grooming aid." The Act defines a cosmetic as pertaining only to human use (21 U.S.C. 321(i)). Therefore, products intended for cleansing or promoting attractiveness of animals are not subject to F.D.A. control. However, if such products are intended for any therapeutic purpose or if they are intended to affect the structure or function of the animal, they are subject to regulation as new animal drugs under the Act."
There are many different pet shampoos on the market today, from all-natural, organic options to more powerful chemical formulas. If you are unsure about which shampoo to use on your pet, consult your veterinarian.
When using any pet shampoo, be sure to follow the directions carefully. Avoid getting the shampoo in your pet's eyes, nose, or mouth, and rinse thoroughly to remove all traces of the shampoo from your pet's fur. If you have any concerns about a pet shampoo, contact the manufacturer or your veterinarian.
In a rush? Here are the top 3 shampoo picks for your Maltese!
Product
Best Overall
We Love Doodles Shampoo
Runner Up
Pride and Groom Shampoo
Best Whitening
Chris Christensen White Shampoo
Image
We Love Doodles 4-in-1 Dog Shampoo, Conditioner, and Detangler is a must-have for all dog breeds, but specifically made for nonshedding dog breeds like the Maltese. Made with natural ingredients, this product cleans and moisturizes your dog's coat and detangles it to prevent matting. Plus, it's specially formulated to be extra gentle on sensitive skin, so it won't dry out or irritate your dog's coat. It's been used by professional groomers for several years, but just launched on Amazon in May, 2022.
Whether your Maltese has a short or long coat, the We Love Doodles shampoo is perfect for keeping his coat looking and feeling its best. Its nourishing formula will help restore damaged coats while adding volume and shine for that "just groomed" look and feel. 
And because this shampoo is made in the USA with only the best quality certified organic ingredients you can trust which means that it's safe and effective for your Maltese. Match it up with slicker brush, and you'll be able to keep your dog's coat looking and feeling its best all day, every day.
Features
Affordable
High-quality pet grooming product that's been tested 
Vet approved
Certified Organic Ingredients
Best new 2022 pet shampoo for low shedding breeds like the Maltese
Lavender chamomile formula
No parabens, sulfates, formaldehyde, alcohol, or synthetic dyes.
4-in 1 We Love Doodles shampoo for all dog breeds
Certified Organic with no unsafe ingredients
Vet approved
A US all-natural pet grooming product
Made in small batches to ensure optimal safety and ingredient freshness
"A very good shampoo/conditioner. It has made my Maltese hair soft and thick. it may be a little expensive but well worth the money. After the bath, I do not have to spray her hair with perfume. The shampoo leaves her smelling much better for days."
If you want a shampoo and conditioner that will take great care of your precious pup, look no further than Pride and Groom's The Non-Shedder Box Set, a shampoo and conditioner combination that will make your Maltese feel better ever. The all-natural blend of essential oils and ingredients works to soothe irritated skin and promote healthy hair growth. 
Plus, the long-lasting shine and manageability will make your canine companion proud! The main ingredients included in this formula are coconut oil, avocado oil, vitamin E, flaxseed oil, jojoba seed oil, calendula extract, and lavender); for the final coat, marshmallow root, lavender, sage, safflower seed oil, and hemp seed oil.
Features
Numerous formulas and sizes
2 set kit shampoo plus conditioner
The cone-shaped AppCap (only available for 16oz) allows for flow control
Includes coconut oil, avocado oil, vitamin E, flaxseed oil, jojoba seed oil, calendula extract, and lavender
Shampoo and conditioner set.
Smoothing ingredients for a non-shedder's hair coat.
Formulas made in a clean beauty lab + fragrance house
Free of parabens, sulfates, silicones, toxins, dyes, and gluten
Chris Christensen's White on White dog shampoo is a professional grade shampoo that safely removes yellow and other stains while brightening white and other colors. This shampoo features no bleach or harsh chemicals and is safe for all coat types. 
It's also made in the U.S. If your Maltese coat starts to yellow, this is an optic intensifying treatment within a shampoo. This formula is gentle enough to use regularly and is made with no bleach or harsh chemicals. Instead, it brings out the white in a dog's coat without bleaching it. 
Features
Whitening treatment shampoo
No bleaching agents or harsh chemicals
Affordable
Optic intensifying treatment
Non-irritating to normal skin
If you're looking to enhance your pet's coat color and shine, look no further than Earthbath Coat Brightening Shampoo! It features a unique selection of optical brighteners with gentle cleansers and lavender oil to help brighten Maltese coats. 
This gentle, all-natural formula is made in the U.S.A. with lavender oil and other botanical ingredients to cleanse and condition your pet's coat. It also contains optical brighteners that intensify color and produce unbelievable shine. 
Your pet will look and feel its best after just one bath! We like this shampoo for the Maltese because it naturally enhances color and shine in all coats without using any toxic ingredients.
Features
Coat brightening pet shampoo
Cruelty-free and natural
Natural and organic ingredients
Blended with renewable plant-derived and coconut-based cleansers, organic aloe vera, and lavender oil.
No soap, parabens, sulfates, phthalates, dyes, or alcohol
Made in the U.S.
Customer Review
"I use this shampoo all the time for my Maltese (on my profile picture!) daily wash his paws after his walks, to make sure he doesn't get my bed dirty. No dry skin or anything. I recently bought another brand, and it gave him dry skin and he would scratch all the time. Never going to buy another brand again!"
Sofee and Co. dog shampoo is the perfect choice for a clean, healthy, and shiny coat. This pet shampoo cleans your dog's hair gently and thoroughly with rosemary extract to deodorize, moisturize and regenerate dry skin & coat.
It also contains coconut oil which makes their hair extra soft and smooth. Sofee and Co help relieve dry, itchy, flaky, and sensitive skin. This shampoo works well on Shih Tzu's, Maltese, Poodles, Bichon Frise, Havanese, Yorkshire Terriers, Doodles, etc. Remember that this shampoo is best used with the conditioner, especially if your pup has dry skin and coat.
Features
White pear scent
A light and subtle scent
Natural shampoo
Cruelty-free
Numerous formulas
Non-toxic and safe to use
Made in the U.S.
Burt's Bees for Dogs Natural Tearless Puppy Shampoo is a tearless shampoo formulated with buttermilk to gently cleanse and soothe your puppy's sensitive skin. Our natural dog shampoo contains no sulfates, parabens, phthalates, or petrochemicals – just plant-based cleansers and soothing ingredients to leave your pup's coat looking and smelling great. Plus, it's safe to use on puppies over six weeks old.
To use, wet your puppy's fur and massage the tearless shampoo into their coat. Rinse thoroughly and towel dry. Groom as usual. For best results, use Burt's Bees for Dogs Conditioner.
Features
Affordable for multi-pup homes
Includes buttermilk powder, honey, and beeswax 
Veterinarian recommended
Natural ability to soothe skin 
Cruelty-free
Tearless
pH balanced, especially for all dogs and puppies
No parabens, phthalates, petrolatum, SLS, or synthetic fragrances
If you are looking for a shampoo that will help promote healthy hair, coat, and skin for your dog, you should try Moosh Natural Dog Shampoo. This shampoo is made with 100% natural ingredients like shea butter, argan oil, aloe vera, and bentonite clay, which are all beneficial for your dog's skin and coat.
This organic shampoo is also great for helping to alleviate common skin issues like hot spots, dry and itchy skin, and allergies. As a bonus, it even works as a pet odor eliminator! So if your dog has any embarrassing smells that you want to get rid of, this shampoo can help with that too.
Features
Organic and 100% natural with argan oil, shea butter, aloe vera, and bentonite clay to relieve itching and skin inflammation
Crafted for itchy skin and hot spots
Very concentrated
Contains essential oils
A US pet grooming product
Choosing A Shampoo For Your Maltese
Clean hair and coat will be shinier when there is no dirt and oil, which are known to dull the appearance of the hair fibers. Keeping your pet's coat clean is essential for several reasons.
One major reason to keep your pet's coat clean is to help prevent skin irritation and infections. A dirty, matted, or greasy coat can trap moisture and dirt near the skin, allowing bacteria and yeast to grow. This can lead to itchy, flaky skin or even more serious conditions like hot spots and fungal infections.
Another important reason to keep your pet's coat clean is to help manage to shed. Frequent brushing and bathing can help remove loose hair, keeping it from spreading throughout your home. This will improve the appearance of your pet's coat and help reduce the amount of hair you find on your furniture and clothing.
Finally, regular grooming can be a great bonding experience for you and your pet. It's an opportunity to spend some quality time together while keeping your pet healthy and looking their best.
There are a few things you should keep in mind when choosing a shampoo for your Maltese. First, it is essential to choose a shampoo formulated specifically for your pet's hair type. 
There are shampoos designed for dogs with short or long fur and those designed for specific coat colors or breeds. You should also look for shampoo free of harsh chemicals and additives. 
Many commercial pet shampoos contain chemicals that can dry and irritate your pet's skin. Choose an all-natural or organic shampoo to avoid these potential problems.
Finally, consider your pet's individual needs when choosing a shampoo. For example, if your pet has sensitive skin, look for a hypoallergenic option. Pets with allergies may benefit from a medicated shampoo to relieve itching and irritation.
No matter which shampoo you choose, always follow the directions carefully and avoid getting the shampoo in your pet's eyes, nose, or mouth. Rinse thoroughly to remove all traces of the shampoo from your pet's fur. If you have any concerns about using a particular shampoo on your pet, consult your veterinarian.
Key Maltese grooming tips to remember:
Consider your dog's coat and skin type.
Choose a gentle, natural formula that won't strip the coat and skin of essential oils.
If your Maltese has sensitive skin or allergies, opt for a hypoallergenic or oatmeal-based shampoo, but reach out to your veterinarian first for a consult.
Bathe your Maltese every few weeks using a quality dog shampoo.
Brush your Maltese coat daily to prevent mats and tangles.
Use a detangling spray to make brushing easier.
Trim the hair on your Maltese's face often to keep it out of the eyes.
Take your Maltese to the groomer regularly to maintain their beautiful coat and keep them looking their best!
How to wash your Maltese?
Fish oil for coat health
Fish oil is an essential nutritional supplement for dogs of all ages, especially as they get older. It can help promote healthy skin and a glossy coat, protect the immune system against disease, reduce inflammation throughout the body, and boost energy levels. 
Fish oil also helps reduce shedding and the amount of dandruff that can build up on your dog's skin. If you're finding that your pup's coat lacks luster, look into your dog's diet and consider supplementation.
There are several different sources of fish oil for dogs, including salmon oil and krill oil. Salmon oil is derived from wild-caught salmon, while krill oil comes from tiny crustaceans in cold ocean waters. Both types of fish oil contain omega-3 fatty acids, which are considered essential. These fatty acids are not made by the body and must be obtained through diet or supplementation to ensure optimal health.
Flea and tick shampoos
There's a growing preference for natural pet products among pet parents today. While some pet parents are comfortable using chemical-based products, many prefer to use just natural shampoos and other topical applications for their pets.
Pet parents should consider one good option natural flea and tick shampoos. These shampoos are designed to provide a safe yet effective way of killing fleas and ticks on contact. They usually contain essential oils and other natural ingredients safe for pets and humans.
Feeding a healthy diet
Without good nutrition, dogs can't be their best. A dog fed a high-quality, nutritious diet will be stronger, more active, and better able to sustain itself during stress or illness. Nutrition-related problems can affect any dog breed, regardless of whether they're a small or large breed.
Some of the essential nutrients for dogs include proteins, vitamins, and minerals. Protein is needed to build strong bones, muscles, and organs. Vitamins are necessary for metabolic processes and immune system function, while minerals are necessary for healthy teeth and bones.
If you're looking to provide your dog with the best nutrition possible, consider feeding him a high-quality commercial diet with only natural ingredients. These foods will feature essential nutrients without fillers or artificial additives.
Dog food allergies and skin issues
While dogs can be allergic to many ingredients, some dogs will have food allergies to different meats, grains, and artificial additives like coloring, preservatives, and flavorings. 
In addition, dogs with food allergies will often develop skin problems like hives, rashes, hot spots, and chronic itching. If you suspect that your dog has a food allergy, talk to your veterinarian about testing for common food allergies. 
In the meantime, try feeding your dog an elimination diet of only one protein source and one carbohydrate source. This will help you pinpoint exactly what foods are causing the allergic reaction in your pup. It's key to keep in mind that some dogs will develop a protein or carb allergy even after being exposed for a long time. 
Simply changing your food's protein and carbohydrate sources from beef and corn to turkey and rice may be enough to combat the allergy. Unfortunately, many dogs that suffer from severe skin allergies find relief when a diet is changed.
As always, be sure to consult with your veterinarian before making any changes to your dog's diet. Your vet will be able to help you determine the best course of action and make sure that your dog gets all of the nutrients they need for optimal health.
Malnourishment
This can happen if you don't feed your dog a complete and balanced diet or provide a limited diet only- like meat. Even an overweight dog can be malnourished because he lacks the essential nutrients in his diet. 
Due to neglect, dogs not fed often are also likely to become malnourished. This will affect skin and coat health. A lack of vitamin C can also contribute to increased cancer risk, just like in people, and inadequate fat intake can result in dry coats with itchy or sensitive skin. Some pups may also be susceptible to copper or have a zinc deficiency from their diet.
Finding the best shampoo for your pup is always a good idea, but probably the most significant skin-related problem in dogs is poor nutrition from low-quality commercial dog foods. 
You should always reach out to your veterinarian to get the best advice about the best dog food, supplements, and pet shampoo that you should be using if your Maltese has a skin issue. The best dog shampoo will not help skin issues if your dog's health is not monitored.
The Maltese
Maltese have a single coat that can have a shaggy look or a puppy cut. The A.K.C. adds that "The Maltese is a toy dog covered from head to foot with a mantle of long, silky, white hair." But words can't convey the flashy visual drama and glamour of a Maltese in full show coat." You may find that the longer coat is high maintenance and opt to clip it shorter for easier care. 
When a Maltese coat is clipped, it can have wavy or straight hair. When the coat is clipped shorter around the head, you'll be able to see what a cute and sweet face this breed has. 
But even when keeping the coat clipped, you may be visiting your groomer every few weeks to maintain a shorter coat that's free of mats and tangles. As for the show coat, you'll have to add in a few extra hours in the time and care to maintain their silky coats.
Maltese coat
The Maltese coat is beautiful, but it does require some upkeep. You'll need to brush your Maltese daily with a soft bristle brush or comb to prevent mats and tangles. The hair on the face should be trimmed often to keep it out of the eyes. And you may also want to use a detangling spray to make brushing easier. You should also bathe your Maltese every two to three weeks using a quality dog shampoo.
When choosing a shampoo for your Maltese, you'll want to find a gentle product that won't strip the coat of essential oils. A hypoallergenic or oatmeal-based shampoo may be necessary for your Maltese.
Frequently Asked Questions
How often should I bathe my Maltese?
This is a matter of personal preference and also depends on whether your dog tends to get dirty or not. Some people only bathe their Maltese once a month, while others may do it every two weeks. If you find that your dog is starting to smell bad, it may be time for another bath.
Why should I use a specialized shampoo or conditioner on my Maltese?
Maltese dogs have wonderful and delicate coats, which can quickly become damaged by harsh shampoos and other products. Using unique dog-friendly formulas will help prevent irritation and keep the coat looking shiny and healthy.
How do I know if my Maltese is allergic to something in shampoo?
If you notice that your dog's skin becomes red or irritated after using a particular shampoo, they are likely allergic to an ingredient. Try using a different brand or formula to see if the problem improves. If not, it's best to consult with a veterinarian.
Can I use human shampoo on my Maltese?
No, you should not use human shampoo on your Maltese dog. The pH balance of human hair is different than that of dogs, and using human products can dry out the coat and skin, leading to irritation. Instead, stick to products made specifically for dogs to get the best results.
Are there any other products I should use in addition to shampoo?
In addition to using shampoo, it's good to use a conditioner or rinse after bathing. This will help keep your Maltese coat soft and healthy and also adds protection against tangles and flyaways. You may also want to invest in a good grooming spray for regular touch-ups between baths. These products can be found at most pet supply stores, and online at We Love Doodles.
My Maltese has tangled or matted fur around his paws and toes. How do I fix this?
If your Maltese has tangled fur between his toes, a quick trick is to use baby oil, coconut oil, or petroleum jelly on the affected areas. Gently work the product into the fur using your fingers. 
Use scissors to trim any remaining matted or knotted hair when you're done. Repeat as necessary until you get all of the tangles out. Some owners also find that dabbing a bit of moisturizing conditioner on affected areas can help prevent future tangles. 
Again, use your fingers to work the conditioner into the fur and then trim any loose hairs with scissors. While this is not a permanent solution for tangling or matting, it can be helpful as an occasional treatment between grooming sessions. If you have any concerns, please consult with your veterinarian or a professional groomer.

Claudia Bensimoun is a writer who specializes in dog content and veterinary topics! Aside from writing for We Love Doodles, Claudia also writes for other major dog blogs like Fido Friendly, Animal Wellness Magazine, and the United States Dog Agility Association (USDAA). She has a ghostwritten over 50 different dog e-books. Her passions include animal welfare, veterinary research, and wildlife conservation.
Why Trust We Love Doodles?
At We Love Doodles, we're a team of writers, veterinarians, and puppy trainers that love dogs. Our team of qualified experts researches and provides reliable information on a wide range of dog topics. Our reviews are based on customer feedback, hands-on testing, and in-depth analysis. We are fully transparent and honest to our community of dog owners and future owners.