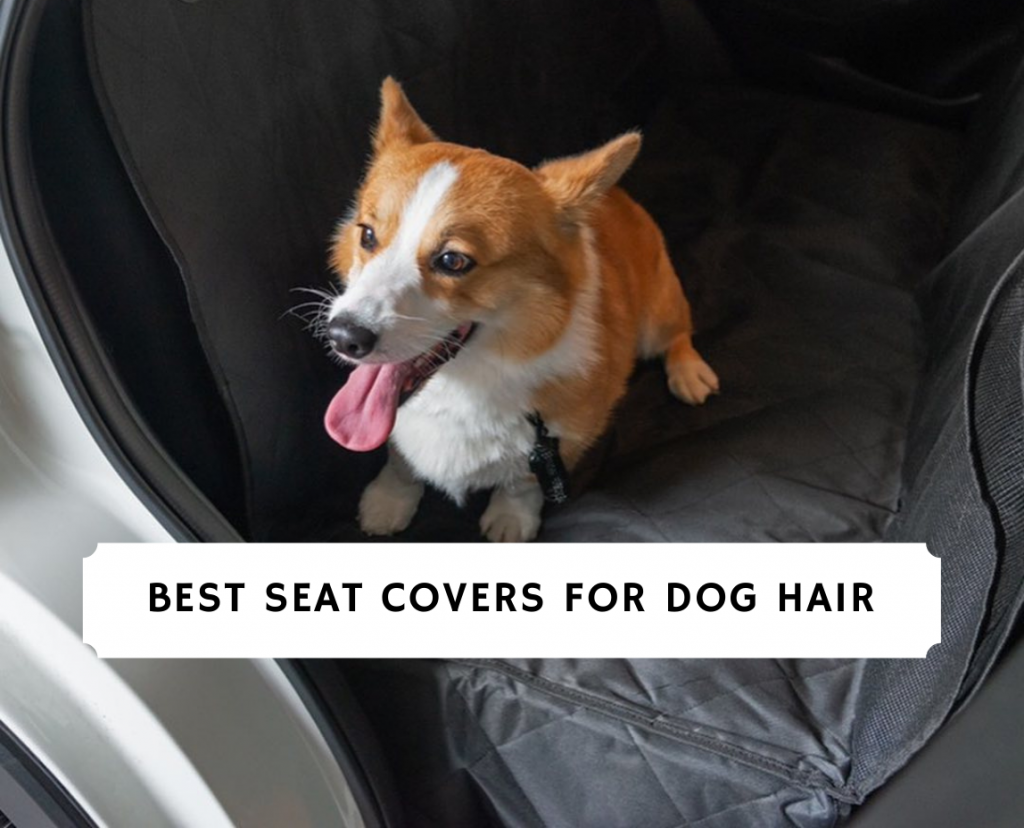 Often times we need to take our dogs somewhere in the car whether it be to the dog park, vet, or to see a friend. Cars are one of our most valuable assets and we don't want dog hair infesting all of the nooks and crannies of our beloved vehicles. We also don't want dog hair to get all over other people's clothes when they sit in our car.
No, it's not wrong to wish that there was one area of your life that could remain free of dog hair, muddy paws, and drool, but it's just not achievable. Preventing your dog from ever entering your car is just never going to work. However, there are some things that you can do to avoid dog hair ruining your car seats.
Whoever invented the dog seat cover needs a round of applause. They attach to the headrests and provide a comfortable place for your dog to sit without ruining your pristine seats. Sounds heavenly, right?
Today we're going to be looking at the five best seat covers for dog hair so that you no longer have to cringe when watching your dog jump into the backseat of your car. Don't forget to read our buyers guide that tells you what to look for when choosing the seat cover of your dreams.
We've also answered some FAQs later in the article, and if you can't wait to purchase your new seat cover, we've fast-tracked you to the best option on the market.
In a hurry? Here are the top picks!
Image
Best Seat Covers For Dog Hair Reviewed
Seat covers are invaluable for many dog owners and you don't know what you're missing until you try one for yourself. We've found the ideal model for you to try in your car.
After all of our research into seat covers for hair, we've found that the Active Pets Dog Back Seat Cover is the best option on the market for you. Here are a few reasons that helped us come to this conclusion:
The four-layer construction offers amazing protection to your seats.
Humans can sit on the cover as well as dogs thanks to the seat belt holes.
You can install the cover within 60 seconds.
Cleaning the material could not be simpler thanks to the waterproof cotton top layer.
First up on our list is a dog seat cover for hair from Active Pets. The simple yet stylish cover reaches over all of the backseats, including both the backrest and seats. In addition, there is a protective barrier between your dog and the back of the front seats.
Four layers of material ensure that no hair, dirt, or odors are going to reach your car seats through the cover. You'll also be able to install the seat cover within 60 seconds thanks to the simple headrest straps!
The material is also easy to clean and is specifically designed as a pet hair resistant car seat cover. Waterproof cotton makes up the first layer which can be simply wiped down with a wet cloth for spot cleaning. You can also vacuum the fabric quickly for instant results.
There are four colors to choose from and two sizing options to match your car. In addition, there are also velcro openings for seat belts so that humans can sit in the back of the car with your dog as well. This is by far one of the most affordable and best car seat covers for dogs.
The URPOWER dog seat cover offers 360 protection against hair, so your car seats are guaranteed to be left unscathed by its furry visitor. The automotive cover protects the backrests, seats, backs of the front seats and the interiors of the doors! Your dog is protected from all angles with this one as it's designed to contain dog hair.
The fabric is waterproof and durable so you can feel confident letting a wet dog into your car. Don't worry, your car seats are not going to get ruined! This also means that the cover is also very easy to clean with a vacuum or a wet cloth.
You can rest assured that the seat cover is safe for your dog to use without slipping all over the place. The cover remains in place thanks to the sturdy straps as anchors. There are five colors to choose from to blend perfectly with the interior of your car.
Next up, the VIEWPETS seat cover surrounds the entire backrest of the backseats as well as the car seats themselves. However, there is no protection for the footwell of the back to the front seats like the two options above.
This seat cover is comfortable enough for both your dog and humans to use. In addition, thanks to the velcroed car seat belt holes, everyone can sit on the bench cover. The fabric is waterproof and easy to clean as well, so don't worry about an hour cleanup vacuuming or brushing your dog hair out.
The fabric is also durable enough to be protected from scratches and bite marks so that your car will remain in pristine quality. This seat cover for dog hair will fit the majority of vehicle models thanks to the large size. Choose between four muted colors to match the interior of your car.
Moving onto a slightly different design of seat cover, the BarksBar model only covers an individual seat rather than the entire backseat bench. This is best used if your dog sits in the front of your car with you, or if you still want to use an armrest in the back of the car.
The smaller size seat covers can also be excellent for people with bigger cars who find that the bench alternatives are too small to cover their entire seats. The quilted pattern is comfortable and ensures that your dog will have the journey of their life.
The backing of the cover is non-slip which works seamlessly with the seat anchors to ensure that the entire seat is protected at all times. A smaller seat cover also means that the cleaning time will be cut short, perfect for busy owners.
OKMEE has created its automotive seat covers for pets to ensure that both dogs and humans are happy when using it. The cover protects the backseats, the backs of the front seats, and the insides of the back doors too.
Perhaps what's most interesting about this model is that it can be converted in four different ways. You can use it as a dog hammock, bench car seat cover, front seat cover, or a cargo liner. No matter what you want to protect from dog hair, this model has you covered.
There is also a handy pocket on this car seat cover model that you can use for emergency pet supplies or perhaps your own belongings. The fabric is scratch proof and waterproof, making it easy to clean and maintain.
Best Seat Covers For Dog Hair Buyers Guide
To ensure that you're purchasing the best seat covers to use with your dog, it's best that you do your research first. It's tempting to choose the first one that comes up when you search for the product, but that's how you waste money and become disappointed by your purchase.
We want to make sure that you get the best option for your personal needs, which is why we have created the ideal buyers guide to ensure that your shopping experience is as successful and simple as possible. We will help you select the best seat cover for dog hair.
Style
Chances are that if you love your car, you care how the seats look too. You won't want to cover them up just because you don't want any dog hair ruining them. However, sometimes you don't have a choice but to use a cover to prevent hair from clinging to the seats.
So, you'll have to find a cover that looks as nice as your seats did. Most seat covers are styled in the same way with neutral colors that will blend in with the car interior, but some will match your style more than others.
Just because you need to protect your car doesn't mean that you can't be proud of it, so choose a car seat cover that you think will look perfect in your car. Generally, people like to select a seat cover that matches the interior of their car.
Compatibility
Some cars have different features than others, such as fold-out armrests. If your seat cover does not take these features into consideration, you won't be able to use them while the seat cover is on and they'll become obsolete. You can get seat covers that have room for the armrest, so find one that works seamlessly with your car.
Another feature to consider is that some cars come with no headrests or headrests that cannot be adjusted. The majority of car seat covers rely on headrests to keep them in place, so if your car does not have sufficient anchorage you'll need to find an alternative that will work with your car.
Size
Do you want to cover the entire length of the backseats in your car or are you happy only covering one seat? Some dogs like to sit on one side of the car while others enjoy having free roam over all of the seats.
Another consideration is whether you want to cover the backseats or the passenger side seats. It depends where you prefer to keep your dog when they're traveling in the car with you. Make the choice wisely as you cannot use a backseat cover for a front seat.
Durability
Some dogs like to chew and dig, particularly when they're bored in a long car ride. So, you'll need a seat cover that is durable enough to be protected from bored dogs. Look for thick materials and double stitching when choosing which seat cover you're going for.
Dogs will more than likely want to chew the straps on the seat cover as well, so these have to be extremely durable. Once the strap is broken the seat cover will become much less efficient, so choose the most durable option possible.
Security
Speaking of efficiency, you'll want to opt for a seat cover that is going to remain tightly fitted to your seats. If there are any gaps between the seat and the cover, the hair will be able to slip through and attach itself to the seats anyway.
You should look for straps that can be tightened according to your vehicle. As a general rule of thumb, the more straps a seat cover has, the more secure it can be on your seats. There is no use choosing a seat cover that doesn't protect your seats, so security is a must-have when shopping around.
Ease of Installation
As we've just said, the more straps your seat cover has, the better. However, these can be very difficult to install onto your car. Particularly if you're in a time crunch, you might prefer to opt for something that can be installed within a few simple steps.
Reading customer reviews will allow you to see whether the seat cover that you're looking at is easy to install or not. Remember that the easier it is to install, the less it might actually protect your seats. Try to find a happy medium between the two.
Ease of Use
How often your dog is a passenger in your car will indicate how often you choose to remove the cover from the seats. Some owners just leave their cover on the seats indefinitely, but if you don't take your dog in the car very often you can get away with removing it and unveiling your shiny new seats again.
Some seat covers are so difficult to remove and replace; however, that people don't bother with this at all. So, if you think that you'll want to remove your seat cover often you should try to find one that is easy to remove and replace as and when it's needed.
Comfort
If you're thinking of leaving the seat cover over your seats indefinitely, you should think about how comfortable the material is going to be for other passengers. There will more than likely be a time where a human will have to sit on the seat cover and you want them to be comfortable enough.
It's also important for your seat cover to have seat belt holes if people are going to be sitting on your seat protector. Moreover, the cover should be comfortable enough for your dog to sit on for long periods of time!
Cleaning
We know that this article is about protecting your seats from hair, but what about smells and mud, too? Chances are that your seat cover will also protect the back of your car from dirt and wet dog, as well.
While your seats will be protected, you will want to remove the mud and odor from your car from time to time to make your driving experience more enjoyable. So, you'll need a seat cover that is easy to clean.
Conclusion for Best Seat Covers for Dog Hair
There are several different options of car seat covers for dog hair. You can simply get a seat cover for your back seats or the front seat. In general, you will want to make sure the seat cover matches the interior of your car, is durable enough to survive scratching and biting, and is easy to install. Seat covers for dog hair are extremely convenient because you don't have to vacuum all the time and won't get mud or drool on your seats!
Other articles you would like:
Frequently Asked Questions
How do you get a seat cover to stay in place?
Reading and sticking to the instructions would be a good place to start if you wanted your car seat to stay in place. Making sure that the straps are done up tightly enough will prevent the fabric from moving from a position as easily.
Unfortunately, some seat covers are better than others at staying in place during the journey. Sometimes it's a good idea to conduct some trial and error to find what works for your car.
Overactive dogs can cause seat covers to shift mid-journey, so teaching your pup to remain in one place might be a good place to start.
Where should a dog sit in the car?
The backseat is the safest place for your dog. They have more room to move around if they're uncomfortable and they won't be in a dangerous position if you have an accident. However, some dog owners allow their dogs to sit in the front with them.
If you prefer to do this, you should make sure that the passenger side airbag is off so that they are not crushed if you get into an accident. Small dogs should also be positioned on booster seats if they're riding in the front with you.
How do dog seat covers work?
A seat cover ensures that there is a barrier between your car seat and your dog. This will protect the seat from hair, smells, and dirt that your dog might be carrying on them. They attach to your car with straps and can be very useful when you're renting a car or don't want to ruin the look of your new vehicle.
Garrett loves animals and is a huge advocate for all Doodle dog breeds. He owns his own Goldendoodle named Kona. In addition, he volunteers at the Humane Society of Silicon Valley, where he fosters dogs and helps animals. Garrett enjoys writing about Doodles and believes that dogs can teach humans more about how to live than humans can teach a dog.
Why Trust We Love Doodles?
At We Love Doodles, we're a team of writers, veterinarians, and puppy trainers that love dogs. Our team of qualified experts researches and provides reliable information on a wide range of dog topics. Our reviews are based on customer feedback, hands-on testing, and in-depth analysis. We are fully transparent and honest to our community of dog owners and future owners.