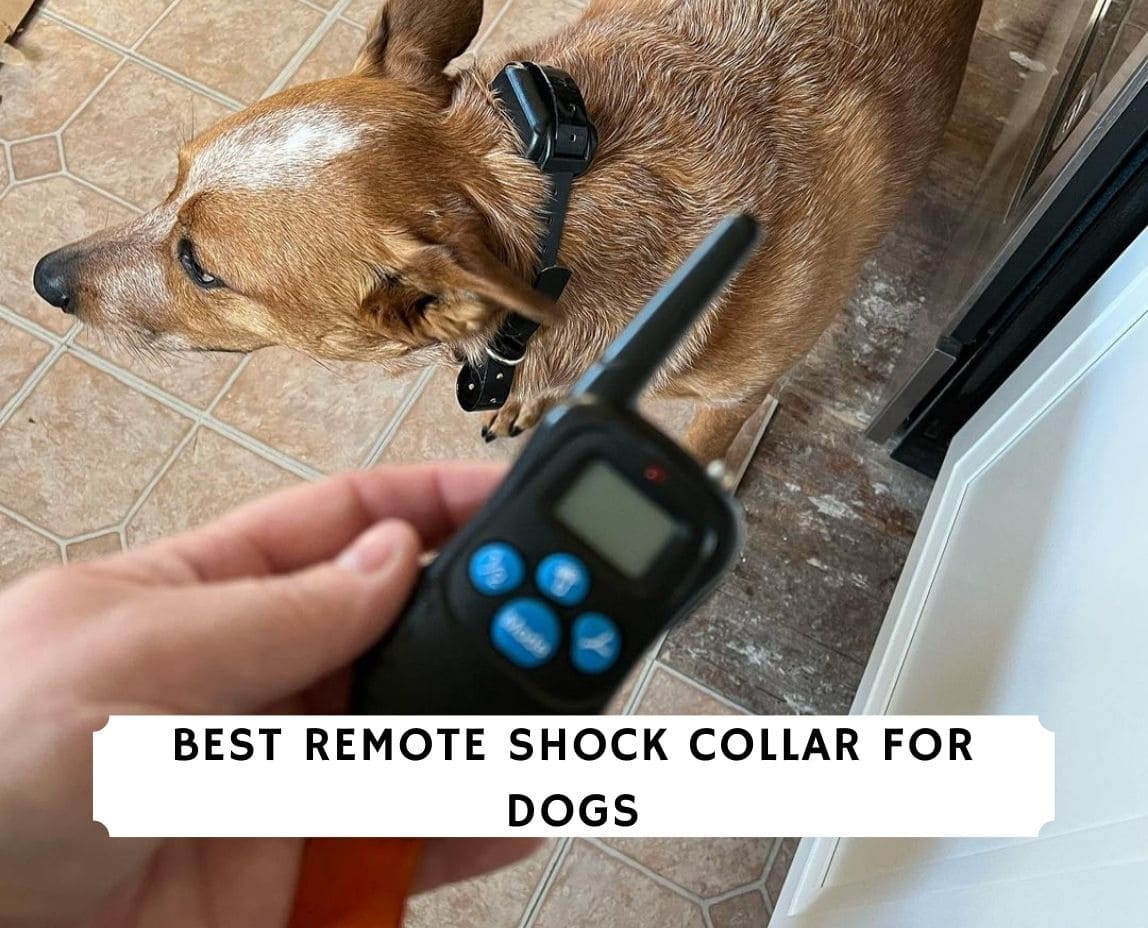 There comes a time in a pet parent's life when their dog displays unwanted behavior that hinders both their normal lives. These may be excessive barking, aggressive behavior, or other destructive actions like chewing and jumping over fences. Some would hire a professional trainer to help, others would use positive reinforcement training in an attempt to stamp them out. These have all their upsides, such as the pro trainer being able to cover everything during their time. However, it takes time and money. Positive reinforcement alone can take time which some owners sadly don't have in this hustle and bustle world. 
There is an in-between: Owners who spend a bit of money to buy training tools that shorten training time. There are many kinds of training tools, but one of the most efficient out there is the modern shock collar with a remote. They are all different and it's a chore and a half trying to find what's the best. We'll do that job for you. We have a list of five best remove shock collars for dogs to help you choose your training tool.
Product
Best Overall
Pet Resolve Dog Training Shock Collar Kit
Runner Up
Garmin Delta Sport Pro Remote Training Kit
Editor's Choice
Dogtra 280C Remote Training Kit
Image
Standard Features
The Pet Resolve remote shock collars for dogs has the most function for its value. It has all the features needed for training alongside other things that make it a great all-around collar at a reasonable price. It has a moderately strong static shock, a sharp and strong vibration, and a soft yet audible beep. It has 10 levels of stimulation that affect both the static mode and vibration mode.
It has a battery life of about 50-70 hours, depending on how often you use the features. If you just use the collar for 15-30 minutes of training sessions and turn it off when you take it off for the day, it should last you a week or two between charges. 
The flat collar is made of tough bio-ethane that's waterproof and dirtproof. It fits dogs as small as 15 lbs and large dogs with neck sizes as large as 25 inches. 
The remote control is highly water-resistant but should not be immersed in water. The collar receiver is waterproof and can withstand waters as deep as 25 feet before any potential water damage.
Notable Features
The device has a remote range of 3/4 miles, an above-average for shock collars. In more cluttered spaces, you may get less of the range, but no less than 60-70% of it, which is still an impressive range. The receiver has remote-activated LED to take advantage of the range, allowing you to locate your dog in low-light conditions. The LED causes the receiver itself to light up, making it quite noticeable. 
The shock collar can be switched to an Anti-Bark collar. Through this mode, the collar will listen to your dog's barking. If they bark for more than a few seconds, the collar will audibly beep. If the collar keeps hearing your dog a few seconds after that beep, it will deliver a millisecond-short shock of the level you pick. This is all automatic and will work even when you're not around. The remote will not work during this time, so you'll have to manually turn it back on to training mode. 
The kit does not have a sleep function, making it an "Always Awake" collar. It has a comparably less battery life than collars that have it, but you have the advantage of having the collar work as soon as you press anything without waiting a second or two to wake the remote and receiver up. 
If you want to train more than 1 dog, the remote can support up to three additional collars. You can easily switch between collars using the lettered buttons on the remote. 
Additional Features
The kit comes with an extra pair of extra long prongs, perfect for dogs with long and thick hair. This small addition is the cherry on top that makes this collar great for all kinds of dogs and all kinds of activities, from regular yard training to working dog training, and hunting. It also comes with a neat plastic clicker you can use for further signaling purposes.
Standard Features
This shock collar with a remote does not lack any standard features and in fact, is the bread and butter of its design. It's meant to be a reliable training collar for any weather and conditions. It has a moderately strong shock and decent vibration stimulation. The stimulation level can be adjusted from levels 1-10, and the beep is quite audible. It seems to be loud enough to be heard but soft enough that it doesn't damage your dog's hearing. 
It has a distance of 1/2 miles with a strong antenna, enough to at least have 70% of the full range in dense areas like forests flanked by trees and other greenery.  Battery life is decent, lasting about 50 hours at full charge, less if you use the functions more often. 
The flat collar that comes with it is the same durable bio-thane collar that's tough enough to work as a standard collar on its own, (however, don't put a leash on it if you're using it with the shock collar). It can fit dogs as small as 10 lbs. or dogs with neck sizes as big as 24 inches. It's one of the best shock collars for large dogs with a remote on our list.
Notable Features
The remote is waterproof, just like the receiver's collar. It also has a one-hand, no-look design meant to be used on the fly. It has two separate buttons for shock, one for a split-second shock and one for continuous. Both buttons are unique to the touch. The dial that adjusts the level has a click to it, so you can tell how much you've changed the level. 
One remote can control up to three collars. If you purchase additional collars, you can pair them all with this remote and switch them on the go. It also has an automatic bark control method you can switch to, to help with any nuisance barking issues. 
Additional Features
The kit comes with a fluorescent-colored dummy bumper made to help your dog learn retrieval skills and any other training like pointing and finding. 
Standard Features
The Dogtra series is also a set of training collars with a remote made for outdoor environments. It still has all the training functions you'll need for virtually any reinforcement training sessions, along with a no-look design (unless you're adjusting the stimulation levels.) It has a moderately strong shock, a palpable vibration mode, and an audible tone mode. 
The devices have a range of 1/2 miles in completely open space. If you're in a wide place like the beach, you should get max range. 
The remote and collar receiver is waterproof. Both devices have battery lives of around 50-70 hours and the quick charge rechargeable batteries take about 2-3 hours to charge it to full. 
The flat adjustable collar is tough and weather-resistant and can fit dogs with neck sizes 6 to 24 inches. Even though it's tough, you can still use a sharp tool to trim the collar if it's too long, though it will take some effort. 
Notable Features
The rheostat on the top of the remote allows a finer adjustment of the shock values, from 1-127. It doesn't mean it's 10 times more powerful than an electric shock collar with 10 levels. Instead, you just have more increments. A small display on the bottom of the remote shows the current level, alongside simple battery status. 
The no-look design allows you to grip the remote so that your fingers rest on all the needed buttons. It's worth noting that the rheostat cannot be locked, but since it's out of the way, you shouldn't have any issues.  
Additional Features
The kit comes with a clicker that's loud enough to be heard from a distance, perfect for signaling your dog that they did a good job, or cues for certain actions. 
Standard Features
These shock collar sets are great for general use and are more suited for working dogs and regular yard training. It has a mild shock, palpable vibration, and a soft beep enough for the dog to hear. 
The remote has a range of 1/2 miles or about 2500 feet. As always, it depends on the objects between the remote and the receiver. For example, using the remote inside a car with the receiver outside will cut the range by at least 60%. It's an extreme example, but that's still 1000 feet of range. 
The remote and the receiver have a waterproof design that allows them to resist water as deep as 25 feet for 1 hour before any damage occurs. Both of them have a battery life of about 40-50 hours and will charge to full in 2-3 hours. 
The 30-inch bio-ethane collar is tough and waterproof. The receiver's slightly smaller frame allows it to fit dogs with neck sizes as small as 10 lbs. It can be trimmed as needed.
Notable Features
The remote is not only waterproof but also floats on water, so in case you drop it on a pond or pool, it will be relatively easy to retrieve. The receiver also has a milder shock or rather a more blunt shock. It's either the receiver has lower output or delivers the energy with a lower frequency. It may not be suitable if you have a really stubborn dog, but it will be better for more sensitive dogs. 
The remote also has a rheostat which means it has a wide range of power increments, specifically a range of 1-100. The remote also has a boost button, raising the strength of the current level by about 20 levels, somewhat compensating for the more blunt shock. 
It has a rather bright LED light, but the position may keep it from being highly visible if worn by a dog with thick, long hair. 
Additional Features
The package comes with a clicker, a simple but effective tool for signaling your dog when they do a great job, or if they need to do a series of actions. 
Standard Features
Another strong entry to the collars fit for training in all kinds of environments, while still being a good collar for normal training. It has moderately strong shock and sharp vibration functions. The beep is somewhat loud, but not enough to damage your dog's hearing. The remote allows 
With a range of 1/2 miles, it's more than enough for any activities where you can still see your dog. Unlike some of the collars, the receiver does not have an LED, but it allows a smaller shape. 
The remote and the collar are waterproof and resistant to mild impacts, so this kit will stand with you in any weather. The same goes for the bright orange bio-thane collar, which can fit dogs with neck sizes between 5 to 22 inches. 
The battery life will last about 50-70 hours depending on how often you use the functions and it takes about 2-3 hours to fully charge both devices.  
Notable Features
The remote has a good OLED screen that's visible in nearly any condition. It shows which training functions are currently activated, the level you're using, and a simple battery indicator. 
If you're planning to train multiple dogs, the remote can support up to three collars and you can switch collars using the buttons on the bottom. 
Additional Features
The store has plenty of additional devices and accessories you can get to extend your training and meet any training niches. 
General Guide and Safety Tips For Using a Remote Shock Collar
Now that you've seen the different types of high-quality shock training collars, we'll now share a guide that we hope can help first-time users, and people who are wondering if shock collars are for them. There are plenty of tools out there that help with training, and despite using electricity, shock collars are the most efficient out there, but the fact remains, so it's best that we help you with your homework on how to use them. 
Are E-Collars and Remote Shock Collars the same?
Yes, technically. There are other collars that use electricity to power their specific training functions. These can be vibration collars that only use vibration and beep. A spray collar uses a remote-activated squirt of citronella solution, which irritates a dog's nose, the solution also deters some insects as a bonus.
Then we have the shock collar. It has a power similar to muscle stimulators and the goal is to stimulate the muscles on a dog's neck to irritate them. The sensation has hard to ignore and if you're using the minimal level they respond to, should not cause any kind of pain. (Although it's not uncommon for some dogs to yelp, as the sensation is quite foreign.)
How do I train a dog using a remote shock collar?
Before we answer that, let's set a few things straight. First, the shock function should never be used for punishment. By that, we mean the shock should not be used after your dog has done bad behavior. Just to drill the point home, don't use the shock to stop your dog, for example, from digging up your lawn. 
The best, most optimized way to train your dog using shock collars is to use the combination of Negative Reinforcement and Positive Reinforcement to strengthen
Preparation
Placer the collar in and make sure it fits well. If your dog has long hair, consider placing the longer contact points. Tighten it until you can snugly place 3 fingers in between. As long as the collar does not easily rotate, you're good. 
Settings
Next, find the lowest minimum intensity level your dog responds to. Set the remote to the lowest level, then trigger the momentary shock. Watch for any kind of action your dog does in response. If they show some kind of mild action, stick to that level. If not, raise the level and try again. 
There will be cases where your dog yelps or recoils. If you're using the lowest level, consider using vibration instead of shock.
You need to have your dog get used to the shock collar. The optimal method is to make them wear the receiver collar like a regular collar for 8 hours a day, for 10-14 days without training. Let them play, sleep, and eat during this time. 
Commands
Use this time to teach your dog the basic commands, such as sit, stay, and recall. In order to do that, you need to also prepare your treat. Whichever treats you choose, it must be something different from what they normally eat. It could be as simple as some dried or boiled liver, or some good quality dog biscuits. Whichever it is, it's best that your dog can easily eat it unlike bits of jerky, unless they are the type that just swallows the whole thing. 
Once your dog is used to the collar and you have your small bag of treats, you're ready for reinforcement training.
For this example, let's assume you taught your dog how to sit when you say the "Sit" command, whichever it may be. The process will reinforce that behavior so that your dog will sit and be still regardless of the distractions around them. 
Get your dog's attention, then state the sit command and at the same time, press the continuous stimulation. Watch your dog properly. As soon as your dog does the correct action, stop the stimulation, then signal them that they did it correctly, either by stating "Good!" or using a clicker. Then provide the treat. 
If they do something else, signal them clearly with a crisp "No!" or whichever you use. The important thing is you stay consistent with your signals, and the method described above.
Do this 5-6 times and take a small break before trying again. If you notice that your dog is losing interest, you can stop and try again in an hour or two. Dogs have painfully short attention spans and training sessions usually last 10-15 minutes. It's a good idea to play with your dog after training to keep the positivity up. 
Safety Tips For Using a Shock Collar
Do not keep the collar on your dog for more than 8 hours. Pressure sores could appear if you keep the contact points in one place for too long. These sores may look like blisters, which could be mistaken for burn wounds. 

It's a good idea to rotate the collar to another position every hour or so. 

Use the included tester before placing the collar. It helps spot problems with the device before putting it on your dog. Change the static level and see if it changes.

If your dog has really long hair on its neck, trim the area a little bit, (don't shave!) then use the slightly long contact points. Consistency of these contact points is key to using the shock reliably. If the contact points don't make proper contact with the skin, it could either cause a weaker shock or cause pain. 
Conclusion For Best Remote Shock Collar for Dogs
Pets are often with us their entire lives, which means their comfort and experience lie almost entirely on our actions. It's true we can't always offer what's best, but at least we should give them something practical, something that adds value to their lives. If their behavior is somehow damaging that comfort, it's up to us to devise the best, most optimal solutions. One important ingredient in that optimal solution is love and respect for your pet. As long as you have that, any practical solution should definitely work.
Garrett loves animals and is a huge advocate for all Doodle dog breeds. He owns his own Goldendoodle named Kona. In addition, he volunteers at the Humane Society of Silicon Valley, where he fosters dogs and helps animals. Garrett enjoys writing about Doodles and believes that dogs can teach humans more about how to live than humans can teach a dog.
Why Trust We Love Doodles?
At We Love Doodles, we're a team of writers, veterinarians, and puppy trainers that love dogs. Our team of qualified experts researches and provides reliable information on a wide range of dog topics. Our reviews are based on customer feedback, hands-on testing, and in-depth analysis. We are fully transparent and honest to our community of dog owners and future owners.