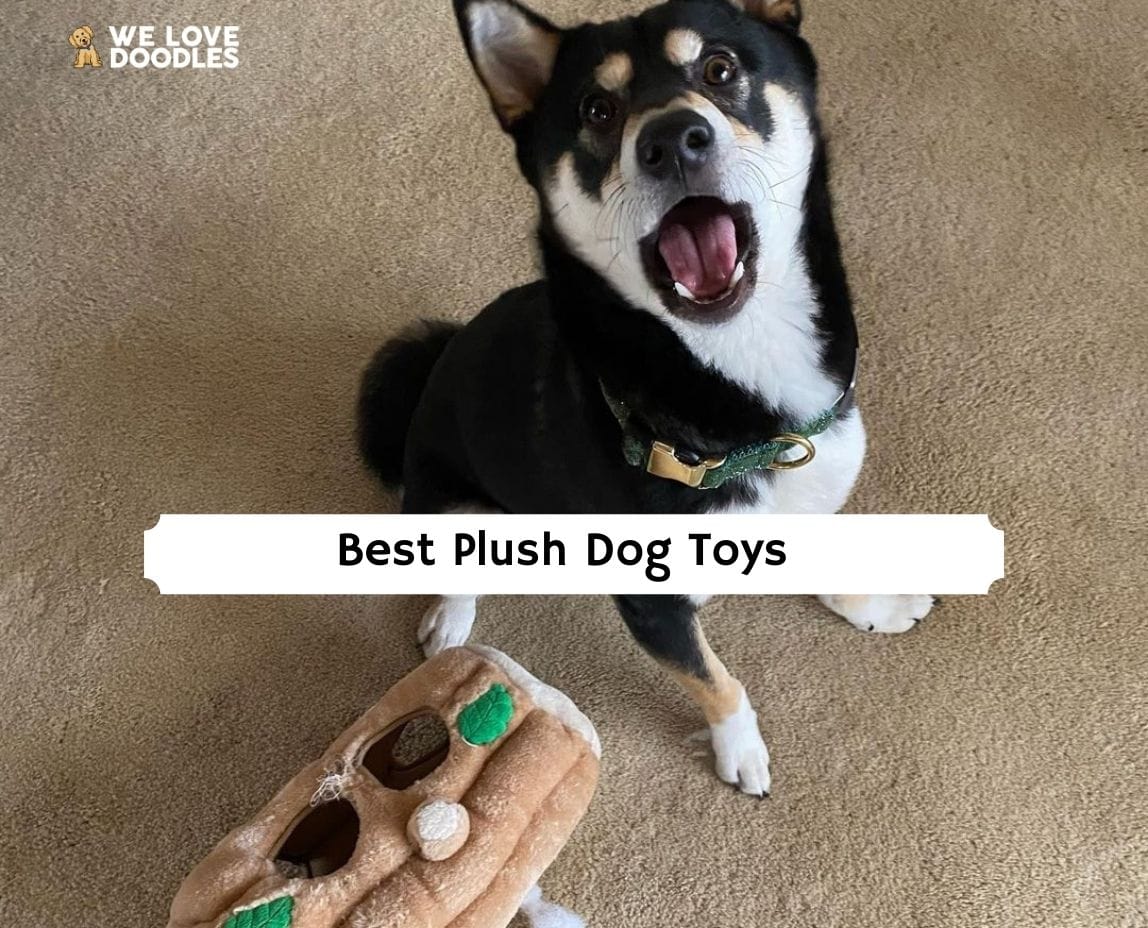 You can never have too many plush dog toys. You don't have to wait for birthdays to shop for your furbabies. With the advent of online shopping, you can easily purchase the best plush dog toys for your puppies to show them how much you care. In this buying guide, we'll take a look at the best plush dog toys on the market today and discuss the pros and cons.
Not only do plush dog toys keep dogs entertained, but they can also help with dental health and ease separation anxiety, depression, and boredom.
So if you're like us at We Love Doodles, you're always on the lookout for the perfect ones. The perfect plush toy has got to be soft enough, durable enough, and interesting enough to keep your dog entertained for hours on end. It's also got to have the right texture. 
Some dogs love plush toys with a lot of fur, while others prefer a smoother surface with ribbing or bumps. We're here to help you choose the best dog plush dog toy!
In a rush? Here are the top picks!
Product
Best Overall
Outward Hound Plush Toy
Best for Heavy Chewers
HuggleHounds Dog Toy
Toy for Large Aggressive Chewers
Image
The Outward Hound Hide-A-Squirrel Squeaky Puzzle Plush Dog Toy is our top pick for the best interactive dog toy. This toy consists of a plush squirrel that hides inside a fabric tree stump. When your dog removes the squirrel, it squeaks and rewards them with a fun game of hide and seek. 
The soft, plush fabric is also great for chewing and teething with puppies. The Hide A Squirrel dog puzzle is an easy way to get your furry friends engaged for hours of fun. Just fill the tree trunk with six stuffed squeaky squirrels, toss it, and let your dog's natural hunting instincts kick in! This product has over 48,000 positive reviews.
Features
Numerous animal themes

Tree trunk with six stuffed squeaky squirrels

Affordable

Over 48,000 positive reviews

4 sizes, including extra large

2-in-1 interactive play

An Outward Hound pet product
The Go Dog Gators Squeaker Dog Toy is an excellent choice for dogs who love to play fetch. This toy combines two classic playtime favorites – a built-in squeaker and an under-staffed body – for maximum floppy fun that'll hold your puppy's attention for hours! This adorable toy is made with soft, luxurious fabric and is perfect for cuddling. It also features a squeaker in its belly for extra fun. 
The Dino is available in several soft, furry materials and has a long tail and a big head. It's perfect for dogs who love to play fetch, as the long tail makes it easy to snag onto. The Go Dog Dino is also made with a durable lining to withstand plenty of chewing.
The built-in squeaker entices your pup and excites your dog, while the double-stitched seams ensure your dog's toy lasts through many games of fetch. This toy is made from durable plush fabric and features a long tail and a big head. Best of all, it's snuggly, making it perfect for cuddling. The soft material is gentle on your dog's teeth and gums. This toy features over 13,000 positive reviews.
Features
Over 13,000 positive reviews

Affordable for multi-pet homes

Material: Polyester fibers. 

Crafted with Chew Guard Technology

Built-in squeaker

Under-stuffed body for maximum floppy fun 

Two colorways: pink & blue

Two sizes: small & large

Affordable

A goDog pet product
The HuggleHounds Plush Corduroy Durable Squeaky Knottie Dog Toy is the perfect toy for aggressive chewers! This toy is made of durable corduroy fabric and has a squeaker inside to entertain your dog. 
Plus, the knotted design makes it perfect for playing fetch or tug-of-war. There are various animal-themed toy options in a multitude of eye-catching colors. This durable plush dog toy with Tuffut Technology lining for extra durability. 
It features knotted limbs for puppies and large dogs for extra durability. We like this toy because it's crafted with multiple squeakers in each toy to keep your pet entertained. This product features over 5,800 positive reviews.
Features
Tuffut Technology lining for optimal durability

Durable three-layer lining.

2 size options: small & large

Numerous color & unique character options

Crafted with knotted limbs for extra durability

A Huggle Hounds pet product

Over 5,800 positive reviews
IOKHeira Dog Plush Toy is a perfect gift for large aggressive chewers. This toy is made of high-quality cotton material and crinkle paper, making it durable and exciting to play with. Your puppy will love this cattle shape toy! 
The IOKHeira features crinkle material for small and medium breeds with an ultra-soft plush material with a cuddly natural cotton texture. We like this toy because they use waterproof fabric to stop saliva from getting into the stuffed cotton. It also features natural cotton rope legs, which dogs love to chew on. This product features over 3,800 positive reviews and is another must-have for all pups.  If you're looking for one of the best indestructible plush dog toys, this should be one of your top picks.
Features
Five colorways

Comfortable soft surface

Interactive design

Squeaky sound stimulates interest

Features waterproof layer inside,

Ultra-soft plush material 

Affordable

Over 3,800 positive reviews

Squeaky tail

Natural cotton rope legs
The KOL plush dog toy features three cute animal shapes in 3 colorways. The toy is made of high-quality plush fabric, which is very soft and comfortable for your pet. The internal crinkle paper will keep your furry friend entertained, while the durable construction ensures hours of playtime.
Dogs love to chew, and with this KOL plush toy, they can do so in style. The soft fabric and fun shapes make it a desirable plaything, while the crinkle paper provides an extra level of entertainment. The durable construction means this toy can handle even the most enthusiastic chewers. 
Let your pup enjoy some one-on-one time with this stylish and fun KOL plush toy. This is one of our top picks because it's not only soft on a dog's mouth but also delivers a loud, crisp sound when you squeeze it. This product has over 4,000 positive reviews, with many pet parents opting for all three super cute shapes. 
Features
Affordable

Three cute animal toys to choose from

Three fun colorways

Squeaky toy

Lightweight design that makes it easy to carry around.

Over 4,000 positive reviews
Multipet Lambchop Plush Dog Toy is made with high-quality materials and construction. This toy will keep your dog entertained for hours on end. The Multipet Lambchop Plush Dog Toy is a soft and cuddly toy that your furbaby will love. It's 10 inches long and features a squeaker to keep your pup entertained. The Multipet Lambchop Plush Dog Toy is excellent for any puppy or adult dog. This product has over 29,500 positive reviews.
Features
Shari Lewis' classic and beloved lamb

Includes squeaker for playtime fun

Four sizes for all dog breeds

10″ regular size dog toy

Over 29,000 positive reviews

Affordable multi-pet toy

Durable

A Multipet product
Plush toys for excessive barking & mental stimulation
Our puppies are like small children. They don't have long attention spans, and they may get bored or anxious quickly. One way to help ease boredom and help stimulate your dog's mind is to ensure that your puppy has plenty of interactive toys. These toys give dogs mental stimulation to keep away undesirable behaviors like excessive chewing and barking.
Pet parents today understand the importance of mental and physical activity levels and know that their pets need plenty of exercise and mental stimulation to help address behavioral concerns.
Plush toys for preventing destructive behaviors
Plush interactive dog toys, regular exercise, and positive dog training help prevent destructive behaviors by relieving anxiety and pent-up energy. This is done by chewing and cuddling. 
When dogs are occupied, they are less likely to engage in the behaviors that you don't want, like destructive behaviors that come about because of boredom or depression. So by keeping your dogs engaged with toys, you're keeping them busy and mentally occupied.
Toys for injured dogs
Plush toys are also a great way to encourage play with dogs injured or recovering from surgery. They provide a soft surface for dogs to rest their head on and help them feel comfortable. Dogs recovering from surgery or an injury can also use the toys to help build strength and mobility in their limbs. Whether your puppy is recovering from CCL surgery or enjoys hanging out, he can get a lot of pleasure from these plush joys.
When choosing a plush toy for your furbaby, be sure to understand whether you need a chew toy or a more cuddly toy that he can snuggle up with.
Frequently Asked Questions
What are the benefits of plush dog toys?
Plush dog toys offer several benefits for dogs and their owners. They can help promote interactive playtime between dogs and their guardians, provide a source of comfort and security for dogs, and act as training tools. Additionally, plush dog toys are generally soft and cuddly, making them a popular choice for dogs who like to chew.
What types of dogs benefit from playing with plush dog toys?
Any dog can enjoy playing with a plush toy, but they may be especially beneficial for young or energetic dogs who need to expend some energy. Plush toys can also help older dogs who may not be as active as they used to be.
What are some recommended activities for playing with plush dog toys?
There are many different ways to play with a plush toy. Some dogs may prefer to simply chew on it, while others enjoy playing fetch or tug-of-war. Interactive games can be a great way to bond with your dog and help them stay mentally and physically stimulated.
What are the best ways to clean plush dog toys?
A: Plush toys can be easily cleaned by shaking them out, wiping them down with a wet cloth, or placing them in the washing machine. However, it is essential to check the toy's manufacturer's recommendations before doing these things to avoid damaging the toy.
What are the risks associated with plush dog toys?
There are a few things to be aware of when giving a plush toy to a dog. Plush toys can be a choking hazard if pieces become detached from the toy and are ingested by your pup. They can also harbor bacteria if not cleaned properly, so it is essential to clean them regularly.

Claudia Bensimoun is a writer who specializes in dog content and veterinary topics! Aside from writing for We Love Doodles, Claudia also writes for other major dog blogs like Fido Friendly, Animal Wellness Magazine, and the United States Dog Agility Association (USDAA). She has a ghostwritten over 50 different dog e-books. Her passions include animal welfare, veterinary research, and wildlife conservation.
Why Trust We Love Doodles?
At We Love Doodles, we're a team of writers, veterinarians, and puppy trainers that love dogs. Our team of qualified experts researches and provides reliable information on a wide range of dog topics. Our reviews are based on customer feedback, hands-on testing, and in-depth analysis. We are fully transparent and honest to our community of dog owners and future owners.