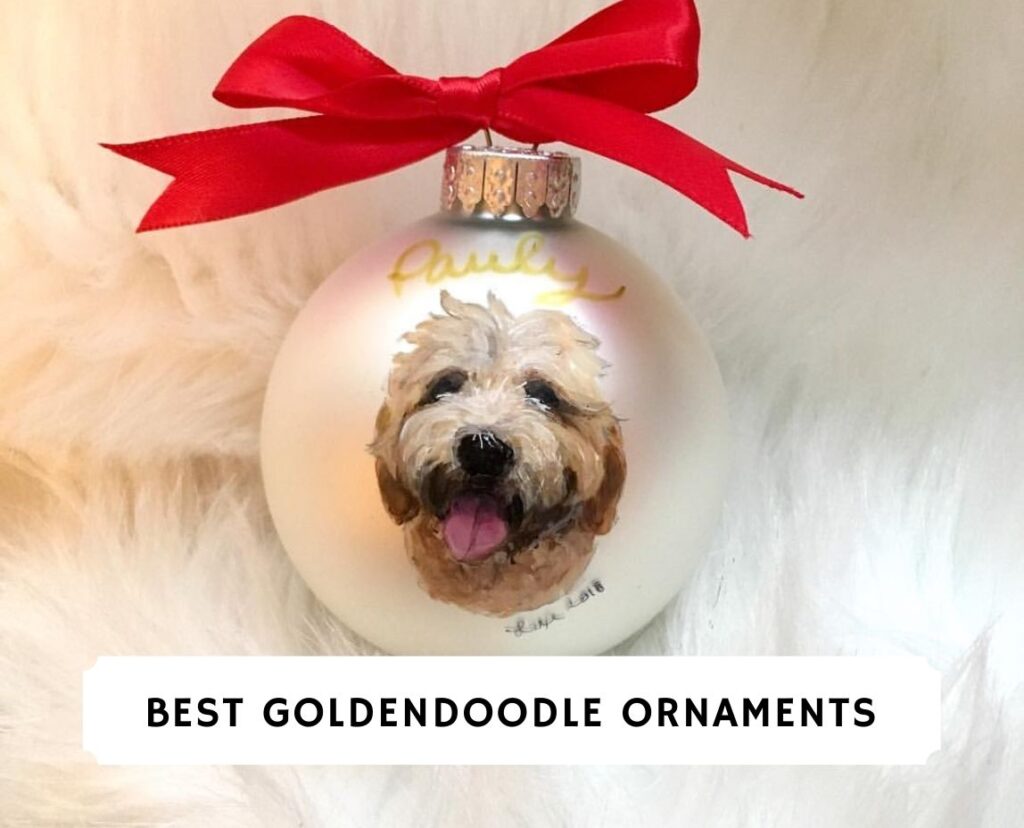 If you want to gift during the holidays or decorate your tree, these ornaments are perfect for the Doodle pet parent. These Doodle ornaments are ideal for any Doodle lover. Our buying guide for the best Goldendoodle ornaments and holiday gifts will help you choose the perfect Doodle ornaments for your home and friends.
If you're looking for something simple yet creative at the same time, it's hard to beat the look of a Goldendoodle ornament. These ornaments feature the dog breed known for its multicolored coat, and a breed that is often seen as a symbol of warmth and family. This means that these Doodle ornaments make great gifts during the holiday season, but you don't have to wait until Christmas time to give them.
Goldendoodle ornaments can be given at any point during the year to express affection for the recipient, and they're sure to put a smile on anyone's face. You might even want to keep one for yourself so that you can remember all of your loved ones near and dear throughout the year.
Best Doodle gifting item
It can be challenging to find the perfect gift for someone who already has everything. If you're looking for more information on buying Goldendoodle ornaments, check out the WeLoveDoodles Buying Guides. It includes more detailed reviews about the best pet products for Doodles. Here's the takeaway:
Product
Best Overall
Elves Store Ornament
Runner Up
Goldendoodle Ornament – E&S Pets
Best Personalized Ornament
Holiday Christmas Store Ornament
Image
Best Overall
Image
Runner Up
Product
Goldendoodle Ornament – E&S Pets
Image
Best Personalized Ornament
Product
Holiday Christmas Store Ornament
Image
If you're looking for Doodle ornaments, then the Golden-Doodle Pure Christmas Tree Ornament 2022 – Fluffy Dog Dangle Paw Love Play Fur-Ever Intelligent Retriever Poodle Therapy Guide Assist New Loyal Family R.i.p. is what you are looking for. 
The talented artists hand write each personalization to match your specific request, using dry-safe custom paint German pens. The ornament by Elves is always neatly personalized; no messy, no smudgy, no clumsy, no wrong name issues!
This Christmas ornament is made of lightweight cast polyresin. It's carefully hand-painted with vibrant, long-lasting colors, giving you years of pleasure. The design is 3D on the front and white flat surface on the back to get a sturdy display on your tree. Each ornament comes with a satin ribbon loop for easy hanging. Here's the takeaway:
Features
Affordable

Suitable gifting item

3D design

Crafted with a satin ribbon for easy hanging

Hand-painted resin gifting ornament

Features lightweight polyresin. 

White flat surface on the back to get a sturdy display 

Resin material
The E & S Pets ornament is a quality, personalized dog ornament that you will be able to cherish for many years. It has been handcrafted and glazed with non-toxic ceramic paints. You can give it a gift or use it as your own Christmas tree decoration and save it as a beautiful pet memory! The E & S Doodle gifting ornament features a red ribbon which you can hang on your Christmas tree and cherish your favorite pet Goldendoodle.
There are two designs available:
"Puppy" and "Goldendoodle". The ornament is 3.5 high x 3.5 wide There is a hole at the top for hanging it on your Christmas tree or as a door hanger to display under any other situation.
Note that the flat bottom allows it to stand on any flat surface. The ornament is made of designer porcelain polyethylene terephthalate and can be personalized with your dog's name! You can personalize this and write your Doodle's name or year on the ornament's bone. – It's A DIY Doodle ornament. The seller does not personalize it. The best artists around the country do the artwork.
It makes an excellent gift for any occasion, birthdays, Christmas, or just because! Each item comes wrapped in tissue paper with a colorful ribbon for easy gift giving. There are no additional costs on shipping to be sent to you free.
It is not just an ornament – it is also an excellent decoration for your home! The image's background has been glazed with glossy white paint, which makes it sparkle when light hits the ceramic surface. It brings out all the details in the picture and creates a unique 3D effect.
Features
Affordable

Glossy glaze finish

Part of the proceeds helps shelter pets

Ceramic Ornament

Large array to choose from of all dog breeds

High-quality & long-lasting

E&S pets exclusive ornament
The Holiday Christmas Store has a lovely wood Doodle ornament sure to delight. Inspired by the Souvenir Poodle, this stunning golden doodle design will bring happiness to all who see it! Let your Doodle lift your holiday spirits with this adorably designed ornament. 
This is a PERSONALIZED CHRISTMAS ORNAMENT: which they customize for you. It's crafted from natural birch plywood, which is sturdy, eco-friendly, and lightweight. This ornament features superior copper plate paper painting, durable and vivid color, and is long-lasting.
Features
Affordable

Woodsy Christmas tree decorations 

Vivid color

Sturdy & longlasting

Seasonal or all-year home decor

Great gifting item for Doodle families
The Old World Doodle holiday ornaments feature handcrafted blown glass and make a beautiful addition to your holiday decorating. Turn your tree into a menagerie of fun with these playful dog ornaments! The original Old World Christmas Ornaments first made their appearance in Germany as intricate paperweights, but now they've been transformed into the most popular series of glass animal ornaments available. 
While each ornament is carefully crafted from mouth-blown glass, hand-painted details give each one its personality. Each one is also detailed with glittering gold accents, which enhance their collectible value. All ornaments are made to hang on a Christmas tree with a loop attached at the top of the decoration. We like these because the Doodle ornaments are all hand-painted and glittered in a series of labor-intensive steps to achieve beautiful creations.
Features
 Molten glass blown into finely carved molds

 Hand-painted and glittered

 An Old World Christmas pet ornament

 Great for gifting

 Uses the same techniques that originated in the 1800s.

 Crafted with a solution of liquid silver 

 A few dog breed ornaments to choose from
Primitive by Kathy Christmas Goldendoodle Santa Ornament $7.99 is a wooden ornament for the holidays featuring a Goldendoodle design with a wreath and bow accent. This Doodle ornament contains a twisted top wire loop for easy hanging and is perfect for hanging up during a traditional or modern rustic Christmas. 
The dimension of this product is 5 x3 inches. This is another super cute Doodle ornament to gift or hang on your tree. Primitive Doodle ornaments have a green garland around the neck and a red ribbon like a tie. This pet ornament is also very affordable.
Features
Affordable

Wooden Doodle ornament

Goldendoodle design with a wreath and bow accent

Size: 5 x 3 inches

Material: wood, paper, & wire
The Kurt Adler, Holiday A1940GD Golden Doodle in the Back of a Truck, Personalize Christmas Ornament is a great way to add your dog's name and picture to your Christmas tree. 
This Golden Retriever ornament is 5 inches high and made of resin. It can be personalized with up to 3 lines and 15-20 characters per line on the base below the truck, on the driver's side. We like this Doodle ornament because it's simple, sweet, and makes an excellent gift for pet owners who love their dogs.
Features
Vintage red truck transporting adorable Golden Doodle 

Durable resin material

Red, green color

Affordable

Protective packaging

Suitable holiday gift
This is another super cute Labradoodle ornament that is made of polyresin. It has a very classic and holiday feel with the red ribbon. This is a charming keepsake to your holiday tree décor collection where you can cherish your family's best furry friend. 
 It's durable and lightweight for lasting quality and easy to hang on the family tree for a special twinkle in your ornament tree décor! We like these because of the vibrant colors, charm, and realistic features of a playful mini Labradoodle dog holding a heart on a Christmas wreath. 
Features
Polyresin Doodle ornament

Expert artist personalization

Affordable

Great for gifting

Durable & longlasting
Other considerations
Some people may be concerned about the durability of a Goldendoodle ornament. After all, many are made out of glass and breakable material. Well, these ornaments have been specially designed to be durable and long-lasting while still maintaining their artistic value. 
This means that you're getting an item intended to last for years. So if you're looking to purchase Goldendoodle ornaments for gifts this year, it's a good idea to get an extra one for yourself as well. These ornaments are great to have at home, super cute to gift and show the recipient that you care about them enough to get them something special if you're gifting Doodle ornaments in 2022!