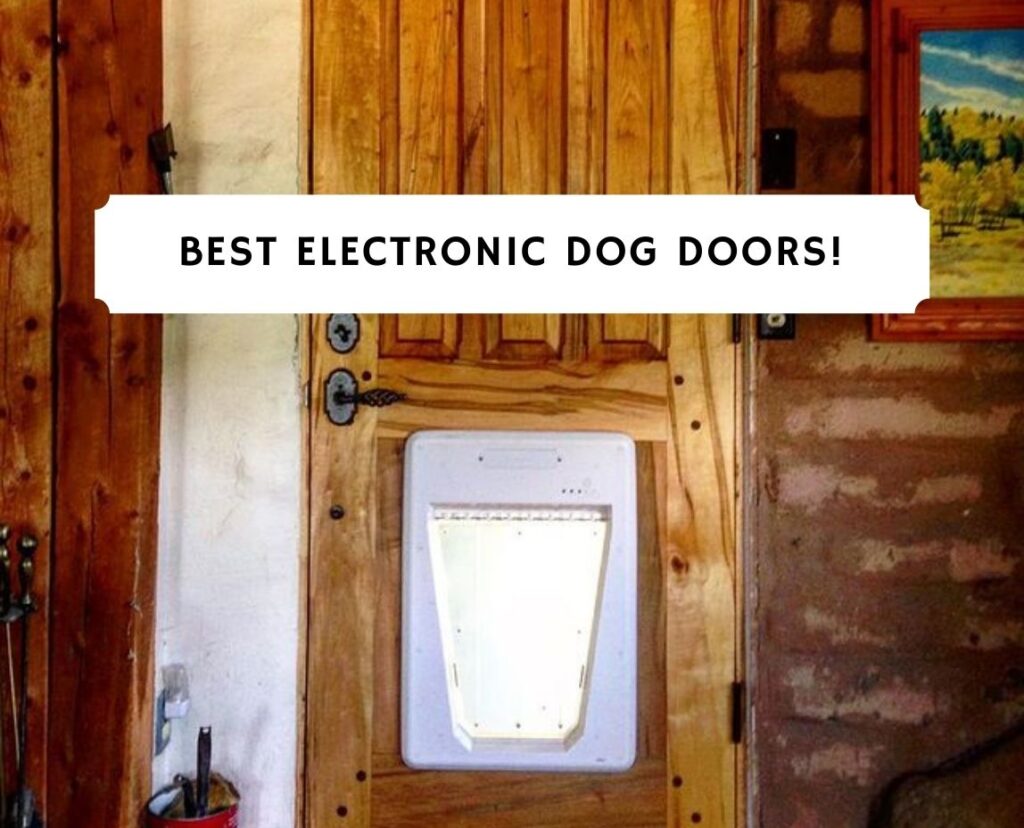 Whether you have a Labrador or Chihuahua, electronic dog doors are a worthwhile long-term investment. Electronic dog doors are convenient modern-day must-haves if you're a pet parent. You'll never have to clean up another potty mishap, and you can train your pup to stop scratching at the door when wanting to go out. 
Unlike most "smart" gadgets, which connect to the internet, electronic dog doors are more high-tech and secure versions of standard pet doors. They're easy to use and are crafted with automated controls that open up a secured dog door flap to let your pup out. 
Collar activated dog doors open up only to pets wearing special collars and keep wildlife and other stray animals. These dog doors are a good option if you have multiple pets and only a few are allowed outdoors. 
The collar-activated pet door may be more expensive but are worth it. The average cost of a collar-activated pet electronic dog door can range from $60 to a few hundred dollars.
Electronic dog doors save you time and the inconvenience of having to get home to let your dog out, most especially if you're at work all day. In this review, we've combined electronic pet door reviews with basic pet doors with flaps to give you our 9 top picks. 
In a rush? Here are the top picks!
Product
Best Overall
High Tech Electronic Dog Door
Runner-Up
PetSafe Electronic SmartDoor
Best RFID Dog Door
SureFlap Microchip Dog Door
Image
Electronic Dog Doors
We like using electronic pet doors because they save energy and help with gas bills in your home. They also make life much more accessible and allow your pet to go in and out as he pleases. 
Best-selling electronic dog doors with the latest technology have so many advantages. These include maintaining insulation and saving energy. 
Microchip technology dog doors are an excellent choice for multi-pet homes because some doors feature the RFID tag if your dog has not been microchipped. But before you choose an electronic dog door for your pet, you should know more about how electronic dog doors are activated. Here's the takeaway:
Electronic doors can be activated by either an existing microchip or an external tag clipped onto your dog's collar.

Microchip activated ones work best for dogs that lose or take off their collars

A collar tag is a good option for large dog breeds because microchip-activated dog doors are generally available in smaller sizes.

Collar tags can be powered by ultrasound, RFID, radiofrequency, or magnetic technology. You should always read reviews before buying so that you understand how each one works.
Wall-Mounted Pet Door
Wall-mounted dog doors are most times easy to install and durable. Before choosing a wall-mounted pet door, you should learn more about your wall, such as the thickness and material used. Pet dog doors can be installed through various walls like stucco, vinyl siding, slate, brick, cedar shake, and concrete. 
You should try to find a dog door that's the same color as your wall or door. Also, consider how large your dog will be as a fully grown adult, and choose the correct size so that you don't have to switch door sizes in a few months. Weatherproof dog doors work well because they keep out bad weather and save on energy. They won't leak even during the rainy seasons.
Sliding Door Dog Doors
Sliding dog doors are usually made with durable aluminum framing and can last a lifetime. Spring-loaded types tend to be the easiest to install and leave no damage to your home when removed. You can also purchase temporary dog doors. These don't need you to cut the aluminum frame. You just need to use a pin lock for security. Semi-permanent doors should be installed into a door's frame. They use a hook and latch type of lock for security.
Our top-rated dog doors are excellent for pet parents that want to give their dogs freedom throughout the day and night. Most of these dog doors are not only energy-efficient but easy to install. 
Dog doors are inserts that you put in a wall, window, or basic door. They are featured in numerous styles to suit your home. The basic pet dog door is the flap dog door that is mounted to a door or wall. This is the least expensive type of pet door and works well, although they generally don't save energy. The great news is that we have eight dog door options that we're crazy about. 
Our Choice for The Best Overall Dog Pet Doors 2021
With over 1,520 positive reviews, the Ideal Pet Products Designer Series Ruff-Weather Pet Door with Telescoping Frame features top-of-the-line isolation and energy efficiency. The Ideal Pet Product Designer Series pet door comes in 4 sizes, including super large. 
What's great about these electronic pet doors is that they're made with structural foam and have a molded plastic frame with two flaps for optimal insulation. They're also easy to use and a no-brainer to set up in your home. They're affordable and have 24/7 customer service. Ideal Pets have various pet doors to suit every pet breed from small to large and come with an installation manual.
Dimensions
Flap Sizes

: 4 sizes from small to super large. The sizes are as follows:

5" x 9.25 (small)

7.25" x 13 (medium)

9.75" x 17 (large)

15" x 23.5 (super large)
Features
Installation type: A variety of walls and doors

Sizes – S, M, L, XL, & Super large

Flaps – 2

Electronic operations – No

Multiple pets – No

Frame size: 19 inches' x 28.125″ 

Pet door cutout size: 16.25 inches' x 25.75 inches

Flap material is crafted with flexible vinyl
The PetSafe Electronic Smart Door has a waterproof Smart Key that works together with your pup's collar. This pet door can be used in multi-pet households and is programmed to allow for as many as five dogs in a home. 
The Smart door is battery operated and is available in two sizes. (small and large) When your dog approaches the electronic pet door, the door detects the Smart Key and allows the pup to go through. 
We like this pet door because only the pets wearing the Smart Key can go in and out through the pet door. PetSafe brand has been a leading industry U.S. manufacturer of pet behavior and lifestyle pet products. This product also has over 2,609 positive ratings. Here's the takeaway with the PetSafe Electronic Smart Door.
Dimensions
Small: 3.25 x 9.38 x 17.8 inches

Large: 8.6 x 3.25 x 27.1 inches
Features
Installation Type: For types of walls and doors

Sizes – S, M

Flaps – 1

Electronic operations – Yes

Multiple pets – Up to 5 pets

Priced affordably

White color

Programmable entry, exit and auto-locking functionalities

Good for multiple pets (up to 5)
Priced right and featuring over 2949 positive ratings, the Barks Bar Original Plastic Dog Door with Aluminum Lining combines white plastic with aluminum lining with magnetic closure and features two sizes. The vinyl flaps are heavy-duty yet flexible. There is also a removable self-locking side panel restricting access when the pet door is not in use. This pet door has been redesigned for durability and features a new sleeker aluminum edging fitted on the thermoplastic impact-resistant frame.
Dimensions
Medium: Frame Size: 9.75″-14.75"; Flap Size: 7″-by-11.25″;

Large: Frame Size: 14″ -by-19"; Flap Size: 10.5"-15"

Works with Door Width: 1 1/4″ to 2″ for both sizes
Features
Installation Type – Doors

Sizes – M, L

Flaps – 1

Electronic operations – No

Multiple pets – No
With over 2113 positive ratings, the PERFECT PET The All-Weather Energy Efficient Dog Door features four sizes for all dog breeds. It features high-quality energy-efficient structural foam molded plastic. 
There is also an adjustable frame telescope measuring ¾-inch / 1 ¾-inch. You can opt for an optional wall kit that is sold separately. This is an –all-weather series that contains air pockets measuring 3-inches between both flexible door flaps. These function to save energy. We like this electronic pet door because it also offers a wall tunnel kit with an air pocket of 9-inches.
Dimensions
Small – 5″ x 9.25″ Flap Size

Medium – 7.25″ x 13″ Flap Size

Extra Large – 9.75″ x 17″ Flap Size

Super Large – 15″ x 23.5″ Flap Size
Features
Made with four pet door flap sizes that run up to super large

Flap material is made from flexible vinyl.

Frame material consists of soft grey plastic.

Energy-efficient choice

Good for dogs up to 90 pounds

Super large features 15″ x 23.5″ flap size

One of the best insulated

Manufacturer's warranty
PetSafe has over 5408 positive reviews and is one of the most popular electronic dog doors for all dog breeds. It's priced affordably and comes in three sizes. It can also be installed anywhere in the home. 
The telescoping tunnel works with walls that measure 4 3/4 – 7 1/4 in thickness and come with compatible extension kits for thicker walls over 7 1/4 in are sold separately. There is a cutout template, and easy instructions come with this electronic door. 
We like this best-selling electronic dog door because the double-flap features are weatherproof and energy-efficient. The slide-in closing panel also adds extra insulation when your pup is not using it, and the PVC frame withstands U.V. exposure. This is a fun do-it-yourself project for the home that is simple to install in all types of interior and exterior walls.
Dimensions
Large size: Works for large breeds up to 100 lbs.; flap opening measures 10 1/4 in W X 16 1/4 in H
Features
Available in 3 sizes

Slide-in closing panels control your pet's access. 

Works well for brick, stucco, and siding walls

The double-flap provides weatherproofing and energy efficiency.

The slide-in closing panel adds extra insulation.

PVC frame withstands U.V. exposure

Global pet brand for nearly 3o years

Interior or exterior door, wall entry, or patio panel

Smart key use
The Endura Flap Wall Pet Door Energy Efficient Single Flap Dog Door is durable, energy sufficient, and secure. The kit comes with easy-to-follow instructions. You get to save energy with the polyolefin polymer flap that features magnets on three sides for closure. 
This electronic pet door is crafted with an aluminum frame and has a tunnel for extra durability. This pet door can be used indoors, sliding doors, and also windows. We like this pet door because it's an all-weather design pet door that has non-toxic flap doors with flaps that stay flexible even in extreme temperatures.
Features
Energy efficient

Made from a high-quality aluminum material to keep out harsh weather

Tunnel works with walls measuring 8″ in width

Can use a locking cover 

Made in the U.S

Three-sided magnet design adjustable for training or timid pets 

Features 4 sizes from small to extra large

U.V. retardant flaps to prevent cracking or warping
This is a motor-driven vertically-sliding door that is activated by an MS-4 ultrasonic collar. We like this electronic pet door because it features a directional sensing system that opens the door only when your pet is directly approaching, not when he is just wandering by or sleeping next to the door. 
This dog door allows for 4-way access control, and you can choose from In Only, Out Only, Full Access, or Closed & Locked. This product has close to 1000 positive reviews. Here's the takeaway:
Dimensions
Panel size: 8-1/4 by 10-inch for cats and dogs up to 30lbs.

Panel size: 12-1/4 by 16-inch for dogs up to 100 lbs.
Features
Wind and weatherproof

Automatic durable deadbolt locking system that adds a level of security higher than any other pet door

A directional sensing system opens the door only when your pet is on a direct approach.

Fully automated pet door

Two sizes: small & medium

Includes 1 MS-4 Collar and all items needed for a door install. 

Cream color
The Sure Flap Microchip pet door is an affordable $200 and is a selective entry pet door. It works by scanning on entry only. Sure Flap uses RFID to read your pet's implanted I.D. microchip, allowing your cat or dog access without letting in a stray animal. 
It learns up to 32 identities. We like this microchip pet door because it uses on simple button only. You can also
program the door to lock and unlock at specified times. Here's the takeaway:
Dimensions: 11/16″ (H) by 7″ (W
Features
Microchip compatibility

Affordable for multi-pet homes

Works with 9 (Avid Secure), 10 (FDXA), and 15 (FDXB) digit

microchip numbers.

Great for large cats and small dogs
The Plexidor Performance PDE electronic pet door for dogs and cats features durable ABS panels that slide up and down like a small electronic garage door. This electronic door works with a waterproof collar key that weighs less than an ounce and does not require batteries. It also accommodates dog breeds up to 125 pounds and cats can use it to. 
There is a hardened ABS panel that slides up and down like a mini electronic garage door. The waterproof collar key weighs less than an ounce, does not require batteries and snaps on your dog's collar. We like this electronic dog door because it features state of the art technology and uses a radio frequency identification device. (RFID)
Features
Crafted with two PDE collar keys. Simple to add or change thousands of codes with one-touch programming

Set timing for how long the door is open. 

Available in white or bronze. 

State-of-the-art RFID technology

Accommodates dogs up to 125 pounds and all cats.

Waterproof collar key

Pet and child safe
Features to Think About When Purchasing an Electronic Dog Door
When choosing a dog door, you'll need to consider construction materials for durability, price point, sizing, and how easy a dog door is to install. Aluminum dog doors are durable and can last a lifetime. You should also consider insulation and think about how cold or hot air enters your home each time your dog needs to go out outdoors.
Size
One of the most important considerations is to think about whether your dog will gain or lose weight throughout the years. Your door should not be restrictive, and your dog should be able to go in and out without a hassle. Choosing the right size dog door is an essential part of selecting the best dog door. Here are some tips:
Your pup should be able to walk quickly through the pet door. To find out what door size you'll need, you should do the following:
Measure your dog's width 

Head height needs to be at least 2 inches higher and two inches wider than your dogs. You should always begin by measuring from the bottom of the dog door and not from the bottom of the home. 
Numbers of Flaps
If you purchase high-quality flaps, they will last longer. Two-flap designs work against the cold, and some doors feature the third flap for added protection against extreme weather to keep warm air.
Electronic Options
Electronic dog doors are safe and work to keep bugs out of your house as well. Many electronic dog doors will utilize a selective entry microchip that activates electronic pet doors. 
Today there are many electronic dog doors available to fit all dog breed sizes. They vary from door and wall mounts to sliding glass door inserts that feature a motorized flap. This is beneficial for dogs that suffer from arthritis or other health issues. Here are some of the electronic pet door options:
Vet implanted I.D. Microchip.

Magnetic collar key

Ultra-Sonic Collar Key

Radiofrequency chip

RFID Chip collar keys
Multiple Pets
Most of us belong to a multi-pet household. The ideal pet door for a multi-pet family will allow fast and easy access to the home and garden. If you have more than one dog or pet, you should consider how many chips the smart dog door can be programmed to. You should also make sure that the tags are available for purchases before buying the door.
Conclusion for Best Electronic Dog Door
Regardless of which dog door you opt for, it should be functional, stylish, and durable so that everyday use does not damage it.
Automatic dog doors are our favorite in multi-pet households because they work well. Automatic dog doors work together with a chip in the dog's collar. Ultrasound transmitters or magnets activate dog doors to unlock, so you'll also benefit from the additional safety.
Dog doors are wonderful to have at home, allowing for the convenience of use when you're not home. If you're looking for the best dog door to prevent unnecessary potty mishaps, your home's layout and family lifestyle are essential considerations as well. 
Before purchasing, you should consider your dog's size because if your door size is too small, your fur baby could get stuck in it. Always look at the door size charts provided by each electronic dog door manufacturer.
Numerous electronic dog door styles work in most homes, but you'll need to buy a quality pet door. These doors should keep your home safe and insulated 24/7. Directional door technology electronic dog doors will only open when your pet is approaching. Finally, you should always consider cost most especially with electronic dog doors, because prices vary hugely between brands and styles.
Our top picks for electronic and regular dog doors look at pet safety together with function, style, and durability. We all demand the best for our fur babies, and having a best-selling electronic dog door means that your dog doesn't have to wait for you to take him outdoors.
A dog door can make life for both you and your dog so much easier. Dog doors not only allow you to relax if you're running errands but also increase your pet's happiness and freedom. As usual, always make sure that your garden or backyard is super safe before letting your dog out.
Other articles you would like:

Claudia Bensimoun is a writer who specializes in dog content and veterinary topics! Aside from writing for We Love Doodles, Claudia also writes for other major dog blogs like Fido Friendly, Animal Wellness Magazine, and the United States Dog Agility Association (USDAA). She has a ghostwritten over 50 different dog e-books. Her passions include animal welfare, veterinary research, and wildlife conservation.
Why Trust We Love Doodles?
At We Love Doodles, we're a team of writers, veterinarians, and puppy trainers that love dogs. Our team of qualified experts researches and provides reliable information on a wide range of dog topics. Our reviews are based on customer feedback, hands-on testing, and in-depth analysis. We are fully transparent and honest to our community of dog owners and future owners.