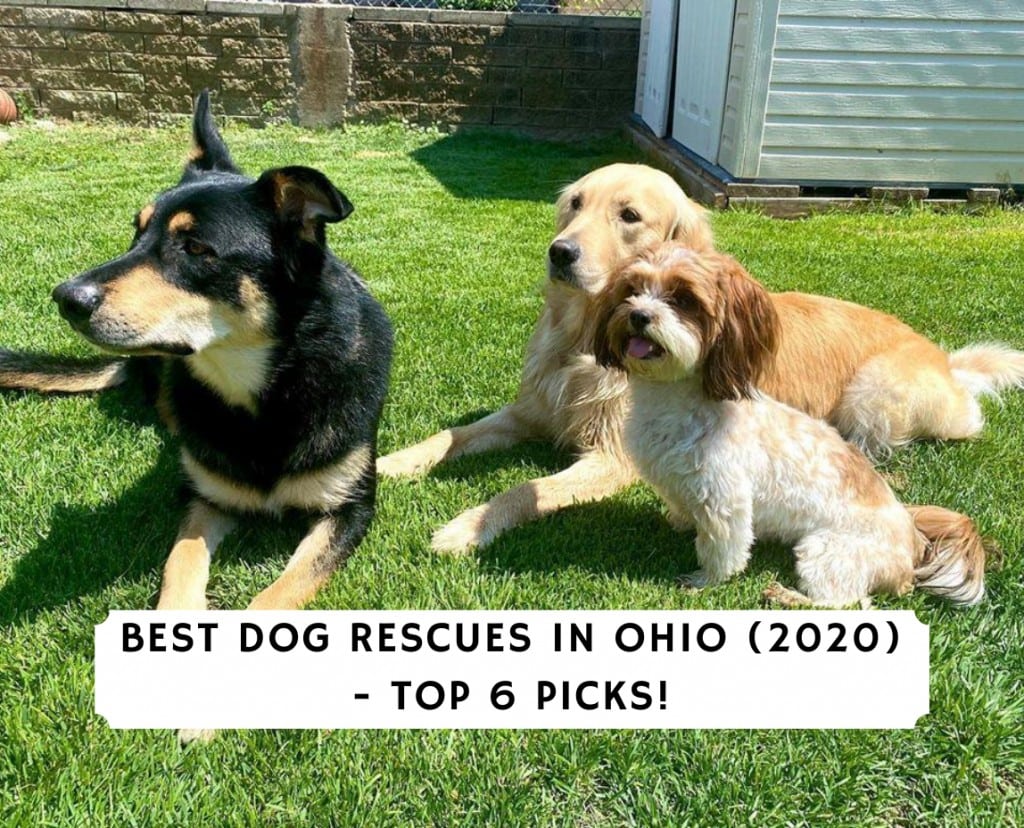 Dog rescues in Ohio have been adopting dogs out non-stop since the pandemic started. More and more people can work from home and want a furry companion by their side. These dog rescues and adoptions in Ohio are getting creative with their virtual meet and greets.
By adopting or rescuing a dog, you are not only preventing euthanasia but you are also making space for new rescue dogs that would otherwise be euthanized. Many people like to show for purebred dogs because they don't know that you can also rescue a purebred dog.
Listed here are the top Dog Rescues in Ohio if you're looking to adopt your next fur-ever friend.
1. Sanctuary For Senior Dogs Ohio
While all animal rescues are heroic to me, organizations like this one have a special place in my heart.  The volunteers here, many of them seniors themselves, believe that rescue dogs only get better with age.  They have been "dedicated to the rescue, adoption, and lifelong care of old dogs" since the turn of the millennium.
If this doesn't qualify them for sainthood, listen to this: Dogs with difficult-to-manage and terminal illnesses have a home with them for life.  They have also identified two very special areas where senior dogs are a perfect fit: As companions for senior people, and as companion animals.  If you live in Ohio and are 65, you can adopt a dog who "gets it" for $65, instead of the regular $125. 
And through their "Companions" program, they place senior dogs in jobs that only they have the temperament for, such as Nursing, hospice, and group homes.  But don't think that just because you don't belong to either of these clubs you can't adopt one of these special animals.  These dogs still have a lot of life left in them, and who among us doesn't have a bummed knee or trick ankle?  Let these young souls show you that age is just a number. This is a reputable dog rescue in Ohio that is doing a great dog adopting out these animals. 
Example dog for adoption: We have a feeling that Wren won't have to wait long for her forever home.  This beautiful 14-year-old mini Eskimo Dog came to the sanctuary with several treatable illnesses that have all since been resolved.  Described as comical and loving, she is looking for an adult who knows how to care for her age-based-needs.  In return, she will shower you with love and devotion.  Do you have room in your heart for Wren?  
Rescue & Adoption Details:
2. Secondhand Mutts Dog Rescue in Ohio
Individuality is the name of the game at Secondhand Mutts dog rescue in Ohio.  Inspired by a single dog left behind on the doorstep of its founder, the staff here believes that every dog has a story and that that story deserves a happy ending.  They are driven to ensure that the time runs out on as few of these precious souls as possible, rescuing dogs in Ohio from high-kill or full-to-capacity local shelters. 
They are also big proponents of freedom, and as such do not cage any of their rescue dogs.  They believe this important to show them that their days in the captivity of unfortunate circumstances are now over. 
This rescue focuses especially on shy dogs because they are often overlooked by potential adopters.  This sweet personality quirk can be a treasured benefit as the dog will either blossom under tender and loving care, or prioritize you as their only best friend for life. 
Potential homes where kids, cats, or other dogs already reside are always subject to a trial adoption period, to make sure that each individual personality is a fit.  When it's a match, adoption fees for an adult range from $200-$350, and puppies are $250. 
Example dog for Adoption: Rocky is a sweet senior Australian Shepherd in need of a new family to love him after his soulmate was forced to leave him behind after moving into a nursing home.  If you would like to audition for the role of Rocky's new soulmate please visit their website.
Rescue & Adoption Details:
3. Dogs Unlimited Rescue Ohio
Founded in 2010 by Gina Lutes-Finley, a longtime volunteer at animal shelters who wanted to take the next step in her service, Dogs Unlimited provides sometimes costly medical care for dogs who otherwise wouldn't have a chance. 
Due to the exorbitant vetting, rehabilitation, and training costs they absorb, they are in great need of generous donations from like-minded people, especially during these difficult times.  They also want to help current pet parents struggling to feed their furry children during the COVID-19 Crisis. 
After all, anyone familiar with the shelter system knows that one less animal given-up equals at least two lives saved.  So the moment you reach their website, you will see a link to the Pet Relief Fund (included below), because we're all in this together. This is a highly reputable dog rescue in Ohio.
Example dog for Adoption: Misty is a 6-year-old Beagle-Jack Russel Terrier Mix who is looking for a very special foster family who can work with her to overcome her separation anxiety.  Very likely caused by unknown past trauma, Misty just needs a patient caregiver who will love her and help her thrive.  Could you be that special person? 
Rescue & Adoption Details:
4. Doberman Underground Rescue in Ohio
Serving as a dog rescue in Ohio, West Virginia, and Kentucky, these dedicated Doberman lovers make it their life's mission to care for the ill dogs.  They rescue dogs in Ohio with chronic conditions such as Dilated Cardiomyopathy (DCM), cancer, wobblers, and liver issues among others, and find loving permanent fosters to care for them and give them many more meaningful days.
Sometimes that foster parent is one of them! Some of these dogs are surrendered from broken-hearted pet parents and other rescues who absolutely do not have the funds to save their lives. 
If you find yourself in this position, the Doberman Underground Rescue wants you to surrender your dog to them. Through the Phoenix Fund, they will raise the necessary resources, and place them in a permanent foster home that can continue this level of care. They will then do their best to get them adopted out to a family in Ohio.
They also take in completely healthy Dobermans who have been neglected or abandoned and just need a new start.
Rescue & Adoption Details:
5. Canine Collective Ohio Dog Rescue
For whatever reason, sometimes the first time is not the charm for the dogs taken in by this no-kill shelter.  Liberating dogs from all kinds of sad situations including hoarding, high-kill shelters, and families in crisis, the Canine Collective dog rescue in Ohio provides them with a second chance at finding their fur-ever home.  Dogs in this program are housed either at the Canine Collective Kennel or in caring foster homes preparing to meet their next best friend.  If you are also looking for a new soulmate, there are several eligible bachelors and bachelorettes to view on their website. 
Example dog for Adoption: Fisher, also known as Sawyer, is a two-year-old lemon pointer who has been waiting an especially long time for the human love of his life to come along.  Still very puppy-like, he dreams of days at the park or the beach playing ball with you.  Do you have room in your heart for this little buddy?  To read more about Fisher, click here: https://caninecollective.org/
Rescue & Adoption Details:
6. Louie's Legacy Animal Rescue, Inc. 
When you adopt a dog from Louie's Legacy, you are receiving one well-vetted animal. All of their animals are housed in foster homes, allowing them to get a real feel for their personality and behavior in a home environment. 
The dog rescues founder, Emily, found Louie – a sweet red-mix Basset Hound with different colored eyes –  in 2006 at a 99 percent kill shelter (yes, we're as appalled as you are that those actually exist!).  She took him home and this dog rescue in Ohio was born.
One of the largest foster-based animal rescues in the United States and operating across Ohio, New York, and Connecticut, this reputable dog rescue saved over 2,500 animals in 2019 alone! The adoption donation fee is available by request and covers spaying/neutering, all vaccinations to-date, microchipping, flea/tick and heartworm prevention, and any ailments that may be found upon veterinary examination. 
Example dog for Adoption: Avi is a 4 to 5 year-old Siberian Husky with a tragic past. Looking into those innocent blue eyes, you probably can't imagine that Avi was rescued from an abusive owner.  Understandably, it takes a while to earn his trust, but it's worth the effort because once you do, you'll have a devoted, playful pal for life.  To read Avi's full bio, visit their website.
Rescue & Adoption Details:
Other Honorable Dog Rescues in Ohio:
Conclusion for Best Dog Rescues in Ohio
There are tons of dogs in Ohio that need to be rescued. Every year too many dogs are euthanized because people practice bad breed habits, give up on their dog, or can't afford to care for a pet. Dog rescues in Ohio actually have plenty of dogs and cats that are in need to be adopted. When you adopt a dog, you not only rescue that animal, but you also make space for another pet. Thus, you are saving two animals' lives when you adopt a dog. We hope that you found the right rescue to get your next pet!
Garrett loves animals and is a huge advocate for all Doodle dog breeds. He owns his own Goldendoodle named Kona. In addition, he volunteers at the Humane Society of Silicon Valley, where he fosters dogs and helps animals. Garrett enjoys writing about Doodles and believes that dogs can teach humans more about how to live than humans can teach a dog.
Why Trust We Love Doodles?
At We Love Doodles, we're a team of writers, veterinarians, and puppy trainers that love dogs. Our team of qualified experts researches and provides reliable information on a wide range of dog topics. Our reviews are based on customer feedback, hands-on testing, and in-depth analysis. We are fully transparent and honest to our community of dog owners and future owners.