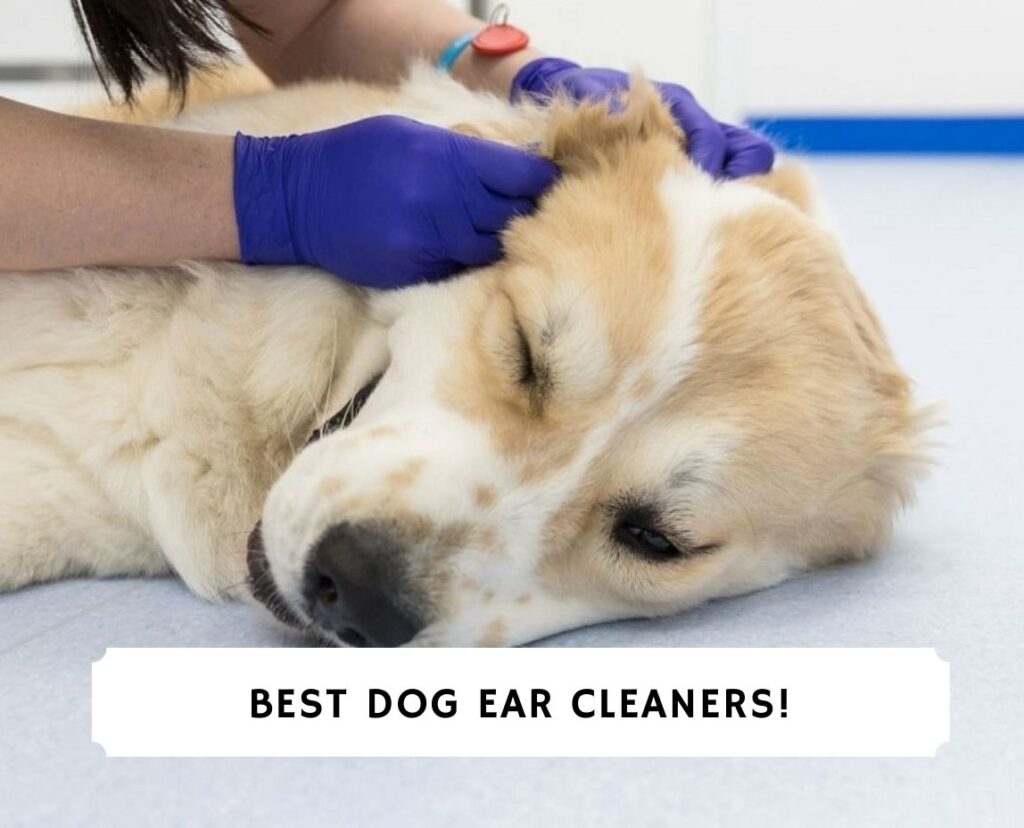 Dogs are wonderful little creatures. They are our closest companions, and we care for them just like a part of our family.
In the same way you'd care for anyone else, you'd do anything for your dog companion to keep them healthy. One of the most important ways to keep your dog healthy and happy is by caring for their ears.
Dogs can have sensitive ears, which can be prone to ear infections. While this may sound harmless to us, an ear infection can actually cause your dog a lot of pain and irritation, and you may notice that all they can think about is scratching their ears.
They may even scratch so much that the ears begin to bleed! If your dog does have an ear infection, then it will need to be treated by a veterinarian, however, you can ward off these infections in the future by properly cleansing and maintaining your dog's ears with a dog ear cleaner.
In a rush? Here are the top picks!
Product
Best Overall
Virbac EPIOTIC Advanced Ear Cleanser
Runner-Up
Burt's Bees for Dogs Natural Ear Cleaner
Best Value
VetWELL Ear Cleaner for Dogs
Pro Pooch Dog Ear Cleaner Solution
Image
Runner-Up
Product
Burt's Bees for Dogs Natural Ear Cleaner
Image
Our Top Pick for the Best Dog Ear Cleaner
When it comes to your dog, you'll want only the best. This will ensure that your pooch is happy and healthy, and their ears are clean and not irritated.
So, we advise that you purchase the Virbac Epiotic Advanced Ear Cleanser, as this is a veterinarian-recommended solution that works to remove debris and excessive wax from your dog's ear canal.
This solution has a low pH, so it will not hurt your dog, and is a non-irritating solution that can be used for the routine cleaning of your dog's ears! 
Dog Ear Cleaning Solutions Product Reviews
If you're looking for an effective solution that veterinarians recommend, then we advise that you use the Virbac EPIOTIC Advanced Ear Cleanser.
This ear cleaner is a non-irritating solution that can be used to treat chronic inflammation in the ear canal. It also effectively removes debris and excessive wax to keep the ears healthy and free of infection.
With this cleaning solution, you can actively fight off the symptoms and causes of ear infections to keep your dog happy, healthy, and free of any irritation for longer. 
If you want to use a more natural solution that is also veterinary approved and recommended, then you may want to consider the Burt's Bees Natural Ear Cleaner. This solution cleans and soothes the ears whilst removing excess moisture that could lead to an infection. 
It's also made with the highest quality ingredients, including natural ingredients such as witch hazel to remove any excess buildup and peppermint oil to soothe irritation. This solution is also perfect for dogs and puppies, being such a gentle and effective ear cleaner. 
Another well-recommended and veterinarian-approved formula is the VetWell Ear Cleaner. This product cleans, deodorizes, and dries the ears to remove excess bacteria, yeast, and moisture from them. 
It's a safe, gentle, and simple ear cleanser with aloe vera to soothe any irritation. You can also relieve ear infections caused by growths and buildups in the ear whilst eliminating fluids, dirt, and debris.
This solution also comes in two scents to help deodorize any foul smells emanating from the ears. The good news is that it is safe and easy to use, without being too powerful that you cannot use it daily. 
Nutri-Vet is another great option when it comes to cleaning your dog's ears. This solution aids in the removal of wax, dirt, and other buildups to soothe and cleanse the ears. Nutri-Vet can also provide relief from itching to help with fungal infections, insect bites, fleas, and other skin problems. 
It's also a really gentle formula with effective ingredients to soothe the ears whilst still being suitable for use on puppies and dogs! This formula is also created by veterinarians and to the highest standards of quality and consistency. 
Finally, we have the Pro Pooch Dog Ear Cleaner, which can be used on dogs and cats. It's an effective wash for waxy or itching ears and provides fast results to help soothe irritation in your dog. 
The Pro Pooch Dog Ear Cleaner is perfect for removing wax buildup that could lead to an infection and can thoroughly clean out the ear in no time at all.
It's also got no harmful, unfriendly ingredients that could hurt your dog and can be used twice daily for three days or as your veterinarian advises to cleanse the ears and keep your dog healthy. 
Buyer's Guide When Purchasing an Ear Cleaner for Your Dog
There are many things that you need to think about when purchasing an ear cleaner for your dog. For instance, there are so many different products out there that you need to consider which ones will be better for your dog. 
Needs
For example, you'll need to think about your dog's specific needs. For instance, if your dog suffers from a lot of build-ups then you will need something that breaks down debris and bacteria in the ears.
Medicated Ear Cleaning Solution
You may also find some ear cleaners that are medicated and can therefore prevent yeast, bacteria, and fungi from growing inside of the ears. If you're unsure what product is best for your dog's ears, then speak to a veterinarian for advice. 
In addition to this, it is advised that you choose a veterinarian-approved or recommended solution. You may find many dog ear cleaning solutions brands, but it is better to stick to those that have been tested and recommended by veterinarians.
All Natural Ingredients
Alternatively, you'll want to stick to products with natural ingredients, and no harmful ingredients that could cause an adverse reaction in your dog. For instance, some dogs can suffer from allergic reactions to tea tree oil, and this ingredient can have more bad consequences than good. 
Overall Ingredients
Additionally, you'll need to look at the right ingredients for your dog. For example, salicylic acid and lactic acid are often used for their antimicrobial properties, so they are great for bacterial infections or yeast infections in the ear. You may also find that hydrocortisone helps with itchiness and irritation. 
Pads or Solution
Finally, you must consider whether a liquid cleaner or wipes and pads are better for your dog's ears. Liquid ear cleansers are generally better for breaking up build-up, wax, and dirt inside of the ears that cause infections. 
The liquid cleaners can easily dislodge gunk in the ear, whereas wipes are more of a means of removing some of the dirt every now and again, to keep maintaining the health of the ears. Consider what your dog needs to have healthy ears, and select the right product accordingly. 
Frequently Asked Questions
What causes ear infections and allergies in dogs?
Some dogs can be more prone to ear infections because of their breed, whereas others get ear infections due to allergies, bacteria, or ear mites.
For example, if your dog has very floppy or hairy ears, such as Cocker Spaniels, Labrador Retrievers, King Charles Spaniels, and Old English Sheepdogs, then they could become more prone to ear infections than others. 
Other dogs may get ear infections due to airborne allergens such as dust and pollen, which can cause build-up, debris, and irritation in the ears. If your dog suffers from seasonal allergies such as these, then it is best to use ear cleaners to cleanse the ears. 
Some dogs may also get ear infections due to bacteria and yeast infections, which will need to be treated with antibiotics from a veterinarian. You can also avoid these in the future with antibacterial and antifungal ear cleaners.  
How to use a dog ear cleaner?
Using a dog ear cleaner is a great way to keep your dog's ears happy and healthy, however, it can be a bit of a struggle if you have a dog that is not really keen on having its ears cleaned. So, it's best to do this when your dog is in a calm mood so that they do not try to wriggle away. 
The first step is to get your dog to sit or lie down. This will make it easier for you to get the cleanser into the ear and makes it harder for them to run away. Once your dog is sitting or lying down and relaxed, you'll need to grab your veterinarian-approved ear cleanser solution and squirt it into the dog's ear canal.
Ensure that the applicator tip does not come into contact with the ear as this can spread bacteria and infection. 
Then, let the solution run into the ear canal and hold the base of the ear, rubbing and massaging so that the solution swishes in the ear and dislodges the buildup, wax, and debris inside of the ear. 
Massage the base of the ear for about 30 seconds, and when you stop or let go, your dog will try to shake their head and ears. Now is the time to shield yourself from the spray of the solution as your dog shakes and shakes! Once they're done shaking, use a towel to wipe off any excess that has dripped on you and onto your dog's face. 
Then, take a cotton ball and gently use it to wipe out the ear canal, removing any lodged wax, dirt, and bacteria, but only go as deep as about one knuckle. Keep an eye on your dog, and ensure that touching the ears does not cause any pain or tenderness. If your dog seems to be in discomfort or pain, then it is best to stop and call a veterinarian for advice.  
What is the best ear cleaner for dogs?
One of the best and most popular ear cleaners for dogs is the Virbac EPIOTIC Advanced Ear Cleaner but if you want a more natural solution, then you can try the Burt's Bees for Dogs cleaning solution
What do vets recommend for cleaning dogs' ears?
There are many veterinarian-recommended dog ear cleaning solutions available. Some of the most popular and veterinarian-recommended products are the Pet MD Ear Wipes which are perfect for daily cleansing and keeping on top of maintaining your dog's ears. Another vet-recommended product is Virbac Advanced Cleanser for dogs and cats. This can help treat irritation and inflammation whilst removing debris and excessive wax build-up. 
How to tell if your dog's ears are infected?
To be honest, a dog's ears do tend to get a little dirty, especially if you have an active dog that likes to get grimy, dirty, and plays in sand, water, and mud a lot. However, you should be able to spot the signs of an ear infection so that your dog can be treated with antibiotics or other medication in case the problem is bothering them and causing them pain.
When your dog's ears are healthy, then you'll see that they are pale pink in color, and can have a little bit of wax, but not a whole lot. They may generally be a little waxy and smelly, but not so smelly and full of wax that it is unhealthy. 
If your dog's ears are infected, then you may notice that the discharge in the ear is waxy, yellow or reddish brown in color. The ears may also have a strong smell, and the ears may look red. One of the easiest ways that you can tell if your dog has an ear infection is if they are scratching around the ears or pawing at the ears more than usual. 
If your dog does have an ear infection, then take them to the veterinarian for treatment. They may give you a medicated ear cleanser or some sort of topical medication to treat the problem. By using ear cleaners regularly, you can clear out bacteria and yeast trapped inside of the ears and can therefore help your dog avoid ear infections in the future.
Garrett loves animals and is a huge advocate for all Doodle dog breeds. He owns his own Goldendoodle named Kona. In addition, he volunteers at the Humane Society of Silicon Valley, where he fosters dogs and helps animals. Garrett enjoys writing about Doodles and believes that dogs can teach humans more about how to live than humans can teach a dog.
Why Trust We Love Doodles?
At We Love Doodles, we're a team of writers, veterinarians, and puppy trainers that love dogs. Our team of qualified experts researches and provides reliable information on a wide range of dog topics. Our reviews are based on customer feedback, hands-on testing, and in-depth analysis. We are fully transparent and honest to our community of dog owners and future owners.