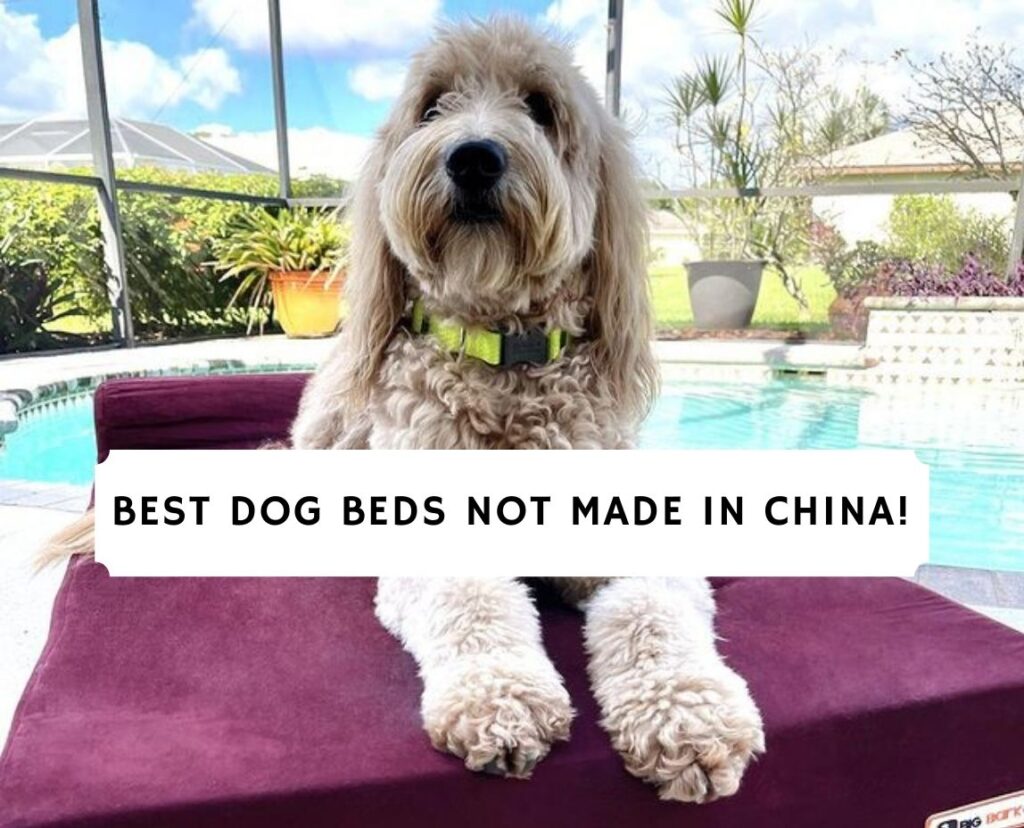 These days, it seems like just about everything is made in China. While that isn't always a bad thing, there is a major push to buy things that are made in your own country. It's a great way to support home front businesses and support people who are working hard to make a living in our own areas. 
American-made dog beds can be hard to find but it isn't impossible. You can look for companies that source locally and manufacture and distribute locally as well. You might just be surprised at the number of options that are available for dog beds not made in China. 
In this guide, we will share with you some of the best dog beds not made in China. We've sifted and sorted through the market to find dog beds made in the USA or perhaps even another country, to give you plenty of options to consider for your pup. 
In a rush? Here are the top 3 picks!
Product
Runner-Up
Bessie and Barnie
Image
The 7 Best Dog Beds Not Made in China
In this part of our guide, we will share with you the top choices for American-made dog beds and more that we found. You will find a great variety of options here to choose from so you can hopefully find one or two options that will meet your needs. 
Each of the following products will have a detailed overview and review as well as a list of pros and cons so you have all of the details you could possibly need to make an informed decision!
This first dog bed made in the U.S. is most definitely a winner. It is designed for large dogs and also has options for extra-large or even giant dogs. It can be very challenging to find dog beds this large sometimes, particularly a specialty dog bed like this orthopedic option. Dogs that size often need additional support so this is an awesome option!
You can choose from 4 different color options, including chocolate, khaki, charcoal, and burgundy. It's made with multiple levels of foam. The layers are designed with mattress-grade American foam. The under layer and top layer use comfort foam and then there is a thick support foam between those layers. 
On one end, you will find a pillow, contoured foam addition that your dog can enjoy as a pillow, headrest, or even just added support to lean on if they like. This bed actually went through a study at the University of Pennsylvania and was clinically proven to reduce pain and improve mobility. 
The layers are covered by a nice microfiber cover that zips on and is removable. You can take it off and wash it in the machine. It's comfortable and soft as well. This bed looks and works great! If you're looking for an extra-large dog bed made in the USA, this should be your top choice.
This next American made dog bed is a comfortable circular bed that will work wonderfully for any dogs from small to large sizes. You can choose from small, medium, or large. It has a very nice center for the dog to lay in and then that is surrounded by a full circle of padding for pillow or support or whatever your dog decides to use it for. 
These are plush and soft and they look very nice in your home. This particular option is a deep green so it can be compatible with just about any home décor and it won't stain or show discoloration either. It is made in the USA and it has great quality and design. 
We love that this dog bed can actually be reversible and used on both sides so if one side starts to get worn, you can flip it over. The cover is a plus and it can be removed and washed in the machine. The circular design gives your puppy head and neck support all of the way around and the fabric is so soft and comfortable! 
This next dog bed is incredibly functional by design. You can get this bed in sizes from small to extra-large so there is plenty of versatility. They even have 3 color options and they are all neutral. 
This bed is made in Bozeman, Montana, and is listed as being a handcrafted bed. This means that every bed is similar and finished to perfection but also may have some unique parts about them as well. It's a simple bed that won't be overwhelming in any space and keeps a low profile. 
The cover zips on and off of the padding within and can be washed in a machine just fine to keep it clean. It is also safe for the dryer as well. The fillings are made with recycled materials and the seller provides a guarantee on those materials as well. 
This bed is made with a double-stuffed base and the rim has bolsters for pillow needs and additional support. It's a good bed all-around with some awesome benefits for your pup.
If you're looking for a bed that looks more like a traditional dog bed with the raised sides, this is a great option. It's made in the USA and by a reputable brand. It has quite a few ratings for a USA listing that hasn't been around forever and it's well-rated and liked across the board. You can purchase this bed in medium, large, and extra-large sizes and it's the perfect budget-friendly option. 
This bed has several different color options, all of which fall into neutral zones so they are easily compatible with your color choices. It's a simple cotton bed. The base uses 2-inch orthopedic comfort foam and the raised edges use a high-density foam for support. The cover then fits over the foam and is a cotton and soft material for comfort. 
This comes in a great oval shape so dogs can fit and cuddle up comfortably to their shapes. It is designed to accommodate natural rest positions and it is also designed for orthopedic support and comfort as well. The cover is elastic banded so it easily slips on and off to be washed and replaced. No zippers to contend with!
The nice thing about that elastic cover is you can also purchase replacement covers if the need ever comes to that. All of these dog calming beds are made and manufactured in Illinois in the USA. 
This next option is a bed made in the USA that has a lot of things going for it. It is budget-friendly and it comes in various sizes. It is highly rated across the board with a good number of ratings so we can see true and lasting opinions. It has colors and size options and it's comfortable and versatile as well. You can't go wrong here! 
This bed is made in the USA and the manufacturers do clearly share that they use imported materials for the bed. The sizes of the bed are 4 sizes, which range from 24 to 52 inches. This should match up with small to extra-large sizes overall but it's a good idea to refer to the size chart and understand your dog's size to be sure. 
This bed also comes in an assortment of color options. You can find simple neutral colors but they also have some other options liked burgundy, green, and red. It's a simple cotton bed that uses poly-cotton and a polyester fiberfill material. It's comfortable and affordable and the structure is sturdy and well-made as well. The interior base is designed to be waterproof in case of accidents. The materials are also machine washable as well. 
The bolster around the edges gives your dog some additional spine support and can provide them with a pillow if they like as well. The materials are all of great quality that you can depend on. 
Next up is another affordable dog bed made in the USA that is designed to be an orthopedic bed. It comes in just about every size and color you could possibly need and the brand even has a ton of different bed options like just a replacement cover, getting orthopedic foam, cooling gel foam, or just memory foam. Your options are almost endless! 
In this bed, you can find sizes from small to jumbo plus. They have 12 different color options, and most of those colors are easy to blend with home décor colors or are neutral colors that can match anything and anywhere. The orthopedic option has raised ends to give some additional support or a pillow for your pup
These American made dog beds are engineered for the ultimate comfort for your dog. The base is layered in a medical-grade solid foam slab. On top of that, there is a layer of supportive ultra-plush fabric that is soft and comfortable for your dog. The edges have contoured curves that are elegant and supportive. 
The bed is easy to clean and the covers are removable as well as replaceable should the need arise. There is even a tag inside for washing instructions as well. The company even has a 60-day worry-free guarantee so you can try it and if you hate it, it's ok! 
This last one is a classic and it's a great option! It's furry and soft and warm and dogs and cats alike love the bed! This is a donut bed and it is one of the original donut styles of beds out there. It's available in sizes from small to extra-large and you can even order a bed and blanket combo if you want to. They have several soft and neutral color options to choose from. 
The donut design gives you size and shape as well as plenty of support. This is versatile and very easy to maintain. It's designed to be water-resistant as well as dirt-resistant. The materials are all safe and the seller provides a satisfaction guarantee as well. 
How to Choose the Best Dog Bed Not Made in China
Now that you've seen the options, let's take just a few moments to talk about things you may want to look for and consider before you buy a dog bed. While dog beds are not so difficult to pick out, there are some minor things to keep in mind, so check out this little buyer's guide to ensure you have all of the information you need. 
Size
One of the most important factors is size. You want to make absolutely certain that the size you are purchasing will be the right size for the dog. Look into the measurements of the bed, and be sure to be familiar with the size of your dog as well. 
Most of these beds have measurements and even potentially size charges and weight recommendations, so that is a great place to reference to make sure you get the right size for your dog. 
If you are unsure or you are between sizes, we recommend sizing up to be sure that the bed is going to be large enough for your dog to be comfortable. 
Style
Next up, consider the style of the bed. Are you looking for a specific style? This could refer to the shape, the purpose, or even the colors and materials of the dog bed. 
Be sure you choose a style or design or color that works for your needs. The nice thing about the majority of these beds is that they have multiple color options and they tend to use light shades or neutral colors so it is easy to find something that works! 
Comfort
Finally, you want your dog to be comfortable right? That's probably why you are buying this bed after all. Take a moment to look at details and reviews and how the bed is made. Do you need orthopedic support for your dog? Do you want something that is just going to be soft and cushy?
These are important elements to consider. If you're looking for comfort, just check out the basic details to be sure you really will get a comfortable solution in the end.
Conclusion Best Dog Bed Not Made in China
We hope that this guide to finding the best dog beds not made in China is a valuable resource for you. There are a lot of really great options out there, and you can't go wrong with any of the beds that we've listed here. 
Whether you've got a big dog, a small dog, or even a cat, we've got you covered right here!
Other articles you would like:

Dr. Chyrle Bonk received her veterinary degree from Oregon State University in 2010. She has been practicing in a mixed animal clinic in rural Idaho ever since at Clearwater Valley Veterinarian Clinic. When she's not busy writing, treating animals, or working on her cattle ranch, she may be found somewhere in the Idaho wilderness with her husband and kids. Dr. Chyrle Bonk is a writer for We Love Doodles and verifies that the information we post is accurate the up to date! She is also an advisor and editor.
Why Trust We Love Doodles?
At We Love Doodles, we're a team of writers, veterinarians, and puppy trainers that love dogs. Our team of qualified experts researches and provides reliable information on a wide range of dog topics. Our reviews are based on customer feedback, hands-on testing, and in-depth analysis. We are fully transparent and honest to our community of dog owners and future owners.