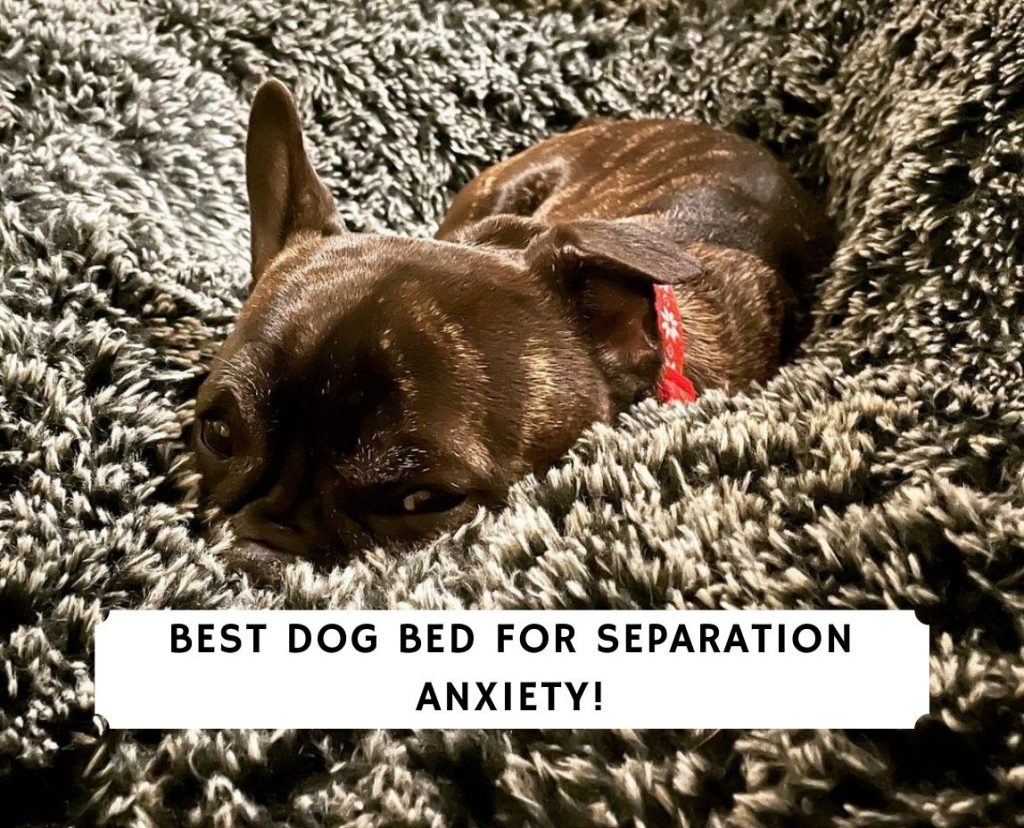 Separation anxiety is not only limited to humans but it affects dogs too. Your dog might get anxious if they see you getting ready to leave the house. Other dogs will bark relentlessly, whine, or even destroy their crate while you are out of the house. Such extreme emotions are all causes of separation anxiety.
As much as treatment can help with anxiousness, there is a reasonable way to help your dog deal with separation anxiety: by getting a calming or anti-anxiety bed. Although it may sound unbelievable, a good and comfortable calming bed can do wonders for your dog's anxiety.
We will give you an in-depth exploration of what a calming dog bed is all about, the best dog bed for separation anxiety, and talk about features you should consider before making a purchase.
In a rush? Here are our top picks!
Product
Best Overall
Bessie and Barnie
Budget Pick
Majestic Pet Bed
Image
Best Dog Beds for Separation Anxiety
With endless dog bed choices in the market, navigating through all of them can be difficult. Therefore, we have compiled a list of the best dog beds for separation anxiety to help make the choice easier for you. These calming and anti-anxiety beds each offer unique features and have proven to be a godsend for anxiety-ridden pets.
Best Friends by Sheri is a very famous dog bed name and the top choice for many pet owners. It is a beautiful and elegant bed for dogs that offers neutral colors to conform to any home theme.  However, what makes this bed stand out is how amazingly plush and soft it is when compared to competitor products. You can think of it as a complete haven or den for your dog. Its round shape and lifted rims enclose your dog in coziness and can make them feel calmer.
The nine inches bolstered rim gives their head and neck plenty of cushion. Additionally, the fluffy infill delivers muscle or joint pain relief to your puppy. This bed comes dirt resistant so you do not have to worry about any spills messing up the bed or the floor. This dog bed for separation anxiety is made with pet-safe materials like reinforced nylon and faux fur to give maximum comfort to your dog. These materials can work miraculously in curbing your dog's nerves while you are out of the house. Many also love this bed for its damage resistance tendencies and that can be a blessing if your dog tends to chew or scratch anxiously while you're away.
The external shell is removable and features a zipper to remove the padded interior. You can easily machine wash and tumble dry this dog bed. It comes packed with high-quality fibers that are airsoft and has three inserts: two cushioned edges and a cushioned center. The bed comes in both large and small sizes. The dog bed measures 36 by 36 inches and can fit large dogs up to 100 pounds. They have a smaller size that is 23 by 23 inches for smaller dogs up to 25 pounds. However, the smaller sized dog bed does not feature a zipper cover.
Bessie and Barney is a name that produces high quality and luxurious dog beds that many dogs love. This calming bagel bed is soft, big, plush, and incredibly comfortable that your dog will love it. Your puppy will relish in comforting restful sleep on this thick and fluffy dog bed. When it comes to durability, this bed is strengthened with additional plush fabric for long-lasting usage. The best part about this dog bed is that it has two sides. That means that either side can be utilized for sleeping making it a very versatile choice. If one side of the dog bed gets dirty then you can flip it over.
The dual usability expands further when you want to wash this bed. It features a 360-degree zipper cover so you can zip off the whole thing and wash it.  This bed is very useful when you want to have hassle-free maintenance options. To make things better, you can machine wash and dry it with a dryer.
If your dog wants extra attention and follows you everywhere, this bagel bed by Bessie and Barnie just might come to your rescue. Many have applauded this bed for how easily their pets adapt to it and enjoy being encapsulated by it. You will notice your dog feeling less anxious and will lounge on this comfortable bed if they feel down. Additionally, it has a substantial amount of cushioning for your dog's neck and head. This anti-anxiety dog bed is filled with eco-friendly poly fiber filling and will stay with you for a long time.
This dog bed is prepared by employing a high-quality faux shag fur that gives added warmth in the cold months. It also features a distinctive circular design to give your puppy a warm and calming feeling like they are cuddling with a human. You can machine-wash this calming dog bed and it is very lightweight so you can pack it for any trips too. The hoisted rim gives your dog's head and neck cushioning and the downy faux fur plush makes your dog feel relaxed even if you're away from the house.
The bed features pet-friendly materials and comes packed with high-loft recycled polyester fiber filling. It is ready to give the most comfort to your dog's spine while reducing their separation anxiety. Many have adored this bed for enabling amazing sleep for their dogs. We all know that when your dog sleeps well, they don't experience as bad of separation anxiety. 
This bed can become a spot of security for your pooch. The Mixjoy bed works well at being a soothing cocoon for your dog and helps them feel at ease. If your dog gets anxious and begins to chew incessantly, once you place it on this bed, it will calm down within a few minutes. The orthopedic property of this bed offers good cushioning and makes your dog gravitate towards it for cuddling security.
This sleeping space comes in a neutral color so it will not look out of place in your house. This separation anxiety dog bed features a nylon non-slip bottom and it comes in sizes of small, medium-large, and large for all sizes of dog.
The Dog's Bed Sound Sleep Donut Bed captions dense premium faux-fur that engulfs your pet in softness, induces bone-deep relaxation, and sound sleep which can reduce separation anxiety. If your pet suffers from separation anxiety while you're gone then this bed can be a great option for you. It is designed to give your pup better sleep and to ensure they feel calm and relaxed. 
This bed has thickly packed bolsters to ensure better head and neck padding. It also has a sturdy base pad to support your dog's weight regardless of if they are small or large. The company offers this product in two neutral shades of beige and brown. The bed has small and medium-sized options and it will not flatten out when your dog sleeps in it for a long period of time. The best aspect of this dog bed is that it has a removable cover that you can machine wash dry. This makes cleaning easy and super-fast. The company also offers replacement covers that you can buy separately if yours breaks or gets too dirty.
The dog bed's exterior is prepared with 1.5 inches of high-grade vegan fur and the bolstered rims are six inches high. This can work best for medium and large-sized dogs. Its double layer base mattress can be a great cushioning option to help your dog with spine assistance. The top coating forms around the dog's body and the lowermost solid padding helps your dog relax. The bed is also self-warming which further adds to its qualities in helping your dog with separation anxiety.
For a dog experiencing separation anxiety, a good calming dog bed can act as a safe spot. Majestic Pet offers its suede bagel bed that can be a great helping hand in reducing your pet's anxiety. However, this bed gets an edge over all others as this bagel bed does not feature any fuzzy faux-fur outer material. Rather, it has a fluffy and durable micro suede exterior that can work magnificently to give your pet that cozy and relaxing feeling. Its raised rim and soft padded middle help your pet to burrow deep inside of the bed to find the perfect relaxing position to feel safe and comfortable.
This bed can be the perfect sleeping space for dogs of all sizes, but mainly large dogs will find the most comfort. The biggest size is 52 inches and is suitable for dogs up to 110 pounds. The bed is generously loaded and the middle gives an adequate amount of padding so your pet does not feel the floor. The anti-anxiety bagel dog bed is loaded with high-grade loft polyester fiber that ensures your puppy gets a comfortable rest.
The ground of the bed is created from waterproof 300/600 Den. It is designed so that the fiber remains dry and protected throughout the usage.  The company offers this bed in lovely shades of black, navy velvet, chocolate, rust, sage, stone, gray, and black velvet. It has a zipper on the cover so you can remove it and wash it easily.
Another calming bed from Best Friends by Sheri makes the list because it is a fantastic choice for blanket-loving dogs. This comfortable cuddler dog bed is excellent for small and medium-sized dogs. It is donut-shaped like many other calming beds, but what sets this bed apart is its uniquely featured blanket attached to it for extra warmth and relaxation.
Dogs feel anxiety in different ways and they feel scared and run or hide under furniture. This bed for dogs resolves the hiding issues by offering your dog a tremendous sense of safety, as the blanket works as a shelter and refuge for your dog to burrow under.
Along with being highly plush and warm, the dog bed features well-bolstered rims that aim to deliver the most neck and head support for your dog.  It is excellent for dogs who prefer to have their solitude. The exterior is made of upholstery-grade microfiber. The core is a fluffy and cozy faux-fur constructed to imitate a mother's furry coat. The underside is prepared from magnificent strength nylon and comes dirt and water-resistant. Over, this is a great dog bed for separation anxiety.
This bed by Sheri is loaded with top quality airsoft fiber filling. The dog bed maintains its loft up to three times longer than many other fiber-filled pet beds. It comes machine washable and is dryer safe. The company offers this bed in gorgeous neutral shades with standard and jumbo size options. The standard size measures 23 by 23 inches and is suitable for small dogs up to 25 pounds. The jumbo size is 26 by 26 inches for larger dogs up to 35 pounds.
This Snuggery dog bed by Furhaven is a fantastic option for dogs who want to keep cool in the hot summertime, or for those canines that are born with long fur. This bed can help them from overheating at any time with its cooling properties. The Snuggery features all the fluffy and cuddly comforting traits of traditional calming beds and has cooling gel foam. This is a unique feature that can prevent separation anxiety and overheating. Your dog will stay calm, relaxed, happy, and have zero anxiety issues.
This bed contains a hood that can serve as a blanket or a cave if you put in the plastic tubing. For dogs who like their hiding space, this hood shape can work as a great burrowing or den to make them feel protected. Furthermore, dogs suffering from joint problems will have the ultimate relief because this dog bed is extremely soft with orthopedic foam.
The 3-inch thick base with medical-grade support foam and a cooling agent makes this one of the most desirable dog beds on the market. The bed's external surface and internal lining of the blanket are made from both faux lamb's wool, and soft suede material. The Furhaven Snuggery bed comes in four different sizes with the largest fitting big dogs of 80 pounds. The company also offers this bed in a range of beautiful colors.
How to Choose a Dog Bed for Separation Anxiety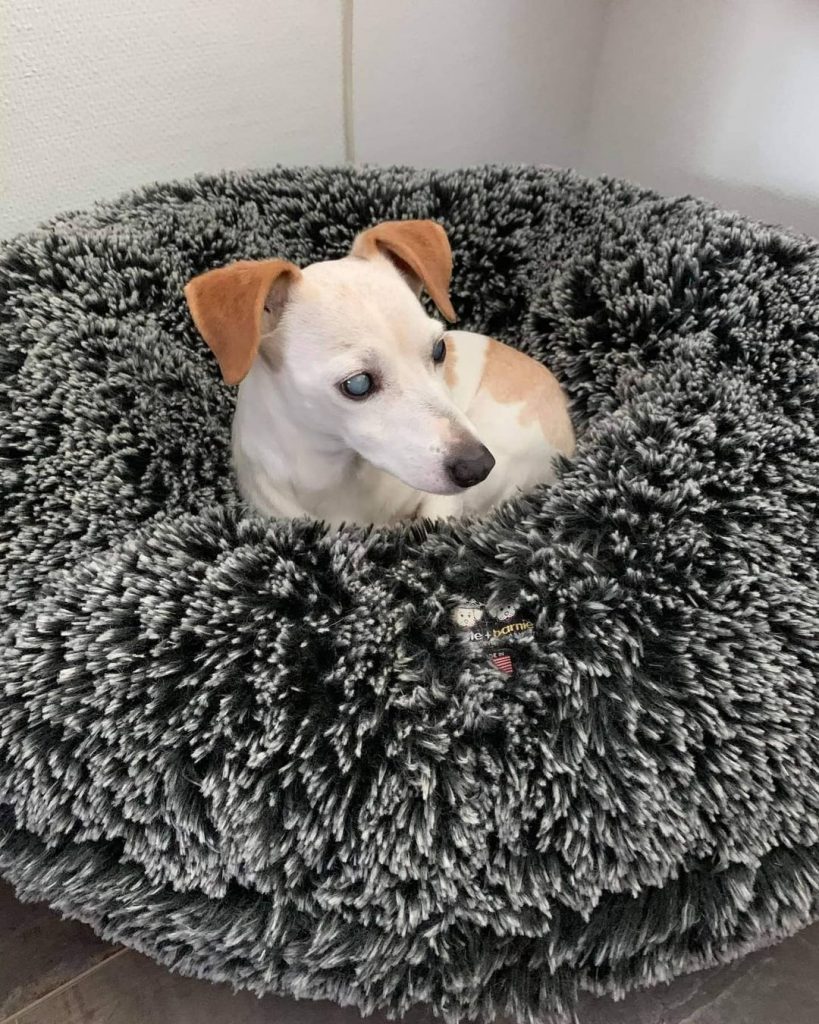 Before you choose a dog bed for separation anxiety, it is best to consider a few factors so that you can make the best choice for your beloved pet.
Size
You must always pay special attention to the size of your dog when choosing a dog bed. This is a huge contributing factor in your dog's comfort because you don't want a dog bed that is too small. Measure your dog from head to tail to ensure that you are getting a calming bed that is the right size. If you choose a bed incorrectly, it can add more to your dog's separation anxiety. Additionally, if they don't feel comfortable in their anti-anxiety dog bed then they may not even use the bed at all.
A dog's calming bed must be big enough so that your pet can lounge or lie down in a comfortable position. Most dogs love to curl up in a ball and sleep. However, many dogs prefer to stretch and have an unrestricted space. Always take these factors into consideration when choosing the correct size.
Material
The material will play a big role in ensuring some level of comfort for your dog. The best way to choose material for a separation anxiety dog bed is to assess your puppy's behavior and nature. Calming beds with thick filling can be a favorable choice for a grown-up dog with joint pains and some beds even feature cooling gel as well.
Moreover, softer and snugger beds can be the choice for smaller or younger dogs because a plush calming enclosure will keep a smaller dog warm.
Raised Bolster
Raised sides on a bed can give dogs a sense of security and provide them with a hiding spot. It also provides safety and makes them feel more relaxed and at ease.  This can result in your dog sleeping better while also having ample neck, back, and spine support. 
Durability
When separation anxiety builds up, dogs tend to paw, chew, or scratch at their bed. Anxiety in canines can render them destructive so the best option is to look for dog beds that have scratch resistance covers. This will be a bonus in maintaining the bed's quality and durability for a long time.
Waterproof
Some dogs tend to have varying reactions to anxiety. Often times, separation anxiety confuses a dog so they end up peeing on their bed. It can be tough to clean up such accidents so a calming bed with waterproof features and a removable cover is the key. Moreover, if you spill anything on the bed, you do not have to worry about drying or cleaning things up.
What Is a Calming Dog Bed? 
A calming dog bed is precisely constructed to relieve stress in your dog and can work magically when combined with good training and calming supplements. These sleep havens have a variation of valuable features like orthopedic padding, bolstered edges, and hiding spots for burrowing.  Such dog beds are beneficial for pets with separation anxiety as they provide relief from stressed situations by giving dogs a feeling of security.
These anti-anxiety or calming beds are nothing new in the dog care market and come in a range of colors, styles, and materials to ensure care for pets of all sizes.
How Does a Calming Bed Work?
Anxiety reducing beds for dogs are developed to give puppies the utmost comfort and a serene sense of being.  As mentioned above, some of these beds are orthopedic to aid in relieving any joint pain and some propose self-healing capabilities.
However, most of the calming dog beds have boosted edges to build a safe cocoon for burrowing where they would hide in the wild. Such elevated rims and cave-like configurations can make your dog feel relaxed which soothes them. Raised rims can further offer some health advantages by supporting the spine and neck of your dog.
Conclusion for Best Dog Beds for Separation Anxiety
For any pet parent, keeping their dogs calm and feeling secure is their biggest priority. Your dog relies on you to provide them with love and care. We hope our detailed analysis will help you understand how separation anxiety dog beds work and choose the option most suitable for your dog. Here's to less barking, whining, and scratching while you're not in the house!
Other articles you would like:
Garrett loves animals and is a huge advocate for all Doodle dog breeds. He owns his own Goldendoodle named Kona. In addition, he volunteers at the Humane Society of Silicon Valley, where he fosters dogs and helps animals. Garrett enjoys writing about Doodles and believes that dogs can teach humans more about how to live than humans can teach a dog.
Why Trust We Love Doodles?
At We Love Doodles, we're a team of writers, veterinarians, and puppy trainers that love dogs. Our team of qualified experts researches and provides reliable information on a wide range of dog topics. Our reviews are based on customer feedback, hands-on testing, and in-depth analysis. We are fully transparent and honest to our community of dog owners and future owners.