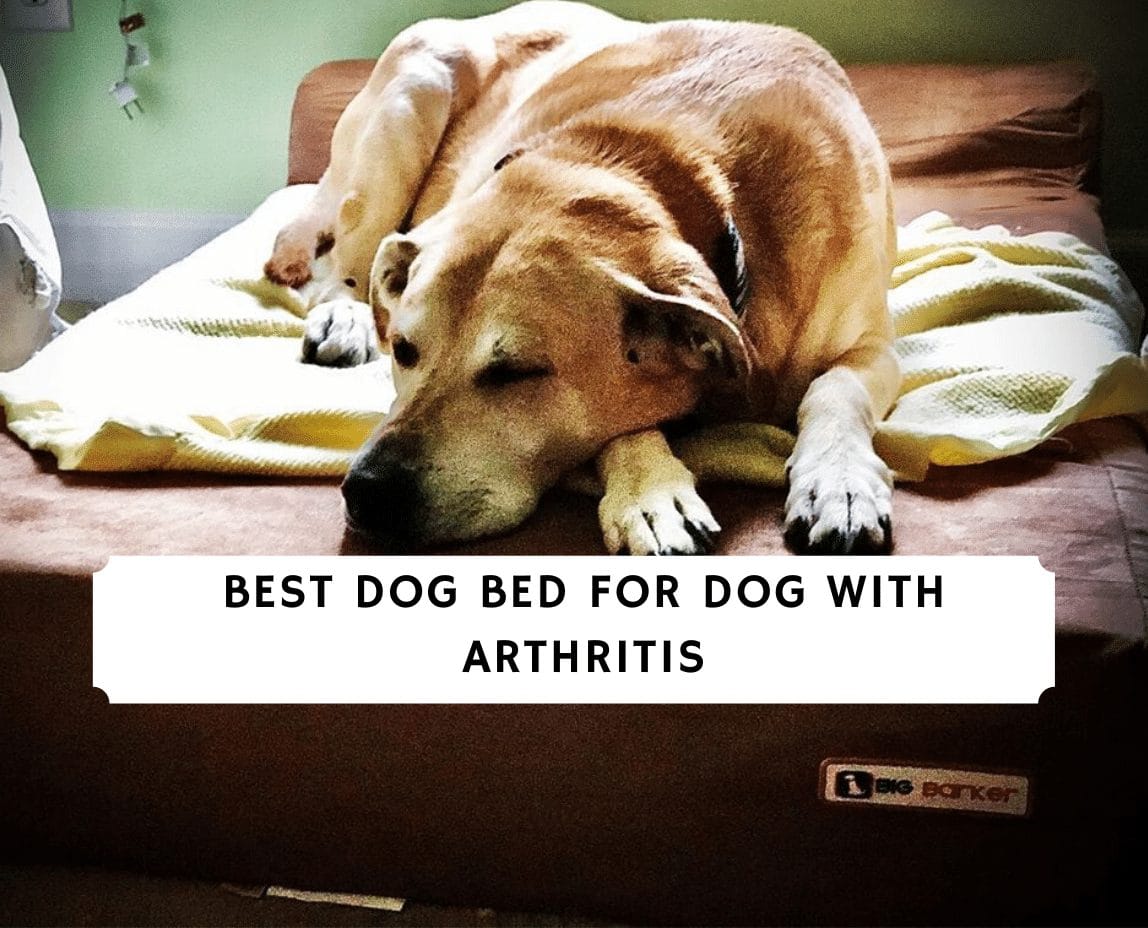 There is nothing worse than seeing your pet suffer from the discomfort of arthritis. As dog's age, they experience many of the same ailments that humans do. In fact, sometimes these ailments like arthritis don't even come on specifically because of age, but because of genetics.
When your dog has arthritis, you want to do what you can to make them as comfortable as possible. This includes appropriate care and treatment with your veterinarian, but it also includes having the right dog bed to ensure your dog's comfort at home. Chances are your dog is going to have difficulty walking, and as they lie down they make a big groan. Since they will big on their bed most of the time, it's important that you invest in a good orthopedic dog bed so your canine is comfortable.
In this guide, we will cover the best dog bed for a dog with arthritis in detail. We have several great orthopedic dog bed options that are sure to make your dog far more comfortable, despite their arthritis. These beds are designed to do just that and make your dog suffer a little bit less.
Keep reading to learn what the best dog bed options are for the arthritic dog in your life.
In a Hurry? Here Are Our Top 3 Picks:
The 6 Best Dog Beds for Dogs with Arthritis
In the following set of reviews, you will find detailed information for our top choices of orthopedic dog beds. All of these options are recommended for dogs with arthritis. The criteria that we evaluated the beds off of include orthopedic foam, the height raised off the ground, and overall comfort for your dog. We will share relevant details as well as the pros and cons of each bed. Let's get started!
The Big Barker Orthopedic Dog Bed for Arthritis is the best options on the market if you have a large dog. This dog bed is a bit on the pricey side, but the quality is unmatched and it's by far the most comfortable bed you can buy. It is perfectly made to keep your dog comfortable and off the ground. This particular option is designed for large, extra-large, or giant dogs whom are most susceptible to getting arthritis. The Big Barker bed is 7 inches off the ground with multiple layers of orthopedic foam.
This dog bed has a small headrest section on one side of the bed if you dog likes to keep their head elevated. This bed is not recommended or made for small dogs so look for other options. You can choose from burgundy, charcoal gray, chocolate, or khaki colors which perfectly match the interior of your home.
This bed is made with mattress grade American foam and contains certified flexible polyurethane foam. The foam construction is what sets this bed apart from others and ensures that no matter how heavy your dog is, their limbs will never touch the ground. The layers contain 2 inches of H10 comfort foam, 3 inches of H45 support foam, and 4 inches of contoured foam (from bottom to top). This bed has a 10 year guarantee and will never flatten. If you're looking for the best dog bed for a dog with arthritis, this is by far the best choice.
This PetFusion orthopedic dog bed has been featured in a number of magazines and articles, including Forbes, Business Insider, Pet Guide, Canine Journal, and more. It earned its place as the top-rated dog bed by mattress advisor in 2019. It is our second choice for the best dog bed for a dog with arthritis.
This dog is made to be comfortable, breathable, and water-resistant all in one. The exterior layer is durable and comfortable with a polyester, cotton, and twill blend. It includes bolsters for additional support that are made with recycled poly-fill materials.
You can remove the cover for washing and the bottom is covered in non-skid beads. This bed comes in sizes from small to jumbo and is available in colors gray, sandstone, and chocolate. The memory foam is Certi-PUR US memory foam as well. This dog bed will keep your arthritic dog off the ground and in less pain.
This Barkbox Memory Foam Dog Bed for Arthritis is quite a bit more affordable than the first two options. It's a good option for someone on a tight budget, but still needs a quality option so there arthritic dog doesn't suffer on the ground. This bed is plush and has built up sides so it cuddles your dog. With this option from Barkbox, you can get small, medium, or large sizes for your dog.
On this bed, the cover is removable so that you can toss it in the washing machine. The mattress also comes out of the setting and is quite portable so you can easily move it around or take it as needed. The material provides a waterproof lining in case your dog has any accidents.
This dog bed even comes with a bonus dog toy for your sweet pet. Additionally, this bed comes with a comfort guarantee and is raised high enough off the ground that your dogs joints shouldn't be hitting your floor. It is made up of a thick layer of high-density pressure-relieving foam, topped with temperature-regulating gel memory foam. If you're on a budget, this is your best dog bed for a dog with arthritis.
The Pet Magasin Orthopedic Memory Foam Dog Bed for Arthritis is another orthopedic dog bed that is designed for large dogs but will work for smaller dogs as well. The bed will just be oversized, but I'm sure your dog will love it. This bed can be used for any pets in your household. One of the nice things about this bed is it has a stylish design and not just the plain Jane look.
This dog bed has it all, including soft bedding, an anti-slip bottom, a waterproof cover, a washable cover, and orthopedic memory foam. It is designed to provide your dog with maximum comfort. The bolstered sides provide additional support and comfort for a dog with arthritis.
The layers consist of a total of 4 inches of memory foam, 2 inches of foam on top and 2 inches of foam on bottom. One layer is designed to relieve pressure while the other is designed for comfort and cushioning purposes. Then the cover offers a comfortable surface layer. This bed is perfect for your large arthritic dog.
The Furhaven dog bed for arthritis is a luxe lounger orthopedic dog bed. This bed is uniquely designed to be flat and rectangular but with rounded lounging ends for some extra support. It comes in all sizes from small to giant so it should work for every dog that has arthritis.
The contoured ends are specifically designed to give your dog some additional comfort without making high sides on the bed. The exterior fabric is plush and soft for comfort. The memory foam padding on the inside is medical-grade and built into a solid foam slab. This will keep your arthritic comfortable with less pressure on their joints.
This one is designed not to flatten at the core and to provide soothing comfort to pressure points for your dog with arthritis. You can also get this bed in a variety of colors and styles. The cover is removable for washing purposes. Overall, this is a great dog bed for a dog with arthritis.
The Joyelf dog bed for a dog with arthritis is a budget-friendly option specifically designed for small to medium dogs. Unfortunately, this bed does not have a large dog option. It is well made with high-quality materials and a superior design that won't let your dog down.
The bottom of the bed has non-slip material which is great for arthritic dogs who like to slide on their bed. The interior of the bed is designed with memory foam for cushion and comfort so your dog with arthritis won't be touching the floor. The covering of the bed is both water and tear–resistant. It also is made to be both soft and breathable.
This bed has a removable washable cover, just like our others. It also has the bolstered sides that provide some additional support for your dog. It comes in a sleek gray color combination with a small amount of orange outline and will match the interior of most houses. The mattress portion is tan in color.
Types of Dog Bed for a Dog with Arthritis
When it comes to choosing a dog bed for a dog with arthritis there are many factors that you have to consider. We compiled a checklist to find the perfect dog bed for a dog with arthritis.
What size dog do you have? Typically, larger dogs are the ones who develop arthritis in their joints as they get older. Chances are you are going to need a larger sized dog bed to accommodate your canine. A general rule of thumb is to leave at least 3 inches on both sides when your dog is laying down. It's important to measure the length of your dog and add 6 inches.
What interior foam of the dog bed? If your dog has arthritis, it is generally recommended that you get a dog bed that has true orthopedic foam vs. a dog bed with just memory foam. A true orthopedic dog bed with have at least a top layer of therapeutic memory foam and a layer of support foam underneath. This is considered better quality than just a memory foam bed that will mold to your dog's body. Your dog's joints should never touch the ground on orthopedic foam and it will be relaxing on their joints.
What dog bed design? There are several types of dog bed designs that can accommodate a dog with arthritis. Some dog beds are completely curved while others are going to contain bolster around the sides of the dog bed. If your arthritic dog likes to rest their head off of the dog bed, then I would get a curved dog bed. If your arthritic dog likes to rest their head on the side of their dog bed, then bolster sides are the way to go.
What color and shape dog bed? Nowadays, dog beds come in many shapes and colors to accommodate the interior design of your house. The two most popular shapes are going to a round dog bed or a rectangular dog bed. In addition, dog bed manufacturers produce beds in different colors that will contrast the interior walls of your house.
How to Know if Your Dog has Arthritis
Arthritis is a common ailment that affects dogs, particularly larger dogs that are aging. Sometimes, it is more prominent in large dogs and sometimes it is related to certain breeds. There is no way to guarantee that your dog will or will not suffer from arthritis.
You can simply watch for the signs and then what you can to make your dog comfortable. Work with your vet for use of joint supplements as well as pain control and treatment options.
If you suspect that your dog might have arthritis, there are some signs that you can watch for. Some dogs are very good at hiding their pain but if you know your dog and pay attention, you just might pick up on it.
Here are some possible signs of dog arthritis.
Reluctance to walk, play, or climb stairs

Licking joints

Yelping when touched (no signs of abuse)

Limping or lameness

Signs of pain or stiffness when getting up or down

Lagging behind or slowing on walks

Personality changes, like unusual aggression
As arthritis takes a toll on your dog, these signs are likely to become more and more apparent. Remember that your dog may act out unexpectedly because they are experiencing pain. Arthritis is not curable, but it is treatable.
Conclusion for Best Dog Bed for a Dog With Arthritis
If you have a dog with arthritis, chances are they are walking stiffly around the house and moan in pain when they have to lay down. This is because their joints are in severe pain. Arthritis is common in large dogs but is prevalent in smaller dogs as well. If you're looking for the best dog bed for a dog with arthritis, be sure to check out our top 6 list above. We've researched through hundreds of dog beds and found ones that will keep your dog off the ground so they suffer less from arthritis.
Garrett loves animals and is a huge advocate for all Doodle dog breeds. He owns his own Goldendoodle named Kona. In addition, he volunteers at the Humane Society of Silicon Valley, where he fosters dogs and helps animals. Garrett enjoys writing about Doodles and believes that dogs can teach humans more about how to live than humans can teach a dog.
Why Trust We Love Doodles?
At We Love Doodles, we're a team of writers, veterinarians, and puppy trainers that love dogs. Our team of qualified experts researches and provides reliable information on a wide range of dog topics. Our reviews are based on customer feedback, hands-on testing, and in-depth analysis. We are fully transparent and honest to our community of dog owners and future owners.