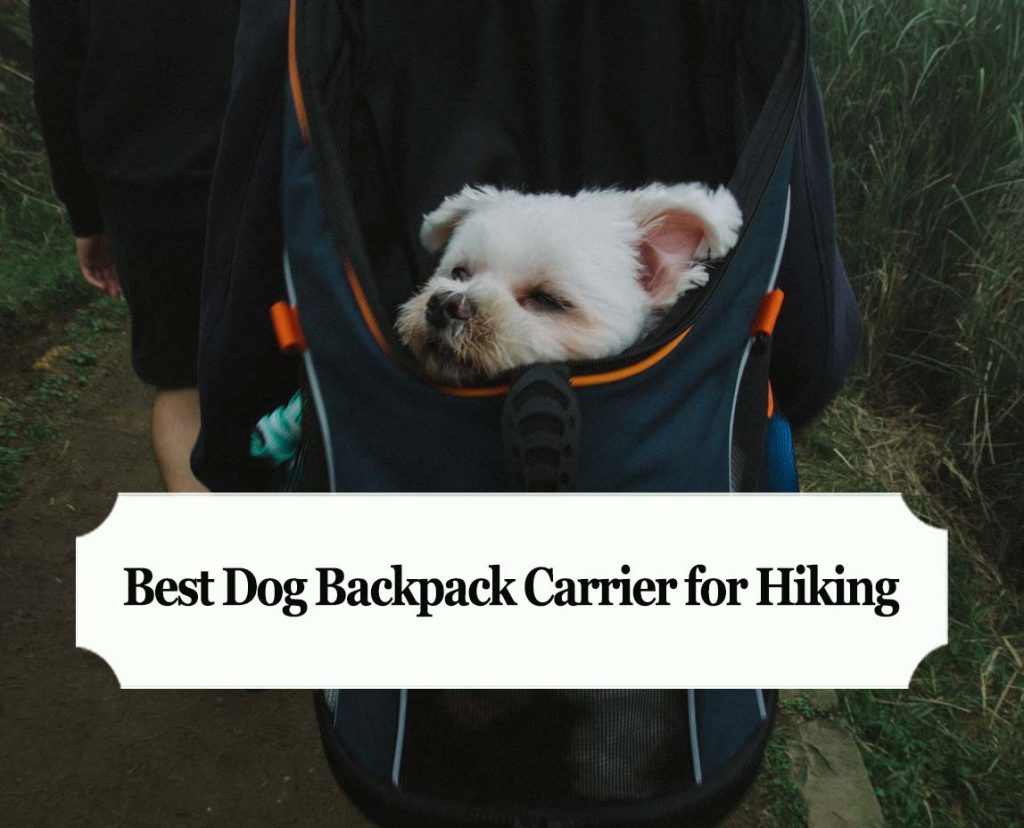 It's a well-known fact that dogs love walks, so why would we leave them at home when we embark on our weekly hike? 
Hikes are great forms of exercise for both us and our furry friends, making them excellent activities for bonding. That is why dog backpack carriers for hiking were created. 
You might be thinking that if a dog loves walking, why do they need to be carried? Well, there are a number of reasons why backpack carriers are great tools for hiking. 
For starters, smaller dogs with shorter legs can easily get tired halfway across a trail. Also, older dogs tend to not have the energy to walk as far. However, they still love being outdoors!
To avoid your dog from being in pain or too tired to walk, you can strap them onto your back and carry them the rest of the way. 
Another reason is that your hike might involve steep drops that might pose a threat to your dog. A backpack carrier can be the safest option for your dog if they like to run without knowing where they're going. It also may hurt their joints if they are an older dog or growing puppy.
These are just two ways why a dog backpack carrier for hiking is a must all around the world. Below we'll look into the five best dog hiking carrier backpack, as well as the most important features to look for when buying one. 
In a hurry? Here's our top picks!
Product
Best Overall
K9 Sport Sack
Image
Best Dog Hiking Backpack Carriers Reviewed
We bet that you cannot wait to get your new dog backpack carrier all ready for your next hike! If you don't have time to read our entire article right now, we have found that the K9 Sport Sack Dog Backpack. Here are just a few of the reasons why we came to this conclusion: 
You can use the carrier in both sunshine and rainstorms. 

There are plenty of pockets for your small belongings like keys and your phone. 

The mesh panels offer good breathability to keep your dog cool. 

Your dog is sure to have an extremely comfortable ride. 
The first item on our list today is the Outward Hound Lightweight Dog Backpack, which consists of a large mesh box that can be carried by the two arm straps. 
The mesh material offers excellent breathability for your dog, so you can feel free to use the carrier no matter how hot it is during your hike. 
The backpack is also padded for great comfort for your puppy, so they can enjoy the hike even when they're not walking. You might be worried that you won't be able to use this backpack during a rainstorm, but you'd be wrong. The nylon fabric is not only soft and durable, but it is also water-resistant. 
There are three large exterior pockets to house your essentials during your hike, and the top of the structure unzips so that your dog can peer out of the top without feeling too restrained. The bottom padded cushion is also removable for simple cleaning. 
This is the perfect small dog hiking carrier for dogs less than 25 pounds.

The backpack carrier from PetAmi has very large entryways for your dog to get in and out of, as the entire side panels unzip for them. 
The front of the carrier also adopts a nametag so that you can identify your dog and carrier easily without hesitation. There is also plenty of storage for you thanks to the large pockets reaching all around the carrier. 
There are two supportive straps that ensure that the weight of your dog is evenly distributed to avoid back or neck pain. These two straps reach across the waist and the chest and are very durable. Inside the backpack carrier is a leash that can attach your dog to the carrier for additional safety. 
This is a great small dog hiking backpack carrier for canines less than 20 pounds.
The sherpa lined cushion is incredibly comfortable and will make your dog feel right at home. There are also an additional three safety buckles to ensure that your pooch remains in their carrier at all times. PetAmi also includes a free collapsible water bowl for your dog, which is perfect for long hikes!
The K9 Sport Sack looks the most like a traditional backpack carrier in regards to the other models on our list, and it seems to stick out the least. 
This means that you won't have to worry about navigating the large shell that's taking up most of your back while hiking through small areas. The dog sits facing you, much like an older baby would.
The straps have been designed for ultimate comfort as they are made from moisture-wicking material and offer ample ventilation. There is also a waist strap as well so that you can carry the weight of your dog evenly. 
There are also five safety features to ensure that you both enjoy the hike as intended. It's honestly a great dog carrier for hiking or any outdoor activity for dogs less than 20 pounds.

Your dog will also be well-ventilated thanks to the mesh side panels that ensure a steady flow of air circulating your dog at all times. There are also two side pockets that can be used to store your belongings or water bottles. This is top pick on our list and is a great forward-facing dog backpack.

The Mogoko Dog Carrier Backpack consists of a spacious main pocket for your dog to sit while looking out through a head hole large enough to fit around their neck. 
The backpack also offers you mesh pockets to use for your personal belongings so that you don't have to carry more than one bag. 
The backpack is made of durable and breathable material to ensure safety and comfort for your furry friend. There is plenty of padding as well to create a safe haven for your dog to rest, and the bottom cushion is removable for easy cleaning. 
While there aren't any water bottle holder, we still think is a great dog carrier for hiking because it's lightweight and breathable.
The backpack straps are adjustable for your comfort, and there is also an additional waist strap to support your back and prevent your dog from rocking all over the place. The backpack zippers open to put your dog in easily, and there is a drawstring that helps alter the neck-hole to make it the perfect size.
The Ytonet Dog Backpack Carrier has two entryways for your pooch – one at the top and one in the front. The opportunity to choose how they get into the carrier might ease your dog's worry slightly and will speed up your hike. The upper entryway can also be kept open for your dog to look out from. 
There is a back cushion to ease the strain on your lower back, and the waist strap helps to keep the back steady throughout the entire hike. There is a tether inside of the bag to attach your dog's collar so that they don't jump out unexpectedly of the carrier. 
It's a great medium-sized dog backpack as there's lots of volume on the inside.

Take advantage of the large exterior pockets on either side of the carrier for your personal items. There are ample ventilation thanks to large mesh panels all the way around the backpack carrier, so you don't have to worry about your puppy overheating.
Best Dog Backpack Carrier for Hiking Buyers Guide
That concludes our list of the best dog backpack carrier for hiking. 
Now we'll take a look into the most important features that you should look out for when choosing which dog backpack carrier is right for you. 
Keeping these features in mind while you compare models will ensure that you opt for the best option for your dog, increasing the chances of them actually wanting to use it to avoid wasting your money. 
Safety
Some backpack carriers are safer than others. 
While all of the backpack carriers that we've displayed above are in the form of a backpack with a roomy space for your dog to sit in, some alternatives come with a harness for your dog that secures them upright to your back. This can possible prevent them from jumping out, but there are repercussions.
We have purposely left these out of our article because there have been a lot of studies to show that these are unsafe for some dogs and that they put too much pressure on your dog's spine. Dogs are not naturally supposed to be positioned upright for a long period of time. 
So, when you're choosing the right backpack carrier for your hiking trip, make sure that you know all of the safety precautions that come along with it. All of the models above are safe to use and don't involve unnatural positions for your puppy's spine. 
Size
The backpack carrier has to be the correct size for your dog. Carriers are more commonly used for smaller dogs, but you can also get them for larger dogs as well. The last thing you want to do is to put a large Doberman dog into a backpack carrier suitable for a Chihuahua. 
When choosing a backpack carrier you must ensure that you check the size guide. Although you may think your puppy is large, they might actually only fit into the medium category for the carrier you choose. 
Size guides can be very helpful and therefore we would recommend that you choose a brand that includes a size guide within their listing. This will prevent you from having to guess the correct size or waste your money. 
You can also check the customer reviews to determine whether the sizing runs too small, just right, or too large. Most of the dog carriers on our list are meant for small or medium-sized dogs.
Weight Capacity
Weight capacity is similar to the size and you must check the weight capacity of the backpack carrier you're planning to get. While your dog may fit into the small carrier, they might be too heavy to remain safely positioned within that model. 
Make sure that you compare the maximum weight capacity for each backpack carrier with an up to date weight of your dog. There is no point using the weight that your dog was 6 months ago when choosing a carrier, you need to weigh them again. 
Ease of Use
Dogs are often fidgety creatures and most of them like to wriggle out of tight positions. This can be particularly challenging when you need to put them into a smaller space such as a backpack carrier. For this reason, we recommend finding one that is very easy to use for both your and your pooch. 
An easy to use dog backpack carrier would be one that had an accessible entryway and exit, with not too many straps of technical clasps. You should be able to get your dog in and out of the carrier within minutes so as to not worry about the dog and keep them as comfortable as possible. 
Moreover, this will make your hike more enjoyable. 
Durability
Some dogs love to chew and wreak havoc behind your back, which stands to reason why they might chew the carrier literally behind your back. 
To prevent your money from being wasted and your dog setting themselves free, you'll need to ensure that the backpack carrier is durable and sturdy. 
This means that low-quality mesh and thin materials should not be used unless there is a safety plan for if the dog breaks it. The straps should also be durable enough to hold the weight of the dog easily without any issue. If there is a clip to attach to the collar, this should also be durable enough to trust during use. 
Breathability
Dog's can get hot very quickly and sometimes even overheat, so a breathable backpack carrier must be breathable enough to keep them cool during the hike. As hikes tend to take place on days full of glorious sunshine, the breathability of your carrier is very important. 
Breathable materials should be used and there should be sufficient ventilation to ensure that there is a constant flow of air reaching your dog.     
Comfort
Your dog must be comfortable in their backpack carrier, which means that they need to have enough space. Dogs might not like their carrier to begin with as it is a new feeling, but you need to know how to distinguish between the noise of a confused dog versus the noise of an uncomfortable dog. 
The carrier should be spacious enough and there should be nothing in the way of them sitting comfortably. Moreover, the backpack carrier needs to be comfortable for the owner who needs to wear it. 
You're about to have the weight of a dog on your back, so the straps need to be padded so that they don't rub or cut into your shoulders. 
Storage
If you're going to wear a backpack, you may as well be able to carry something other than your dog around, right? 
Some dog backpack carriers offer small pockets for your essentials. Others can double as backpacks for when you're not taking your dog along with you so that you don't need to purchase another backpack.
Although this can be beneficial, you should make sure that the pockets don't encroach on the space for your dog. As we already mentioned, comfort is one of the most important factors to consider when choosing a backpack carrier. 
If your storage space is lessening their space in the bag, you should ensure your dog is comfortable over carrying your lip balm and water bottle in your backpack. 
Conclusion for Best Dog Backpack Carrier for Hiking
Dog backpack carriers for hiking after super useful, not only to hold your water, snacks, or other equipment, but they can also hold your dog when they get too tired. 
Most of the time people have smaller sized dogs or older dogs that can only hike for a few miles max. This shouldn't stop outdoor adventurers from seeking longer hikes. All you need is a good dog backpack carrier. 
We hope that you found one from our list that will suits your needs. Happy adventures!
Other articles you might like:
Frequently Asked Questions
Do dog backpacks hurt dogs? 
The dog backpack carriers like the models that we mentioned above do not hurt dogs; however, the harness alternatives might do. They put too much pressure on the bottom of the spine which could cause issues for your beloved pooch, so it's best to stay away. 
Having said that, the backpacks that we looked at above do not hurt dogs as they can sit how they usually would inside the bag. There is no reason why the backpack carriers mentioned above should harm your dog in any way. 
Do dogs like being carried? 
Dogs are just like humans in the sense that they all have their own personalities, which makes the answer to this question a little difficult. Every dog has their own opinion on being carried, and they'll often tell you if they don't enjoy it. If your dog doesn't like being carried, make sure that you respect their wishes. 
Having said that, some dogs would prefer to be carried in a backpack carrier then have to strain themselves while walking throughout the entire hike. So, the rules of backpack carrying are a little different than carrying a dog around your house. 
Garrett loves animals and is a huge advocate for all Doodle dog breeds. He owns his own Goldendoodle named Kona. In addition, he volunteers at the Humane Society of Silicon Valley, where he fosters dogs and helps animals. Garrett enjoys writing about Doodles and believes that dogs can teach humans more about how to live than humans can teach a dog.
Why Trust We Love Doodles?
At We Love Doodles, we're a team of writers, veterinarians, and puppy trainers that love dogs. Our team of qualified experts researches and provides reliable information on a wide range of dog topics. Our reviews are based on customer feedback, hands-on testing, and in-depth analysis. We are fully transparent and honest to our community of dog owners and future owners.