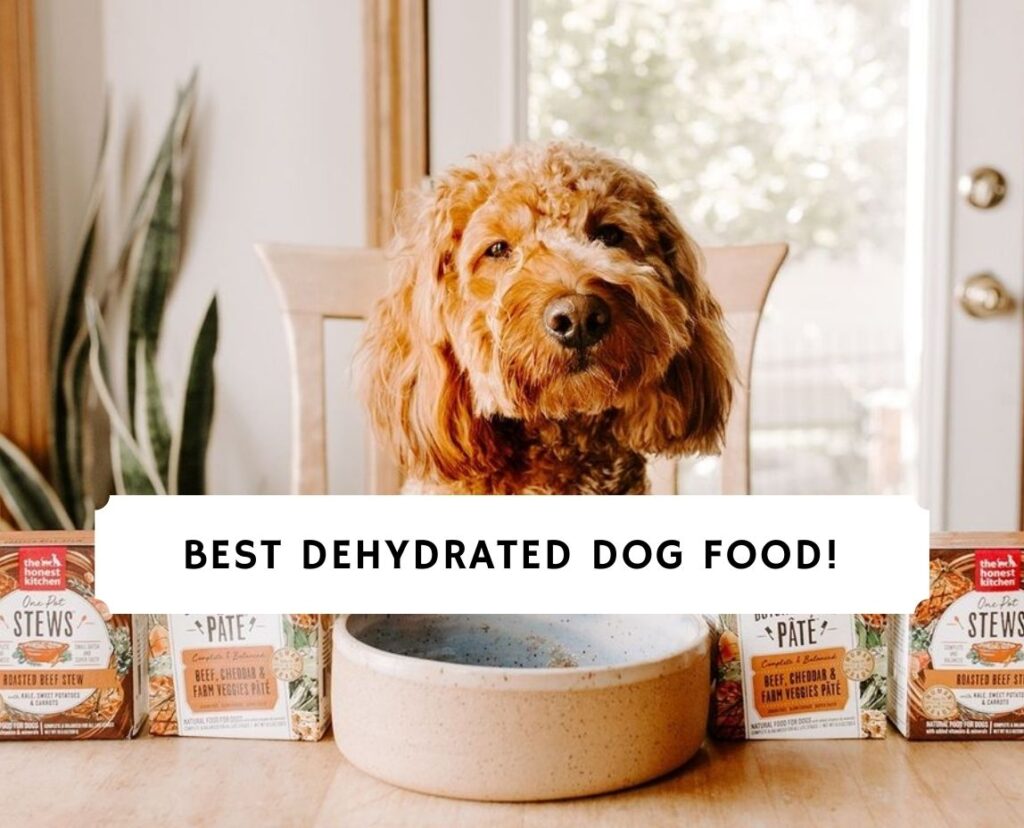 When opting for the best dog food for your puppy, we sometimes take commercial dog food for granted and leave dehydrated dog food out of the equation. Today's pet parent is more concerned about feeding diets that are reflective of preventative health. We'll discuss the top 5 best dehydrated dog foods on the market today and how your dog would benefit from each product.
What's excellent about dehydrated dog food is that it embraces exciting novel proteins like lamb, wild boar, venison, herring, bison, and pork. Most dehydrated dog food recipes also use sustainable packaging and are ethically formulated. Recipes are also enhanced with whole food ingredients like flaxseed, apple cider vinegar, chickpeas, and refrain from soy, wheat, corn, GMO ingredients, or artificial preservatives.
If you're considering a switch to a dehydrated dog food brand, you'll first need to ensure that the formula is balanced and complete for your dog's life stage and that the food is not a topper or supplement. Most veterinarians are also recommending puppy foods as opposed to formulas for all life stages. 
Today, dehydrated dog foods have become one of the most popular options for pet parents who want to introduce a dehydrated food diet that's less messy to feed. Freeze-dried dog food is crafted by freeze-drying ingredients in a raw state. Slowly dried ingredients retain most of the food's natural flavor and nutrients, and dehydrated dog food life can last a long time without preservatives.
If you're looking for a more accessible alternative to raw food and a much more filling and meatier alternative than kibble, dehydrated dog food may be your best option. Here's our take on the 5 best dehydrated dog food brands.
In a rush? Here are the top picks!
Product
Best Overall
The Honest Kitchen
Budget Pick
Dr. Harvey's Dog Food
Image
What Does Freeze-Dried Dog Food Offer?
It's important to note that you'll need to consider your dog's chemistry, digestive efficiency, and metabolism when they enter different life stages before switching dog foods. Remember that what you were feeding yesterday may not be appropriate for your dog's life stage today. The transition between puppyhood to adulthood and from adult to senior dog are essential considerations. Here's the take on freeze-dried dog foods and what they offer:
Retains important nutrients

Formulas are single protein

Locks in flavor and nutrients with the freeze-drying process and offers the same benefits as a raw diet

It takes a few minutes to prepare

Minimally processed with less sugar, artificial colors, or synthetic preservatives

A great alternative to a raw food diet with no handling of raw meat and safety issues involved.

Long shelf- life

It may be used as a topper with more affordable foods

Offer plenty of omega fatty acids

It contains fiber-rich fruits 45 and plenty of antioxidants

Well-worth the price considering the numerous health benefits
With freeze-dried raw dog food offering plenty of nutritional value, the Honest Kitchen delivers human-grade, high-protein formulas like turkey, chicken, or beef, which have been grass-fed and also are hormone-free. Honest Kitchen is a well-known dog food company that is well respected within the pet food industry. 
This brand manufactures dehydrated dog food for dogs of all sizes and ages. It also uses organic whole grain, and all its formulas are complete and balanced. This raw, dehydrated, and all-natural dog food makes pet travel easy. 
It's the perfect dog food to take along to dog shows and on outdoor hiking trips. All you need to do is add warm water, let it sit for a few minutes, and it's ready to feed. Additionally, it's made with human-food-grade ingredients, so you can be sure your four-legged companion is getting the best. The Honest Kitchen is available online and at selected pet stores. This is definitely one of the best dehydrated dog foods on the market, but it does have an expensive price point.
FEATURES
Human-grade dog food

Complete and balanced dog food that can be served alone

Minimally processed whole foods

Made in a human food facility

It can be used as a topper

Finely diced for optimal digestion

Over 4,500 positive ratings from satisfied customers
Orijen freeze-dried dog food offers "whole prey," meaning that organs, cartilage, or bone are included, thus eliminating the need for unnecessary synthetic supplements. Poultry, eggs, fish, and meat are delivered raw and then gently freeze-dried to preserve all nutrients. 
This company uses an 18-hour flash-freeze process with nitrogen tunnels that use low temperatures from -55 to -70 degrees F. It converts the frozen water in the ingredients into ice vapor. This is crucial to maintaining nutrient integrity and not over-processing nutrients where they would lose essential nutrient value. 
We like Orijen's freeze-dried and dehydrated dog food because this formula provides varied fresh, whole animal ingredients from free-run chicken and turkey, wild-caught fish, and cage-free eggs. Orijen is a biologically appropriate, grain-free diet that dogs enjoy.
FEATURES
Crafted with fresh regional ingredients

Biologically diet

Includes free-run chicken, turkey, wild-caught fish, and cage free-eggs

2/3 fresh or raw ingredients

Easy-to-understand feeding chart

Over 3,700 positive reviews

No rendered meals
Stella & Chewy's freeze-dried formula by this brand is minimally processed and easy- to -feed. With 95% meat, organs, and bone, this formula uses grass-fed, cage-free, wild-caught proteins and is pea, lentil, and potato-free. 
A reputable dog food brand, Stella and Chewy's freeze-dried raw dinners feature probiotics, antioxidants, and more. Besides great packaging, meals range from turkey, chicken, duck, goose dinner patties, rabbit, venison, and salmon with beef. We like the duck goose patties because they're an all-natural recipe crafted in small batches with added taurine and no added hormones, antibiotics, grains, or fillers. There's also a vast array of different formulas and treats.
FEATURES
A biologically appropriate raw food diet

Made in the USA

Priced affordably for multi-pet homes

Fortified with added minerals and vitamins

Limited ingredient recipes

100% balanced and complete

Enhanced with probiotics and antioxidants

It can be used as training treats.
Dr. Harvey's Canine Health premium blend of freeze-dried and dehydrated raw dog food has over 1,800 positive reviews and contains a combination of numerous fruits and veggies for optimal health. We like this dog food because it is a base mix used to fix a balanced and homemade meal for your dog. 
This formula is also beneficial for your dog's kidney health. It's crafted with 100% human-grade dog food and features real food, including nine dehydrated vegetables, crushed eggshells, and six organic grains without preservatives, dyes, chemicals, and fillers. If you're looking for a dehydrated raw dog food, this is one of the best choices.

FEATURES
Six certified organic whole grains & veggies

No added sugar or salt

Priced well

Holistic & dehydrated nutrition for pets

Made in the United States

Base-mix dog food (must add your high-quality protein)

Includes alfalfa, broccoli, beets, green beans, ground flaxseed, ground ginger, and ground peppermint.

Suitable for all life stages
TruDog freeze-dried and dehydrated dog food features raw dog food made from 100% beef. The ingredients are beef, beef tripe, beef lung, ground beef bone, beef liver, beef heart, beef kidney, beef blood, beef fat, herring oil, and mixed tocopherols.
We like this brand because it's easy to digest, all-natural, hypoallergenic, and appropriate for dogs of all ages. It's also priced well. This is another brand that is crafted with no fillers, no preservatives, or coloring. The ingredients are freeze-dried to lock in all the nutrients. This is a hypoallergenic dog food that is made in the United States. This is also great dehydrated puppy food if you have a younger dog.
FEATURES
An extensive array of limited ingredient formulas, dog food toppers, & supplements
Hypoallergenic
No fillers or additives
Suitable for all life stages
Priced well
Limited ingredient formula to reduce allergies
Veterinarian approved
What to Look for When Choosing a Dehydrated or Freeze-Dried Dog Food?
You'll want to make sure the dog food is approved by the Association of American Feed Control Officials (AAFCO). The AAFCO is a commercial enterprise that tries to regulate pet food quality and safety but has no regulatory power. It puts together Model Laws and Regulations, and then member states are encouraged to adopt these laws. 
According to Foods Pets Die For, Robert Hougaard from the Utah Department of Agriculture and Food, adds that "We only test for guaranteed analysis and determine product registration in pet foods or other commercial animal feeds." The book also mentions that David Shang from the Agriculture Department in New Jersey added, "We check the nutritive values for the product. We do not check the ingredients." As with all commercial dog food, it's best to read the ingredients list first and opt for a brand that features the following:
Healthy ingredients

Fresh and locally sourced meat

Vegetables and fruit

No controversial ingredients

No added hormones and steroids

No unnamed meat sources

A balanced ratio of macronutrients

By-products in the form of organ meats

Not overly processed

Affordability

Reputable brand with good reviews
Is it Time to Change Your Dog Food?
If your dog isn't thriving on his current pet food formula, it may be time to switch to something better. A dog food formula can change when manufacturers make changes to their recipes without product updates. Manufacturers can do so for up to a year or longer without updating their labels. It's common for pet parents to opt for dehydrated dog food if they see signs that may signal the need for a dietary change like the following:
Skin & coat issues

Lack of appetite or food rejection

Stool & stomach issues

Energy spikes or lethargy

Allergies or new sensitivities
New Dog Food Product Trends
According to a new report from the American Pet Products Association, pet food and treat sales surged 9.7% to $42 billion last year." This past year presented a host of challenges that resulted in consumers across the country turning to their pets for comfort and companionship. Interestingly, the product trends we are seeing in the pet care community mirror those of consumers — a desire for a healthier lifestyle, increased focus on fitness, turning to supplements for improved well-being, and technology playing a larger role in everyday life," said APPA President and CEO Steve King.  
Minimal Heat Used in Dehydrated Pet Food
With all dehydrated dog foods, the end product is a much lighter and softer food. Dehydrated dog foods use very low heat for a long time to remove all the food's moisture. There is minimal heat used in the dehydration process. The end product is not considered "raw" but is also not "cooked." Dehydrated pet food falls under raw food because it contains similar nutrients, amino acids, enzymes, and vitamins. 
Dog Food Options
With plenty of options available today from raw, natural, dehydrated, vegan, fresh, and freeze-dried, there is emerging evidence that pets should be fed a high-quality whole-food diet like dehydrated pet foods with plenty of fruits and veggies. 
Pet parents should also consider exploring each brand's ingredients list to see where the main ingredients are sourced before purchasing any dog food. Here's what to look for when choosing any type of dog food:
Transparency in all aspects of dog food

Bioavailability of all nutrients in the diet

Locally sourced ingredients

Essential nutrients, vitamins, and minerals

A diet that meets the biological needs of the specific dog

Superfood ingredients to boost nutrition and promote digestive health

No more pet food recalls

Not made in China

No use of the 4-D meats in dog food

Ingredients must be free of pesticides, and other toxic chemicals

High-quality natural foods like added fruits and veggies

Delicious flavors

USDA inspected

Online educational resources about brand

Single protein source

Honest marketing strategies

Veterinary

approved
Frequently Asked Questions
Is Freeze-Dried Dog Food as Healthy as Raw Dog Food?
During the freeze-drying process, the nutrient value remains; additionally, the food looks similar to meat, and much of the bacteria are destroyed. That said, there are still some remaining bacteria. You should read up on your product before purchasing to see what freeze-drying process has been used and if there have been any recalls.
What are The Benefits of Feeding Dehydrated Dog Food Formulas?
Dehydrated dog food goes through a process where the moisture in all the ingredients is removed via evaporation. This process increases shelf-life. Dehydration and freeze-drying processes both increase shelf-life, yet freeze-drying involves dehydrating a product under a lower temperature.
Dehydrated dog foods are beneficial in many ways. Here are some of the benefits:
Retains important nutrients

Formulas are single protein

Locks in flavor and nutrients with the freeze-drying process and offers the same benefits as a raw diet

Takes a few minutes to prepare

Minimally processed with less sugar, artificial colors, or synthetic preservatives

Great alternative to a raw food diet with no handling of raw meat and safety issues involved.

Long shelf- life

May be used as a topper with more affordable foods

Offer plenty of omega fatty acids

Contains fiber-rich fruits and plenty of antioxidants

Well-worth the price considering the numerous health benefits
Is Dehydrated Dog Food Similar to Freeze-Dried Dog Food?
Freeze-dried dog food is dehydrated dog food dehydrated at a low temperature to maintain all nutrient value. The ingredients are frozen, and pressure is lowered while the ice is removed via a process called sublimation.
Dehydrated Dog Food Requirements
When feeding a dehydrated dog food, you'll need to add broth or warm water according to the manufacturer's instructions. Each brand is different, and it's essential to follow directions properly when feeding your furry best friend. Dehydrated dog food should always be provided to dogs only after being adequately hydrated. If not, the ingredients could cause bloating.
Conclusion for Best Dehydrated Dog Food
The best way to choose the right dog food for your dog is to consult with your veterinarian. There are some essential tips on choosing the best dog food for your dog by opting for dog food recipes that have natural, whole-food ingredients and low calories. Your dog needs to be fed an appropriate amount of a well-balanced and complete dog food formula that is important to his well-being and longevity. 
Find out from your vet about your dog's nutritional requirements. Keep in mind that one of the most important things is the digestibility of your dog's diet's essential components. If your dog isn't eating the way he usually is, reach out to your vet to determine the root cause in case it's a health issue and not a dog food one.
Other articles you would like:
Still not convinced? Check out this Dehydrated Dog Food Review!

Claudia Bensimoun is a writer who specializes in dog content and veterinary topics! Aside from writing for We Love Doodles, Claudia also writes for other major dog blogs like Fido Friendly, Animal Wellness Magazine, and the United States Dog Agility Association (USDAA). She has a ghostwritten over 50 different dog e-books. Her passions include animal welfare, veterinary research, and wildlife conservation.
Why Trust We Love Doodles?
At We Love Doodles, we're a team of writers, veterinarians, and puppy trainers that love dogs. Our team of qualified experts researches and provides reliable information on a wide range of dog topics. Our reviews are based on customer feedback, hands-on testing, and in-depth analysis. We are fully transparent and honest to our community of dog owners and future owners.