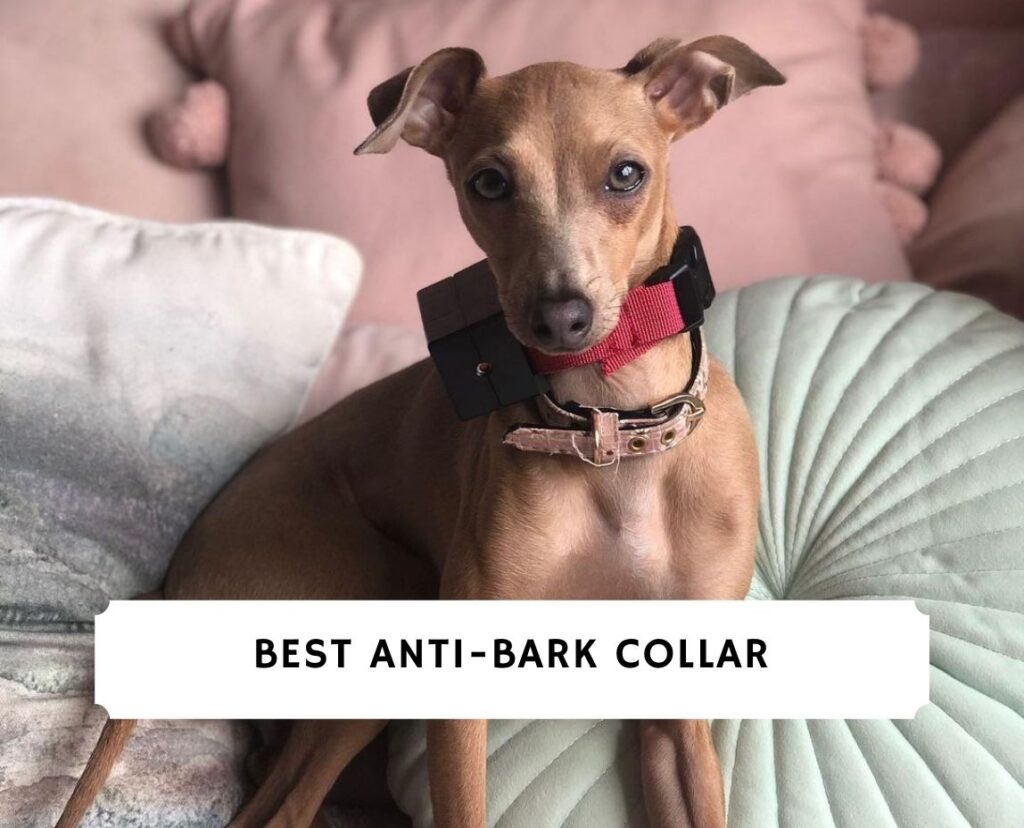 Dogs bark. It's their only way of vocal communication and is perhaps their main way to communicate with us. Some dogs keep to themselves, others would prefer to chew on your golf clubs, but others prefer to express themselves by barking. With some breeds, they bark so much that you get sternly written letters from your neighbors about your dog's constant noise.
Now, there are plenty of ways to keep your dog from barking. One example, among many, is to simply ignore them and let them realize the fruitlessness of their efforts. Others resort to hiring a professional trainer to deal with the bad behavior. The former is the least effective but free; the latter is effective, but may instead cause your wallet to bark and growl at you.
For those who want to maximize effectiveness and minimize cost, they typically will choose an anti-bark collar. Today, we have five different products that can immensely help reduce excessive dog barking and noise complaints.
Before we begin though, we'd like to say that none of these anti-bark devices are meant to "punish" your dog. When considering these products, keep in mind that you will use them with the utmost respect and love for your dog.
In a rush? Here are the top picks?
We're starting strong with the best anti-bark collar based on our own testing. The Pet Resolve training kit is a shock collar added with a lot of handy features including an automatic anti-bark function. The anti-bark mode will automatically train your dog whenever they bark. Despite being a shock collar, it does not operate by zapping your dog, instead, it uses static electricity to excite skin and muscles, leading to crawly and pulsing sensations. 
Key Features
Automatic Anti-Bark Mode
You can switch between Training mode and Anti-Bark whenever you need to. The Anti-Bark mode detects excessive barking, then delivers a warning tone. If your dog is still barking loudly afterward (and hasn't learned that the noise is a warning), the receiver will deliver a brief static stimulation. The level of stimulation is whichever you set in training mode.
Three Different Training Modes
Outside of Anti-Bark mode, you have the training modes: Static Shock, Vibration, and Tone with both Static Shock and Vibrate having 10 levels of power. This opens up a lot of methods to communicate with your furry friend. With the right training method, you can teach your dog plenty of ways to be more responsible around the house. 
No-Standby Mode
The receiver is always on and doesn't go to power-save mode. Of course, this means you need to turn the collar off when not in use, but also means the collar is guaranteed to deliver stimulation when needed or demanded. It may not be much, but with training and conditioning, timing is everything.
High Range
The remote has a maximum range of 3/4 miles or 1.2 kilometers in an open area. A powerful signal like this means it can pass through several walls before the signal diminishes. This means wherever you are in the house, you can send any of the three signals to your dog.
Nightlight
The receiver has a small but decently powerful nightlight. The light is extremely useful for finding your furry buddy in low visibility like fog or finding them in the dark.
Remote is Splash Proof, Receiver is Water Proof
The remote can resist even the heaviest rain. The receiver can withstand a water depth of over 20 feet, making it completely weatherproof so you don't have to worry about your dog diving into that lake with the collar on.
Quick-Charge Battery
The kit comes with a split charger, allowing you to charge both the remote and the receiver. Both can be fully charged in two hours. Since the kit has no standby mode, it will be best to charge them after use. What's unique about this anti-bark collar is the USB slot for the charger so you can use any phone chargers for it.
The Pet Resolve training kit has plenty of features making it more than just an anti-barking device, and at the same time, it works really well as a training collar. Make sure you dial in the lowest possible shock level that your dog will react to before using.
The next anti-bark device on the list is a dedicated, fully automatic anti-bark shock collar. The collar has several modes that fit different temperaments. One of these anti-bark modes is better for stubborn dogs. Let's get into the details. 
Key Features
Silent Partner Bark Detection Technology
This is a set of features made to handle any dog based on its temperament and stubbornness. This model has 2 of the 3 training modes available for the brand which are:
1. Progressive Correction
When your dog barks, it triggers the lowest stimulation available, and if they continue barking, the collar will gradually increase until your dog stops. It's highly effective at training stubborn and aggressive dogs that like to bark.
2. User Selected Correction
This mode delivers a specific shock level whenever your dog is barking too loudly. This is more effective with loud but less stubborn dogs who respond to low levels. This mode is best for dogs who already know how the collar works or are familiar with shock collars. 
Shock and Vibrate
You can switch the shock to vibrate and vice-versa. The collar will function the same way, just with different stimuli. This is a great option if you prefer not to use the shock modes.
Weatherproof and Waterproof
The anti-bark collar can withstand being submerged for up to 25 ft. Unless you own a pool that deep, water and rain damage will be the least of your worries.   
2-hour Quick Charge
The receiver has an impressive battery life that can keep going for days unless your dog is really stubborn and barks enough to drain the battery. Even then, it only takes 2 hours to charge it back to full.
Citronella is a cool name for a citrus-smelling oil that comes from the otherwise mundane lemongrass plant. It's great for repelling mosquitos, and both dogs and cats don't like the smell of citronella. Watch how dogs react to sliced lemon and you'll know what we mean. With that in mind, this collar sprays a diluted mixture of citronella to catch your dog's attention instead of the traditional shock collar. If you want to train your dog without a shock collar, you should consider a citronella bark collar.
Key Features
Citronella Spray
Like we mentioned before, instead of an electric shock, this alternative bark control product sprays citronella. Granted, you have to keep refilling it, but the receiver can hold enough of the citronella for 30-40 sprays, which should be enough to deter unwanted behavior for a few days. The kit comes with a refill can that holds enough for a range of 300-400 sprays. 
Three Training Methods
Like most shock collars, this collar has vibration and tone. With the citronella spray, we have three ways to communicate with your furry friend. The spray mode also has three levels: low, medium, and high. Make sure you dial in on the minimum spray level needed for your dog to stop barking. 
Decent Range
The remote control and receiver has a total range of 1000 feet, or 330 yards in an open space. This is great for open fields like parks and your backyard. Take note that walls and foliage can dampen the range.
Quick Charge
At full charge, the collar can last for about 11 days. It only takes about 2-3 hours to charge it back to full. The receiver and the remote have indicators that tell when the battery is low. 
We'd like to remind you that this product does not have an automatic function. It is an effective and relatively harmless way to stop your dog from barking too loudly. Dogs generally don't like the smell of citrus, so overuse of a citronella collar can just be as bad as overusing shock collars. 
The fourth anti-bark device on the list is another automated shock collar with a few different features designed for minimal stress. The collar's strap is coated with Biothane, a brand of polyester designed to be both strong and hypoallergenic, and the company offers a separate purchase of titanium spokes, all of these geared to improve your dog's experience. 
Key Features
5 Second Delay Between Stimulations
This comfort measure was taken so that your dog doesn't get too stressed out on their first time using the collar. Constant stimulation can wear any dog out. Minimizing the stimulation keeps the dog from getting too used to the sensation and saves you some battery life. Win-win.
3 Bark Sensitivity Levels
You can adjust how loud the dog's barking has to be before the collar triggers. For example, you have a talkative Husky that yammers adorably but barks like no tomorrow when the delivery van arrives, you can set the sensitivity to "Low" so the collar will only trigger on the 'barkiest of barks'. On the other hand, if you need your dog to stay quiet for short periods of time, like when your toddler sleeps, you can set the sensitivity to "High".  
8 Levels of Stimulation
Like most shock collars, you can adjust the intensity of stimulation a dog gets when the collar triggers. It's important to spend some time dialing down to the lowest stimulation needed for your dog to respond. Some dogs get the idea at just the first level, but it's not unheard of for dogs to remain stubborn even at the 5th or 6th level. Start at the lowest and work your way up.
Bark Counter
The collar has a nifty counter that keeps tabs on how many times the collar activated. The data helps you calibrate the collar's settings, or see if the collar is making progress such as a drop on activation over few weeks.
Quick-Charge
Thanks to the lithium-ion battery, the collar lasts for days before the battery runs out, which is also dependent on how many times the collar triggers. When the battery does run out, it only takes 2 hours to charge it back to full. 
Minimal usage is perhaps the best way to use a shock collar or any training collar for that matter, and this collar is built to address that usage. It does take a while for it to work, but it will be worthwhile in the long run.
The fifth and last product on the list is a bit fire-and-forget but that doesn't mean you don't watch over your dog. Instead, it has features that reduce the steps needed to take to fully set your dog up with the collar. It also has automatic bark detection to train your dog.
Key Features
Automatic Temperament Tuning
This is the key function of this collar. When your dog barks, it triggers the lowest stimulation, then keeps raising the level until your dog stops barking. When it does, it remembers the level and uses that level from that point on. After a while, the collar will automatically drop the level until it fails to stop the barking, then the cycle continues.
Safety-Shutdown 
If your dog barks 15 times non-stop and the collar isn't making a dent in your dog's stubbornness, the collar will automatically shut off. It might sound counter-intuitive, but it will keep the dog from getting too much stimulation, and keep the collar from ramping up the stimulation too much. Sometimes, there will be a reason why your dog will stubbornly bark, like a wild animal entering your backyard unannounced, and you'd want your dog to bark loud and clear for that.
15 Levels of Stimulation
This is why the collar has an auto-shutdown at 15 straight barks. A higher number does not mean stronger though, it means there are 13 other levels between lowest and maximum. 
Quick Charge
By now you've realized that all collars in this list are powered by a lithium-ion battery. Most modern collars are. They last for a long time and fully charges in 2 hours.
This collar's programming is arguably optimized for automated use, definitely stands out, but when using any shock or bark collar for the first time, make sure you or someone else watch your dog for a few days before leaving them alone with the collar, to make sure they have the best experience possible.
Frequently Asked Questions
Now that you've seen the best anti-bark collars on our list, you may have some general questions about these anti-bark devices. We can answer three of the most general questions that come to mind.
1. Are Anti-Bark Collars Safe?
Safety is always the first thing to consider when buying anything for your beloved pets. In general, all training and anti-bark collars are safe to use. They have been tested, they follow strict standards set by regulatory entities, and they add their own personal measures as the cherry on top. 
For shock collars, the voltage and amps can vary, but what's constant is the minuscule amount of energy released. To give a short answer, the strongest shock collars are hundreds, if not a thousand times weaker than electrotherapy devices on physical therapy clinics.
Citronella collars are formulated to make them both irritating and as harmless as possible. It is still supposed to mildly irritate your dog to deter them. The biggest bonus about citronella is it also protects your dog from mosquitoes, ticks, and fleas because even they find it irritating. 
2. How Does an Anti-Bark Device Work?
All, if not, a great majority of the ways they work is about conditioning, a word coined by Psychologist Ivan Pavlov. He had several dogs who first heard him ring a specific bell before giving them delicious steaks. After a few days and three very happy dogs, he rang the bell again and this time, the dogs drooled. 
This is because they associated the steaks with the bell. They know when the bell is rung, they will be fed the best meal of the day. This association is what the anti-bark collars take advantage of. The dogs associate certain behaviors with an unpleasant stimulation. 
It doesn't work instantly. There will be some cases where the dog learns in less than two weeks, but it can take as long as six weeks. Overtime though, it will stop either chronic barking or minimize unwanted barking.
3. Why Do Dogs Bark?
It's one of four general sounds a dog makes, which are barking, whining, howling, and growling. If you own a Husky, you know how they combine all of these to express themselves, and that's why they bark. We can further break down the reasons why they do, and perhaps lend some insight on how to minimize it.
Protecting Their Territory
This is why certain dog breeds make excellent home guards. They consider your home their territory and they don't want any unfamiliar dog, human, or any other animal from breaching it. Any interloper would be given a stern warning that this is their turf, and if they get any closer, they will be dealt with; much to the demise of delivery personnel and squirrels everywhere. 
Fear
Depending on your dog's personality, they may be confrontational or cowardly when it comes to threats. Often, they do this in an attempt to scare off a would-be attacker instead of wasting energy fighting or running from them. 
Social Interaction/Lack Thereof
Barking is very much like talking. They bark at other dogs, at you, at a stranger all in an attempt to communicate. We don't understand it exactly, but you can often tell the difference between a happy bark and a nervous bark. When a dog is alone, it's common for some breeds to bark loudly, or even howl. Howling is a way for dogs to communicate long distances and these noises could be their attempt to reach out to you. 
Attention
An unsatisfied dog will likely call you for attention, whether it's for food, water, or get their tenth ear scratch of the day. Think of it like a toddler who has a laundry list of things they want to happen for the day, and may pester you or the neighbor if they don't get what they want. 
Conclusion for the Best Anti-Bark Collar
Excessive barking can definitely be solved with anti-bark collars, whether it be shock or citronella collars. They are safe as long as they are used properly. Remember to always start at the lowest level of shock or spray and gradually work your way up. Using a bark collar as well as some positive reinforcement can go a long way in training your dog not to bark excessively.
Other articles you would like:
Garrett loves animals and is a huge advocate for all Doodle dog breeds. He owns his own Goldendoodle named Kona. In addition, he volunteers at the Humane Society of Silicon Valley, where he fosters dogs and helps animals. Garrett enjoys writing about Doodles and believes that dogs can teach humans more about how to live than humans can teach a dog.
Why Trust We Love Doodles?
At We Love Doodles, we're a team of writers, veterinarians, and puppy trainers that love dogs. Our team of qualified experts researches and provides reliable information on a wide range of dog topics. Our reviews are based on customer feedback, hands-on testing, and in-depth analysis. We are fully transparent and honest to our community of dog owners and future owners.