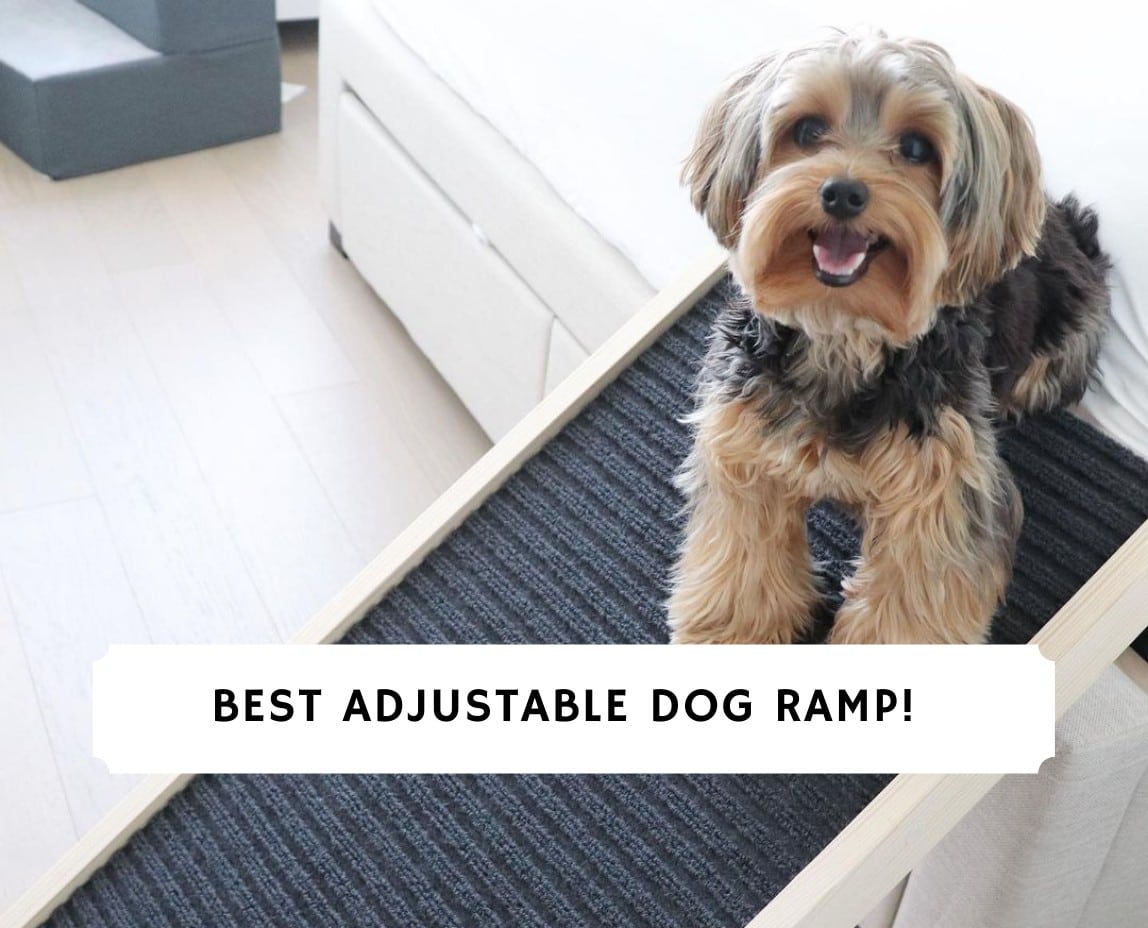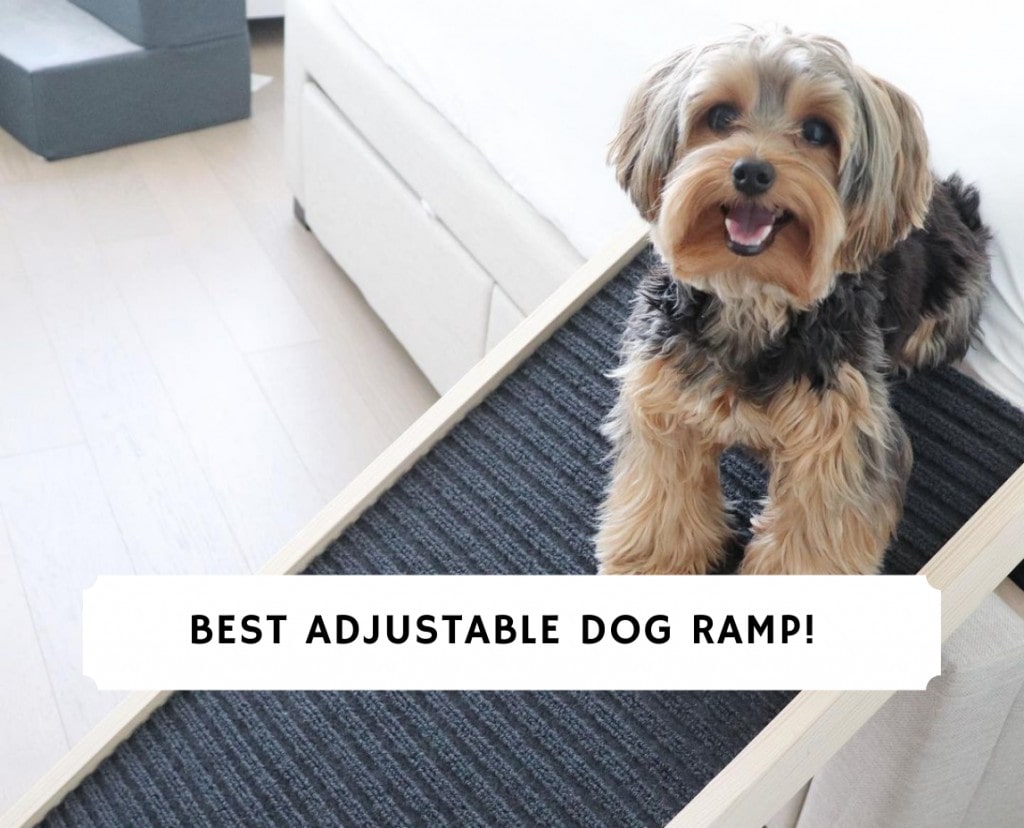 There are certain disadvantages to being a dog that many of us humans never even consider. If dogs have short legs or grow older and can't quite make it onto the couch to snuggle with us, they will become sad. In addition, maybe your dog struggles to make it into the bed or in the car because the surface is just too high for them.
Whether you have a big dog or a small dog, we can bet your dog has some locations they love and it seems like you always have to help them get there. This is where an adjustable dog ramp can come in quite handy.
An adjustable dog ramp allows you to give your dog the perfect walking path to get to the elevated surface they need to be at. This will save you the struggle of always lifting or pushing your dog. It's also a lot safer and more simple of allowing your dog to get where they need or want to be!
There are a lot of different adjustable height dog ramps out there. There are some made for couches, some made for beds, and some made for cars. Some other options are a dog ramp with rails so your dog doesn't fall off.
We've done a ton of research to find the best adjustable dog ramp for any given situation! Stick with us to learn about the 9 best adjustable dog ramps on the market!
In a rush? Here are the top picks!
Product
Best Overall
Internets Best Pet Ramp
Best for Cars
PetSafe Telescopic Ramp
Budget Pick
In Hand Dog Ramp
Image
The 9 Best Adjustable Dog Ramps
We've searched and scoured the market using specific information to really narrow down the choices here. Below, you will find our reviews of the best adjustable ramps, complete with a list of pros and cons for each choice. Take a look at these options and determine just which one will work best for you.
Our first option is quite a simple dog ramp that adjusts to various heights. It's made for a couch and could potentially be used for other elevated surfaces as well. This ramp is made with MDF (medium-density fiberboard) that has been varnished to a classic white color so it looks very nice inside of your house.
The walking ramp has a felt coating so that your dog can go up and down the ramp safely, without any fear of slipping or sliding. It's a non-slip coating and it really does help keep your puppy steady on their ramp journey.
This dog ramp is great because it's not too steep but it is versatile. It can be a dog bed ramp adjustable option or the same for a couch ramp as well. It is adjustable to a few height levels. This is not overly large and can be stowed away quite easily as it folds flat.
When you're using a ramp for car or truck entry, the ramp requires some specific angling. For certain vehicles, the surface the dog is traveling to is significantly higher than most couches. This means your ramp has to be able to set at an angle that isn't too steep so your dog can manage to walk up it.
This ramp is a telescoping dog ramp that extends up to 72 inches in length so you can give your dog plenty of room and the right angle to make it into a vehicle. In addition, this is a dog ramp with rails on the side to help guide your dog if they are wobbly and can't walk straight. The rails on this dog ramp are just slightly raised to provide a little extra comfort and security for your pet.
This is a heavy-duty ramp that can be pretty versatile thanks to the adjusting telescoping length. The ramp is stated to hold up to 400 pounds so it won't let you down, even with extra-large dogs. The frame is made with sturdy aluminum materials and easily folds back up flat so you can keep it in your trunk.
This adjustable dog ramp for a car is easy to use and operate and you can even purchase a carrying case if you want to be able to take it on the go with you.
This next option is another highly-rated choice that is designed specifically for small dogs. It's a compact solution quite similar to what you saw in your #1 spot. This is another great adjustable dog ramp for couch or bed and it's well-made. It even looks nice rather than the standard aluminum appeal.
This ramp is made for small dogs but it can support up to 150 pounds, according to the description. It's made with a fiber board material that is a dark espresso color. It then has a layer of carpet for the ramp that will give your dog traction and control when they use it.
This ramp is adjustable to 3 different heights. It can be set at 10, 13, or 16 inches overall. When it's not in use, it collapses and is only 2 inches tall so you can easily store it away for the next use. This is recommended for indoor use so it is best for stairs, ledges, couches, and beds in your home.
This adjustable dog height ramp is another great option for indoor areas like the couch and bed. It's an authentic wooden ramp that is designed to hold dogs up to 100 pounds. It's sturdy and reliable while also being simple and affordable. The ramp and legs are solid wood and the carpet helps with traction and not slipping.
This is durable and versatile overall. It can be used indoors or outdoors, although it shouldn't be left outdoors for extended lengths of time. It has 4 adjustable height settings and it supports itself so it doesn't have to connect or lean against anything.
This is so easy to work with and it really looks very nice with the wooden frame. When collapsed, this lies nearly flat so you can store it under the couch or bed or some other location. It doesn't take a lot of space.
If you want a dog ramp that you know will be plenty wide to walk up a couch, this is a great option. This is another small ramp but it's designed to be wide and support up to 160 pounds so it works great for large dogs and small dogs alike.
This wood-like material is a black color finish and has black felt-like carpeting on the walking surface. The coating of the adjustable ramps helps to make the surface safe and steady so your dog will get plenty of traction and won't slide on the surface.
This has 3 adjustable height options that range from 10-16 inches in height. The ramp length is 26.5 inches with a width of 14 inches. The manufacturer's do note that the ramp can be fairly steep at full height and may not work for all dogs. This is a simple and easy solution that can be quite versatile for couches or high beds.
Here's another wooden dog ramp that really is pretty nice. It's designed to work for both cats and dogs and can support up to 200 pounds of weight, making it pretty versatile overall. This ramp is made in the USA, which is another positive aspect for this option in terms of quality.
This adjustable ramp is made with solid and sturdy wood. Much like most of the other ramps we have shared, this also has a non-slip mat on the walking surface that helps your dog have traction and control as they take on the ramp. It's the perfect adjustable dog ramp for high beds or couches.
The platform is nice and wide (16 inches wide) so that big dogs are also comfortable on the ramp. The height is adjustable from 14 to 24 inches with 5 different levels. It also collapses fully flat for simple storage needs as well. This is an effective ramp that is made to be heavy-duty for the safety and security of your dog.
If you're looking for a ramp for your dog that is designed for looks and usefulness, this might just be the option for you. It's very nice in design and some might even call it fancy (for a dog ramp anyway!). This was made as a dog bed ramp adjustable solution but it could work with other surfaces as well.
This ramp adjusts to 3 different heights, although the specific measurements of those heights are unclear. It has rubber soles on the base as well as wheels so you can set it up and move it around. In addition, this adjustable ramp for dogs will be sturdy and secure and also won't scratch a hardwood floor either.
This ramp states it can accommodate dogs up to 125 pounds in weight. At the highest setting, it's only recommended for about 50 pounds though because can slip for tip over the ramp if they aren't stable. This is made with solid wood that is a dark stain and it has sectioned mats from top to bottom. The ramp is really easy to adjust and work with as well.
Here is another really great dog ramp for a car from Pet Safe. This option gives you another telescoping dog ramp solution that extends to higher heights. It's perfect for the car or getting to higher levels without being too steep for full-sized dogs.
The ramp for dogs telescopes to 70 inches in length. It also has a flap at the end to help make the connection between ramp and surface that you're connecting to. In addition, this dog ramp has rails on the side which are versatile and designed to support pets up to 300 pounds.
The company promises a quality guarantee as well as U.S. based customer care. They've been creating pet products for over 30 years and are honestly one of the most reputable pet companies. This ramp is lightweight, simple, and effective. It can be folded down fairly compact for storage and you can purchase a carrying case if you need to. Most dog owners will keep this ramp in their trunk because it's easily portable.
For our final option, we wanted to provide you with an alternative to a ramp. This option is a set of folding adjustable stairs that work similarly to a ramp. This is unique because the stairs are not overly steep or deep so it works nearly the same as a ramp might. It's a highly-rated option that is pretty cool and easy to use.
This dog ramp is great for getting in and out of a car. They have wide steps that measure 19 inches, which is one of the highest widths you are going to find. These stairs can support up to 200 pounds of weight. In addition, there are 4 steps, which provide you adjustable height as needed. The total height can reach up to 36 inches.
These easily fold up and the angle of the steps can be adjusted to accommodate a dog that struggles with stairs. The adjustable ramp is covered in a non-slip nylon surface as well. The frame is solid and sturdy. Lastly, these steps even have a safety tether with a carabiner attachment for additional stability.
Are Adjustable Stairs or a Ramp Better for Dogs?
When it comes down to it, how do you know if you should choose a dog ramp or stairs? Is one better than the other and how can you tell which you might want to try? In general, stairs can be challenging for older dogs or any dogs that suffer from potential arthritis symptoms and joint issues that may impede their ability to climb stairs. Often times, older dogs tend to be a bit more wobbly walking up steps as well.
If you are going to use stairs, you will want to be mindful of how deep the stairs are and whether or not they might be hard on your dog. For a young and healthy dog, stairs can be a great option. It exercises their joints without taxing them like leaping and jumping might.
If you are concerned about your dog's ability to handle stairs, we definitely recommend a ramp. On the other hand, adjustable dog stairs are nice because they typically fold more compactly and fit inside your vehicle a lot better. In addition, they tend to be more sturdy and not wobble as much.
What Angle Should a Dog Ramp Be?
An adjustable height dog ramp often allows you to adjust to meet different height needs. But how can you know that the angle will work for your dog? Just because a ramp lets you extend to 60 inches doesn't mean that every dog will be able to handle how steep it is.
You have to be careful not to end up with a ramp that is too steep for a dog to make it up or down safely. The last thing you want is for your dog to slip, slide, or be scared of a ramp because it doesn't feel safe to them.
The recommendation is that your ramp has an angle or incline that is somewhere between 18-25 degrees. The larger breeds can handle the higher angle while a small breed needs a lower incline angle. You'll want to gradually train your dog to walk up and down the ramp. Ultimately, you want them to feel confident and comfortable.
Conclusion for Best Adjustable Dog Ramp
As you check out options for the best adjustable dog ramp, remember that you need to choose a ramp that satisfies your needs and makes your dog feel comfortable. Consider the size of your dog as well as the stability of your dog before making a decision. In addition, think about things like angle, extension length, weight support, and adjustment ability as you make a final selection for your home or car.
We hope you find this guide to be a valuable resource for finding quality options and choosing a ramp to meet your needs!
Other articles you would like:
Garrett loves animals and is a huge advocate for all Doodle dog breeds. He owns his own Goldendoodle named Kona. In addition, he volunteers at the Humane Society of Silicon Valley, where he fosters dogs and helps animals. Garrett enjoys writing about Doodles and believes that dogs can teach humans more about how to live than humans can teach a dog.
Why Trust We Love Doodles?
At We Love Doodles, we're a team of writers, veterinarians, and puppy trainers that love dogs. Our team of qualified experts researches and provides reliable information on a wide range of dog topics. Our reviews are based on customer feedback, hands-on testing, and in-depth analysis. We are fully transparent and honest to our community of dog owners and future owners.