Snoopy from the Charlie Brown comics. Brain from Inspector Gadget. Shoeshine Boy from the classic Underdog. What do all these characters have in common? They're all Beagles! Typically, a purebred dog costs $1,000, so where can you find Beagle puppies for sale under $300?
Beagles are beloved as pop culture icons as well as household companions. Take a peek at our list of breeders, shelters, and resources, and begin your search for a dog to call your own.
Before you scroll down this list of places with Beagle puppies under $300, check out: 8 Best Beagle Breeders in the United States! (2023) and 10 Best Beagle Rescues in the United States! (2023).
1. American Gun Dogs
American Gun Dogs is first on our list of places you can find Beagle puppies on sale for under $300. This hobby site allows listings of Beagles and other hunting dogs for sale across the United States. It's important to note that none of the sellers are screened. You'll need to do your own research before you pay for — much less pick up — a dog listed on this site.
American Gun Dogs has a specific portion of its website dedicated to dogs under $500. Click the link in the menu bar and you'll be shown pictures of Labrador Retrievers, Beagles, German Shepherds, and other fur babies looking for a new home. Most are puppies while some are older. Scroll through the pictures and click on the puppy you want to adopt for more info.
Shipping is available for most dogs. If you find a Beagle in another state that you'd like to add to your family, you can make arrangements with American Gun Dogs or with the individual breeder. The cost of delivery will vary depending on your location and the breeder's preferred shipping method.
Again, be sure you take your time to interview the breeder or seller. Some are reputable breeders while others are individuals. Get to know more about your puppy's history and care before you make the decision to adopt.
American Gun Dogs Details:
2. Local Beagle Rescues
You'll have to do some research on this resource, but did you know that some animal rescues specialize in lovable Beagles? Some available Beagles are puppies while others are adults or seniors. The volunteers at the shelter will help match you with the most appropriate dog for your lifestyle.
Beagles enter shelters for a number of reasons. Sadly, the breed is one of the most commonly used in testing cosmetics and other products. Beagles are saved from this mistreatment and brought to rescues. Some Beagles may have medical problems their original humans couldn't address. Still, others have been abandoned, neglected, or otherwise separated from their families.
Speak with volunteers about your dog's history. Each dog has a unique past, and you'll need to know how to properly help rehabilitate them physically or mentally. It helps if you've had past experience with dogs; you'll be asked about your experience on your adoption application.
It's easy to find Beagle puppies for sale under $300 when you "shop" the shelters. Most rescues are non-profit, so there's a possibility your adoption fee will be tax-deductible. Speak with a tax adviser for more information.
Local Beagle Rescues Details:
3. Adopt A Pet
Adopt A Pet is a database of puppies that need new homes. You can search the breed you're looking for, then narrow down your search by location, distance from you, sex of the dog, and age. Click the search button to be presented with Beagles in your area that need your love and affection.
Adopt A Pet sells adults, seniors, and Beagle puppies for under $300. Unfortunately, there's no way to sort pups by price at the moment. You'll need to click each dog's picture to find out more information about the current owner, adoption fee, and your dog's history.
There are thousands of animals on Adopt A Pet, but you'll want to limit your search to your local area unless you plan to travel. Most of the sellers are shelters, and they'll require a local resident. Some may require a home check, too. Shelters usually don't ship or deliver dogs outside their immediate vicinity.
If adopting from an individual owner, take your time in interviewing them. Anyone can post on Adopt A Pet and breeders and private owners aren't thoroughly screened. Use your instinct — and vet references — to choose the seller and puppy that's right for you.
Adopt A Pet Details:
4. Lancaster Puppies
Lancaster Puppies sells Beagles and Beagle mixes, many of which are available for $300 or less. The business is based in Pennsylvania and they utilize a large network of breeders to provide healthy, quality puppies to dog lovers across the United States.
No matter where you live, you can adopt a Beagle from Lancaster Puppies. However, it's important to note that shipping is provided by a third party. If you're outside of Pennsylvania or are unwilling to travel, contact the Lancaster team to ask for a third-party delivery service referral.
Lancaster Puppies makes it easy to find the perfect pup. Search for your dog by breed, then filter your results to include specific criteria. AKC registration, size, sex, price, and state are a few of the options you can specify.
Once you find a dog you love, contact the seller for the next steps. In most cases, you'll be required to fill out an adoption application. Include information about your experience with dogs, your lifestyle, your physical home, and your preferences.
Lancaster Puppies Details:
5. Facebook
Facebook is next on our list of resources to help locate Beagle puppies for sale under $300. The social media platform is the largest in the world, with billions of global users. Of those users, thousands are Beagle enthusiasts. You can find like-minded individuals in your hometown or across the planet.
Search for "Beagle puppies" in the Facebook search, then take a look at the results. The "pages" that appear first will be closest to your location, but you can expand or refine your search as needed.
Many responsible breeders simply have no time or desire to create a professional website. Instead, they create a free Facebook page to keep customers apprised of what's happening in the Beagle community. Pictures of new puppies and announcements of upcoming litters will be posted on their Facebook page.
Keep in mind that Facebook is, in fact, free. You will have to check references and interview the Beagle seller to make sure that the puppy is coming from a healthy and safe environment.
Facebook Details:
6. Online Classifieds
It's hard to narrow down "online classifieds" to any one particular site. There are hundreds out there, and the classifieds in your area will vary greatly from those in another state. Craigslist is one example of an online marketplace, but a quick Google search for "classifieds" will bring up others specific to your city.
Online classifieds policies will each be unique to the site. This is important to know because while some sites require sellers to be screened or pay a fee to place an ad, other sites may allow absolutely anyone to post an ad. Always get to know your seller as well as possible before you meet them in person.
When it is time to meet your Beagle puppy and the seller, keep your own safety at the forefront of your mind. Bring a friend with you and leave the GPS enabled on your phone. Tell someone where you're going, and plan to meet the seller in a public place. Police station parking lots work wonderfully.
Once you've brought your puppy home, schedule an appointment with your vet. You'll want to make sure your pup is in good health and is current on vaccinations, wormers, and any other necessary treatments.
Online Classifieds Details:
7. Good Dog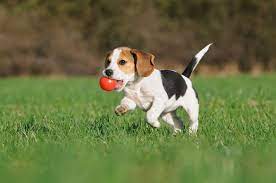 Good Dog sets high standards for breeders and sellers. Your Beagle puppy could be coming from anywhere in the United States, but even if your dog wasn't born locally, you know he's in good hands. Take a look at "Our Standards" to learn more about how Good Dog sellers are screened and selected.
Shelters, rescues, purebred breeders, and crossbred breeders are all permitted to add dogs to the Good Dog website. You can enter your preferred breed into the search box. Don't worry if you can't find a kennel in your state. A reputable breeder will often offer shipping and delivery.
The cost to adopt a Beagle on Good Dog will be set by the seller. Shelters will usually cost considerably less than breeders, though there are quite a few breeders that offer Beagle puppies for sale for $300 or less. If you do require shipping services, be sure you factor that expense into your budget. The cost of delivery will vary based on your location and the breeder's chosen shipping method.
Good Dog Details:
Frequently Asked Questions
Are there two sizes of Beagles?
The AKC recognizes two Beagle sizes: under 20 pounds, and 20 to 30 pounds.
Are Beagles lazy?
Beagles are energetic hunting dogs, but as they age, they will slow down.
How long does a Beagle live?
The life expectancy of a Beagle is 12 to 15 years.
Conclusion for "Where Can You Find Beagle Puppies for Sale Under $300"
Beagles are sweet, loving little dogs that have found themselves front and center in American pop culture. If you'd like to add a dog to your family, take a look at these resources to help you find Beagle puppies for sale under $300.
Of course, your puppy's health is important. Before you sign a contract or exchange money with a seller, do your best to ensure that your dog's current home is a sanitary, loving environment. Once you feel comfortable, you can celebrate adopting a playful new family member.
If you enjoyed this guide, "Where Can You Find Beagle Puppies for Sale Under $300," check out:
Before you bring home a Beagle, learn more by watching "Facts About Beagle Dogs 101-All You Need to Know" down below:
Garrett loves animals and is a huge advocate for all Doodle dog breeds. He owns his own Goldendoodle named Kona. In addition, he volunteers at the Humane Society of Silicon Valley, where he fosters dogs and helps animals. Garrett enjoys writing about Doodles and believes that dogs can teach humans more about how to live than humans can teach a dog.
Why Trust We Love Doodles?
At We Love Doodles, we're a team of writers, veterinarians, and puppy trainers that love dogs. Our team of qualified experts researches and provides reliable information on a wide range of dog topics. Our reviews are based on customer feedback, hands-on testing, and in-depth analysis. We are fully transparent and honest to our community of dog owners and future owners.