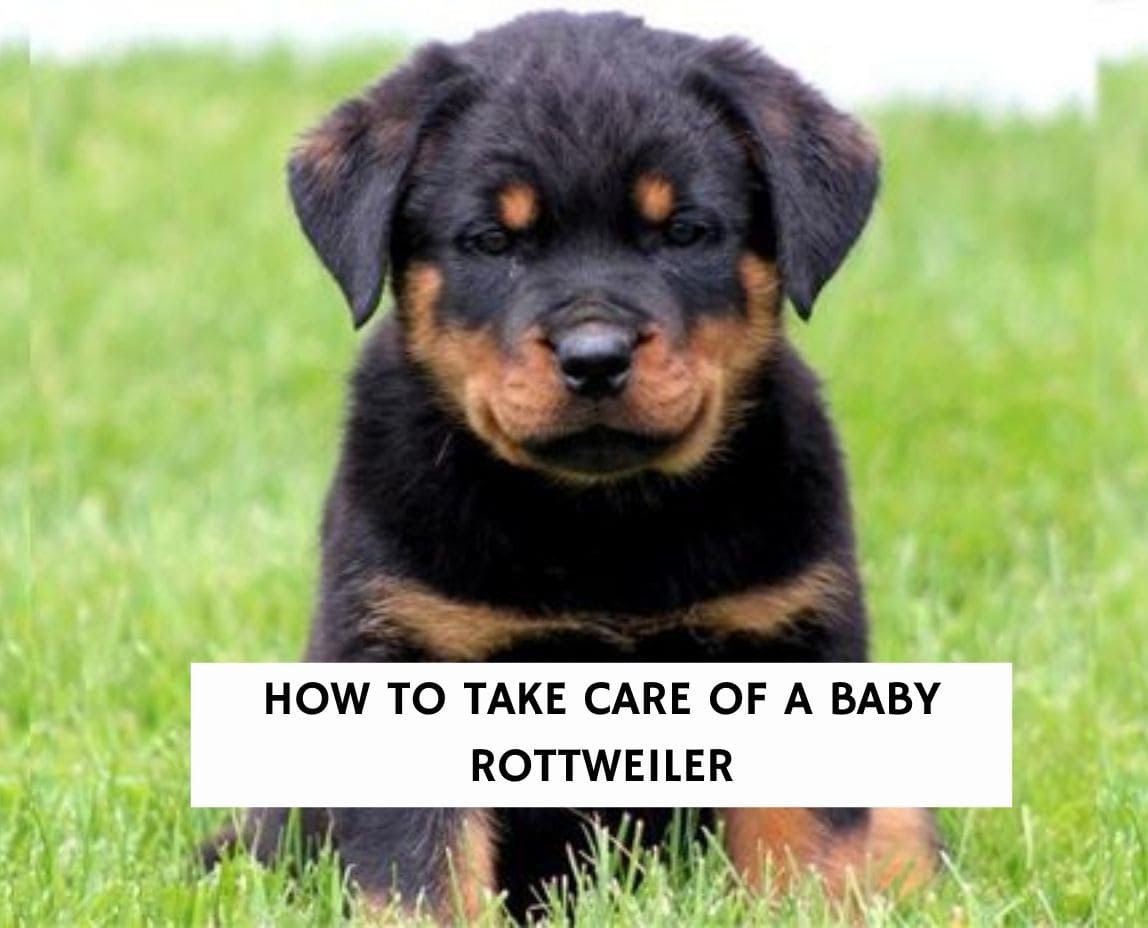 There are just not many things on Earth as cute as a baby Rottweiler. And if you've seen one, you know what I'm talking about. Before they get to be the massive extraordinary animals they are, they start out as adorable puppies and you're about to learn all about the best ways to raise them.
If you stick with this guide, you'll have a fiercely loyal companion that will choose "Being anywhere with you" as their favorite place. Here are the top 8 tips on how to take care of a baby Rottweiler!
Before scrolling down ttheir guide, check out these related topics: Best Rottweiler Breeders in the United States
A Step-by-Step Guide to Baby Rottweiler Care
1. Social Training
When you first bring your baby Rottweiler home, your main goal is to touch them as much as possible. Social training starts with you and those around you. Encourage family members and friends (especially children and the elderly) to hold and love on your new addition. The more people who can make physical contact with them, the better off it'll be.
They have a tendency to lean on people. It's inherent and it's hardwired, but if they're deterred at a young age from doing it, they're less likely to do it. Your grandmother or a child could be hurt so try to get a handle on it early.
2. Introduce Them to a Bathing Schedule
A Rottweiler puppy's body temperature isn't regulated until it's several weeks old (ask your vet for a more exact time) so no full-fledged water baths are necessary yet. Just use a wipe to move all over their body, especially over areas that can be sensitive to the touch like paws and the tail.
Go through the motions like you're giving them a full bath when you're just wiping them down so it'll start becoming familiar with the process. After all, you really don't want a dog that's going to eventually be 80 lbs. or more to be uncomfortable with bath-time.
3. Visit Your Veterinarian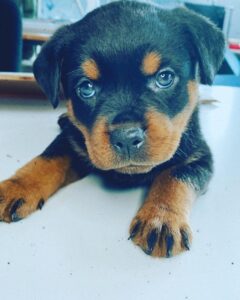 It's time to begin your relationship with the vet's office. As Rottweiler puppies, dogs especially need to see a professional for the following:
To receive proper vaccinations
To be monitored for any signs of a problem
To receive any parasite prevention meds
To answer the question, "When can it take a bath?"
So they can give you any information about Rottweiler puppies they might know
Questions to ask your Veterinarian
What is the best type of food for them?
How much/how many times should I feed them per day?
When do we return to get vaccinations?
Anything else you might like to be answered.
4. Socialize Your Rottweiler with Other Animals
There's no need to stick to just dogs for socialization. Letting them interact with any other living being is a necessary experience for them. It will teach them not to be fearful of or aggressive to new creatures. Early socialization will prevent a whole host of problems that could come your way.
5. Start House Training
It's a process you need to focus on and commit time to. Take them outside every couple of hours (it's okay, it won't keep that up) and when you bring them in, take them straight to their kennel if you're going to be doing something else.
Dogs really do love their kennels. It's a form of protection, it's their own, and they're hard-wired for it. Think wolves in dens.
Just make sure it has some chew toys. Don't leave them there for long. Take them out to interact, then put them back in. The process is quicker than you might think. I've trained many.
6. Introduce them to Grooming
Rottweiler puppies generally don't need to be brushed. However, you should just start gently running your fingernails across their body when you pet them. They'll get familiar with the feeling so when you introduce a brush, it won't be so foreign.
7. Play with Them
Use a cloth or rope toy to play tug-of-war, toss a ball, or play with a chew toy, but DON'T roughhouse with them. Rotties can be too protective, territorial, and aggressive if they haven't been trained correctly so teach them to be mouthy with things, not people.
8. Start Obedience Class
If you're going to enroll them in an obedience class, start researching who to contact now. Just walking in to be trained by anyone could be worse than not training them at all.
Baby Rottweilers are quick learners and enjoy receiving instruction. The best way to train a puppy is with hand gestures and body movements/posture since it's how they communicate.
Otherwise, begin by saying the word "Sit" while gently moving their backside to the floor and then rewarding them. You can eventually only sporadically reward them but always give them a "Good boy/Good girl" as a response to obeying your instruction.
Their 9-point list will help get you started with really young Rottweiler puppies. Consistency and patience are the keys. Do not hit or scream at your puppy. Negative reinforcement never ends well and will only confuse them.
They want to please so you should have an easier time than you might with some breeds.
More About The Rottweiler
Height: 24"-27" at the shoulder (male), 22"-25" at the shoulder (female)
Weight: 95-135 lbs. (male), 80-100 lbs. (female)
Life expectancy: 9-10 years
Group: Working
In 2021, the American Kennel Club (AKC) in Detroit announced that for the first time, the Rottie took the #1 spot as the most popular dog among all breeds.
Although their size and brawn could seem a bit off-putting, getting to know these loving, confident guardians will enhance your life
Hitory of the Rottweiler 
The Roman Empire bred and trained Asian mastiff dogs to gather, protect, and move herds used for food that accompanied them on their journeys. They also transported materials for farmers and butchers using a cart. It was these animals that became the distant ancestor of the Rottweiler.
The breed then made another entrance into society through Germany. Their stockiness and broad chests are reminders of their working heritage.
When the empire collapsed, the dogs settled in the cattle town of Rottweil (Germany). They continued to herd and sharpen their skills as guard dogs. They were called 'Rottweiler Metzgerhund' or Butcher's Dog of Rottweil (protecting butchers when they would travel to market with money).
Their arrival in America is a bit fuzzier. They're thought to have come to the US with a German immigrant in the late 1920's with the first litter being whelped in 1930.
Rotties were among the first guide dogs for the blind and assisted in search-and-rescue efforts for the disaster sites of Oklahoma and the World Trade Center. They also have a solid reputation as police dogs.
They were registered as a breed by the AKC in 1931.
There Are Two Types of Rottweilers
Did you know there are American Rottweilers and German Rottweilers? The biggest differences between them are that they're called what they are depending on which country they're born in.
Also, if their tail is docked, they're American. It's illegal to dock a dog's tail in Germany but not in America.
In Germany, puppies cannot be registered unless their parents pass a breed suitability test. They need to be in accordance with official breed standards. America has allowed puppies that may have been bred with parents who fall just short of these standards.
Rottweiler Approved Breed Standards
Relatively broad head between the ears
Broad and black nose with large nostrils
The muzzle is not too long, nor is it too short
Black and tight lips
Broad and strong looking jaws
Medium-sized and dark brown eyes
A strong and fair-lengthed neck
Roomy and broad chest
Rich tan markings present on the cheeks, muzzle, throat, chest, legs, and eyebrows
If you live in America, you'll almost certainly get an American-bred puppy. You still might want to ask for the sake of curiosity.
There's really no difference in their temperaments except that German-bred pups may be a little more people-oriented since being an excellent companion is the main focus in breeding them.
Health Issues in Rottweilers
You'll probably have a healthy dog with a long life. However, your vet should know about what health issues to watch for in a Rottie. If not, here are some to be aware of:
1. Hip dysplasia
2. Joint issues
3. Obesity
4. Heart issues
5. Cancer
6. Eye issues
These are a few that stand out.
If you walk your baby Rottweiler for an hour daily along with having regular playtimes with them, it'll have the best chance of being completely healthy during their lifetime.
You've chosen well. Rottweilers are loyal, obedient, and full of personality. Fulfill your parental responsibilities and watch them grow into your dream companion. Just be sure you make plenty of room in the bed for them.
You will also like:
Garrett loves animals and is a huge advocate for all Doodle dog breeds. He owns his own Goldendoodle named Kona. In addition, he volunteers at the Humane Society of Silicon Valley, where he fosters dogs and helps animals. Garrett enjoys writing about Doodles and believes that dogs can teach humans more about how to live than humans can teach a dog.
Why Trust We Love Doodles?
At We Love Doodles, we're a team of writers, veterinarians, and puppy trainers that love dogs. Our team of qualified experts researches and provides reliable information on a wide range of dog topics. Our reviews are based on customer feedback, hands-on testing, and in-depth analysis. We are fully transparent and honest to our community of dog owners and future owners.