If you're looking for Australian Shepherd puppies for sale, you're probably wondering, how much do Australian Shepherds cost?
Australian Shepherds are medium-sized, tough dogs that are very protective of their family members. They are loved across many households, thanks to their adorable appearance.
Although you could find an Australian Shepherd for free if a previous owner is rehoming their pet, but getting one from a rescue organization or breeder will cost. A rescue will usually charge around $50-$400, whereas a breeder could charge $800-$3,000.
Despite these averages, the price of an Australian Shepherd varies greatly based on the organization or breeder you are working with, their standards, and the needs of the dog. Keep reading below for more information.
Before you scroll down this guide, "How Much Do Australian Shepherds Cost," you can check out these other related articles from our team at We Love Doodles: Best Australian Shepherd Breeders in the USA and Best Australian Shepherd Rescues For Adoption.
About the Australian Shepherd Dog
Australian Shepherds are medium in size and build, being slightly longer than it is tall with a slim, athletic physique. It has the strength and stamina to work all day without slowing down, making it ideal for working with livestock. Its movement is light and effortless, and it can apparently switch directions or speeds at will.
It has a double layer that protects it from harsh environments, and the outer coat has a medium texture and ranges from straight to wavy in length. The expression is sharp, perceptive, and eager.
The Australian shepherd is an active, independent, intelligent, and responsive dog with a lot of love to give. Without opportunities to use and improve its highly developed mental and physical abilities, it is likely to get irritatable and get into trouble.
With adequate exercise and training, Australian Shepherds are loyal, fully dedicated, and faithful companions. They have a protective personality and are wary of outsiders. It may nip at kids or small animals to herd them.
History of Australian Shepherd
While the name "Aussie" is commonly used, the Australian Shepherd is not native to Australia. It is thought that some Basque farmers brought the predecessors of these canines with them when they immigrated to Australia, then afterward to the United States following the 1849 California gold rush.
However, throughout the years that followed in the American Southwest, the breed underwent a transformation into its modern form. The Australian dog was bred with numerous breeds in an effort to generate a dog able to cope with the extreme temperatures of the western United States.
The establishment of the Australian Shepherd as a breed was delayed because of the era's emphasis on performance in breeding, particularly speed, agility, and endurance.
In the 1950s, Australian Shepherds began appearing as rodeo performers and later, Disney movies like "Run Appaloosa Run" helped popularize the breed as a household pet. In 1993, the American Kennel Club (AKC) officially recognized Australian Shepherds.
One-Time Costs of an Australian Shepherd
The one-time costs of an Australian Shepherd usually involve the price of the puppy itself and initial supplies and setup.
Getting for Free
There could be an Australian Shepherd in your area that needs a loving family. Many individuals get one of these dogs because they are sociable and attractive, but they end up being disappointed because they are unable to keep up with the dog's high energy levels.
In these situations, you can usually get the dog for free or a small rehoming fee, and you can even get some freebies like beds and toys.
Adopting from Rescue Organization
$25–$400
While buying a puppy from a breeder has its benefits, adopting a dog in need is a much better option. Even if you ask an animal rescue to keep an eye out for a purebred Australian Shepherd, the dog they end up finding for you will probably be a mixed breed.
This is the one issue with adoption: you cannot determine the exact pedigree of your dog or if they are purebred dogs. The agency may or may not have information about the dog's past.
Adoption fees typically don't cost as much because they're used to pay for essentials like food and shelter.
The cost may increase, though, if these services are combined with others like spaying and neutering, vaccines, and microchipping. Still, you'll be saving a dog's life and saving money compared to buying from a breeder.
Buying from a Breeder
$800–$3,000
An Australian Shepherd puppy can cost anywhere from $800 to $3,000 or more. This wide range is due to the fact that the price varies widely by breeder and location.
The average price is roughly $1,000. Puppies offered for less than $500 should set off alarm bells since they are likely from a puppy mill, a business you should avoid supporting.
Factors Affecting the Price of Australian Shepherds
The following are factors that can influence the price of an Australian Shepherd.
Females Cost More than Males
As with any other breed, a female dog needs more care when she is in heat, and spaying is also more expensive than neutering. This adds to the overall cost of the female Australian Shepherd.
While this isn't always the case, female dogs generally tend to cost more than males, though this can vary widely depending on the breed and the breeder.
When a female dog is in heat, extra attention is often required. To protect their health and avoid unwanted puppies, greater consideration needs to be given to whether or not to spay.
There are also some breeders who charge the same amount for their puppies of any gender. Nevertheless, this decision is made independently by each individual breeder. Breeders have the legal right to set their own prices based on a variety of circumstances, so it's important for prospective pet parents to do their research before making a commitment.
Certain Colors Cost More
Black tri-colored and blue merle tri-colored Australian Shepherds are the most frequent and desired coat colors. Even if these are the most popular colors, that does not necessarily mean that they will also be the most expensive.
The Australian Shepherd is unlike any other kind of dog. This dog breed's coat coloration features a wide variety of color combinations and subtle color feathering. It's not always clear which one is more expensive because of this.
The demand for and price of a specific color of puppy can rise or fall dramatically and widely between different geographic regions and individual breeders. What is well received in one region may not be well received in another. The price of a puppy might vary greatly depending on the breeder.
The cost depends entirely on the breeder and the nature of their operation. What they decide to charge based on demand and color is subjective.
Initial Setup and Supplies
$50–$500
If you're a first-time dog owner, there are additional, essential setup expenses beyond the initial cost of buying your Australian Shepherd. You may already have some of these goods if you currently own or have owned dogs in the past. It's also possible that the adoption service covered some of these preliminary expenditures.
Such costs include food, bowls, collar and leash, crate, and toys. In some cases, you may need a kennel or fence as well.
Monthly Costs
$80–$200 monthly
For healthy dogs, monthly costs shouldn't vary too much. There They will need regular vet visits, heartworm preventive, toys, and more.
The most consistent monthly cost for any dog will be their diet. Feeding your Shepherd a balanced diet might cost anywhere from $50 to $100 per month, depending on the brand of food and the number of treats you buy.
The monthly price can vary quite a bit depending on the type of food that you decide to provide your Shepherd. The price of high-quality dog food can range from $50 to $100 per month, and the quantity of food that your canine companion requires will be determined by their age as well as their activity level.
To care about your dog's long-term health, you should feed it the highest quality food you can afford.
Healthcare
$50–$100 monthly
Healthcare costs for your Shepherd will be highest in the first year of ownership owing to immunizations, checkups, microchipping, and spaying and neutering, but will reduce significantly in subsequent years.
Your dog's age and condition will determine the precise cost, but you should plan on spending at least $100 per month. Vet visits can be unexpected for things such as ear infections, eating something they shouldn't have, and other health issues that come up.
Some veterinarians recommend senior dogs increase their annual checkups to twice per year.
Grooming
$0–$50 monthly
If you're willing to take care of the grooming by yourself, the only cost will be the initial investment in equipment. The cost of professional grooming can range from $40 to $60, depending on the services provided.
Whatever method you select, frequent grooming of an Australian Shepherd's long coat is essential to preventing knots.
Medical Care
$50–$100 monthly
Vaccinating a puppy requires many trips to the vet within the first year. The expense of a visit to the vet and any necessary vaccines might add up to an additional $50 – $120. Costs vary widely from dog to dog, depending on factors such as breed, age, and health, but a decent ballpark estimate for a healthy puppy would be around $1,000 per year.
Insurance
$10–$100 monthly
Any dog, particularly a purebred one like an Australian Shepherd, would benefit from having pet insurance. Basic coverage can begin at as little as $10 per month, while more extensive plans are available for as little as $30 per month.
Environment
$0–$15 monthly
When it comes to canines, maintaining an environment doesn't break the bank. However, if you are a city dweller, you will need to pick up after your dog, so a poop scoop and plastic bags are essential. Other than that, it's possible you'll need to replace some chewed furniture or appliances on occasion.
Entertainment
$0–$50 monthly
An Australian Shepherd can be entertained with nothing more than a big yard and a ball. Dogs thrive on the social interaction they get from spending time with their owners and rarely require elaborate forms of amusement.
Toys and games for dogs come in all shapes and sizes and can cost as much or as little as their human companions choose.
FAQs
Are Australian Shepherds expensive?
Australian Shepherd puppies are somewhat expensive from a reputable breeder, just like any puppy. That being said, they aren't necessarily more expensive than other breeds, and land in the average cost at about $800-$3,000 per puppy. Rescuing an Australian Shepherd at a rescue or breed-specific rescue is a great way to reduce the initial cost.
Do Australian Shepherds shed very much?
Australian Shepherds shed a lot. They have medium-to-long wavy fur that sheds constantly and are one of the highest shedding dog breeds. Like any dog, they tend to shed more in the summer than winter. Grooming them regularly or having them groomed will help reduce the shedding.
How much should I budget for a dog per year?
Most dog owners spend at least $1,200 per year per dog. This includes dog food, an annual vet visit, heartworm preventive, and a bit extra. Costs can easily increase with unexpected vet visits, treats, grooming, training, and kennel stays.
Conclusion For "How Much Do Australian Shepherds Cost"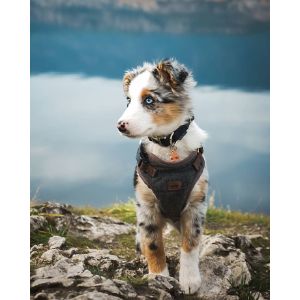 When looking at how much Australian Shepherds cost, the cost of the puppy or dog is only the first part. It's important to know what to expect financially before you bring in an animal. From yearly anticipated costs, to quality food, and unexpected vet visits. After all, you will be responsible for financing its needs and comforts for the rest of its life.
We hope this article helped you navigate how much an Australian Shepherd costs and what to expect when you bring home your new companion.
Now that you have a better understanding of how much an Australian Shepherd costs, you can check out these other similar guides from our team at We Love Doodles:
Before you decide to purchase an Australian Shepherd, you can learn more about this dog breed by watching "Australian Shepherd Dogs 101: Everything You Need To Know – Is It the Right Dog for You?" down below:
Garrett loves animals and is a huge advocate for all Doodle dog breeds. He owns his own Goldendoodle named Kona. In addition, he volunteers at the Humane Society of Silicon Valley, where he fosters dogs and helps animals. Garrett enjoys writing about Doodles and believes that dogs can teach humans more about how to live than humans can teach a dog.
Why Trust We Love Doodles?
At We Love Doodles, we're a team of writers, veterinarians, and puppy trainers that love dogs. Our team of qualified experts researches and provides reliable information on a wide range of dog topics. Our reviews are based on customer feedback, hands-on testing, and in-depth analysis. We are fully transparent and honest to our community of dog owners and future owners.