The American Kennel Club has ranked the Australian Shepherd as the 12th most popular dog, and the breed is coveted around the world. If you're one of the breed's millions of fans, you may be curious about some of the Australian Shepherd quirks.
In this guide, we're going to have fun with the breed and talk about characteristics every Aussie parent should know. Whether you're curious about the breed's history or how to groom your dog, keep reading!
Before reading this guide, "Australian Shepherd Quirks," check out: Where Can You Find Australian Shepherd Puppies for Sale Under $200? (2023) and Australian Shepherd German Shepherd Mix Guide! (2023).
1. The Australian Shepherd Isn't Really Australian
One of the funniest Australian Shepherd quirks is that the dogs probably aren't Australian at all! The breed has been around for thousands of years, and we believe they originally hailed from Spain.
Spanish people in the Basque region brought the dogs to Australia, then to the United States near California where the breed was refined genetically. Australian Shepherds that we're familiar with today originated in the US and were primarily used for ranching and rodeos.
2. Your Dog Has Many Names
Given its California roots, the Australian Shepherd may also be referred to as the California Shepherd. In addition, you may hear this breed referred to as the Spanish Shepherd, Bob-Tail, New Mexican Shepherd, or Blue Heeler.
Note that calling the Aussie a Blue Heeler is a little inaccurate. The dogs are similar in many ways. The Australian Shepherd is a little bigger, and their coats are slightly different as well. The Blue Heeler has a short coat that sheds only moderately while the Aussie has a thick, long coat that will leave a carpet of fur.
Before you adopt an Australian Shepherd, we recommend you do more research to ensure you're getting the dog you think you're getting. Blue Heelers and Aussies are similar, but their physical and personality differences may cause you to choose one over the other.
3. Australian Shepherd Quirks Can Mean Mischief
Because your dog is a natural herder, he can be likely to chase or nip. That means your children, too. What may begin as innocent play can turn into fear or frustration.
Train your Aussie very early and teach him what is and what is not appropriate behavior. In the same way, you'll want to teach your children how to play with your Australian Shepherd to not exacerbate the issue.
Your Aussie means well — he's just doing what he was born to do. But if he begins to try to herd the kids, the other animals, or your neighbors, it may be time for more intensive training.
4. Australian Shepherds Are Best for Active Adults
One of the cutest Australian Shepherd quirks is, in a word, hyperactivity. These dogs have a lot of energy, and they'll be unhappy sitting around the house all day. While some dogs are natural-born couch potatoes, the Australian Shepherd requires at least an hour of activity each day.
You don't have to be a marathon runner to satisfy your dog's need for activity. You do, however, need to make a commitment to bring your dog for walks or jogs, to give him ample outdoor playtime, and even to bring him to the dog park where he can work out his zoomies with other friends.
Sedentary seniors and busy families who aren't home much aren't particularly well-suited to the Australian Shepherd.
5. Your Australian Shepherd Loves Brain Games
Your dog will be more likely to get into mischief if he becomes bored. Now, if you have a job and can't be with your dog 24 hours out of the day, it may seem difficult to keep your pup entertained.
Thankfully, there are oodles of toys on the market designed to keep your dog's smart brain active and — more importantly — out of trouble. Search pet stores or even Amazon for brain games, or take a look at our guide elsewhere on this site.
Switch out your dog's toys regularly — say, weekly — to prevent discontent with the same old thing every day. Playdates and dog walkers can also help keep your dog active throughout the day.
6. Training Your Aussie is a Breeze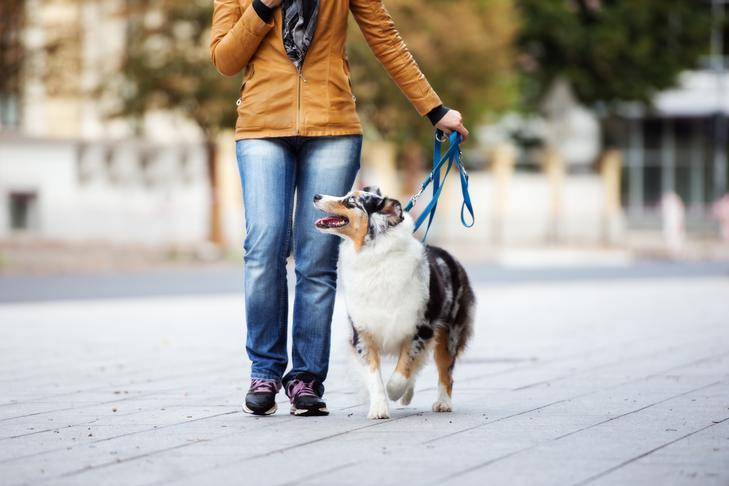 Many dog breeds have intelligence on par with the Australian Shepherd, but let's be honest: some pups are incredibly stubborn. This makes them hard to train. Your Aussie, on the other hand, wants nothing more than to make you proud, so he'll easily and willingly pick up commands and tricks.
You can absolutely teach your dog to sit, stay, heel, and come. But there's a world of agility exercises and even "circus tricks" out there that your Aussie will enjoy.
Once your pup has mastered the basics, look to the internet or local trainers for inspiration. We recommend contacting your Aussie breeder for suggestions on where to bring your dog for more advanced training if you're interested.
7. Australian Shepherd Quirks Include Hearty Conversation
Your Australian Shepherd isn't necessarily prone to excessive barking. However, they're some of the best conversationalists on the planet! Your dog will offer his opinion on that swim, car ride, or a game of fetch through whines, grunts, and other pup-specific sounds.
That said, the Australian Shepherd makes a great neighbor. Your dog will bark to alert you, but he won't be so noisy that the community gets upset.
As you train your Aussie, see if you can get him to learn to "speak," then take it from there. He'll naturally be vocal, but you'll be amazed at how your dog converses through whines, howls, barks, and songs.
8. Your Dog is a Full-time Shedder
No, we're serious. If shedding was a full-time job, your dog would be the prime candidate for the position. When you bring an Aussie into your home, you're planning to have a second layer of carpet laid down, and you can say goodbye to days when a lint roller wasn't necessary.
The dogs aren't hypoallergenic and they shed hair and dander year-round. You can help mitigate this by offering your dog a blowout several times a year. Frequent brushing — once or twice a week — will also help capture some of the loose hairs for easy disposal.
We strongly recommend that you consider a robot vacuum designed for pet hair — this will save you from a bit of frustration as you clean up after your pup.
Remember to take your dog to the groomer, too, for nail trims, teeth cleanings, and ear cleanings periodically throughout the year. Bathe your dog every other month or so.
Frequently Asked Questions
If you're thinking of bringing an Aussie home, you've probably got lots of questions! Here are some answers to some of the most commonly asked questions about Australian Shepherd quirks.
What makes Australian Shepherds unique?
Your Australian Shepherd is smart, loyal, affectionate, snuggly when he finally settles down, and talkative. The dogs don't bark a lot so you won't be hearing from the neighbors about the noise. And, best of all, they're playful and exceptionally fun.

Each individual dog has his own unique personality, of course, so your dog will win your heart in his own special way. Overall, though, Aussies are some of the best to own and make wonderful companions — assuming you don't mind the hair!
Do Aussies pick one person?
Yes! Your dog will likely choose one family member to fall in love with and follow around the house. That doesn't mean he doesn't love the others, though. If each family member shares dog-related responsibilities, your dog will be buddies with everyone in the household.
Can I leave my Australian Shepherd at home all day?
Australian Shepherds are smart dogs and they're constantly in search of new activities and stimulation. They can be left alone for a few hours, but after that time your dog may begin to experience separation anxiety.

An Aussie left to his own devices throughout the day may become restless, sad, and mischievous. We recommend you hire a neighborhood dog lover or a professional dog walker to check in from time to time. This can help keep destructive behavior — and hurt feelings — at bay.
How much sleep does my Aussie need?
Because of their incredible energy levels, you may feel your dog never sleeps at all. In fact, your pup requires between 12 and 14 hours of sleep each day. This can be overnight, but your dog will also nap throughout the day in shorter increments of time.
Conclusion For "Australian Shepherd Quirks"
Australian Shepherd quirks are unique to the breed, and when you put those idiosyncrasies together they create a loving, loyal, intelligent, and happy dog.
The dogs are best suited for homes with active adults as opposed to seniors or families with small children. However, they can be taught to get along well with just about anyone. The 12th most popular dog in the United States, the Aussie is an absolute treat and a faithful companion.
If you find this guide, "Australian Shepherd Quirks" helpful, check out:
Learn more by watching "10 Things Only Australian Shepherd Owners Understand" down below:
Garrett loves animals and is a huge advocate for all Doodle dog breeds. He owns his own Goldendoodle named Kona. In addition, he volunteers at the Humane Society of Silicon Valley, where he fosters dogs and helps animals. Garrett enjoys writing about Doodles and believes that dogs can teach humans more about how to live than humans can teach a dog.
Why Trust We Love Doodles?
At We Love Doodles, we're a team of writers, veterinarians, and puppy trainers that love dogs. Our team of qualified experts researches and provides reliable information on a wide range of dog topics. Our reviews are based on customer feedback, hands-on testing, and in-depth analysis. We are fully transparent and honest to our community of dog owners and future owners.