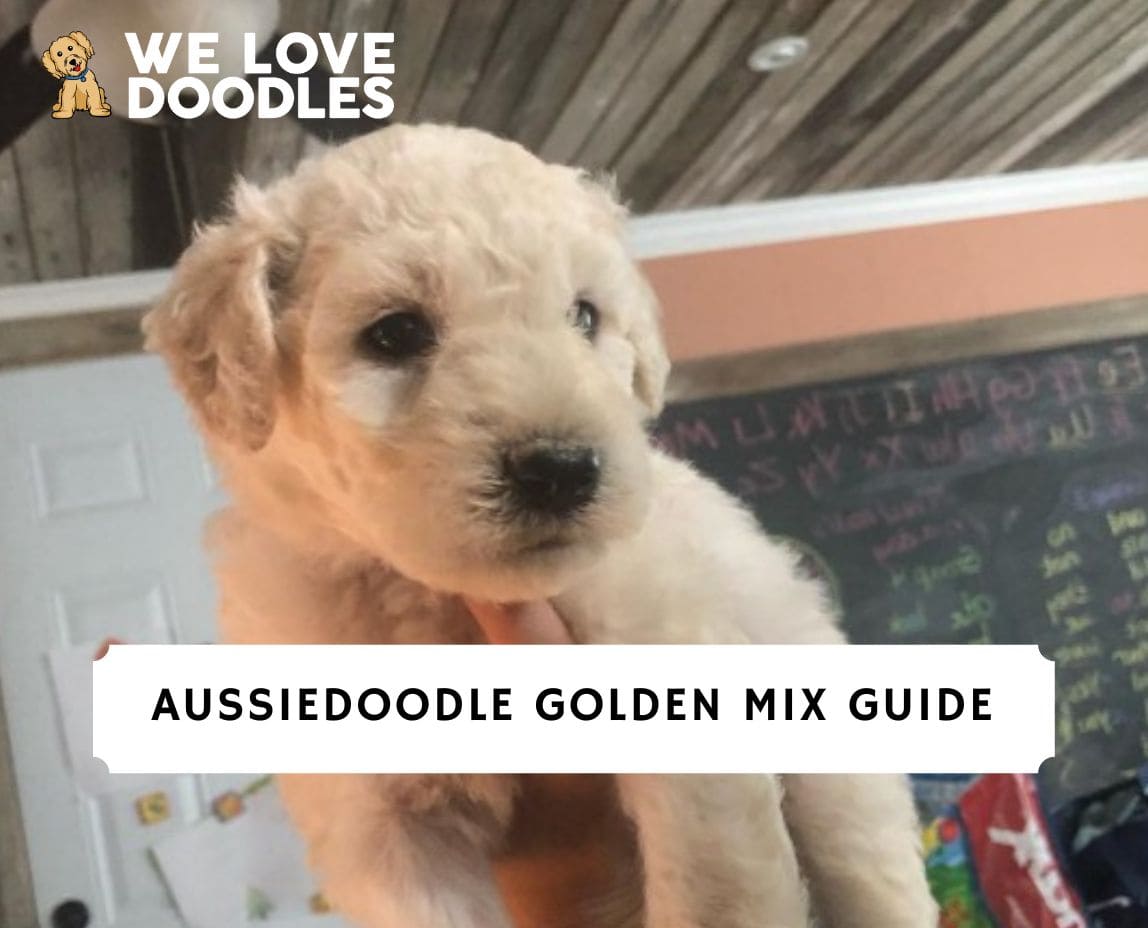 Are you wondering what an Aussiedoodle Golden mix is? You may wonder why Aussiedoodle Golden is among the most coveted of family dogs. The dog is known to have a high level of intelligence, is gentle, and is tolerable to children.
Nevertheless, the distinctive golden-brown dog often has tremendous hair loss, which can be annoying and tiresome for some people. Therefore, you need to be willing to handle whatever inconveniences the dog may have. This article will give you the care guide, the cost of owning an Aussiedoodle, and the routines you need to follow to ensure the dog is healthy.
Before scrolling down to a more in-depth Aussiedoodle Golden mix guide, you can check out these other dog breed mixes covered by our team at We Love Doodles: St. Berdoodle Information, Facts, and Images and Bichon Poodle Mix Information, Facts, and Images.
The Ultimate Care Guide for Aussiedoodle Golden and Goldendoodle Mix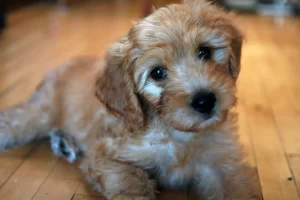 The Aussiepoo, also known as an Aussiedoodle, is a cross-breed that's produced by mating an Australian Shepherd and a Poodle. Poodles may be of different sizes, so the resulting puppies may also vary in size. Aussiedoodles are primarily bred across Europe, the United States, and the entirety of Australia.
Aussiedoodle Golden and Goldendoodle mix breeddogs are not suited for city life. They're highly energetic and will need a backyard or a large, fenced-in area where they can play and run each day. Therefore, if you are planning to own an Aussiedoodle, ensure there is enough space they can use to exercise from time to time. Apartments and other small iving spaces may not be well-suited to these pups.
Don't let the Aussiedoodle's shedding discourage you from adoption! There are both products and medical treatments for this, and simply brushing and blowing out your pup can help alleviate this concern quite a bit! As with any dog breed, you'll want to ensure that you have the time and resources to care for your dog properly.
What is an Aussiedoodle Golden Retriever Mix Dog Breed?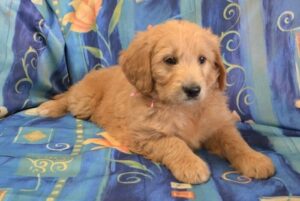 Simply put, an Aussiedoodle Golden Retriever mix is created by crossing an Aussiedoodle with a Goldendoodle, or by crossing an Aussiedoodle with a Goldendoodle.
Keep in mind that the female must be, for her health, the larger dog if you intend to breed miniature or toy animals with one another.
What is the Difference Between an Aussiedoodle vs. Goldendoodle?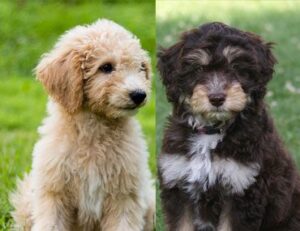 There are marked differences between the Aussiedoodle and the Goldendoodle. In fact, the Aussiepoo is often mistaken for the Australian Goldendoodle. They share a parent breed, a Doodle, but there are many types of Doodle designer dogs!
Some differences exist that can help you distinguish one from another. Aussiedoodle is a hybrid cross between an Australian Aussiedoodle and a purebred standard or miniature Poodle. A standard Poodle parent-bred Aussiedoodle is much larger and bigger than an Aussiedoodle from a miniature Poodle.
In some instances, breeders perform backcrossing to create golden Aussiedoodle puppies. On the other hand, Goldendoodle is a mixed breed and one of its parents is a purebred Poodle while the other is a Golden Retriever.  Poodles are generally used on different multigenerational Goldendoodles to create unique offspring.
Similarities exist too: these dog breeds are friendly, playful, and intelligent, making them among the more popular breeds among Doodles.
Most breeders breed Goldendoodles to create puppies with curly furs and light shedding coats. The coats are hypoallergenic, making them highly desirable and beneficial for people with pet allergies or who are lazy to vacuum up the dog. Coloration will vary from puppy to puppy, even within the same litter. As a result of these characteristics, Doodles may be more expensive than other dog breeds.
A Goldendoodle's size can relatively be predictable, and can include teacup, toy, mini, medium, and standard. Aussiedoodle size entirely depends on the Poodle's parents' size. The standard size of Aussiedoodle ranges between 10 to 15 inches tall and weighs about 25 to 70 bounds.
Related: Goldendoodle vs. Sheepadoodle.
The Amount of Food Required For an Aussiedoodle Golden Mix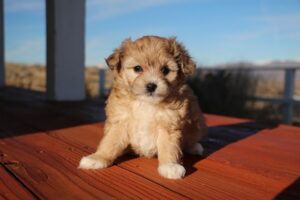 Your Aussiedoodle's eating habits will change throughout his life, and may even vary from day to day! As a rule, though, the National Research Council recommends that you feed your adult, healthy Aussiepoo around 1350 calories each day. Refer to the dog food packaging to determine just how much (usually in cups) that is.
In a perfect world, your dog's food will be wheat-free (these dogs tend to have a wheat allergy) and packed with protein and veggies. Monitor your dog's fat intake, but realize that a good food will contain essential fatty acids and other critical nutrients.
You may choose to give your dog canned food – that's perfectly fine! In fact, canned food tends to have a higher percentage of protein than dry food. Therefore, it can help you meet the daily goal of feeding your dog between 18% and 24% of his recommended protein.
Dog Food Product Recommendations: Best Soft Dog Food For Older Dogs with Bad Teeth.
Exercising the Aussiedoodle Golden Mix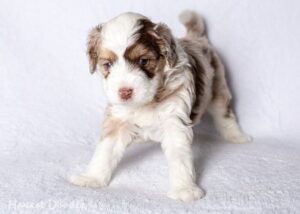 Aussiedoodle Golden mix requires a minimum of 90 minutes of proper exercise. That's each day! That said, it's fine to break this time up into a few thirty-minute exercise sessions.
Your Aussiedoodle Golden Retriever mix may be prone to destructive behavior, but that can be curbed. See, your pup is quite smart! With this intelligence comes a need to be stimulated. If you're not providing your dog with tools to keep him entertained, he may begin to make up his own (usually destructive or annoying) games.
Because the Aussiedoodle parent breed is the Australian Shepherd, they retain the information you give them during training. Again, the dogs enjoy swimming, so bring your pup to the lake and splash around together from time to time!
Dog Exercising Product Recommendations: Best Weighted Vest For Dogs.
Problematic Health Conditions For an Aussiedoodle Golden Mix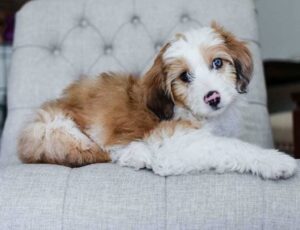 Any dog can suffer from ill health, and certain breeds are more predisposed to certain conditions than others.
Hip dysplasia is common in the Aussiedoodle, so your Aussiepoo Golden Retriever mix may be susceptible to this as well. You can help prevent it with vet visits, supplements, and proper nutrition and exercise.
Cataracts, too, can affect your dog. This is due to the dog's Poodle genes. Eye drops can treat the condition if it's detected early enough. Cataracts are genetic, though, so make sure you see the testing paperwork from your breeder.
Willebrand and bloat may also impact your dog. As always, we recommend that you bring your pup to the vet, as early detection is the key.
Aussiedoodle and Goldendoodle Mix Temperament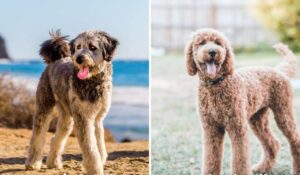 Each dog has its own unique personality, but you may be able to gain insight into your dog's personality by looking at his parents'. As for the breeds on the whole, the Aussie tends to be loyal, loving, and smart. The Aussie has a sense of humor and a pure love for his owner. They're herding dogs, and that may come out in your dog's actions and play.
The Poodle is gracious, cheerful, and oh-so smart! Loyal like the Aussie but with an independent streak, your Doodle may be sensitive but isn't necessarily prone to separation anxiety. Poodles aren't known to be big barkers.
In short, your dog has the best – and the worst – of each parent's personality. However, each dog is different! Your pup will learn a lot from taking your lead in training and interaction, so plan to spend quality time with your new fur baby.
Related: Are Goldendoodles Good with Cats?
How Much Are Aussiedoodle and Goldendoodle Dog Breeds?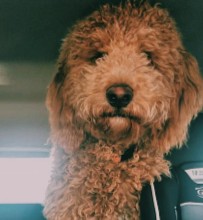 Generally speaking, a Doodle is less expensive than a Poodle when you consider only the initial cost of ownership. The price of your Doodle will likely range between $700 and $ 1,200 per puppy. There are instances where the breeder may want to charge more if both parents show quality in genes, or if the dogs are in particularly high demand.
No matter the cost, it's critical that you find a responsible breeder who will take the time to conduct genetic testing, care for puppies once they're born, and match puppies with loving homes like yours.
Related: How Much Does a Goldendoodle Cost and How Much Does an Aussiedoodle Cost?
Conclusion For "Aussiedoodle Golden Mix Information, Facts, and Images"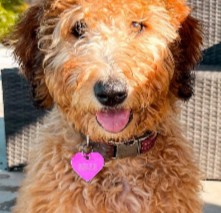 You want to start your Aussiedoodle journey with the best beginning possible. An experienced breeder can help you find the perfect Aussiedoodle to give you and your family companionship and fun for years to come.
If you found the Aussiedoodle Golden mix an interesting dog breed, check out these other covered mixed breeders from our team at We Love Doodles:
You can learn more about the Aussiedoodle by watching the "Aussiedoodle – Top 10 Facts" from a YouTube video we found for you down below: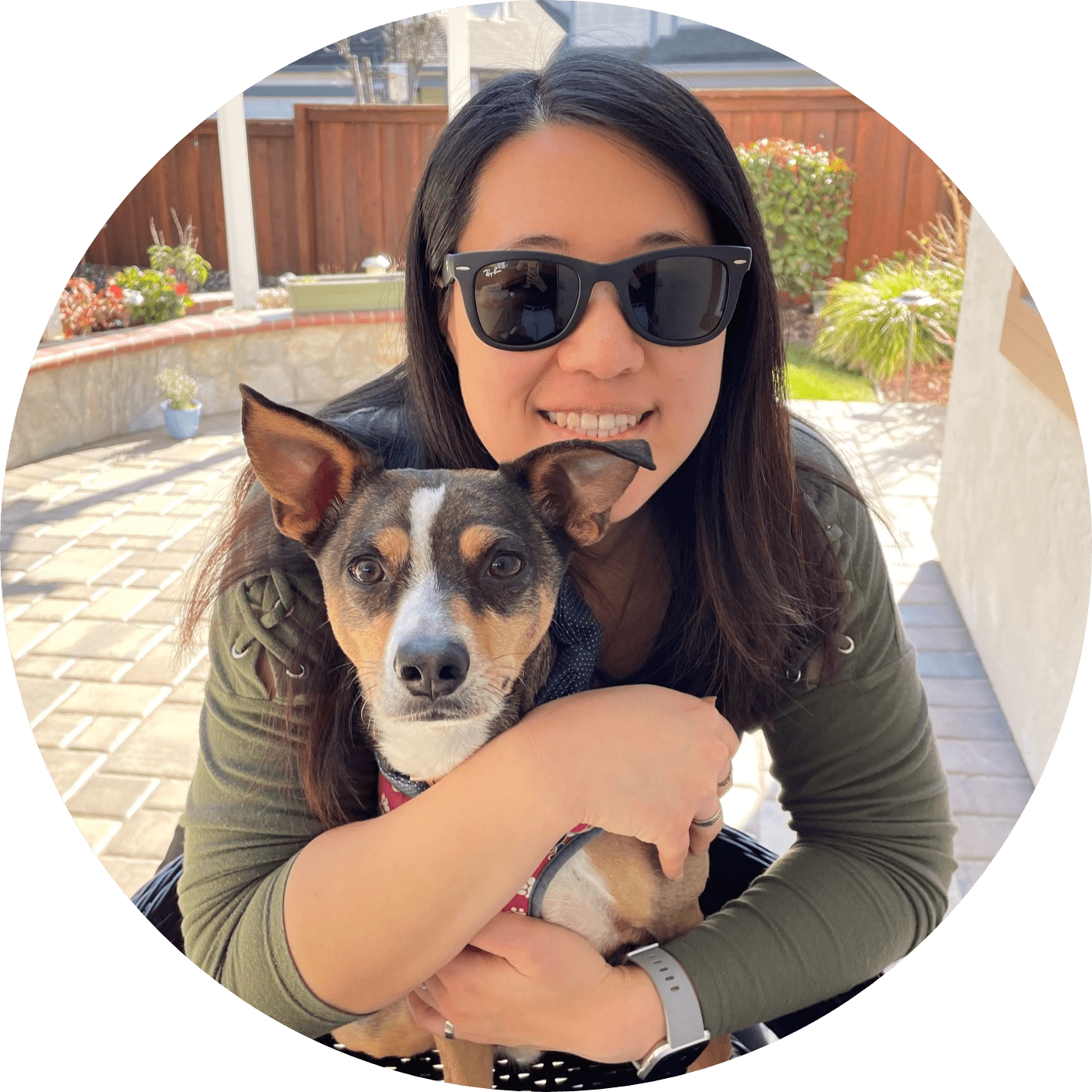 Dr. Sabrina Kong graduated from the Royal Veterinary College in England in 2016 and has been working at a small animal clinic in Northern California since then. She grew up in the Bay Area and got her bachelor's degree from Cal Poly San Luis Obispo. She also became a Certified Canine Rehabilitation Practitioner through a program at the University of Tennessee.
When she isn't in the clinic taking care of her four-legged patients, she enjoys traveling and trying new foods with her friends and her three-legged dog, Apollo. She adopted Apollo from her clinic when he was a puppy with numerous health issues. Dr. Kong truly cares about taking care of animals.