Yes, slicker brushes are good for a lot of dog breeds with thick and wiry coats, such as Terriers. They can also be beneficial for dogs with curly and thick coats such as Poodles, Doodles, and Golden Retrievers.
Slicker brushes are the most effective type of grooming brush to remove tangles and matts from a dog's coat.
Dogs who have thick coats tend to get tangles at the base of their fur, which is closest to their skin and cannot always be seen due to the upper layers of hair covering them.
If tangles are not treated, they can get worse and turn into matts of hair which are thick formations of old hair, both loose and still attached to your dog's skin.
These can pull at their skin and become very painful. Not to mention that matted hair is much harder to brush out than just tangles. Some dogs have such badly matted hair that they need to be shaved in order to remove the painful clumps of hair.
Brushing your dog with a normal brush is better than nothing, but it will often only penetrate the coat's first layer and not untangle any knots nearer the base of the hair.
This is still likely to lead to matted hair. That's where a slicker brush comes in. The wire bristles are designed to penetrate the entire coat, right down to your dog's skin.
The thin bristles will find any knots and untangle them with ease to prevent them from worsening and turning into matts.
A slicker brush can also work to remove loose hair from your dog's coat, which can be a saving grace during the warmer months. They have also been known to be very effective at removing dirt, dander, and other undesirable things from your dog's coats.
Slicker brushes are not the best to use on dogs with thinner coats as they won't experience as many tangles and therefore won't need such a heavy-duty brush.
The slicker brush we recommend:
Sale
We Love Doodles Slicker Brush
✅ ELIMINATE TANGLES, KNOTS & MATS - Our dog brush for long haired dogs makes quick work of messy fur to have your puppy feeling their best. Dog brush for Goldendoodle friends works best as a dog brush for matted hair & a dog brush for shedding.
✅ PROFESSIONAL QUALITY DOG GROOMING - A brush that stands above a traditional small slicker brush for dogs our slicker brush for Goldendoodles is designed to easily work through dense & long coats. The ergonomic handle on our slicker brush for small dogs gives you a pet cleaner slicker brush that is easy on your hand & wrist.
Can you use a slicker brush on a puppy?
Yes, you can use a slicker brush on a puppy if their coats need it. Slicker brushes are required for dogs who have either double-textured coats, such as the Chow Chow or Husky, or those that have long hair.
Examples of these dogs are Yorkshire Terriers, Shih Tzus, Afghans, and Maltese.
Puppies should be brushed every day for a short period of time so that they can get used to the sensation, making the experience more enjoyable and quick for both you and them.
Dogs with short coats will not need to be brushed every day, but you can still do this to get them used to the brush. However, a short-haired dog does not need to be groomed with a slicker brush.
Make sure that your grooming session is as enjoyable for the puppy as possible so that they can associate the slicker brush with a calm and comforting experience.
Don't shout or command that they stay with you for the entire time – you might have to work your way up to them sitting with you for the entire grooming session.
Bear in mind that puppies tend to have shorter coats than their adult counterparts and therefore will require less pressure to be used with the slicker brush.
As their coats are still growing in, you might not even need to use the slicker brush just yet as a pin brush would be able to remove all of the knots.
However, it's a good idea to get them used to the slicker brush from a young age so that they don't mind you using it when they're older and really need its benefits.
Use the slicker brush slowly, carefully, and with control when grooming a puppy. Make sure that you give them lots of positive reinforcement so that they know what is happening is correct and enjoyable.
Don't press too hard and make sure to reintroduce the bristles with care every time you go to brush them to avoid hurting their sensitive skin.
Related Article: Best Brush for a Goldendoodle and Best Brush for Long Hair Dogs
Does a slicker brush hurt dogs?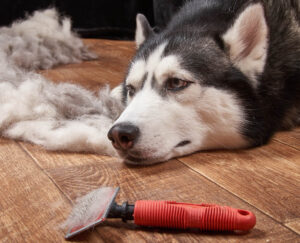 A slicker brush has not been designed to hurt your dog, so using it properly shouldn't lead to any discomfort or pain.
However, the brush does have the potential to hurt your dog if it is not used correctly by the owner.
A slicker brush features lots of wire bristles that are designed to pull apart knots and tangles in a dog's fur. These are made from wire and often don't have any caps on them to make them less sharp.
When hearing this, you might think that a slicker brush is bound to harm your dog. However, these bristles have also been designed to be bent, preventing them from sticking into your dog's skin and scratching them.
As we said, the slicker brush is a ruthless piece of equipment, but it hasn't been designed to harm any dog.
The correct method to use with a slicker brush is the Pat and Pull Method, which we will discuss below.
Related: Best Slicker Brush for Dogs
The correct way to use a slicker brush to avoid injury
Hold the handle of the brush pointed upwards before 'patting' it right into the coat while ensuring it remains flat against your dog's skin.
Brush the coat with the middle bristles as well as the top rows. 'Pull' the brush out through the coat with a slight upward motion, still ensuring that the brush is flat.
You can use this same method to brush the hair downwards, simply by changing the position of the brush handle.
It is recommended that you use the pat and pull method starting from the base of your dog's legs moving upwards.
Once you find a matt, carefully repeat the pat and pull the process over it until it is no longer there. This might take quite a while depending on the size of the matt, but don't rush it as this can pull the hair and cause pain to your dog.
Following these tips will prevent you from hurting your pooch with a slicker brush. Using the correct technique will almost completely eliminate the potential of hurting your dog.
You can also check out this video:
Garrett loves animals and is a huge advocate for all Doodle dog breeds. He owns his own Goldendoodle named Kona. In addition, he volunteers at the Humane Society of Silicon Valley, where he fosters dogs and helps animals. Garrett enjoys writing about Doodles and believes that dogs can teach humans more about how to live than humans can teach a dog.
Why Trust We Love Doodles?
At We Love Doodles, we're a team of writers, veterinarians, and puppy trainers that love dogs. Our team of qualified experts researches and provides reliable information on a wide range of dog topics. Our reviews are based on customer feedback, hands-on testing, and in-depth analysis. We are fully transparent and honest to our community of dog owners and future owners.