Many myths and misconceptions lead to people wondering: "Are Rottweilers good dogs?" Whether you decide to buy or adopt a dog, a Rottweiler might not be one of the first options that come to mind. Often, people associate Rottweiler dogs with violence and aggressiveness. However, with the proper care and upbringing, Rottweilers are the best pets you can ever have.
Affectionately known as Rotties or Rotts, the Rottweiler breed originally belongs to Germany. Initially, Rottweilers were intended to drive cattle and pull carts for butchers and farmers. Later, they were employed by the police force and continue to serve in the military as well. Our team at WeLoveDoodles compiled all the information you need to understand whether Rottweilers are good dogs or not.
Before scrolling down the guide, we think you might be interested in other Rottweiler articles: Are Rottweilers Dangerous and Why Is My Rottweiler Growling?
Rottweiler Dog Breed
Rottweilers are typically characterized as strong, sturdy, have a robust muscular body, and a broad chest. Nevertheless, a Rottweiler's comprehensive structure should not be mistaken for being aggressive. If they are well-bred and raised in the right circumstances, a Rottweiler is one of the calmest, confident, and loving breeds you will find. Rottweilers are highly protective of their family members and usually act aloof around strangers or people they are not familiar with.
Rottweilers walk a fine line between being aggressive versus being protective. If they are not bred and raised correctly, socialized with other people and animals, and trained correctly, then it will not be long before your Rottweiler starts to act violently. Additionally, a Rottweiler that lacks the capability of distinguishing and identifying dangerous situations is not safe for anyone it encounters.
As impressive as Rottweilers are, they are not the dog for everyone. Unlike many dogs, Rottweilers require constant attention and training to be raised like a regular pet. Moreover, due to the various perceptions and myths surrounding Rottweilers, particularly the widely held belief that they are violent, you might need to deal with many judgments regarding the breed and its behavior.
Find the closest Rottweiler breeder: Best Rottweiler Breeders in Florida or Best Rottweiler Breeders in New York.
Facts About Rottweilers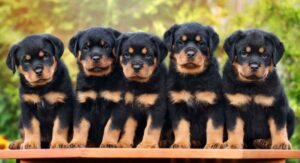 Despite what you may have commonly heard, Rottweilers are not naturally unsound, neither do they incline aggression or harm. Well-bred and properly socialized Rottweilers are playful, friendly, and gentle towards their families and other people. Here are some essential facts you need to know about them:
Size: Rottweilers are large, intense, and strong dogs requiring extensive and proper socialization and training from their early days of infancy.
Pre-Conceived Notions: While bringing a Rottweiler at home, be prepared for a series of judgments and questions. There are many of them, with the most common being that they are aggressive and violent around anyone they don't know. Due to the claims that Rottweilers are dangerous and harmful, dog owners may need to buy additional liability insurance, depending upon the ordinances prevailing in your town or city. In some places, it is illegal to own a Rottweiler.
Behavior: Rottweilers are social animals and love spending time with their family members and surrounded by people. Thus, if they are left on their own for an extended period or do not get sufficient physical activity, they tend to get aggressive or hostile. Although Rottweilers turn out to be okay when raised and trained correctly, there is a strong likelihood that they will show hostile attitudes towards other dogs and animals, particularly those of the same sex. However, if taught correctly, the chances of such behavior can be minimized.
Cognitive Abilities: Since Rottweilers are known to be intelligent dogs, they will tend to test you to see whether you mean what you say. Therefore, it is best if you are specific about what you want from them and not leave any loopholes for them to exploit.
Physical Activity: Rottweilers love spending time outdoors. They need a couple of walks or playing sessions with you daily, lasting at least ten to twenty minutes.
Physical Attributes: Rottweilers have a double coat of fur on their body, which they heavily shed during the fall and spring seasons, and in moderate chunks throughout the rest of the year. Usually, Rottweilers are known to snore in their sleep.
Dietary Habits: While getting a Rottweiler, ensure that you can manage the diet well, since if left unsupervised, Rottweilers tend to gain a lot of weight, leading to obesity and a host of other diseases.
Measurements: Normally, an adult male Rottweiler is between 24 and 27 inches tall and weighs between 95 and 130 pounds. On the other hand, an adult female Rottweiler is between 22 and 25 inches in height and weighs anywhere between 85 and 115 pounds.
Differences: Generally, Rottweilers that are well-trained and disciplined will turn out to be calm, confident, thoughtful, and affectionate towards family. However, your pet will be aloof towards strangers and may take some time to get accustomed to their presence. They can be stubborn, as is the case with most Rottweilers. Nevertheless, while male Rottweilers are known to be quiet and being constantly aware and watchful of their environment, female Rottweilers, on the other hand, are easier to train and usually more affectionate.
Rottweiler Product Recommendations: Best Dog Food To Build Muscle and Best Indestructible Dog Crate Pads.
Myths and Misconceptions Surrounding Rottweilers
When the name 'Rottweiler' comes to mind, one of the first adjectives associated with it is violence. Or aggression. Rottweilers are infamous for being dogs that have violent tendencies. Unfortunately, many incidents have taken place where a Rottweiler has either attacked or bitten an individual or another animal. As a result, some areas have banned people from keeping Rottweilers at home.
Let's understand some of the misconceptions and myths surrounding the Rottweiler:
Rottweilers are Aggressive and Hostile: This is the most common misconception surrounding Rottweilers, owing to their sturdy and robust appearance. However, the Rottweiler happens to be a very friendly and affectionate pet, and if trained with care, love, and patience, the dog will reciprocate it to its owners. Nevertheless, like any other breed of dog, a Rottweiler will turn to aggression and violence if neglected or abandoned by its owners. Anyone who knows about dogs knows this.
Rottweilers are Not Safe with Children: This is an extension of the myth that they are aggressive animals. Considering their aggression, it is believed that they should not be with children. Or children should not be allowed near them. However, as with any other dog, if trained and appropriately socialized and around people, Rottweilers will turn out to be just like any other well-trained pet. If you still have concerns, it is best not to leave children unsupervised or in the absence of an adult when a Rottweiler dog is around.
Rottweilers Should Be Left Outdoors: Although Rottweilers were intended to be outdoor creatures since they were hired to move around cattle, modern-day Rotties should be kept both outdoors and inside the homes. To ensure that your Rottweiler behaves like any other ordinary pet dog, it should live in a warm, friendly environment and grow up with care and affection. If left outdoors, do not be shocked if your Rottweiler turns out to be aggressive and starts harming family members and other people.
Rottweilers are Stubborn and Impossible to Train: Other than having supposed violent tendencies, being impossible to train is the greatest myth surrounding Rottweilers. Since their origins over more than 2000 years ago, Rottweilers have had a history of working and living among people, be it moving cattle for farmers and butchers or working as police sniffer dogs and in the armed forces. Occasionally, Rottweilers were also used for hunting down bears. However, training your Rottweiler properly requires a tremendous amount of patience and commitment. Once they have been taught, Rottweilers are some of the most obedient and intelligent dogs you will find. Moreover, Rottweiler dogs enjoy learning and can understand their environment quite well, owing to their excellent observation and analytical skills.
Rottweiler-Related Article: How To Put Ear Drops in Uncooperative Dog.
Conclusion For "Are Rottweilers Good Dogs"
As mentioned earlier, if bred and brought up in a suitable environment, Rottweilers will grow up to be friendly and pleasant dogs, highly affectionate and protective towards their family members. It cannot be denied that a Rottweiler cannot be belligerent. However, like many dogs, if left to fend for themselves, neglected, or abandoned, a Rottweiler will turn hostile and show signs of anger in no time. And it would not be too long before your Rottweiler begins to attack either your family or another animal or human being.
Ordinarily, Rottweilers behave violently with dogs of other breeds, usually those of the same gender. Though most Rottweilers co-exist happily with a pet cat at home, there can be certain instances where they can turn predatory towards the family cat. To prevent a problematic situation from arising in the future, it is best if you extensively train and socialize your Rottweiler from an early age, preferably from its puppyhood days. An important point to keep in mind is that Rottweilers have a wide range of temperaments and usually struggle for dominance with their owner.
Any Rottweiler owner must first understand the temperament of its pet and have a disciplined schedule so that the pet can understand who the boss or leader is. Do not forget to take your dog out for brisk walks, stretch, and interactive romping sessions to get your pet accustomed to other dogs and people. Ensure that if you are getting a Rottweiler as a pet, make sure you have the time and patience to take care of it and train it. For those who do not have the time or want a dog that does not require a lot of training, a Rottweiler may not be the right pet for them.
For articles with mentions of the Rottweiler dog breed, check out:
To learn more about the Rottweiler dog breed, watch "Are Rottweilers Dangerous or Loyal Companions" from Dog Breeds FAQ Channel down below: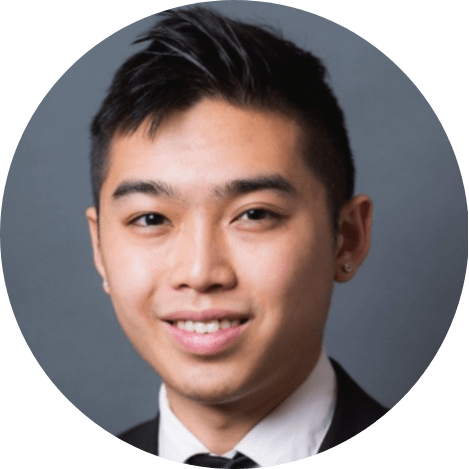 Andy is a full-time animal rescuer and owner of a toy doodle. When he's not saving dogs, Andy is one of our core writers and editors. He has been writing about dogs for over a decade. Andy joined our team because he believes that words are powerful tools that can change a dog's life for the better.
Why Trust We Love Doodles?
At We Love Doodles, we're a team of writers, veterinarians, and puppy trainers that love dogs. Our team of qualified experts researches and provides reliable information on a wide range of dog topics. Our reviews are based on customer feedback, hands-on testing, and in-depth analysis. We are fully transparent and honest to our community of dog owners and future owners.