Before you even meet some dogs, they already come with a preconceived notion that they are dangerous or aggressive. Whether these assumptions are based on actual personal experiences or just from prejudices they've been told, people can easily jump to conclusions about a particular dog breed. One such breed that often comes with a fairly negative or dangerous prejudice is the Rottweiler.
When you think of a Rottweiler, chances are there are some images and potentially some videos of them guarding or protecting their owner. These dogs are often portrayed as dangerous animals with a fierce temper and aggressive personality at all times. Today, we answer the question, "Are Rottweilers dangerous?"
While all dogs certainly have the potential to be aggressive and dangerous, the Rottweiler has a large and muscular build which makes them all appear vicious. However, it's worthwhile to note that not all Rottweilers are dangerous, especially if they are well-trained and socialized from a young age. If a Rottweiler is not trained, they can get territorial, leading to an attack with another dog, pet, or human.
It is worth noting that from 2005 to 2019, Pitbulls and Rottweilers killed 397 people, which accounts for 76% of all fatal human dog bites. In general, the Rottweiler is considered somewhat dangerous if they are not trained or socialized.
What Characteristics Make the Rottweiler Dangerous?

With its origins in Germany, the Rottweiler is a well-known dog breed that has been around for years. They have a deep history in the Roman Empire because they served in the army and helped to protect their region. Since they are considered a protection or guard dog, some characteristics may make them seem dangerous.
The Rottweiler is easily recognizable by its features and appearance. They have short black coats with tan markings on their feet, chest, and face. They have large ears that droop over their head as well as a long snout and mouth. This appearance may give the impression that they are dangerous or intimidating because they are large and muscular.
A Rottweilers size is considered a medium to large dog, depending on their history and dietary habits. Female Rottweilers have a weight range between 77 and 110 pounds and reach a height between 22 and 25 inches tall. Male Rottweilers, which tend to be slightly larger, have a weight range that stretches between 110 and 130 pounds and reaches a height between 24 and 27 inches tall. Their statue alone can make them appear aggressive.
Rottweilers are highly intelligent, which makes them fairly easy to train. They are also eager to please their owner because they are loyal and obedient. Having a confident and consistent approach to training can make the process much more efficient and effective.
One of the most potentially surprising things about the Rottweiler is their temperament. There's more to the personality and behavior of this strong breed than one might think.
Are Rottweilers Really That Dangerous?

Rottweilers are often considered to be dangerous, aggressive, and hostile. They can often be roped into the aggressive dog category with Pitbulls, Dobermans, and German Shepherds that are thought to be not a friendly dog breed.
While there may be Rottweilers that are mean and do have behavioral challenges, that's not the standard for this dog breed. In fact, Rottweilers are considered to be courageous but not overly aggressive.
A key difference in Rottweilers that are overly aggressive and potentially dangerous are those that are not trained. Rottweilers indeed have an innate territorial mindset that they believe they need to defend. However, with consistent and proper training, you can control their territorial and authority personality.
Other characteristics of Rottweilers include things like being playful and silly. They can be a loveable family friend that also is dedicated and loyal to caring for their family. With concerns of Rottweilers around young children, they're considered to be no more potentially dangerous than other breeds. As with other dogs, be sure you keep an eye on both the child and the dog.
How to Train an Aggressive Rottweiler Puppy
When Rottweilers are trained at an early age, this prevents them from developing negative and aggressive behaviors and habits from the start. They'll be much less likely to show aggressive tendencies because they have learned from their earliest age that showing aggression does not get them positive reinforcement or approval from their owner.
Additionally, early socialization where Rottweilers become more familiar with other dogs, other animals, and people can also help support behavior that is not dangerous. Unsocialized Rottweilers tend to be the most aggressive because they aren't familiar with other dogs near them.
Being raised in a loving, caring, and supportive home can also help ensure that the Rottweiler knows that their needs will be met. With affection, attention, love, and lots of dog food, Rottweilers will build their trust in their owners and know that they don't have to be territorial.
Make sure to introduce your Rottweiler puppy to children in a controlled environment. Children often don't know how to interact with a dog, and they will sometimes run to them and grab them. That inexperience can at times lead to some negative consequences. In situations like these, Rottweilers are no different from other dog breeds. Again, their behavior all comes down to training, socialization, and the behavior patterns they establish early on in their life.
Rottweilers Reputation

These herding dogs were originally bred to direct and herd cattle down to the market to be sold. It was the Rottweiler that kept the cattle in check. Today, Rottweilers serve in a variety of roles as they protect and care for others. The Rottweiler was one of the first dogs used in the military and police force because of their high energy, intelligence, and strong work ethic. They enjoy working and are good at what they do. Many law enforcement personnel rely on Rottweilers to help them accomplish the work that needs to be done, in addition to keeping them safe.
Certainly, in cases like police dogs, these dogs are trained and raised to serve in the police force. Therefore, Rottweilers may be trained to attack and act on command. While this may put them in the "dangerous" dog category, the training is intentional and controlled at all times by the dog's handler. Knowing this distinction between regular Rottweilers and those who have been specifically trained to carry out behaviors to attack is important in understanding and confirming that Rottweilers may not be as dangerous as once believed.
Rottweilers Can Be Family Dogs

When people think of a Rottweiler, often aggressive and dangerous dogs come to mind. However, the temperament and personality of Rottweilers actually can be very different from that assumption. While Rottweilers are very confident, bold, and courageous, that does not necessarily make them creatures to be feared. Even though there have been cases of incidences where Rottweilers have acted out in aggressive behavior, there is almost always a reason for their actions. Those cases certainly are not the norm for these friendly and loyal dogs.
Raising a Rottweiler that doesn't possess dangerous habits and behavior all comes down to training. Providing a loving and caring home where you've established yourself as the boss can cultivate habits and behavior that is not dangerous. Rottweilers can, indeed, become great family pets.
Conclusion for Are Rottweilers Dangerous?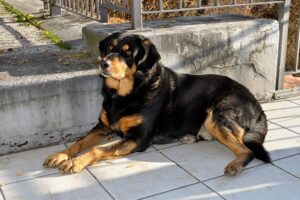 Rottweilers are a large and muscular dog breed that certainly can be dangerous due to their territorial habits. However, not all Rottweilers are vicious or aggressive. In fact, Rottweilers that have been trained and socialized have a sweet, loyal, and obedient temperament. However, Rottweilers are considered dangerous because they are responsible for approximately 1/3 of all human-related dog bite deaths.
Other articles you would like:
Frequently Asked Questions
Are Rottweilers more dangerous than Pitbulls?
From a study by the American Veterinary Medical Association, Pitbulls and Rottweilers are responsible for more than 50% of all dog bites and deaths. However, Pitbulls are more dangerous than Rottweilers because they result in more bites and bite-related fatalities. On average, Pitbull bite-related fatalities are almost twice as much as a Rottweiler.
Are Rottweilers on the dangerous dogs' list?
Yes, Rottweilers would be on any dangerous dog list. The top 5 most dangerous dog breeds by bite-related fatalities to other dogs and humans are the Pitbull, Rottweiler, German Shepherd, Husky, and Malamute. However, Pitbulls and Rottweilers make up well over 50% of the fatal attacks.
Are Rottweilers good with other dogs?
Generally speaking, a trained and socialized Rottweiler is good with other dogs. However, you should never leave two dogs unattended, especially a Rottweiler. Rottweilers are known to be aggressive and can attack another dog if provoked.
At what age do Rottweilers become aggressive?
Rottweilers generally become aggressive after their puppy phase at 6 months old. As they go through puberty and mature to an adult, Rottweilers may become aggressive if they feel threatened or provoked. Adult Rottweilers can attack at any time if they feel a need to defend their territory or owners.
Garrett loves animals and is a huge advocate for all Doodle dog breeds. He owns his own Goldendoodle named Kona. In addition, he volunteers at the Humane Society of Silicon Valley, where he fosters dogs and helps animals. Garrett enjoys writing about Doodles and believes that dogs can teach humans more about how to live than humans can teach a dog.
Why Trust We Love Doodles?
At We Love Doodles, we're a team of writers, veterinarians, and puppy trainers that love dogs. Our team of qualified experts researches and provides reliable information on a wide range of dog topics. Our reviews are based on customer feedback, hands-on testing, and in-depth analysis. We are fully transparent and honest to our community of dog owners and future owners.