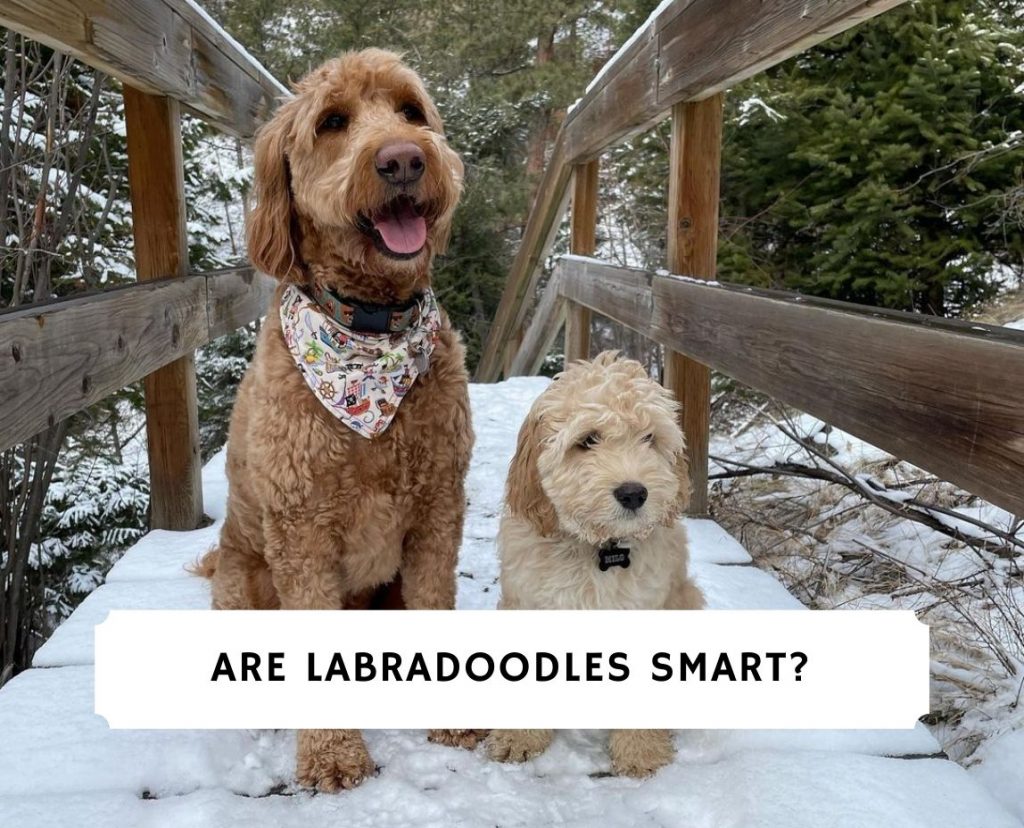 While they're affectionate and friendly, you must be wondering: Are Labradoodles smart? This adorable dog breed is a cross between a Labrador Retriever that is the seventh smartest breed and a Poodle that is in the top three of smartest dogs on the planet. The short answer is, yes, Labradoodles are extremely smart.
This cuddly and cute dog breed inherits the best of both worlds from their highly intelligent parents. The amazing news is they are smart in a variety of ways!
Related: Check out our Labradoodle Dog Breed Guide.
Understanding Human Emotions
All dogs have the capability to pick up on human emotions but Labradoodles are extra special along with a few other exceptional breeds. They have a unique sense that empathizes and understands the emotions and they act accordingly.
Some Labradoodles will sympathize with their owner when they are feeling down or they will do something cute and funny to help cheer them up. They have the ability to choose which action is appropriate at the time they are sensing emotions.
While Labradoodles are excellent empathizers they also exhibit their own human behavior. Their reactions to certain situations are very similar to human responses. This ability helps owners and dogs bond and create long-lasting companionship. This is why you'll see several Labradoodles that act as service dogs or emotional animals.
Understanding Commands
Due to superior breeds, Labradoodles are thought to have the intelligence of a 2.5-year-old human child. This means they are able to learn 165 words/commands in one specific language and react accordingly. This is incredible intelligence that makes them easy to train.
Easy to Train
Since they possess emotional intelligence and learn commands easily it makes them easy to train. Labradoodles benefit from obedience training as early as 8 weeks. They are also great therapy dogs and can begin training as service dogs during puppyhood. Because Labradoodles are smart and food motivated, they are considered very easy to train.
Social Training
Labradoodles are social dogs that make great companion and family dogs because they adapt to socialization training from a young age. If you want your Labradoodle to be extra friendly with family, friends, neighbors, and strangers, start their socialization training as early as possible. Their easygoing temperament and the ability to understand certain situations makes the Labradoodle an ideal dog.
How To Know If Your Labradoodle Is Intelligent
Proper breeding and DNA has a lot to do with inheriting intelligence from canine ancestors. The majority of Labradoodles are knowledgeable, and it's noticeable right away when they are a puppy. Here are a few signs to look for that will help you determine if your Labradoodle is intelligent. 
You skip a few days or weeks of obedience training and your Labradoodle still remembers the commands
Provide your Labradoodle with interactive toys and see if they figure it out without you showing them or guiding them the first time
Your Labradoodle comforts you when you are upset
Your Labradoodle learns new tricks quickly and easily
They respond quickly to training commands and hand gestures
Playmates for Children
Labradoodles don't need to be trained to be a great playmate for children because it comes naturally to them. Their intelligence allows them to gauge the age and needs of the child and treat them accordingly.
Many Labradoodle owners report observing their dog being extra gentle with their younger children while at the same time being playful and energetic around older children. 
Labradoodles are Excellent for First Time Dog Owners
First-time dog owners often feel scared when they realize they are responsible for training their dog. However, Labradoodles are great pets for first-time dog owners because they learn a variety of commands easily and are known for being quick students.
Potty Training
Potty training is one of the main and most important things you will teach your dog. It helps keep your house clean and bacteria-free. You can choose to potty train your Labradoodle to go outside by teaching them signals and verbal queues or you can train them to use a pad placed in a specific place indoors.
Some pet parents teach their Labradoodles both options to make things easier. For example, a dog that is the only potty trained to go outdoors will need to be taken outside in the middle of the night which interrupts sleep cycles for the entire household. However, if your dog is potty trained to go indoors and outdoors, they will know they can use the pad that is located inside the house when their owners and family are sleeping, or when they need it the most. 
Escaping from their Crate
Labradoodles are so intelligent they often figure out how to escape from their crate. Their intelligence makes them far beyond the normal dog that pushes their paws against the cage or uses their body weight to push the door open. 
Labradoodles use their superior intelligence to actually use their paw and mouth to unlock the latch or lock and use the handle to open the door. This means you will need to invest in a crate that has the latch and locks placed in a specific area to prevent your Labradoodle from escaping from their crate. You should also puppy-proof your home because they also learn how to get into different rooms, objects, and items such as the garbage can. 
Labradoodles as Support Animals
Since Labradoodles tune into their owner's emotions and adhere to their commands, they also can be a support dog that helps pet parents with relieving stress, responding to seizures, and assisting with balance issues.  Labradoodles are natural stress relievers because they tune into your emotions and respond accordingly.
Even if you don't specifically train your dog to be a support animal, they are naturally a great stress reliever and companion for the entire family.  Common jobs Labradoodles thrive doing are being a therapy or emotional support animal. You will find adorable, friendly, and affectionate Labradoodles working in hospitals, nursing homes, children's hospitals, veterans hospitals, and more. They bring emotional comfort and healing to the sick and encourage happiness and joy in everyone they see. 
Conclusion For Are Labradoodles Smart?
Being a pet parent to a Labradoodle is fulfilling and rewarding. They are easy to train, lovable, kind, caring, and fun to be around. Plus they make excellent playmates for your kids. Are you ready to welcome a smart and loving Labradoodle into your household? If so, find a reputable breeder that produces intelligent and friendly dogs for you to choose from!
Other articles you would like:
Garrett loves animals and is a huge advocate for all Doodle dog breeds. He owns his own Goldendoodle named Kona. In addition, he volunteers at the Humane Society of Silicon Valley, where he fosters dogs and helps animals. Garrett enjoys writing about Doodles and believes that dogs can teach humans more about how to live than humans can teach a dog.
Why Trust We Love Doodles?
At We Love Doodles, we're a team of writers, veterinarians, and puppy trainers that love dogs. Our team of qualified experts researches and provides reliable information on a wide range of dog topics. Our reviews are based on customer feedback, hands-on testing, and in-depth analysis. We are fully transparent and honest to our community of dog owners and future owners.