Within the last two decades, the interest in raising a Labradoodle tremendously increased. From the appearance of a huggable teddy bear to the amount of affection they give to their owner, the Labradoodle is perfect for families and people with allergies. For a Labrador Retriever mixed with the Standard Poodle, they adapt fairly well to new environments.
Now you must be wondering – are Labradoodles Hypoallergenic? The Labradoodle was bred to help limit the allergic reactions people are dealing with. Due to the Labradoodle's non-shedding coat, the dog community describes them as hypoallergenic. While it's one factor for breeding Labradoodles, keep in mind that NOT all Labradoodles are hypoallergenic. 
What Is The Meaning of Hypoallergenic?
When a Labradoodle is hypoallergenic, it doesn't mean that they're 100% allergy-free. The term "hypoallergenic" means "below average or slightly." This would mean that any hypoallergenic dog will cause fewer allergy symptoms due to their curly hair. In general, Labradoodles are mostly hypoallergenic if they have furnishings and curly or wavy coat. Labradoodles that tend to shed have an improper coat (IC).
The only true way to know if a Labradoodle is hypoallergenic is to genetic test the dog. You will want to test for the hair shedding gene MC5R. If you don't genetic test, then you can visually observe the dog breed.
For example:
Straight Hair – A dog with straight hair are more likely to shed, which can cause allergy symptoms for sensitive people
Wavy Hair – A dog with straight hair will likely shed their hair but not as often as a dog with straight hair.
Curly Hair – A dog with curly hair will have low shedding, which makes it easier for people with allergies to cope with.
Thanks to the Labradoodle being a mixed breed, these dogs are useful as guide dogs. To fully determine if they're hypoallergenic or not, it's best to gather the information from a reputable breeder before bringing your Labradoodle home. If you're in search of an allergy-friendly Labradoodle puppy, find a trusted breeder and avoid any puppy mills. Always check all genetic and health testing, specifically IC Locus genes and MC5R genes.
Types of Labradoodle Allergies
Instead of bringing home your Labradoodle just because it's hypoallergenic, you should find out why you're allergic to dogs in the first place. Everyone has different things they're allergic to, so it's best to find out what's actually causing it.
Your allergies could be from:
Labradoodle's hair/dander
Saliva/urine
Grass and particles brought from outside, etc.
If you or a family member has allergies, it's better to consult a doctor before bringing home your Labradoodle puppy. Keep in mind that your allergies could also be from the particles brought in by your dog from outside.
Labradoodle Generations That Are Considered Hypoallergenic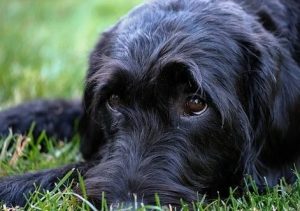 If you're in search of a Labradoodle, make sure that you're bringing home a dog with the right coat types. You're going to want your Labradoodle puppy to have a wool coat or fleece coat. This coat types are inherited from the Poodle, so you will want a Labradoodle will more Poodle genetics.
Wool Coated Labradoodle – This type of Labradoodle is curly-coated, which is the best type of coating for people with allergies.
Fleece Coated Labradoodle – This type of Labradoodle's coat is best described as "wavy," which means that they're likely to shed more than wool and shed less than a straight coat.
These Labradoodle generations include:
Labradoodle First Generation F1 – For the first generation Labradoodles, they have two different types of coating textures. Flat and fleet coated. If you are sensitive to allergies, you should not buy an F1 Labradoodle because they are only 50% Poodle and 50% Labrador Retriever.
Labradoodle Second Generation F1B – For a non-shedding dog, you can go for a second-generation Labradoodle. This Labradoodle has about a 75% mix of a Standard Poodle with fleece or wool coated. Always verify with a breeder that they are backcrossed to a Poodle.
Labradoodle Third Generation F1BB – The Labradoodle third generation is the best choice out of the four listed here. It takes at least three generations for a Labradoodle to show non-shedding results.
Australian Labradoodle – Australian Labradoodle is another great choice right next to third-generation Labradoodles. You can find an Australian Labradoodle with wool or fleece coating.
With that in mind, there are a variety of colors you can choose from. You should confirm the Labradoodle's generation before bringing one home because of its color if anything around you has severe allergies. In addition, typically reputable breeders will genetic test the parent dogs and tell if you the puppies will be prone to shedding.
How To Reduce Your Allergy Symptoms
As we all know, not all dogs are 100% allergy-friendly. For a family/guide dog, it's tough not to be around your Labradoodle when your allergies are acting up. Fortunately, there are ways and steps you can take to reduce these allergy symptoms.
Try to wash your Labradoodle's sheets, beds, toys, and blankets regularly. Since a Labradoodle constantly requires exercise, you don't know what's on these items. If you're allergies easily act up, it's better to have your Labradoodle's stuff washed constantly.
Another effective method is using an air cleaner in your house. This is called a HEPA filter, which absorbs and particulate air making it perfect for people with allergies.
When you're bathing your Labradoodle, there is a shampoo made specifically to help people with allergies. You can find anti-allergenic shampoo but it's recommended to use it once every month.
Whether it's you or another family member with allergies, try to have a no-Labradoodle zone in your home. By doing this, guests or anyone with pet allergies will have a place to retreat to.
How To Groom A Hypoallergenic Labradoodle
Grooming a Labradoodle isn't an easy nor hard job. It's mainly tedious. Due to its curly hair, you're going to want to brush your Labradoodle more regularly than you think. This is to prevent their hair from getting tangled, which can be irritating. Unlike regular grooming, it's best to have a brush on you when you're raising a Labradoodle. By the time your Labradoodle is fully grown, try to brush them every week.
Many people would recommend you brushing twice per week. When you're grooming your Labradoodle, there are several tools you should check out.
Undercoat Rake: With this Labradoodle grooming tool, you can use this to collect dead/shed hair or any debris/particles that are collected in its coat.
Slicker Brush: With this tool, you'll find mats and tangled hair on your Labradoodle. This tool will help lessen the discomfort to your Labradoodle puppy. Check out our article on the Best Brush for a Labradoodle.
Comb: With thick coats, sometimes it's hard for a pet owner to find mats and tangles. There are combs out there that can help with thin/thick coatings.
Detangling Spray: Sometimes, brushing and grooming your Labradoodle can cause discomfort to them. With a detangling spray, it'll cause less irritation during the process of grooming your Labradoodle.
Conclusion for Are Labradoodles Hypoallergenic?
Labradoodles are one of the popular breeds gaining a high volume of interest within the last few decades. Due to the Labradoodle's parent breeds, Labrador Retriever and the Standard Poodle – they're a perfect addition to the family and best used as guide dogs. Most Labradoodles are hypoallergenic but you should always confirm with a reputable breeder to help you make the right decision. After all, Labradoodles are amongst one of the best family pets so it's better to be positive/sure before bringing it home.
To find a Labradoodle breeder, check out:
For Labradoodle food recommendations, check out:
Garrett loves animals and is a huge advocate for all Doodle dog breeds. He owns his own Goldendoodle named Kona. In addition, he volunteers at the Humane Society of Silicon Valley, where he fosters dogs and helps animals. Garrett enjoys writing about Doodles and believes that dogs can teach humans more about how to live than humans can teach a dog.
Why Trust We Love Doodles?
At We Love Doodles, we're a team of writers, veterinarians, and puppy trainers that love dogs. Our team of qualified experts researches and provides reliable information on a wide range of dog topics. Our reviews are based on customer feedback, hands-on testing, and in-depth analysis. We are fully transparent and honest to our community of dog owners and future owners.