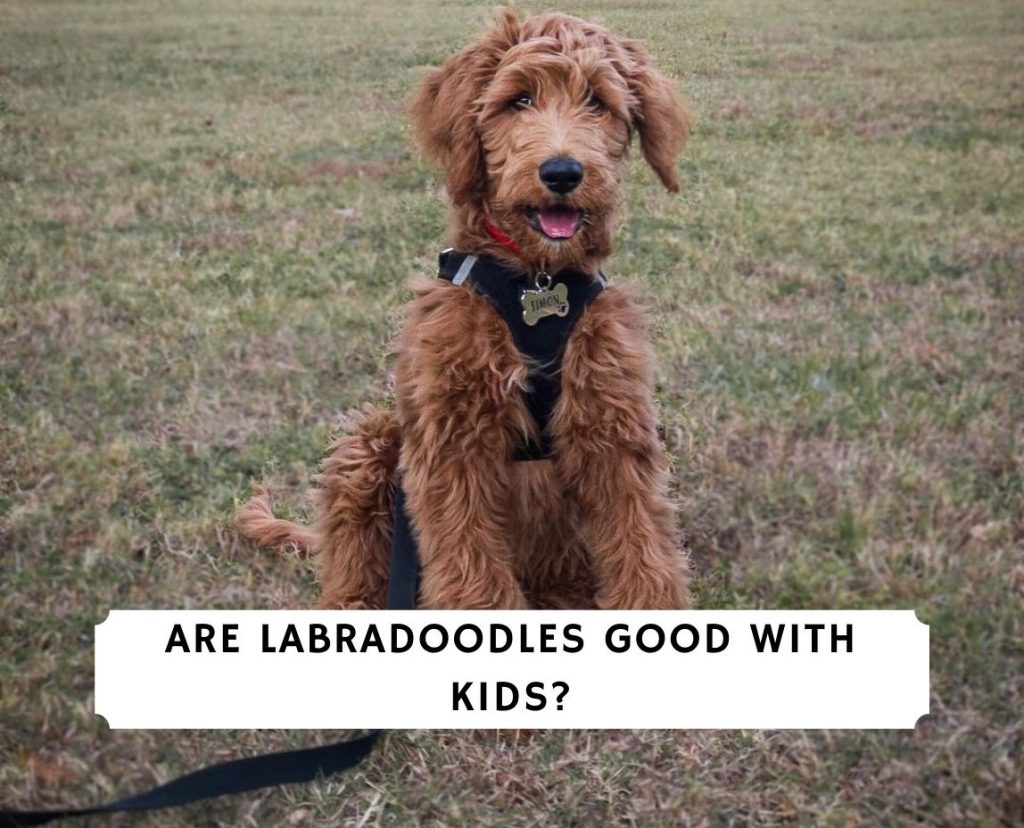 Cute, fluffy, and energetic, this dog breed is an excellent companion dog. Since they're great companion dogs, you must be wondering: Are Labradoodles good with kids? Yes, Labradoodles are child friendly and depending on their personality, they can become a kid's best friend and playmate. Continue reading to find out how a Labradoodle will enhance your child's life and become an important part of your family. 
Other articles you will like: Best Dog Food for a Labradoodle and Best Crate for a Labradoodle.
Labradoodles With Kids in the Family
Is your son or daughter an only child? Sometimes parents who grew up with their own siblings can't imagine being an only child. One of the most common things parents do is adopt a dog to keep their child company. A Labradoodle makes an extraordinary sibling because they are playful, sweet, and enjoy being around your child all the time.
Labradoodles will be by your kid's side for years to come as they share their daily lives. Pets provide only children with companionship and social support as well as help reduce stress and improves communication skills. However, if you have a child under the age of 5 years old, we always recommend that you watch them when they are socializing with your Labradoodle.
This is especially true if your Labradoodle is still a puppy and in their "teething" phase. While Labradoodles typically get along well with kids, they also treat them as a littermate and can occasionally nip at your child. As the owner, you are responsible for training your Labradoodle.
Labradoodles Are Mostly Hypoallergenic
Have you avoided getting a dog for your child because they suffer from allergies? The good news is Labradoodles are mostly hypoallergenic – especially if they have a wavy or curly coat! They are a crossbreed of a Labrador Retriever and a Poodle. Labradoodles inherit their Poodle parent's hypoallergenic, soft, and fluffy coat that barely sheds. The only catch is you need to brush and groom their coat frequently. While daily or weekly brushing sessions sounds like a never-ending task, it actually teaches your child responsibility and how to gently care for an animal.
It will enhance your kid's ability to care for others and treat animals and people with respect. Labradoodles need to be brushed because their loose hair gets trapped under the surface of their coat. The hair needs to be removed regularly to prevent knots, tangles, and mats from forming. A standard pin brush or slicker brush does a great job. If your child helps take of the dog, it will also teach them responsibility.
Brushing a dog is a relaxing task if they sit still long enough. By now, you should have all of the necessary grooming tools for a Labradoodle. An excellent tip is to start grooming your puppy from the first day you bring them home. It helps them understand that grooming is a regular part of their day and it's something they can enjoy.  If your dog doesn't like to be brushed, try doing it while they are sitting next to you watching TV and enjoying your company. If you prefer your children to groom your dog, tell them to make a game out of it so your dog enjoys the experience. 
Related: Labradoodle Grooming Guide
Labradoodles are Filled With Energy 
Labradoodles have the energy of a busy little toddler. They will surely keep up with kids of any age, especially if they are active kids. Their energy level also encourages your child to stay active by always finding new ways to play and stay busy. If your kids like throwing balls, going for walks, or chasing your dog around the yard, then your Labradoodle will get along with them just fine!
Labradoodles Provide Affection
Labradoodles often inherit the gentle sweet nature of their Labrador Retriever parent. This means they are super sweet and adore your children. You will often find your puppy licking your kid's face and being a constant companion that is always in a good mood.
Another cute scene you can expect to see is your Labradoodle and your child cuddled together watching TV. Chances are your child will use your dog as a pillow. It's an amazing bond that your child will develop with the Labradoodle over the course of their life. 
Labradoodles Are Playful
Most Labradoodles have a playful personality that makes being around kids joyful and exciting. Your children will enjoy playing indoors and outdoors with your puppy. Indoor fun includes playing with plush, plastic, interactive, rubber, and rope toys. Outdoor fun involves running around in the yard, jumping, playing fetch, swimming, and running around in the sprinklers during summer.
Some Labradoodles are patient and calm enough to allow children to dress them in different costumes which is fun for your children to do. This breed is highly intelligent and easy to train. Some kids can train their puppies to do tricks and obey demands. 
Related: Are Labradoodles Smart?
Sense of Humor
This dog breed inherits different traits from their parents but most have a cute little sense of humor that children find to be funny. They show off a bit by moving their body around in funny ways and gently playfully bumping into your child. With their easygoing and mild temperaments, we would consider the Labradoodle to have an entertaining sense of humor that your child will love.
Comforting To Kids
Labradoodles have a compassionate side that allows them to be supportive when they sense your child is dealing with something emotionally. Your child might feel have a bad day at school or trying to deal with difficult issues and your dog will calmly sit by their side as a support system which helps reduce anxiety.
Sometimes children just feel a bit down emotionally and need some cheering up. This dog breed is always ready to have fun and will most likely attempt to encourage your child to play and have fun instead of focusing on the situation or problem they are trying to cope with at the moment. 
Labradoodles Have Patience
Your little ones might enjoy tightly hugging your dog, poke at them a bit, and just have normal toddler behavior. Most Labradoodles are patient and don't react harshly. They are not known for being aggressive towards humans or animals. However, it's always wise to keep a close eye on your children to prevent them from harming your dog. Early socialization with dogs helps your children understand how to respect animals which is a lesson they will carry through their entire lifetime. 
Responsibility 
Another way Labradoodles are great with kids is the amount of responsibility your children learn by having them in the house and as part of the family. Depending on your child's age, you can give them tasks and chores when it comes to caring for your dog.
Common tasks include brushing, bathing, feeding, and taking the dog for a walk.  Children learn responsibility, how to take care of others, become compassionate, patient, and caring which are all beneficial traits they carry with them during their lifetime. 
Conclusion for "Are Labradoodles Good With Kids?"
If you are considering welcoming a Labradoodle into your family, consider the benefits mentioned above. They are the ultimate companion dog and have the type of personality that makes them excellent playmates and siblings for children. When choosing a Labradoodle puppy make sure you take time to get to know their personality to ensure they are the perfect fit for your child. 
For more information about the Labradoodle, check out:
You can learn more about the Labradoodle dog breed by watching this informative video:
Garrett loves animals and is a huge advocate for all Doodle dog breeds. He owns his own Goldendoodle named Kona. In addition, he volunteers at the Humane Society of Silicon Valley, where he fosters dogs and helps animals. Garrett enjoys writing about Doodles and believes that dogs can teach humans more about how to live than humans can teach a dog.
Why Trust We Love Doodles?
At We Love Doodles, we're a team of writers, veterinarians, and puppy trainers that love dogs. Our team of qualified experts researches and provides reliable information on a wide range of dog topics. Our reviews are based on customer feedback, hands-on testing, and in-depth analysis. We are fully transparent and honest to our community of dog owners and future owners.