Are Labradoodles good with cats? Many families don't want to limit themselves to one type of furry friend. They want the best of both worlds with both feline and canine companions to keep them company. Unfortunately, dogs and cats sometimes mix like oil and water. If you think you might want to have some of each type of animal, you need to know whether the dog breed you get is historically good with cats. Before you head out to the shelter or breeder, you should know what to expect from your new Labradoodle and your cat. Here is everything you need to know upfront before adding new pets to your family.
Before scrolling down this article "Are Labradoodles Good with Cats," check out these related guides: Can a Dog Mate with a Cat and Are Goldendoodles Good with Cats?
Do Labradoodles Get Along with Cats?
The good news is that Labradoodles are likely to get on well with your cats. Labrador Retrievers and Poodles are laidback breeds that can certainly make friends with your felines under the right circumstances. The trick is to introduce them to each other in a controlled way that makes both parties feel more comfortable. If you purchase a new Labradoodle puppy, it is essential to socialize them with cats early.
More Dog Guides: Can Two Dogs Share a Crate?
Introducing a Labradoodle Puppy to a Cat
Puppies who are introduced to cats or kittens from birth often lose interest in cats. They view them as littermates and friends instead of sworn mortal enemies. A well-socialized puppy is bound to play and snuggle with a friendly cat. Whenever possible, you should make sure to introduce your new puppy to cats as early on as you can. However, not everyone gets their Labradoodle as a puppy.
A new dog owner who just acquired a Labradoodle should ask how the dog has been socialized in the past. Even if the dog has been acclimated to cats early on, it is always best to control the scenario when introducing your new dog to your already established cat. You never know how your new dog might react until you have had them for a while and are more familiar with their temperament.
In some circumstances, you might be adding a new cat to a family where your Labradoodle has been living solo for quite some time. This also can go well for a laidback Labradoodle, but their initial encounters will tell the tale. Be prepared to introduce them and control the environment around them to set the stage for a successful interaction.
Labradoodle Guides: Do Labradoodles Smell Bad and Stinky and Do Mini Labradoodles Shed a Lot?
How to Introduce Your Labradoodle to a Cat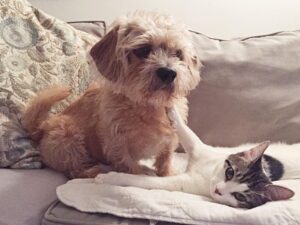 The best thing you can do to ensure that your Labradoodle will get along well with cats is to monitor their first few encounters. Here are a few expert suggestions to make sure things go well.
Keep your Labradoodle leashed: Your dog should be kept on a leash so that you can easily control how close he comes to your cat. Over time, you can drop the leash to give him more freedom, eventually disposing of the leash altogether.
Choosing the right location: Choose a neutral location where both pets are relatively comfortable. If your cat has a specific part of the home where she likes to hide, do not use this as your meeting space. She will need a place to retreat to if the meeting does not go well or if she starts to feel overwhelmed by an excitable puppy. You might also want to choose a room where your cat has the advantage of height. For example, you might choose the living room if your cat has a climbing tree here where she can observe your puppy from a safe and comfortable distance. Give your cat the option to retreat from an eager dog at every opportunity to keep the interaction as positive as possible.
Set boundaries: Your dog is likely curious about your cat, mainly if they have never seen one before. It is usual for them to come close and nose at another animal. A cat may take a few swipes at the puppy, which should teach them to keep their curiosity to themselves. This is normal and does not necessarily have to be a bad thing.
Encourage proximity: To see if your Labradoodle and your cat get along, you need to encourage them to come close to one another. Start by sitting on the floor with your dog. This is often enough encouragement to keep your dog close to you but keep them occupied with petting and attention. Next, invite your cat into the room, but give them the space to decide when or if to come closer to you and your puppy. If you try this a few times and your cat still does not approach, you might need to find other ways to encourage proximity. For example, try luring your cat closer with tasty treats. Keep both parties well supplied with treats if they are food-motivated. This makes the entire experience more positive and sets the stage for a positive association between your dog and cat.
Take breaks: Remember that Rome wasn't built in a day. Take breaks as necessary until your dog and cat are more comfortable with one another. A few minutes several times a day should be sufficient in the beginning. Eventually, you will have longer sessions until you leave both parties to roam free in the house without worry. If either party appears stressed and anxious, call it a day and end the session to try again in a few hours or the next day.
Find a Labradoodle Breeder: Best Labradoodle Breeders in the Bay Area and Best Mini Labradoodle Breeders in the United States.
Conclusion For "Are Labradoodles Good with Cats"
Labradoodles have the potential to get along famously with felines as long as you set boundaries in the beginning. Pay careful attention to the first interactions that your pets have with each other. These can help inform the socialization process and ensure that your cats and dogs will get along well for years to come. Follow some of these tips to keep your household running smoothly.
For more helpful guides from our team at WeLoveDoodles, you can check out:
To learn more about this topic, watch "Can Cats and Dogs Be Friends" from Jackson Galaxy down below: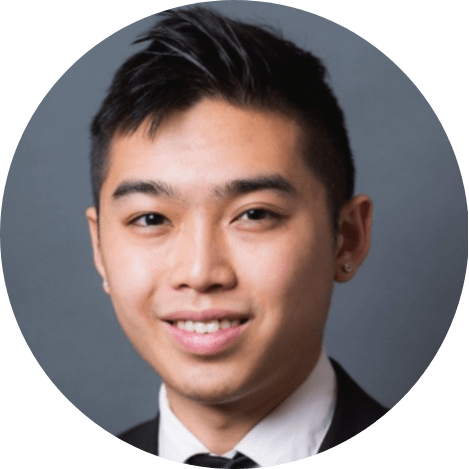 Andy is a full-time animal rescuer and owner of a toy doodle. When he's not saving dogs, Andy is one of our core writers and editors. He has been writing about dogs for over a decade. Andy joined our team because he believes that words are powerful tools that can change a dog's life for the better.
Why Trust We Love Doodles?
At We Love Doodles, we're a team of writers, veterinarians, and puppy trainers that love dogs. Our team of qualified experts researches and provides reliable information on a wide range of dog topics. Our reviews are based on customer feedback, hands-on testing, and in-depth analysis. We are fully transparent and honest to our community of dog owners and future owners.