We love Goldendoodles because they are fun-loving dogs that are typically very easy-going. It really doesn't get any better than watching these goofy puppies bouncing around, playing fetch, and having a grand time. In general, Goldendoodles are considered friendly, affectionate, playful, and silly. Additionally, they have become super popular in recent years because they are considered mostly nonshedding and hypoallergenic.
The main question we will answer today is "are Goldendoodles hyper?" In general, yes, Goldendoodles can be hyper because they are a mix between two high-energy dog breeds: the Golden Retriever and the Poodle! However, if you know to entertain them and interact with them, Goldendoodles are a fantastic dog breed for any household. You simply need to know how to accommodate their energy levels.
Before scrolling down, here are some related articles: Goldendoodle Dog Breed Guide and Goldendoodle Energy Level Information and Facts!
Why Are Goldendoodles Hyper?
A Goldendoodle is the perfect family pet. They socialize well, they are very loyal, and they are very lovable. These dogs love to play and romp around but they are also giant teddy bears that love to show affection and be given affection in return. Goldendoodles can be hyper and they do require exercise every day between they are a mix of two working-class dog breeds. You should expect to spend at least one hour per day exercising your Goldendoodle so they don't destroy your house.
Your loyal Goldendoodle wants to be around you and play with you. They want to please you and make you happy. This is part of their loyal nature. Additionally, they are one of the smartest dog breeds so you can easily train them and work with them. As you do work with them, you learn what works and what doesn't and you strategically plan from there.
Goldendoodle Exercise Needs
Goldendoodles are active dogs. They do need exercise and playtime. You can set them loose in the backyard to run off some steam but you should also plan to have some active playtime that involves you every single day.
This might mean that you spend an hour on a brisk walk with your beloved Goldendoodle every day or it could mean that you and your Goldendoodle play fetch for 30-45 minutes. They love to be rowdy and playful.
Another good way to get in some Goldendoodle playtime and get rid of some of that energy is to have a playmate. You can have another pet in the home or another Goldendoodle. They get along really well with other animals due to their mild temperament. If you have another pet to help entertain, you will want a pet with a similar personality and size so they can play together without hurting each other.
Goldendoodles are not necessarily overly hyper like some dogs are, but they are most definitely playful and energetic dogs. They are well-suited to roaming and running so if you have land for them to roam, this is always a bonus.
Tips for Exercising Your Hyper Goldendoodle
Take a daily walk. This is good for both of you and your Goldendoodle will love it! It's like an adventure, even if you walk the same path every single day.
Find a playmate like a second Goldendoodle or a dog that has similar attention and activity needs. You don't want a territorial animal but another social butterfly that is easy-going like your Goldendoodle will work wonders.
Set up a routine for your Goldendoodle. If they are getting bored or antsy and you have a routine in place, they adapt to that routine and know that they have something to look forward to that will bring some action. These dogs are very smart and having a routine is encouraging and helpful for them. They catch on quickly.
Have plenty of dog toys or puzzles available. You don't want a bunch of the same toy but rather a variety of different toys. This way, when they get bored with one toy, they can grab another. Having different materials, shapes, and sizes can make a huge difference when it comes to keeping your Goldendoodle entertained.
Make time to play each day. Your dog can entertain themselves and run in the yard but they also need playtime that is with you. Make sure you designate and spend a little time each day playing with your Goldendoodle, even if it is in short spans of time. This makes them feel important and like they don't have to seek your attention.
The challenge with Goldendoodles is if they get too bored, that is when they can get into trouble. They don't necessarily have to be playing and moving all of the time but they need to be able to entertain themselves if you are away.
Keep plenty of variety and be sure to give them the activity and exercise that they need every day as well as personal attention from you. Goldendoodles really can relax and be calm and they certainly will if you also let them play and give them your attention.
What Might Affect a Goldendoodle's Energy Levels?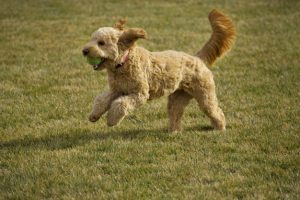 Your Goldendoodle could be affected by various things. Puppies and young dogs are always more playful and rambunctious and this tends to reduce as they get older. It's a lot like humans really. Kids and young people always have so much more energy than aging adults.
Goldendoodles have a balanced lifestyle, though. While they do want to play, they will also want to rest and nap. It is interesting that as Goldendoodles get away from the puppy phase, they actually gain a bit of energy.
The age of 9 months to 18 months is probably when they are the most energetic. This is the prime time for you to establish training and a routine to help them understand the best ways to expel their energy and what type of routine they can expect with you in order to do it. Remember to keep regular exercise and scheduled playtime but this is the perfect time to establish a bit of routine that they can adapt to.
Conclusion for Are Goldendoodles Hyper?
In summary, it is certainly possible that your Goldendoodle will be a little hyper because they are a mix of two high-energy dog breeds. The good news is that their level of hyper is totally manageable with daily exercise. They are more likely to get into trouble when they get bored so just be sure to keep these tips in mind and be proactive about catering to their needs. Walks, exercise, playtime, and love will absolutely go a long way in fulfilling your dog's activity needs.
You will also like:
Garrett loves animals and is a huge advocate for all Doodle dog breeds. He owns his own Goldendoodle named Kona. In addition, he volunteers at the Humane Society of Silicon Valley, where he fosters dogs and helps animals. Garrett enjoys writing about Doodles and believes that dogs can teach humans more about how to live than humans can teach a dog.
Why Trust We Love Doodles?
At We Love Doodles, we're a team of writers, veterinarians, and puppy trainers that love dogs. Our team of qualified experts researches and provides reliable information on a wide range of dog topics. Our reviews are based on customer feedback, hands-on testing, and in-depth analysis. We are fully transparent and honest to our community of dog owners and future owners.