Many new potential Goldendoodle owners often as us "Are Goldendoodles easy to train?" Thus, we've decided to write an in-depth article explaining why we think Goldendoodles are easier to train than most dog breeds.
Unlike most dog breeds, Goldendoodles are easy to train for both beginners and experts alike. Since Goldendoodles are a mix between the Poodle and the Golden Retriever, the intelligence of this breed was passed down mainly from the Poodle parent. Poodles are known to be one of the smartest dogs throughout dog communities. Additionally, Golden Retrievers are highly food-motivated dogs and will listen to you for a treat. Thus, Goldendoodles are known to be easier to train in comparison to most other dogs.
While they're sensitive and smart, Goldendoodles will pay attention to you most of the time during training. It's important to have your companion's attention so they will understand your mood and expression. At times, showing a little emotion could help your Goldendoodle puppy with their training. Even though they're easy to train, you should always reward your companion with treats for good behaviors. Positive reinforcement training and rewarding a Goldendoodle is more effective than punishing it for bad behaviors.
If you're having difficultly training your Goldendoodle, we highly recommend the Baxter and Bella training course (they gave us an exclusive 25% discount with code "WeLoveDoodles"). You'll get access to unlimited 1 on 1 meetings with professional dog trainers and a training course. Your Goldendoodle will be trained in no time!
What Makes Goldendoodles Easy To Train?
Goldendoodles are easy to train because of the genes passed down from their parents' purebred breeds. With this mix, it's no wonder why the interest in owning a Goldendoodle has increased over the years. While Poodles are known to be amongst one of the smartest dogs, don't let the Golden Retriever parent fool you. We know how smart the Poodle is but let's hear about the Golden Retriever.
Flooding you with affection and staying loyal by your side, the Golden Retriever will constantly do what they can to please you because they are considered extremely loyal and obedient. The qualities from the Poodle and Golden Retriever lead to an outstanding dog breed.
Why You Should Train Your Goldendoodle as a Puppy
While Goldendoodles are easy to train, there are sometimes obstacles owners have to face. Similar to humans, not every Goldendoodle has the same personalities. Training different Goldendoodles will have different challenges and obstacles along the way. The first time you bring home your companion as a puppy, you'll have to build its trust and confidence. After all, they're learning and adapting to your everyday environment.
Trust is the first step before you teach your Goldendoodle puppy anything. If you don't train your Goldendoodle at a young age then it'll be harder to train them as they get older. Goldendoodles develop routines and habits as they grow older and they don't like to change those habits. If you let your Goldendoodle become an adult before you start training them then they will have already developed several bad habits.
We always recommend that you socialize your Goldendoodle puppy and let them get used to socializing with both people and animals. By doing this, your companion will feel at ease during its training session. If you adopted an adult Goldendoodle, then keep in mind that training will be much more difficult since they've already developed habits at a young age.
Time It Takes To Train A Goldendoodle Puppy
On average, it could take 6 months to housetrain your Goldendoodle puppy or rescue. Depending on your Goldendoodle puppy, it could sometimes take 4 months. How quickly your Goldendoodle learns depends on how consistent you are with training. If you're housetraining your dog to go potty outside, we highly recommend the "bell potty system". This is where you hang bells near your door and train your Goldendoodle puppy to ring it when they have to use the bathroom.
One common method dog owners use to train their dogs for commands is by doing repetitive actions. A good example of this would be calling your Goldendoodle by its name and rewarding it every time it comes to you. After a few times, you'll notice how easy it is to train a Goldendoodle puppy.
If you encounter a situation where your Goldendoodle isn't paying attention to you during training, try to find an incentive. For example, you could reward your companion with treats for good behavior. With your Goldendoodle's constant attention to treats, it'll be easier for you to train your dog.
Training a Male/Female Goldendoodle
To this day, people are still debating whether male or female Goldendoodle puppies are easier to train. People are claiming that male Goldendoodles are easier to train because of their success at agility courses. Agility courses have different obstacles such as tunnels, bridges, and other ways for a dog to navigate.
As for unspayed female Goldendoodles, some people believe that they're a little more difficult to train. It's believed that female Goldendoodles can sometimes be moody, which means they don't give their full attention to their owners. Whether this is true or not, both male and female Goldendoodles are equally clever and you really shouldn't have an issue training a puppy.
Training Your Goldendoodle
When it comes to training your Goldendoodle puppy or rescue, there are training tips for you to try. You should have treats or any rewards (dog treats, etc.) ready. At this point, you're controlling the consequences and actions of your Goldendoodle's behavior.
A few tips to keep in mind is that you should always reward your Goldendoodle for good behaviors, don't punish them for bad behaviors, and don't reward them if they're not displaying any signs of good behaviors. Believe it or not, people complain about their dogs not "listening."
You should place yourself in your Goldendoodle's shoes for a moment. You probably won't understand what people are saying to you and it'll sound like complete gibberish. After all, it's going to take you a lot of patience and repetition when training your Goldendoodle. Before teaching your Goldendoodle any of the listed commands below, you'll want to teach it potty training by establishing its territory.
There are five essential Goldendoodle commands for you to teach:
Sit: Commanding your Goldendoodle puppy will show that you're in control. Your Goldendoodle learning this will likely be much calmer and less difficult to manage.
Come: This is one of the most important recall commands. People accidentally leave their doors open all the time. In cases like this, your Goldendoodle might run out the door where you'll have to chase it. Teaching your Goldendoodle this command should help them learn to return to you.
Down: When your Goldendoodle is showing signs of aggressiveness by trying to take something from someone, then this command is essential. With that in mind, it'll also help your Goldendoodle stay relaxed.
Stay: Goldendoodles are energetic and social dogs. They'll sometimes run towards something in situations/environments where they shouldn't be. Teaching your Goldendoodle to stay in one spot should help them prepare for these situations.
Leave it: Goldendoodles are curious dogs. They get curious and they'll observe the thing they're curious about. Sometimes, it could be dangerous or cause other problems. Teaching your Goldendoodle this command should help them stay away from these things.
Conclusion for "Are Goldendoodles Easy To Train?"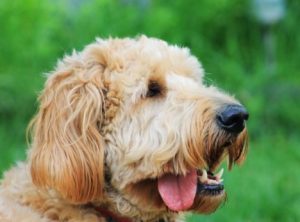 In the end, Goldendoodles are known to be easy to train. Since they're mixed between a Golden Retriever and the Poodle, Goldendoodles are loyal and intelligent. Whether you're a dog expert or a child, training a Goldendoodle should be a piece of cake once you get the hang of it.
You'll require patience during this process because training a Goldendoodle can sometimes take minutes to even days or weeks. The five essential commands for your Goldendoodle is using sit, come, down, stay, and leave it. In many situations, these commands will help you and your companion avoid unnecessary problems.
While this lovely dog breed is easy to train, they'll sometimes lose focus. It could be your surroundings. You can acquire its attention again by having treats ready. The number of tricks and commands you teach your companion will pay off. Even if you find it difficult, the memories are everlasting.
If this Goldendoodle informational guide helped you, you might also like:
Garrett loves animals and is a huge advocate for all Doodle dog breeds. He owns his own Goldendoodle named Kona. In addition, he volunteers at the Humane Society of Silicon Valley, where he fosters dogs and helps animals. Garrett enjoys writing about Doodles and believes that dogs can teach humans more about how to live than humans can teach a dog.
Why Trust We Love Doodles?
At We Love Doodles, we're a team of writers, veterinarians, and puppy trainers that love dogs. Our team of qualified experts researches and provides reliable information on a wide range of dog topics. Our reviews are based on customer feedback, hands-on testing, and in-depth analysis. We are fully transparent and honest to our community of dog owners and future owners.