If you suffer from allergies and love dogs, don't lose heart. There's still a possibility that you can have a furry friend by your side with hypoallergenic dogs like Doodles.
Before scrolling down this guide "Are Doodles Hypoallergenic," you can check out our guides for better understanding: Doodle Breeds and What's a Doodle Dog?
What Are Doodles?
One of the cutest dog breeds out there, the Doodle is a hybrid between a Poodle and another breed of dog. Poodles are usually mixed with another breed to get the best qualities of each breed in one dog. The earliest Doodle is said to be the Cockapoo which was born in the 1940s due to mating a Poodle and a Cocker Spaniel.  In no time, Doodles gained popularity which led to the birth of other Doodle variants such as Yorkipoos.
Poodle Mixes
Some of the most well-known and popular Doodle breeds include Goldendoodles, Labradoodles, Sheepadoodles, and Schnoodles. Additionally, Poodles have also been mixed with Beagles, Pugs, Australian Shepherds, Corgis, St. Bernards, and Soft Coated Wheaten Terriers to create more Doodle variants.
Related: What is the Best Doodle Breed?
Are Doodles Hypoallergenic?
Are Doodles suitable for people with allergies? Will my allergies flare-up in the presence of a Doodle? In this article, we will discuss all this and more to help you decide if a Doodle is right for you. First off, what is meant by the word 'hypoallergenic?' Why are some dogs considered hypoallergenic while others are not?
Related: Best Giant Doodle Breeds.
Reasons Why You Should Consider a Doodle
Hypoallergenic implies that a particular dog or a specific breed of dogs is less likely to cause allergies to human beings. There is a general assumption that allergic to animal fur can adopt Doodles since they are considered hypoallergenic. Is this true? Let us find out. Most dog owners are under the impression that their allergies are a consequence of their pet's fur. However, this is far from the truth. Allergies are not aggravated by an animal's fur but by the dander or dead skin particles from a dog's fur.
Related: Can You Be Allergic To Dogs And Not Cats.
Not All Doodles Are Hypoallergenic
The Doodle is often considered a favorite among people with allergies. For many people, it's a dog that is most suited for them. Why not? Doodles experience little to no shedding. Most Doodle variants, even those with more open coats (long coats without an undercoat), tend to shed less fur than their retriever counterparts. However, this does not mean that all Doodles are completely hypoallergenic or that Doodles, as a breed, are 100 percent hypoallergenic. Therefore, not all Doodles are ideal for owners with allergies.
Doodles Can Still Aggravate Allergies
Like any other breed, a Doodle will have dander or dead skin particles on its fur. Hence, coming into contact with the dead skin cells of a Doodle can aggravate allergies. Moreover, someone's allergies can also get triggered by coming into contact with dog poop or urine. In situations where someone is allergic to grass, there is a high probability that their allergies will flare up after their Doodle comes back after playing in the lawn or park.
How Do I Know If a Doodle Is Hypoallergenic?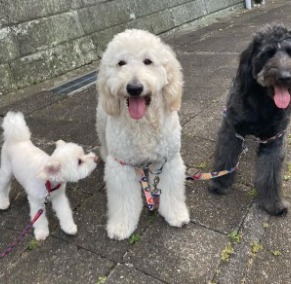 If you want to know if your Doodle is hypoallergenic or not, you need first to understand its genetics. For instance, first-generation breeding, which is considered a purebred Doodle breed, will have more open coats than Doodles with a woolier coat resembling a Poodle. Hence, a Doodle with a more open coat will shed more fur than a Doodle with woolier and thicker fur. Doodles that don't shed much fur are typically bred by mating a first-generation Doodle with a purebred Poodle. If you are keen on getting a Doodle that does not shed too much or doesn't shed at all, you should get a Doodle that has parents that don't shed at all.
Related: Top Indoor Dogs That Don't Shed.
Identifying a Hypoallergenic Doodle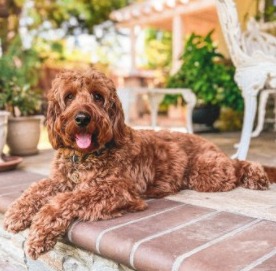 Another way to identify whether or not a Doodle is hypoallergenic or not is by spending time with individual dogs to see what reactions their fur cause you. The reason behind this is because a Doodle's fur can cause varying reactions between people. While some people may experience allergic reactions and other issues, some people may not be affected at all. Before bringing a Doodle home, you should try and spend time with a few dogs to understand whether their fur causes any allergic reactions or not.
Related: Top Big Dogs That Don't Shed.
Do Doodles Shed Any Fur at All?
Although Doodles are known for little to no shedding, this does not mean that they don't shed at all. Like any other dog, a Doodle will shed when their fur is brushed or when their fur is cleaned and washed correctly. Additionally, a Doodle will tend to shed more fur when it hasn't been brushed in a while. Thus, you should keep the length of your Doodle's fur short and easy to manage so that they won't shed too much hair. You should also regularly groom your Doodle's hair, either by doing it yourself or taking them to a groomer. Another reason why your Doodle might shed more fur than usual could be due to health problems. Specific allergies due to food or environmental factors, dandruff, or an adverse reaction to medicines can cause this. In such cases, it's best that you make an appointment with a vet to determine the cause and how to treat it.
Related: Best Teacup Dogs That Don't Shed.
Are Doodles Completely Hypoallergenic?
Are Doodles hypoallergenic after all? The answer is yes. However, many people confuse being hypoallergenic with a complete absence of allergens. This is far from the truth. Hypoallergenic does not mean that there are zero chances of your allergies being triggered. It only means that a particular breed is less likely to trigger allergies in people. Hence, one cannot say that Doodles are 100 percent hypoallergenic.
Related: Best Hunting Dogs That Don't Shed.
Your Allergy or Asthma Can Still Be Triggered
People consider Doodles hypoallergenic since they don't shed as much as other dog breeds do. However, if someone has, let's say, asthma or allergies, they can still get triggered irrespective of whether they own a Doodle or any other breed of dog. Remember that allergies and other health issues can flare up due to dog poop, urine, dead skin on their dog's fur, saliva, or when their dog comes in contact with them after playing in the grass. Nevertheless, a Doodle is less likely to cause allergic reactions compared to other breeds. Even an individual who has allergies can suffer symptoms because of allergens from a Doodle. It's unlikely, however, that they will suffer those symptoms to the same extent that they might with other dogs.
Conclusion For "Are Doodles Hypoallergenic"
Everyone wants a dog that doesn't shed too much fur, is easy to maintain, and does not trigger allergies. The Doodle is the first dog that comes to many people's minds. While allergies related to a Doodle's saliva, dead skin, or excrement may trigger allergies in many people, the breed is generally believed to be hypoallergenic since their fur causes minimal to zero discomforts. Therefore, the Doodle is considered to be among the best dog breeds to adopt for those dealing with some form of allergy. Some of the best and most well-known hypoallergenic variants of the Doodle are the Labradoodles, Goldendoodles, Schnoodles, Sheepadoodles, Cavadoodles, Bernedoodles, Cockapoos, Aussiedoodles, and F1B Doodles. If you are a dog lover and keen on adopting a Doodle, make sure that you research your preferred hybrid. Spend time with individual dogs and see how you can manage your allergies with your prospective pet.
Guides related to "Are Doodles Hypoallergenic" from WeLoveDoodles:
For more hypoallergenic dog recommendations, you can watch "Are Goldendoodles Hypoallergenic?":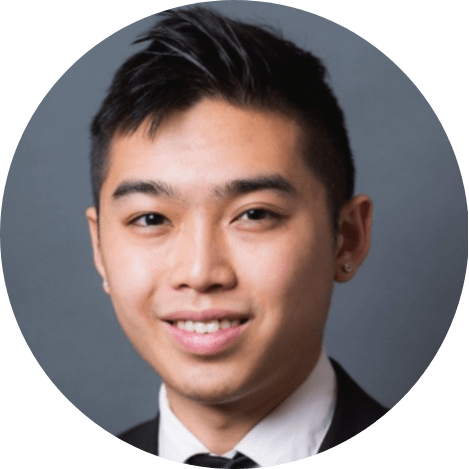 Andy is a full-time animal rescuer and owner of a toy doodle. When he's not saving dogs, Andy is one of our core writers and editors. He has been writing about dogs for over a decade. Andy joined our team because he believes that words are powerful tools that can change a dog's life for the better.
Why Trust We Love Doodles?
At We Love Doodles, we're a team of writers, veterinarians, and puppy trainers that love dogs. Our team of qualified experts researches and provides reliable information on a wide range of dog topics. Our reviews are based on customer feedback, hands-on testing, and in-depth analysis. We are fully transparent and honest to our community of dog owners and future owners.