This guide will go over everything you need to know about the American vs. Japanese Akita. There's more than one breed of this extraordinary canine, depending on which country you ask, but we'll get to that.
There are two types of breeds: The American Akita and the Japanese Akita Inu ('dog'). Sometimes seen as aloof dogs, they're affectionate and highly loyal to their guardian.
They would give Lassie a run for her money. They do pick their people, and everyone else is, well, not their people. The Akita is dignified and alert with a piercing gaze. It captures attention with its gait and manner.
In this article, you'll learn the history of the breed, the differences and similarities between the two species, and what caused the divide between America and Japan over the breed standards. Plus, the story of Hachiko, the Akita who mourned his guardian for a decade, is one you can't miss.
Before scrolling down this guide "American vs. Japanese Akita," check out these dog breed comparison guides: Westie vs. Scottie Dog Breed Comparison and Irish Doodle vs. Goldendoodle Dog Breed Comparison.
History of the Akita
The Akita originated in the mountainous, snowy region of northern Japan. This snow-loving animal was named after the capital city of Akita Prefecture, named "Akita." Two distinct lines of the Akita breed have been standardized by breeders – the Akita Inu and the American Akita.
When a particular type of Akita Inu came to America, it was bred with various other breeds to become what it is today. At the same time, the Japanese Akita Inu remained consistent with their breed's standards.
Akitas were bred as hunting dogs, being predators of boar, elk, and the Yezo bear. They went through a period of being the select dog of people in Japan's high-society, even royalty, and were highly respected creatures. Akitas were the samurai companions from the 1500s into the 1800s and used in dog fighting rings.
After WWII, they became popular in America when returning GI's brought them over from the Pacific. The Akita Club of America was founded in 1956, and the breed was recognized by the American Kennel Club (AKC) in 1972.
Hachiko the Akita

Maybe the most famous true story about the Akita is from the 1920s. That's when a professor from the University of Tokyo and his Akita Inu, Hachiko, struck up a forever friendship.
They got into the habit of walking to the train station together every day. Then, in 1925, professor Hidesaburo Ueno died while away at work. Hachi was entirely too loyal to give up on his guardian and would return to the station twice a day for the last almost ten years of his life to wait for him.
Newspaper articles turned Hachi into a hero. The story was even made into a Japanese drama film in 1987 called Hachiko Monogatari and in a 2009 American drama film called Hachi: A Dog's Tale.
He is also Japan's national symbol for friendship and lifelong loyalty. And if all of that wasn't enough, there is now a bronze statue of Hachi right in front of Tokyo's Shibuya Station's aptly-named "Hachiko Exit."
His legend also lives on in a different statue at The University of Tokyo, which depicts the dog and his guardian being reunited.
The story affected so many people that when a child is born in Japan, many families will give a small statue of an Akita to the family to signify health, happiness, and long life.
On April 8, a memorial ceremony of remembrance for Hachiko is held at Tokyo's Shibuya railroad station. There are often hundreds in attendance to honor him.
Hachi was born on a farm near Odate City in Tokyo. The city is proud to have this connection with the heroic dog. Hachiko died in 1935. In Tokyo, Japan, he rests beside his guardian in peace at the Aoyama Cemetery.
Helen Keller and the Akita
The legendary Helen Keller initially brought the Akita to America in 1937 after being gifted with two. By 1939, a breed standard was created. Here's what happened. The story of Hachiko inspired Keller, so when she visited Akita Prefecture in 1937, she mentioned she would like to have an Akita.
Her adored Kamikaze-go was given to her, but she died of distemper at a young age. A second Akita, Kamikaze's brother named Kenzan-go, was given to her by the Japanese government in 1938.
About the Akita
Hachiko's loyalty is the perfect example of just how loyal an Akita can be. They enjoy having a purpose in a human's world. Although they were bred to live in harsh weather conditions, they've also been conditioned/domesticated to be companions and need to be kept inside the home with their families.
They're not very open to strange dogs, so be especially careful around them. Akitas need to stay on leash and be socialized from a young age (8 weeks old) with other dogs and people.
Note: Be picky about the puppies you choose to be sociable with since first vaccinations all around are in order. Introductions to children should be done when the animal is a puppy to familiarize them with each other.
The Akita needs to learn about his strength when he's around them. Even if they're socialized to kids, never leave one alone with a young child.
They're not like a German Shepherd or an Australian cattle dog that needs lots of exercises daily so they can be sufficiently exercised with a 30-45 minute daily walk and plenty of play-time in between.
They are solid, quite large, and powerful dogs and need to burn energy to live their best life physically and mentally. Positive-reinforcement training is well received, although the breed can be headstrong. Match their confidence with your own, so they know who's in charge.
Akita Dog Breed Info
Height: 26″ -28″ (male) to the shoulder – 24″ -26″ (female) to the shoulder
Weight: 100-130 lbs. (male) – 70-100 lbs. (female)
Life expectancy: 10-14 years
Group: Working
Physical Characteristics of the Akita
Their most recognizable trait is their plush curled-to-the-back tails which seem to go perfectly with their personalities and confidence. In addition, Akitas have partially webbed paws to help them walk on snow, similar to camels' webbed feet that facilitate travel across the sand.
Its ears stand up and are proportionate to the head, making his neck look like it's being held even higher than it usually is. Its legs and body are stocky, making it a force to be reckoned with. Weighing 70-130 lbs, depending on the gender, makes a dog who may have a little bit of an attitude quite formidable.
Grooming the Akita
The Akita's coat is nothing short of gorgeous. It's mane-like all over and needs to be groomed at least once a week to keep him comfortable and free of dead hair. They only shed minimally except a couple of times a year when they "blow" (shed) their coats.
Unless you want to vacuum twice a day, you'll need to brush them twice a week to stay on top of it. After that, your Akita needs a bath by you or a groomer every six weeks as long as it doesn't roll around in mud puddles sooner.
Also, about every couple of months, either you or your vet can clip its nails to keep them out of its way so it won't inadvertently scratch anyone. Don't forget to brush your dog's teeth twice a week to ward off mouth issues.
Related: Do Groomers Sedate Dogs and Do You Tip Dog Groomers?
Health Issues of the Akita
As long as you stay aware of any health issues that may happen by making twice-a-year vet visits, your Akita should have a long and healthy life. Most dogs have medical issues of some sort, and this breed is no different, so try to get educated on the following:
Bloat (the stomach twists – medical emergency)
Eye disorders
Thyroid disorders
Hip dysplasia (a malformation of the hip joints that can cause pain and arthritis)
Controversy Over The American and Japanese Akitas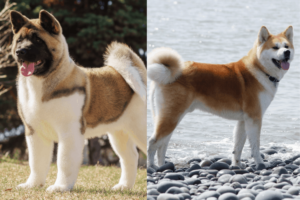 There are two types of Akitas, and America seemed to be the only country recognizing both. The American Kennel Club (AKC) lists them solely as "Akita."
However, Wikipedia notes that since 2020, the AKC sees two individual species – the Japanese and the American Akitas – and doesn't allow them to breed.
Organizations that recognized them are:
The United Kennel Club
The Kennel Club (United Kingdom)
The Australian National Kennel Council
The New Zealand Kennel Club
The Japan Kennel Club
An international organization was founded in 1911 to promote the breeding of purebred dogs within different member or contract partner countries. There are over 80 of them around the world.
The FCI's breed standards serve as a guideline for the development of dog breeds. In addition, they consider the health and well-being of the dogs to be of the utmost importance.
The breeds formally split in 1999, and the FCI referred to the American Akita as the "Great Japanese Dog." In 2006, they reverted to the original name of the "American Akita."
Some countries refer to the species as the "Akita" only. There are differences between the two species, and many fanciers aren't comfortable mixing them, creating a hybrid.
Controversy With The Akita
Soon after WWII, there were two different breeds of Akita in Japan – the Dewa line and the Ichinoseki line. Most of the dogs sent to America were from the Dewa line, and the Japanese preferred the dogs in the Ichinoseki line.
In 1972, there became an even longer line drawn in the sand when the US both recognized the Akita as a breed and closed registration to any breed individuals outside the country.
Japan and America also had two different mindsets about breed specifics. In 1992, the AKC opened the registration again to imported Akitas, but there were stark differences between the two breeds by then.
Since there were different breed standards between the United States and Japan, the FCI chose to accept Japan's since it's where the breed originated. This decision caused difficulties for many American Akita guardians who stopped participating in international competitions.
In 1999, the FCI classified two distinct breeds of the Akita to solve any disputes between the two countries. Physical differences between the American and Japanese Akitas
The American Akita:
Slightly larger/heavier breed (can weigh between 70-130 lbs)
Wrinkled foreheads
Larger ears that point straight up
Come in many colors
Often have a black "mask" on their faces
Has slightly looser skin
Less tightly-curled tail
Has a broad, bear-shaped head
Muscular
Larger in height (24″ -28″)
The Japanese Akita Inu:
Slightly smaller breed (can weigh between 65-120 lbs)
Unwrinkled skin
Well-curled tails
Come in orange and white, red, brindle, or pure white only
Generally have no black "mask."
Has tighter skin
More tightly-curled tail
Has a fox-shaped head
Less muscular
Smaller in height (23″ -25″)
Ears point more towards the front
But they have similarities, and some of those are as follows.
Have a double coat
Shed twice yearly
Can be strong-willed
Can be nervous around children
Can be predatory towards other dogs and small animals
Are fiercely loyal
Are affectionate with their families
Are independent and confident
Are protective of their families
Require moderate exercise
Find an Akita Breeder: Best Akita Breeders in the United States.
Conclusion For The "American vs. Japanese Akita"
The American and Japanese Akitas are just as similar as they are different, and each type deserves to garner admiration for their respective unique qualities. We hope this guide, "American vs. Japanese Akita," helped you understand the differences between the two.
For more content with mentions of the Akita, you can check out:
Learn more about the Akita by watching "Everything You Need to Know About Owning an Akita Puppy" down below: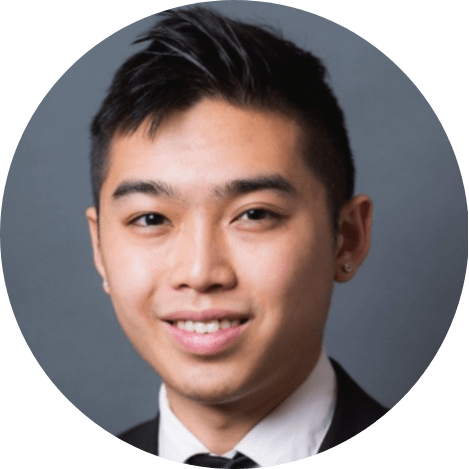 Andy is a full-time animal rescuer and owner of a toy doodle. When he's not saving dogs, Andy is one of our core writers and editors. He has been writing about dogs for over a decade. Andy joined our team because he believes that words are powerful tools that can change a dog's life for the better.
Why Trust We Love Doodles?
At We Love Doodles, we're a team of writers, veterinarians, and puppy trainers that love dogs. Our team of qualified experts researches and provides reliable information on a wide range of dog topics. Our reviews are based on customer feedback, hands-on testing, and in-depth analysis. We are fully transparent and honest to our community of dog owners and future owners.